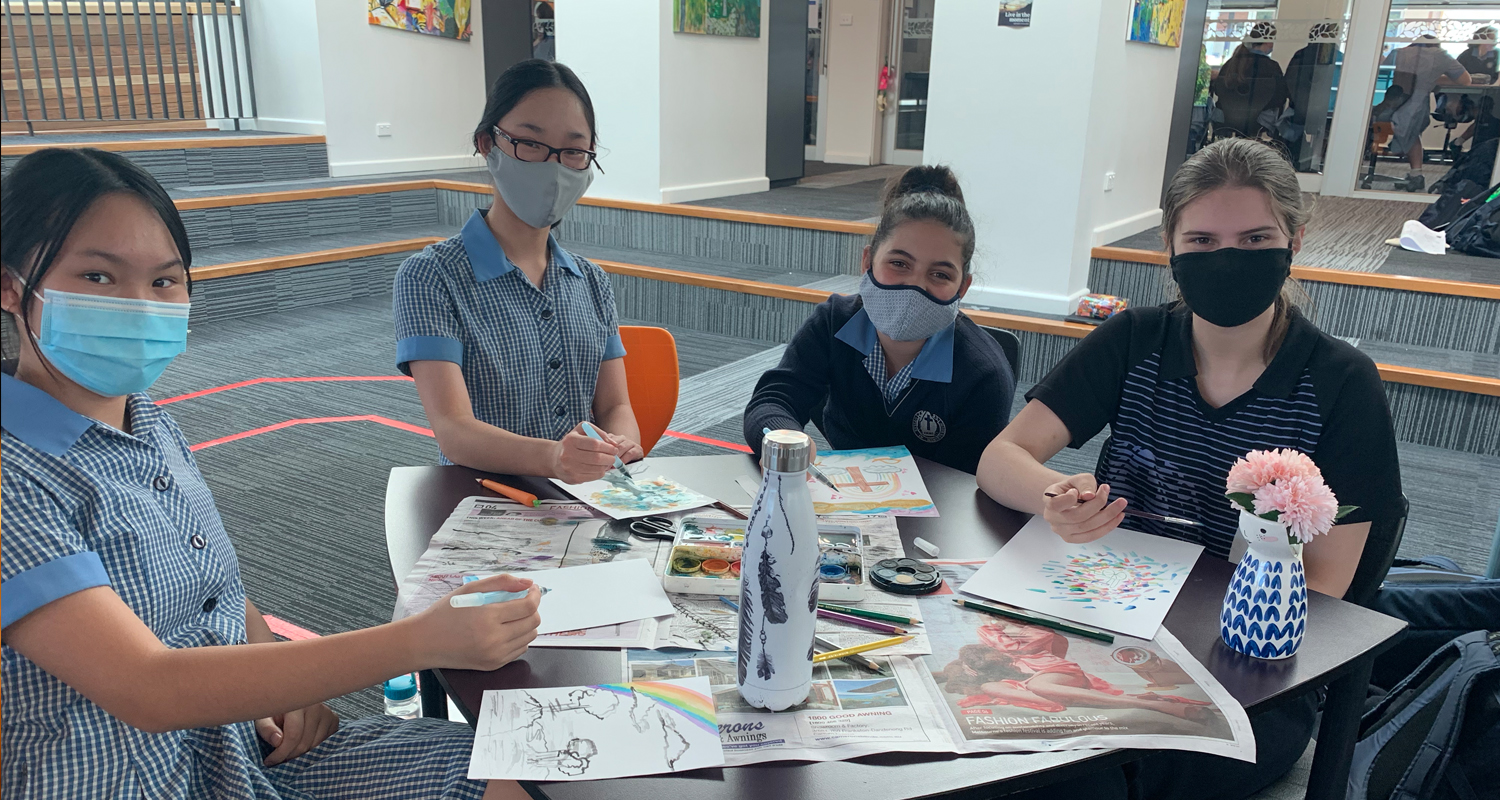 Senior School
In many respects this year seems to have lasted forever and then on the other hand it seems to have flown past. When I think back to our first day of Term 1 with the students in their Year Level Assemblies, the Year 7 School Badge Assembly, each student receiving their Centenary Badge, the Year 12 Retreat and Formal, they all seem like they occurred a lifetime ago. These events and those throughout the year that you have enjoyed reading about in the previous editions of CamNews and the many more that have occurred either virtually while we were in lockdown or livestreamed since students have returned onsite; have continued to occur as they would in a typical non-pandemic year.
As a school we have so much to be proud of and celebrate. Our students who have been incredibly resilient and adaptable, the staff, both teaching and professional services, who have also shown such flexibility in their care and guidance of the students in their every endeavour. Of course our parent community who have supported all of our efforts and the necessary protocols throughout the year.
CamNews today is no exception to the previous editions this year, with the many events and activities of the past fortnight at Senior School detailed here for you. The students have had things to immerse themselves in, right up to the very end of the school year.
Today our Year 10 and 11 students have completed their HeadStart Program and their planning for their leadership roles as our Senior students of 2021. We wish them a happy and safe holiday and look forward to seeing them return to school on Thursday 28 January.
On Tuesday 8 December our Years 7 – 9 students and their parents will conclude the year with the pre-recorded Presentation Night. This will be a fitting end of year celebration for these year levels. We also wish them well for a relaxing holiday and look forward to welcoming them back to school on Monday 1 February for their first day of 2021.
On behalf of all in the Senior School and the contributors to this edition, please enjoy this final edition of CamNews for 2020.
Warm regards,
Cathy Poyser
Deputy Principal / Head of Senior School
Year 9 – Wearable Art Parade
Next Monday during Period 4, Years 7-9 students will be attending a Wearable Art Parade. The artefacts on exhibit have been created by the Year 9 students. Working in groups of 4-5, the Year 9 students have learnt how to code a micro:bit and have been challenged to incorporate the micro:bit into their Wearable Art design made from recycled newspaper.
What is a micro:bit? 
A micro:bit is a microcontroller board. You can think of it as a type of small computer or hardware. In order to make use of hardware, we need to write software (otherwise known as "code" or computer programs). The software, in this case MakeCode, "tells" the hardware what to do.
What is Wearable Art? 
Wearable art is always made by hand.  You can wear the pieces; they are unique, and the design comes purely from the creative input of the artist. It is totally different from the mainstream fashion world but still related to it.
The Design Thinking process is used with the following 5 steps:
1.      Empathise – learn more about your target audience
2.      Define – understand and identify your audience's problems or needs
3.      Ideate – brainstorm several possible creative solutions
4.      Prototype – construct rough drafts or sketches of your ideas
5.      Test – test your prototype solutions, and refine until you come up with the final version
The Year 9 students have collaborated in their groups to produce some exceptional Wearable Art creations as well as a Padlet documenting their progress during the planning and construction of their Wearable Art.
As their teachers, we commend the Year 9 students on their efforts and ability to rise to a challenge at this stage of a demanding year. We hope you enjoy the Wearable Art parade and help us decide who has designed the ultimate creation.
Tuba Ozak, Kim Hepworth and Di Wood
Senior School Science Teachers
Year 7 French
To finish off the year, the Year 7 French students made little children's books using French language from their studies throughout the year.  The first photo of each book shows the variety of subjects they chose to talk about including topics such as family, eating out and going to the zoo. All the students put in so much work, selecting great phrases and appropriate language and we are very proud of how much they can now say! The next three photos are from Debbie Guan's book and are an excellent example of the kind of French the students can use at the end of Year 7. Bravo les filles!
Jo Rittey
Head of LOTE
Year 7 Service Learning Conference
Our annual Year 7 Service Learning Conference is an opportunity for our students to engage with acts of service for the environment. This year's event was particularly profound, as it came at the end of a year which has been notable for its environmental challenges, but also the world-wide response to a global crisis. At the heart of our environmental action at CGGS is the concept of hope, and we can certainly take hope from the events of 2020 that meaningful, collective change for the benefit of the environment is possible.
During this years' conference, students learned to act individually and collectively to make substantial, meaningful change. To inspire us to action, educators from CERES made the case for action on climate change. Our Year 7s then identified a range of areas for improvement at CGGS, and completed a design cycle, resulting in a range of inspiring prototypes and proposals. Innovative prototypes included lockers that doubled as solar panels to charge the school's batteries, and bins that turn waste into energy to charge devices.
Students embodied our school motto of 'Utilis in Ministerium' (Useful in Service), by assembling solar lamps for the Solar Buddy organisation. These will be sent to communities experiencing energy poverty, with the intent to improve environmental, health, and educational outcomes for the recipients. Our students also write letters to accompany each lamp. As the day warmed up, students focused inward, and finished the day with a range of wellbeing and mindfulness activities designed to meet the need for self-care.
Maggie Wighton

Year 8 Service Learning Conference
Last Wednesday, Year 8 students took part in one of two creative art workshops as a part of a Service Learning incursion.
One half of the cohort worked with Murrundindi. This session was titled Connecting to Place through Mapping with Murrundindi.  The focus of this session was to look at a place from a different perspective, a different view and through a symbolic lens. Students were encouraged to consider how they connect with the land, how they use it and what is sacred to them.  As they created their reimagined map, Murrundindi told stories of Wurundjeri dreaming and of William Barak's journey. He spoke about symbols that are sacred to Wurundjeri peoples. Students finished the session with a yarn circle- sharing their own artistic depictions of sacred places and spaces with Murrundindi.
The alternative workshop was with fashion designer and artist Lyn-Al Young.  Lyn-Al Young is a proud Gunnai, Wiradjuri, Gunditjmara and Yorta Yorta fashion designer and artist living in Melbourne. She creates stunning pieces of wearable art and has worked with well-known Australians including Celeste Barber, Thelma Plum and Miranda Tapsell. Lyn-Al has been featured in Vogue Magazine and currently has an exhibit with the Bendigo Art Gallery.  She has also just released a limited-edition deodorant for NIVEA inspired by her silk designs. Lyn-Al shared her story of how she paints symbolically through colour and markings to represent her story, and encouraged students to paint their story with watercolour.
Student reflections:
I took part in Lyn-Al Young's conference and she told us about how she began her career as a fashion designer. She had dreamed of the day she would be designing outfits for celebrities to wear on the red carpet ever since she was a little girl and with much hard work and determination she achieved her goal and has gone on to work on many exciting projects. I myself am very interested in the design aspects of fashion, just like Lyn-AI Young, and loved the opportunity to meet with a real life designer and artist! Her work is different from the rest in a fantastic way. She bases her designs off of her culture and her family which I find very meaningful and inspiring. Her work is absolutely amazing and I hope that one day I can find something that inspires me enough to create something as beautiful as Lyn-AI has with all of her fashion pieces. I am extremely grateful that I have had this opportunity to meet with such a talented and motivated person and highly recommend anyone to take a look at her work. For anyone with a dream and motivation Lyn-AI Young is a great role model for you to become inspired from. – Eva
I really enjoyed our session with Indigenous artist and designer, Lyn-Al Young. Being able to hear her story and experiences in the fashion industry as an Indigenous woman was truly inspiring. Her art opened me to a different style of fashion that was full of stories and emotions. Being able to then draw and reflect on what was special personally, really centred me and left me wanting to learn more about my story and how I could represent it. – Sienna
I learnt that Indigenous culture uses a lot of markings which symbolise certain things and, that you can have your own marking which connects to you. Murrundindi explained how symbols can display and resonate with things which is really interesting. I really enjoyed drawing on the map and finding my own symbols. I found it really funny that we could interact with Murrundindi (even though it was on Zoom!) since we could see how deeply he cared about his culture. Overall, I am extremely grateful for this vigorous experience as I learnt a lot more about the Indigenous culture which I can now tell to my family. – Jessica
The first thing I noticed about Lyn-Al Young was her silk clothing and how they were all so vibrant and reminded me of the beauty of nature. Lyn-Al Young is a Indigenous fashion designer and artist and kindly took the time to show us all her works of art and beautiful paintings. We learned how to use watercolour to represent our connections with our art pieces. We were able to try some of her techniques and create our own artworks that have a connection to us in some way. Before we had started on our own pieces, Lyn-Al Young painted a colourful diamond shaped piece that represented her heritage and country. Lyn-Al Young has inspired us to be proud of our cultures and family and to keep pursing our dreams. – Romy
Georgia Biggs
Reconciliation Coordinator
Year 9 Service Learning Conference
Last week brought the Year 9s the opportunity to stop and think and also jump into some serving.
On Thursday we enjoyed the opportunity to connect and reflect. We connected with Nadia from The River Nile School, a place where Year 9s would usually volunteer, and Jill (a past CGGS staff member) from Dream Stitches, where Year 10s get a chance to volunteer, and we heard about the work they do and the year they have had. Although we have not been able to have the contact we usually would, it was wonderful to touch base and learn more about the impact they have and some of their experiences.
After hearing about and reflecting on some of the work being done by some of our partners the students were able to respond by engaging in some reflection and service projects.
In response to what they heard from Nadia, a group of Year 9 students spent Friday organising a food drive for our CGGS community to get involved in, to help collect needed items for The River Nile foodbank.
Other students put their musical talents to use, some created cards to connect with members of our community, a group assembled some of the portable objects of dignity for the Days for Girls kits and we even had some groups pursue their own projects and engage in acts of kindness.
I would like to acknowledge the preparation and contributions of some of our Year 9 students to the conference. Thank you to the girls who offered their ideas, who helped plan and who facilitated some of the sessions across the two days.
I always love hearing the buzz of our students interacting, and I found it so uplifting to observe our students as they absorbed what they heard, then responded.
"I used to think service learning only involved temporary solutions such as giving food to the homeless, but now I think it can empower others to help themselves. After watching some of the videos, I learnt that service learning can involve planting a seed that later sprouts into a huge tree. I also learnt that education is what ultimately allows people to make the world a better place."  – Year 9 student reflection
Jennifer Gordon
Head of Service Learning
First Lego League
During the past couple of months, a group of students from Years 7 – 9 have been navigating remote learning and harnessing technology to work collaboratively on a series of tasks in order to compete in this year's First Lego League. With 320,000 teams (yes, that is the correct number of zeros) from around the world engaging in this activity, there was a huge demand for it to go ahead in 2020, albeit online.
There are a number of components in the First Lego League challenge. Students design a robot and program it to complete missions on a customised game table. They also engage in the design thinking process to create an innovation project linked to a global theme. This year's challenge theme is 'Replay' – how to engage the community to be more active. Throughout the competition, students need to demonstrate the six core values of First Lego League: Discovery, Impact, Inclusion, Teamwork, Innovation and Fun.
At the Melbourne Consolidated Regional Final, which took place online, both our teams performed extremely well. The judges were particularly impressed with their ability to articulate the learning process as well as their creativity in the innovation project. One team won the Motivate Award and the other the 'Breakthrough' Award. Each team was selected to compete in the National Championships (South) on Sunday 13 December. Congratulations and best wishes to both teams!
Dr Charlotte Forwood
Director of Learning Design & Development
Summer Reading
As this year comes to an end, we have welcomed Ivy back as well as seen her bid farewell to her Year 12 fans. All of us in the Library want to congratulate you all on your efforts this year. On showing up, persisting and of course, reading! We encourage you all to come into the Library before the year is out, perhaps with a tote bag, to stock up on holiday reading!
It's important to remember the benefits of reading that go beyond your vocabulary and problem solving skills. There's also your empathy development, your awareness of the world around you and of course, it's fun! It's incredible the amount of different reading experiences there are now. With audiobooks, ebooks and graphic novels, there is no short supply of opportunity to try something new. In the Library we're working on getting audio and e-books to you in the New Year, so stay tuned for some really exciting and expansive new developments from us!
We wish you all the best over the Summer, with safe and wholesome memories in the making and we cannot wait to see you in 2021. Read on!
Anne Devenish
Head of Library
https://cggs-video.s3.ap-southeast-2.amazonaws.com/2020/12/SS-FEATURE.jpg
500
500
Georgia Bennett
https://cggs-video.s3.ap-southeast-2.amazonaws.com/2021/01/2021_Web_Logo_Cyan.png
Georgia Bennett
2020-12-04 16:28:53
2020-12-04 16:28:53
Senior School