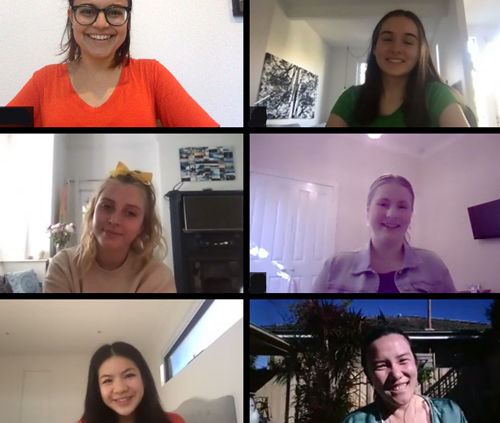 Senior School
Over the course of this term I have had the great privilege, as I do each Term 3, to interview each of the new students coming to CGGS in Year 7 the following year. In non-Covid times, this would include the students coming into the Senior School for a tour with a current Year 7 and Year 8 student before an informal chat with students from different primary schools. This has always enabled us to introduce students to others who will be in their same cohort.
These interviews are a key stage in our transition process and so, this year, I have been conducting them remotely via zoom meetings. I have been incredibly impressed by the way the students have interacted and chatted happily, asking and answering questions. They have already shown great courage – one of our school values.
As we have spoken about the myriad of opportunities on offer at Senior School, the House program has as it always does, been a real area of interest for them. We have chatted about the students in Year 7 – 12 who have, for this past number of weeks, been rehearsing for House Music, Dance and Drama, in readiness for today, our House Celebration Day, where we have enjoyed each of these performances. The Year 7's of 2021 have all been in awe of the fact that our students, through the outstanding leadership of the House Captains listed below and with the assistance of their House teachers, have been able to create these events for us all to share.
It is fair to say we all share this admiration of our student leaders; we congratulate them and are most proud of their achievements.
Lawrence House
Dance Captains – Karen Ng and Tiffany Tse
Drama Captains – Simar Kaur and Sabrina Renzi
Music Captains – Zara Mammone and Zara Price
Technical Captains – Ellen Kontossis and Chloe Langley
Visual Arts Captains – Hailie Chen and Jacqueline Zhang
Schofield House
Dance Captains – Chelsea Ellingworth and Christine Wang
Drama Captains – Charlotte Kutey and Claire Robertson
Music Captains – Phoebe Lu and Rachel Wong
Technical Captains – Rhi-Ann Lam and Holly Williams
Visual Arts Captains – Amelia Lemanis and Chelim Lee
Singleton House
Dance Captains – Jessica Brake and Eleni Magdanis
Drama Captains – Manisha Wickramasinghe and Shannon Yeung
Music Captains – Seanna Henricus and Grace Jiang
Technical Captains – Isabel Varughese and Wen Wen Xie
Visual Arts Captains – Anna Xiang and Lucy Zhang
Taylor House
Dance Captains – Emily Arvidsson
Drama Captains – Chantelle Chuang and Charlene Xu
Music Captains – Esther Chen and Aalisha Wong
Technical Captains – Maggie Hu and Melinda Zhu
Visual Arts Captains – Lucy Mulvahill and Sophie Mulvahill
All the students in Years 7 – 12 are most grateful to the following staff who have also provided unwavering support throughout the remote House competitions in Term 3. The entire program has been coordinated by Mr Shane Maycock, Deputy Head of Senior School Co-curricular Programs, while specialists Ms Keira Lyons, Ms Sally Oliver, Ms Claire Colthup, Ms Kate Savige, Mr Rohan Mack and Mrs Cathy Georgiev have all been on hand every step of the way to provide their assistance.
This morning, Dr Reid and I had the great pleasure of joining a group of students in a Taylor House breakout room as together they took on the challenge of replicating a dabbing unicorn through a program called Excel Picture Art.
HOUSE CELEBRATION DAY!
As the term draws to a close, today we celebrated our community with some of the activities that define CGGS, House Dance, Drama and Music. Whilst 2020 has meant a pivot from traditions, the outcome has truly been about remaining connected as a community and celebrating together the achievements of the whole school.
Next term we will have a full report on the days activities, but for now, please enjoy the 2020 House Dance, Drama and Music Performances via the button below.
Year 9 Cognizance Project
In Term 3, the Year 9s were grateful to be given the opportunity to work with educational neuroscientist and lecturer Dr Jared Cooney Horvarth. The five thought-provoking sessions provided year 9s with a high level educational experience into how our brains work, and how you can apply this knowledge of the brain to develop better study habits that enhance ones learning experience, something that Dr Horvarth often referred to as 'hacking the brain'.
These techniques include learning from your mistakes/errors rather than denying them in order to 'reprogram' the brain not make the same mistake again. He also reiterated the importance of having a good sleep routine in order to process more of the things that you learn/study, starting your test revision early, using 'recall' methods over passive revision (i.e. not reading) when studying for tests, and not multitasking while studying. There is no doubt that the 'cognizance project', which quite literally means to be full of knowledge and awareness, provided the year 9's with engaging information about metacognition and neuroscience in general. It also opened their eyes to the ever-evolving field of neuroscience, and its relevance to our everyday lives.
Kath Woolcock
Deputy Head of Senior School – Student Wellbeing
German Enterprise Competition
Earlier this year, we entered the German Enterprise competition run by Goethe Institute. The competition is nationwide and encourages students to choose a German-Australian company to partner with, then come up with a product or service that would improve the business. Our partner company was Grün Eco, which is an architectural firm that focuses on building sustainable homes that are tailored to every client's needs. We appreciated the ethos of the company as it aligned with our school's values, and we also feel it is imperative for Australians to be more environmentally friendly with our housing. After speaking to the company, it became clear there was a gap in the market for sustainable homes that were pre-designed, and therefore more affordable. We felt that Grün Eco should design 3-4 house templates that could be easily built in a cost-effective fashion without harming the environment. At the end of August, we were thrilled to find out our idea was one of thirteen that had been shortlisted, and were even more amazed to find out in early September that our project had placed second overall.
We have learnt a lot and are so thankful to have been given this opportunity. You can watch our pitch here https://www.youtube.com/watch?v=jGoADeUJU6w
Jane Pekin, Megan Kuo and Olivia Jones
Music: Share and Appreciate
This term, student musicians have embraced the opportunity to perform to each other in a range of Zoom sessions, together with their teachers. The CGGS instrumental and vocal staff have encouraged their students to connect during remote learning, through their creative pursuits. Students look forward to their weekly lessons with their specialist teachers, plus private practice at home allows time away from screens for them to develop and improve their skills.
Kate Savige and Rohan Mack
Directors of Music
After school on Thursday, my violin class held a "Share and Appreciate" session. Everyone really enjoyed hearing each other's well prepared performances and had lots of supportive things to say about each other's playing. It was lovely to feel connected together through the music.
Margaret Butcher
Violin and Viola Teacher
AGTV Poetry Competition
On Saturday 5 September, the State Finals of the AGTV (Association of German Teachers Victoria) was held. Unfortunately, due to lockdown, the competition was held remotely. There were people from schools all over Victoria, and they all did amazingly. There were a variety of categories, and at the end, the placegetters of these categories stayed behind for a Zoom screenshot of the event! Despite the odd circumstances and disappointment of not being able to go to a live event, everyone performed well, and the judges and hosts were very kind. Although it was a little nerve-wracking when going in and preparing, it was a very low-stress environment, and quite informal. We entered the meeting in groups of three, and got to hear the others poems, which was cool, although it meant that we heard what we were up against. Later in the day, we came back for the announcements, and they cycled through the categories. The Year 9 DaF (Deutsch als Fremdsprache- German as a second language), and the Year 9 Open (native speaker) categories were last, so it was a nervous yet excited wait. I competed in the Year 9 Open category, and the poem I selected was called Sehnsucht nach dem Frühling(longing for spring), and it was actually the poem that all the contestants in my category chose. It was a great poem, and I was lucky enough to win my category. It was a great experience, and I would do it next year again if Year 9 wasn't the last age group in the competition.
Sasha Feldman
Year 9
Library in Lockdown
Borrowing has continued in the form of newly arrived books requested and sent out to our most avid readers. This service continues during the school holidays – if you have particular books you are interested in you should contact Mrs Devenish, Head of Library devenisha@cggs.vic.edu.au.
Students have been able to contact the library directly to request books and in many instances, the requests that we receive actually influence the new book orders that we place. A library is an amazing resource for new publications and students should always feel that they can approach us with requests for new stories that they have heard about.
The Library staff have been busy searching, reviewing and selecting from many different sources including our local bookstore in Hawthorn, Readings who have an amazing range of Young Adults novels. We also have a Standing Order service delivered by Lamont Books who specialize in Children's and Teenage new publications.
Recent titles received include:
The Pieces of Ourselves by Maggie Harcourt
Chasing Lucky by Jenn Bennett
Phoenix First Must Burn by Patrice Caldwell
The History of Mischief by Rebecca Higgie
The Erasure Initiative by Lili Wilkinson
Indigo Owl by Charlie Archbold
The Great Godden by Meg Rosoff
The Fire Star by A.L. Tait
The Black Kids by Christina Hammonds
Over 30 titles have been mailed out to students from a range of genres.
We hope that the students enjoy finding their new book parcels in their letterboxes and wish happy holiday reading to all at CGGS.
Anne Devenish
Head of Library
Writers Workshop
On Tuesday, our CGGS Writers enjoyed their second creative writing session with Australian Young Adult Author, Nicole Hayes. She has published multiple YA novels, including 'A Shadow's Breath,' and 'The Whole of my World,' as well as featured in newspapers and essay anthologies. Some of our school community may also recognise her from The Outer Sanctum, the 'unconventional all-female footy podcast' who came to visit our Library last year.
Our 14 writers, ranging across senior years, worked with Nicole on character development. Learning from such a successful author how important the creating of humanly complex characters served as a light-bulb moment for so many of our young writers. It was wonderful for the girls to hear from Nicole and to have this opportunity to spark inspiration and to fuel their creative fire.
Nicole has given the girls a challenge and resourceful guide to developing their own fictional characters. The importance of this work unveiled itself to the girls as integral to successful and powerful storytelling – as all stories are about the diverse human experience, after all!
We look forward to meeting Nicole again in Term 4 to continue this incredible mentorship and we thank her and our writers for their enthusiasm.
https://cggs-video.s3.ap-southeast-2.amazonaws.com/2020/09/ss-FEATURE-2.jpg
500
500
Georgia Bennett
https://cggs-video.s3.ap-southeast-2.amazonaws.com/2021/01/2021_Web_Logo_Cyan.png
Georgia Bennett
2020-09-11 17:05:05
2020-09-11 17:05:05
Senior School