Senior School
This week I urge you to please make a cup of tea, get comfortable and take the time to read this bumper edition of the Senior School section of CamNews. Week 6, Term 3 in Stage 4 lockdown restrictions has definitely seen the students and staff take their learning and engagement to a whole new level. It will become very evident to all that our CGGS community has used COVID-19 to re-imagine existing activities and create and design new ones!
Science Week for both campuses, Ormiston and Senior School, together with Melbourne Mindset at Year 9, an extensive array of remote co-curricular activities and the list continues.
Our School Captain Felicia Spiridonos and Vice Captains Loren Palma and Laurya Dang-Nguyen also launched their "2 Cents" podcast on their Instagram page @wearecggs. We are all so proud of the leadership the School Captains and the School and House Leaders have been able to provide to the Senior School students so that they remain connected during lockdown.
Enjoy this edition of CamNews.
Regards,
Cathy Poyser
Deputy Principal/Head of Senior School
SCIENCE WEEK: A REMOTE LEARNER'S JOURNEY THROUGH THE OCEAN AND BEYOND
INTRODUCTION
Research Question:
How can we bring National Science Week to all the CGGS community?
Background Information:
National Science Week is Australia's annual celebration of science and technology. It aims to provide an opportunity to acknowledge the contributions of scientists, technology, engineering and mathematics (STEM) professionals, innovators, designers, and entrepreneurs to the world of science.
National Science Week gives us the opportunity to increase our communities' understanding and engagement with science, and to support young people being active in science-driven research and innovation which can prepare them for the jobs of the future.
This year's theme was "Deep Blue: Innovation for the future of our oceans". The science department kept this at the forefront when curating a plethora of experiences for our whole school community.
Hypothesis:
That this year's Science Week will be enjoyable to all members of the community from ELC to our families at home.
METHODOLOGY
Apparatus:
One padlet (click here to check it out), a lot of Zoom windows, a wide variety of kitchen and laundry ingredients and a whole lot of willingness to give it a go.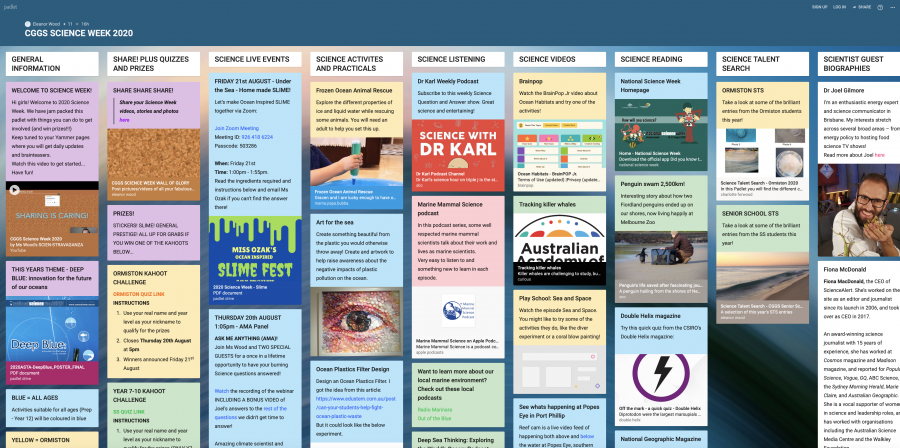 Procedure: 
1. The CGGS community were invited along our amazing Science Week journey via an introductory video and padlet.
2. On Monday, we jumped onto Kahoot, sent some questions through to our expert panellists ready for our Thursday webinar and started exploring the padlet.
3. Tuesday showed us some of the fabulous adventures happening in Junior School, including Sage in ELC presenting a fabulous tutorial on how to make a volcano at home, some amazing ocean themed origami and snap, crackle, pop slime.
4. By Wednesday, only the bravest students and Ms Lyons DARED to enter the Deep Blue Escape Room run by the Chief Research Scientist, Mrs O'Doherty (in her amazing snorkel)!
5. Thursday saw the amazing Dr Joel Gilmore (energy, climate and food science specialist) and Fiona MacDonald (CEO of the renowned global publication Science Alert) answering the hairiest of our questions, some of the highlights were the use of preprepared experiments about the dilution of spicy sauce is someone's eyes and the inspirational messages around what we can do to help battle the Climate Emergency.
6. Dressed in our best Science gear and sporting ocean inspired backgrounds, we finished up today by listening to some very cool marine mammal podcasts (thanks to our resident REAL LIFE marine biologist Dr Mason) and making some ocean inspired slime with Ms Ozak at lunchtime. What a week!
RESULTS
MONDAY 17 AUGUST – An amazing at home slime bubble from Ashanti (Grade 5)
TUESDAY 18 AUGUST – Amanda and Rachel exploring the ocean and getting into the Science Week spirit (Year 7)
WEDNESDAY 19 AUGUST – Some of the fortunate escapees…
THURSDAY 20 AUGUST – Our fabulously BRAINY special guests, Fiona MacDonald and Joel Gilmore along with Ms Ozak and Ms Wood
FRIDAY 21 AUGUST – Some of the great Science work completed during the week on our celebration wall of glory!
DISCUSSION
Over the course of the week, we embraced being as far from the ocean as possible by coming together and learning all about the ocean. We created art from leftover plastic, so it wouldn't end up in the sea, imagined ourselves as turtles and other sea creatures as well as creating fabulous origami masterpieces.
We looked to the future, and how we can make changes in our own backyard to improve our waterways and seas. Our Grade 5s and 6s and Year 8 girls innovated and came up with some fabulous games, posters, videos and creative writing pieces for Science Talent Search that hopefully will be recognised by the judges very soon.
Most importantly, we showed how flexible and resilient we were once again. Just because we couldn't be physically together, doesn't mean we can't learn, explore and have a whale of a time!
CONCLUSION
So, what did we learn? Perhaps that Science doesn't just have to be in a lab to work. We can engage our brains in thinking critically about the world around us and most importantly, still continuing to ask why?
Here's to next year's Science Week!
El Wood
Head of Science
Melbourne Mindset 2020
Have you ever truly considered what makes Melbourne unique and special?
On Friday 14 and Monday 17 August, Year 9 students did just that as they took part in their second seasonal learning experience, Melbourne Mindset. Over the course of the two days, students explored different perspectives and applied very Geographical knowledge and skills in order to develop their own sense of what it means to live in Melbourne… to be part of a Melbourne community… to love Melbourne and understand why Melbourne is a special place. Whilst students would usually do this by visiting the CBD , it was pretty awe-inspiring to see how much could be achieved 'Together apart' online and in the students' own local areas; new boundaries and ideas are shaping the future of education and possibilities.
Students gained a range of insights and perspectives by engaging with special guests, undertaking sensory explorations of various stimulus and through exploring their local neighbourhood. One of the highlights was chatting with Sammy J, a fellow Melburnian about all things Melbourne and gaining an insight into 'his Melbourne'. One student stated, "it was such a great intellectual conversation about all things Melbourne, about the history and getting some insight to seeing the world and the city we live in in a variety of different ways".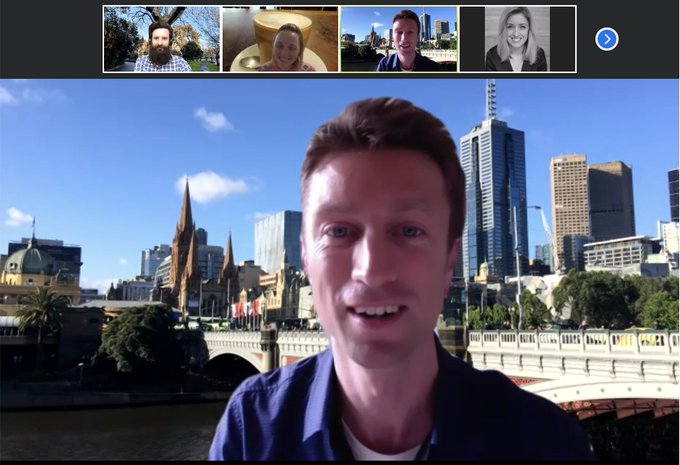 Over the weekend, students ventured through their neighbourhoods, looking for secrets and making new discoveries that reflected their developing sense of a 'Melbourne Mindset'. They captured images that they would use to tell the story of this current time in Melbourne and the story of their local places. It was an enjoyable and active way for students to get outside and not only reconnect, but also an opportunity to newly connect, with their local, 5km radius communities (it took place during the Stage 4 COVID-19 restrictions).
Students specifically applied geographical knowledge and skills and were encouraged to 'think like a Geographer' who sees and understands the world in a very spatial and interconnected way. They worked through the Design Thinking Process to ideate, prototype and test as they developed an interactive map of their local 'Melbourne' community. Finally, they showcased their personal concept of a 'Melbourne Mindset' as a walking tour on an interactive GIS map, some even complete with a 'walking soundtrack'. The ultimate goal of the Geography Department is to piece all of the individual maps together as one giant collective map, that will be added to year after year, not just telling one story but many stories and the stories of places as they change over time.
One final part of this action-packed seasonal learning experience was the opportunity for the Year 9s to step sideways into real-life possibilities and make positive change. Students completed a group "mini-challenge" to develop a business idea that improves social and economic aspects of Melbourne and submitted this to the Melbourne City Council.
A big thank you to Kate Manners, Micah Wilkins, Dr Charlotte Forwood and Summer Howarth for the great deal of work, passion and insight they committed to shaping the Melbourne Mindset in order for it to take place in such spectacular online fashion. Their Melbourne Mindsets helped create an exceptional and unprecedented learning experience for all.
Karoline Walter
Head of Geography
House and Co-Curricular Activities
Ask any CGGS student about some of their fondest memories from their secondary school years at CGGS and many will focus their thoughts on the lasting friendships and community built around House and Co-Curricular Activities. Our CGGS student-coordinated activities with cross year level interaction are diverse and cater for a broad range of interests. Students reflect that these programs strengthen the bonds between students, whether learning House chants from senior students or the development of leadership skills whilst guiding peers through choreography, drama roles, debating or the problem solving of Lego league, there is something for every student.
House Dance, Drama and Music continue their rehearsals remotely under the guidance of Ms Lyons, Mrs Oliver, Ms Savige and Mr Mack, the respective House Captains and student leaders. With the transition to virtual rehearsals, student leaders have again adapted to the challenge and continue to further develop their capabilities in working with new technology. Once more, we commend our student leaders for their good humour their unerring enthusiasm despite the limitations imposed upon them. We are all looking forward to seeing the fruits of their labour at the end of this term. House activities for every student continue to run asynchronously during remote learning with the activities posted each Friday on the respective House Yammer pages.
Bookmark Challenge 2020
Mrs Anne Devenish, Head of Library Information Services, was thrilled with the success of the House Readers Cup Challenge last term. During the challenge, students read and reviewed over 750 books! Understandably, Mrs Devenish was very keen to continue the momentum of engagement with books in our second remote learning period.
After discussions, she suggested a new challenge for each House to design and create bookmarks representing their House including messages around the love of reading and books. Whilst not a House competition between Houses, the aim was to encourage the girls to be creative about their House and compete against each other to be chosen as the Best Bookmark for Taylor, Singleton, Lawrence and Schofield.
House Captains have selected their top bookmarks to be printed in Term 4 and made available to all House members in the Library. Bookmark designers will also receive a book of their choice from the Library!
We are proud to announce the winner from each House:
Singleton – Baoyi Zhu (Year 8)
Schofield – Olive Clohesy (Year 7)
Taylor – Salome Obeyesekere (Year 9)
Lawrence – Angela Liu  (Year 7)
The CGGS Bookclub and the Literature Captains took on this challenge and adapted it for Bookclub members- to create a bookmark in their favourite genres – eg. Fantasy, romance, mystery, suspense. The Literature Captains will judge the entries and select the top bookmark in each genre to be also printed for Term 4 and available to all students. The Book club bookmark creators will also receive a book of their choice from the Library.
Mrs Devenish is so proud of our CGGS Bookmark creators and is looking forward to making these available to our CGGS reading community!
Shane Maycock
Deputy Head of Senior School – Co-Curricular Programs
House Music
All of the House Music participants have been working hard in remote rehearsals and have enjoyed spending Monday afternoons together. We might not be able to sing in the same room at the moment, but creative collaboration, adaptability and ongoing problem solving have enabled all students to support each other and persevere to reach their weekly goals. It has been wonderful to see the House Music Captains lead with so much determination, kindness and empathy. They have discovered many ways to illuminate the importance of teamwork and foster the power that music has to connect us all – the show must go on!
Kate Savige and Rohan Mack
Directors of Music
AGTV Poetry Competition Success!
Last week, on August 12, students in Years 7 – 9 who are learning German, participated in a Zoom Poetry Competition with the Association of German Teachers Victoria (AGTV).
Due to the stage 4 restrictions, the competition was run a bit differently compared to other years. Inter-school excursions and traditional German food for snacks were instead replaced with Zoom meetings and pantry snacks. Nevertheless, the energy was high in the Zoom meeting (and breakout rooms) as students from CGGS, Scotch College and Trinity College represented their school whilst reciting their selected poem in German. It was a wonderful cultural and language experience as we engaged with other students and adjudicators about remote learning, Germany, and the German language. A special congratulations to Sasha Feldmann (Year 9), who received first place in the 'open' category. Overall, the afternoon was a wonderful experience, and it was clear that all participants thoroughly enjoyed themselves.
Debating goes online!
Each year, Year 9-12 students compete in the Debaters' Association of Victoria (DAV) competition. Even though a lockdown order may currently be keeping our students at home, the competition continued. Lunchtime preparation meetings and competition nights have been held on Zoom, with students collaborating through Office 365 to plan and write their arguments. So far, our four debating teams have each competed in four debates, affirming or refuting propositions such as That we should ban climate change denialism or That we should lift the ban on Russian athletes participating in international sporting events.The final round of the competition is approaching later this term.
The Year 11 students competing in the B Grade competition (Emma Zhi, Esther Chen, Amy Du, Catherine Hu, Maggie Hu) offered this short reflection on their season so far:
Due to the pandemic, DAV has been a completely new experience; unusual yet thrilling! All of our debates have been held online, and we've had to deliver our speeches virtually through Zoom. As most of our topics have been 'secret topics' which are released just one hour before the debate, we've had to be especially innovative in our preparation techniques. We've been tested on our organisation, communication and versatility. It's been unique, to say the least, for us to debate topics like introducing commercial robot automation taxes from the recesses of our bedrooms. Debating is such an enriching experience. Not only is it fun to work collaboratively with friends, it is beneficial to a student's communication skills, critical thinking and confidence. It has definitely helped us deepen our connection with friends. Participating in the DAV competition has given us more confidence to discuss philosophical and practical problems. More concretely, debating expands the way you look at things, giving you a multi-faceted perception of issues. (It also does not hurt to see a clever and sophisticated debater every time you walk past the mirror.)
Ian Lyell
Head of History and Debating Coordinator
Exciting Business Studies Electives at Year 10
Agile, determined, resilient. Three words that aptly describe our students and their ability to adapt to the challenges of remote learning. Teachers have adapted their course content and modes of delivery, whilst students have embraced remote learning and the associated changes to their learning routines.
Has remote learning always been smooth sailing? Unlikely. Both students and teachers alike have, at some stage, experienced the unwanted biproducts of remote learning including Zoom fatigue and struggles with motivation. The first lockdown period promoted arguably the most significant transformation in education for decades. Staff at CGGS designed and implemented a highly practical and supportive model of delivering classes, wholly online, within a matter of days.
The announcement of lockdown 2.0 prompted refinements and improvements to an already highly successful model. For Year 10 students, changes may have appeared subtle. In understanding the challenges faced by our students, the length of each lesson was shorted to allow for 'Rest & Revive' breaks. The electives offered at Year 10 were redesigned. Classes now combine the practicality of synchronous learning and the autonomy of asynchronous study.
An example of such flexibility is the Business Communication & Marketing elective. Previously, when on campus, students attended seven lessons across each two-week cycle. The feedback from our first period of remote learning highlighted the impracticalities of conducting seven hours of face-to-face video conferencing across a fortnight.
To accommodate the changing educational landscape, students now engage in a vastly different format. During the first and last timetabled class each week, students attend a 'check-in' via Zoom. Instructions are provided, resources delivered, and questions answered. From this point, students engage with the subject online and at their own pace. With the security of being able to contact their teacher whenever support is required.
Weekly instructions are posted to the class Padlet, along with all necessary resources and assessments (pictured). Students then submit their tasks via SEQTA for timely feedback. Those who feel their workload is manageable, then have the opportunity to partake in an optional and practical assessment, applying their knowledge and skills.
Student engagement has been overwhelmingly positive. We, as teachers, will continue to respond to the feedback from our students and develop our resources to meet their learning needs. Whether that be on-campus or virtually.
James Henderson
Business Studies Teacher
https://cggs-video.s3.ap-southeast-2.amazonaws.com/2020/08/SS-FEATURE-2.jpg
500
500
Georgia Bennett
https://cggs-video.s3.ap-southeast-2.amazonaws.com/2021/01/2021_Web_Logo_Cyan.png
Georgia Bennett
2020-08-21 16:35:08
2020-08-21 16:35:08
Senior School