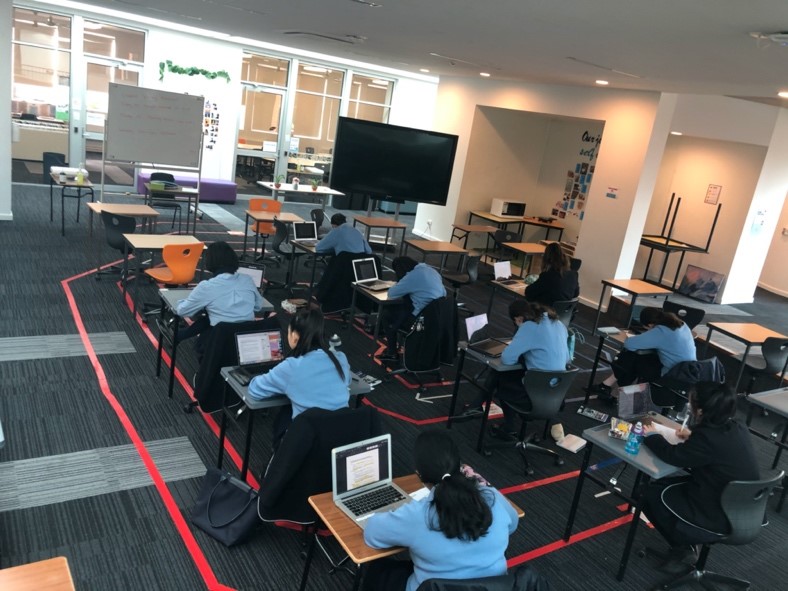 Senior School
Just over 100 years ago, the Spanish Flu pandemic arrived in Australia. The disease affected millions of people worldwide and when it reached Australia in 1919, sadly many deaths were also recorded here. As a nation, we lost fewer citizens, but it was still a major tragedy, felt by millions of Australians. During this time, well-known author and illustrator May Gibbs, creator of the Gumnut Babies stories loved by generations and drew the image that I have included below.
As CGGS celebrates its 100thAnniversary, there is a similarity as we are all required to once again wear face masks to protect ourselves from the COVID-19 pandemic.
During these weeks and months when we are all feeling concerned about the world, I find it reassuring to look back to CGGS's own beginnings, and to know that this too shall pass, and we will come out the other side and move forward as a resilient and more strongly connected community.
Yesterday I received a very thoughtful and welcomed gift from 2019 Year 12 student Katie Lutze, who is currently assisting in the Senior School in a Staff Support role. Katie's mum Gillian had created a CGGS summer uniform face mask from a repurposed uniform of Katie's. This prompted us to search out some previous style summer uniforms for more reusable masks to be made and shared. The Makerspace currently sees our keen seamstresses utilising any spare time between classes creating face masks to be used by our community.  Yesterday Head of Art, Ms Miller was manning the sewing machines and Mrs Tooke was the pattern maker.
In last week's CamNews we included an article by Mrs Devenish in the Senior School library, sharing that we are now posting books to our students so that they can continue escaping into the world of words during this time of isolation. Mrs Devenish shared an email received from Jacqueline in Year 10, after she received her parcel.
Hi Mrs Devenish, 
The package of books you sent arrived in the mail yesterday which was very exciting! I love getting packages in the mail and I was super thrilled to see you included the other book I put in the request box.
Thank you so much for that! I really appreciate your posting them to me so that I can read during the lockdown. It's great to be able to stay connected to the library even in remote learning.  
Hope you and Ivy are doing well. 
CGGS Teaching and Learning Update
Things are well and truly underway with our CGGS Senior School Remote Learning Model. VCE students are on site and Years 7-10 students are learning from home, meaning that we have a hybrid design in operation.
Senior School staff are working across two delivery modes and we know that many families also have a daughter on site and a daughter at home. Consequently, we know that the combination of students learning from home and parents working from home brings with it, additional challenges.
Keeping up to date with all the terminology that has emerged during this time is another unexpected by-product of these changing times. To help with this, we developed a CGGS Remote Learning Glossary, published in the Senior School Weekly on Tuesday this week, of some of the words that are becoming embedded into our day to day language. We'll regularly update this vocabulary list and you can access it through SEQTA engage. If you require an explanation of any terminology we are using or you have a suggestion for an addition to this glossary, please let us know.
On site, we're enjoying the opportunity to find new ways to use the large spaces that we have around the school to ensure physical distancing and continue our learning in different ways. We have been able to retain many of the strategies that our VCE students enjoyed whilst learning remotely, including utilising collaborative online spaces and the adoption of a flipped learning approach when interacting with content in some classes.
We are also continuing to look at the events that we used to conduct on site and reimagining them in an online space.
Our calendared 2021 VCE Subject Information Night and Year 8-10 Subject Information Night were both delivered remotely. This has enabled us to start the important process of subject selection for these students and it also means that planning for the following year can continue uninterrupted, as it would under normal circumstances.
This week, we also held our second round of online Learning Conversations, this time for our Years 7 and 8 families. We appreciate the feedback that families shared with us about the convenience and reassurance of being able to stay at home at this time, whilst still enabling these meetings to take place.
We have an additional two Learning Conversations scheduled later this term, for our Years 9 – 10 and Years 11 – 12 families. By the end of the year, we expect that an impressive 3,500 online Learning Conversations will have taken place across Senior School.
Finally, over the coming weeks, I am really looking forward to sharing the teaching and learning that is happening on site and remotely here at CGGS. Our community is doing amazing things and I am delighted and privileged to be able to share this with you.
Ms Kate Manners
Deputy Head of Senior School – Teaching and Learning
mannersk@cggs.vic.edu.au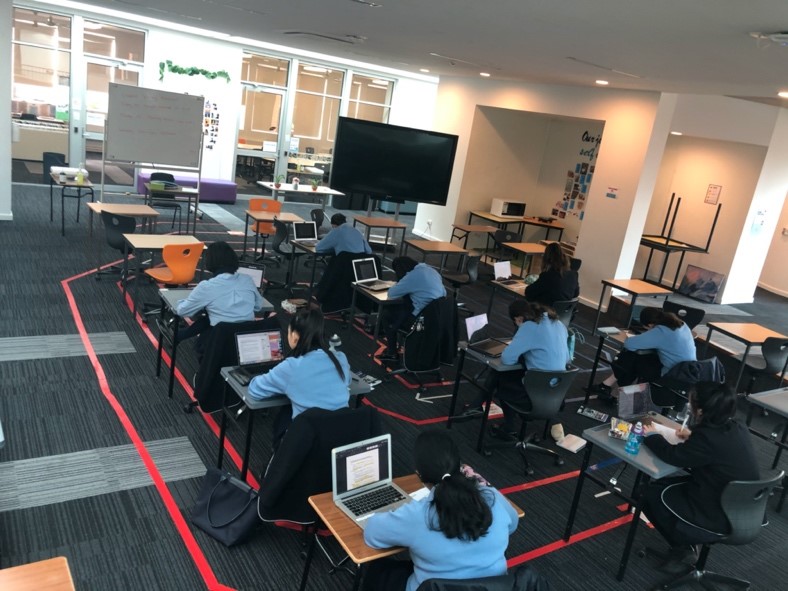 Co-Curricular Participation Continues!
As Term 3 is now well underway for all year levels, whether on site or remotely, students are once again engaging in the wide range of co-curricular opportunities being offered in both an asynchronous and synchronous mode. House activities have commenced by building on the success of the House Reader Cup in Term 2, with students now busy using their drawing or design skills creating House themed bookmarks. The chance to win some great book prizes from the library has ensured early entries being posted to the Yammer pages. Entries into the House Bookmark challenge close at 8.00am Monday 3 August.
See some entires below.
House Music, Drama and Dance auditions and rehearsals have been taking place both onsite for the Year 11 and 12 students, and in the virtual world for the students in Years 7– 10. The Captains have been collaborating on site and using video conferencing to prepare for their performances. With the amazing support of staff, and collaboration of House student leaders, students continue to prepare within an ever-changing landscape for a show like no other in 2020, on the last day of Term 3.
Co-Curricular clubs continue to utilise the resources and technology they successfully initiated in Term 2 and so for students with particular interests, these are great spaces to further develop passions and ideas. The Environmental group has been running activities all week for Environmental Week and Drama Club is back 'Zooming' most creatively.
Mr Shane Maycock
Deputy Head of Senior School – Co-curricular Programs
maycocks@cggs.vic.edu.au
Donating My Hair…
On the Saturday evening after our last day of Term 2, I cut my hair. Not a trim – a proper cut. It wasn't one of those iso-spontaneous haircuts either, but rather a calculated, long-awaited chop. For years, donating my hair had been on my bucket list but I had never had the courage to do it. I was proud of my dark, straight hair and my "iconic" ponytail, as my friends pointed out, so cutting it all off wasn't an easy task.
I was, however, inspired by multiple friends in my past who had donated hair, and by the countless stories I had heard of cancer patients receiving wigs. The joy they could barely express, the relief in their eyes, the silent gratitude… these are, to name a few, the ultimate gifts one can give another. My hair will grow back – of that I am sure of. But for cancer and alopecia patients? Who knows what their futures hold?
I donated my hair to Sustainable Salons, which provides more than half of the hair needed in wigs for cancer and alopecia patients. This Australian program repurposes up to 95% of salons' waste, such as creating wigs from hair or fashionable sunglasses from old shampoo bottles. It doesn't just stop there though. Sustainable Salons has also removed over 125,000 kg of metals from landfill and provided over 100,000 meals to homeless people through recycling. One donation goes a long way, even in the midst of the pandemic. I am so glad I cut my hair. I am comforted by the fact that one day, someone will smile because of it, and that, in turn, makes me smile.
Jennifer Fan (Year 12)
Year 11 Update
Year 11 students were introduced this week to their Wellbeing Curriculum for Term 3 which is primarily focused on the development of 'Leadership skills', recognising that all students, regardless of formal titles, are leaders of our School and community.
This is of course purposeful in its timing as our more senior students begin to prepare for the leadership process for 2021 with a Leadership Briefing Webinar on Thursday 30th July. During our Period 5 program, we will examine the following four broad aspects of leadership through discussions and a series of hands on activities.
> Examining Leadership Qualities
> Daring to Disagree
> Leadership Identity
> Developing a leadership philosophy
Understanding there are a number of qualities that underpin the foundation of good leadership and whilst these may be more naturally present in the personality of a leader, they are also fluid and situational and can present in different ways. Students will explore the need of valuing different opinions and the need for diversity in teams in order to generate creativity and momentum. The notion that strength lies in diversity and in challenging the status quo will give students an understanding of the complexities of leadership and that daring to disagree is linked to bringing and developing their own set of strengths. Through exploring values, actions, priorities, theories and behaviours, students will be encouraged to develop their own leadership philosophy and ways they intend to embed this in their role as a Senior School Community leader.
I continue to be amazed at the resilience shown by all Year 11 students during this year and the ingenuity being shown in those that have current leadership roles, to adapt to the ever-changing environment and parameters they are given. They are being equipped with a vital set of skills that will pay dividends for years to come. I am very much looking forward to working with them in the months to come as we journey together through this challenge and whatever others are in front of us.
Nareen Robinson
Year 11 Coordinator
Year 12 Update
The Year 12's are to be congratulated on the manner with which they have started Term 3. They have yet again made a seamless start to a new school term and have returned with a genuine sense of resolve to continue to overcome the various obstacles that have been placed in front of them whilst they are completing their final year of schooling at Camberwell Girls.
They have been particularly diligent in their adherence to a range of new school protocols this term, designed to looked after their well-being and health. Whilst some found the temperature testing and the re-organisation of student desks in some classrooms to ensure physical distancing initially daunting, they have quickly adapted to this new paradigm and all Year 12's now feel very settled and supported in the school environment.
As part of the school's Wellbeing Program, they are about to embark on a series of lectures on the three important elements of Exercise, Nutrition and Sleep. These three components are considered to be essential in ensuring that students work optimally on their academic studies whilst retaining a strong level of well-being and mental health. I look forward to reporting on this program in the ensuring weeks.
Finally, it is my pleasure to share a random selection of feedback from the Year 12's obtained during this week about what they like most about being back at school this term.
> "Seeing all of my friends again" was a sentiment shared by all students I spoke with
> "Seeing my teachers again and having face to face learning"
> "Structure and routines of School"
> "While we miss our younger peers, the quietness on campus with only two year groups present"
> "Having the Common Room to study and socialise in"
> "Being able to come late/leave early when we have study periods"
> "A special thanks to Mrs Dunwoody and Mrs Poyser for looking after us all, so well during Covid-19"
Andrew Burnell
Year 12 Coordinator
https://cggs-video.s3.ap-southeast-2.amazonaws.com/2020/07/24.7.20-Kate-Manners.jpg
591
788
Georgia Bennett
https://cggs-video.s3.ap-southeast-2.amazonaws.com/2021/01/2021_Web_Logo_Cyan.png
Georgia Bennett
2020-07-24 15:43:12
2020-07-24 16:48:17
Senior School