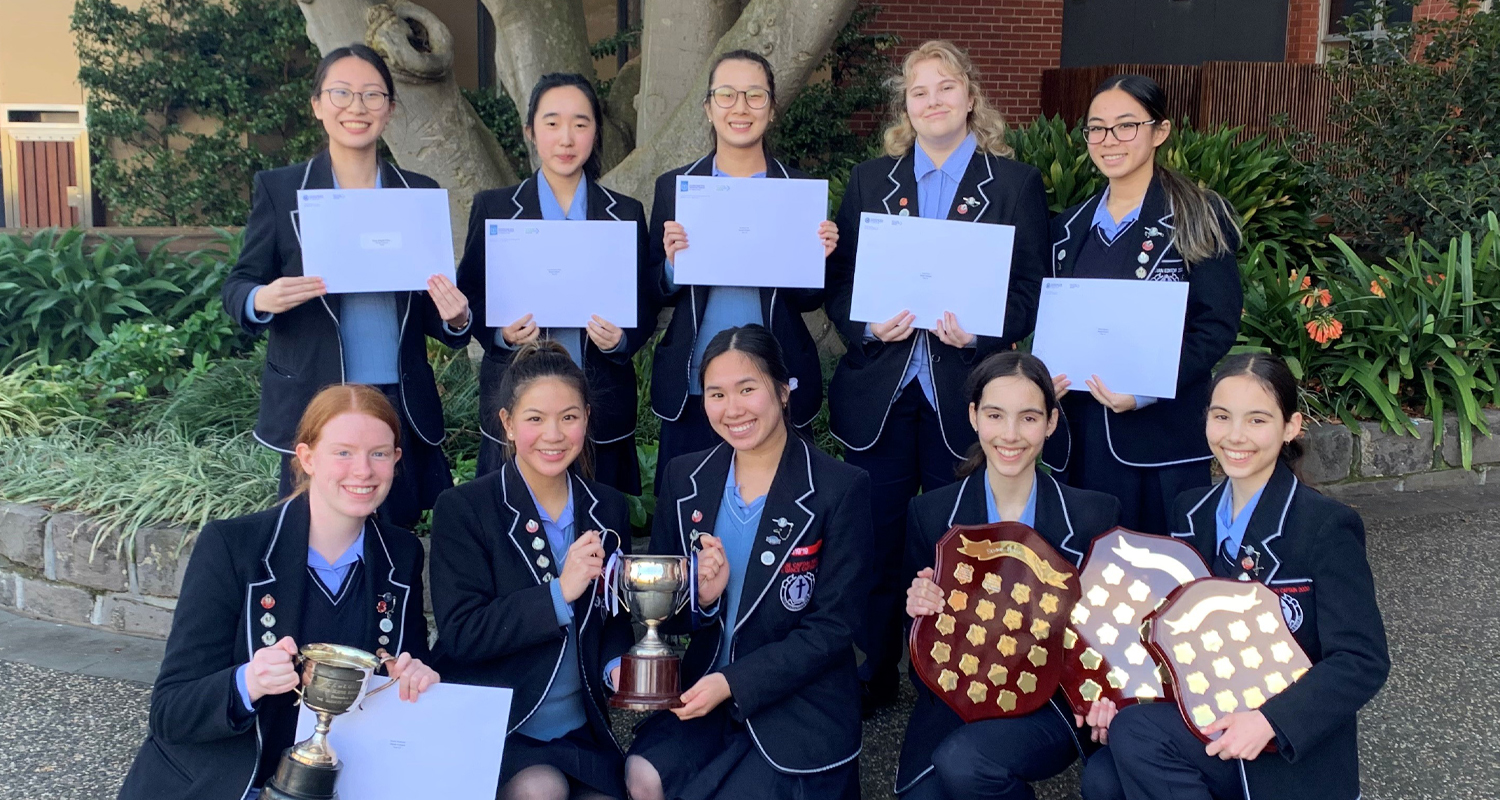 Senior School
It's been such a pleasure to welcome back the Year 11 and 12 students face to face and Year 7 – 10 remotely.
Students and staff have continued to be supportive of our COVID-19 protocols, with personal and classroom hygiene becoming second nature. This term in Senior School we are trialling automated temperature scanners.  Upon arrival staff and students simply stand directly in front of the body height scanners, which register and read temperatures before "granting access".
Next week we look forward to being able to share more stories of the student participation in their remote learning and asynchronous co-curricular activities. Stay happy, healthy, safe and well.
Monash Scholars Class of 2020-2022
Earlier this year students in Year 10 were invited to apply for the Monash Scholars Program. This is a prestigious program for secondary school students offered by Monash University to give high potential students a unique head start into university life. It provides opportunities for personal and academic development, as well as, giving students the knowledge, skills and confidence to make the right study choices. It also enables them to expand their network of like-minded peers.
This week we were pleased to receive advice that the following students have been admitted to the Class of 2020 – 2022. Congratulations to Emily Wu, Sarah Hui and Teagan Diep.
Fantastic Musical Achievement from CGGS Student – LMusA Recipient 
We are thrilled to share that Year 10 student, Emily Wu, has successfully been awarded with her Licentiate Diploma in Music (LMusA) for Cello – an outstanding achievement.  Not only has Emily been awarded with these significant credentials, she also received a Distinction for all her hard work, a level only awarded to very few exceptional candidates.
To receive her LMusA diploma, Emily performed a 40-minute program of challenging and varied cello repertoire for her examiners. Her program included a combination of accompanied and unaccompanied works by Prokofiev, Beethoven, Elgar and Piatti. At the end of Term 2, a small physically distanced audience of staff and students were privileged to hear Emily perform her program at school which was a special treat for all.
In order to study for LMusA, a student must have already completed the prerequisites of an AMusA diploma, as well as Grade 6 Music Theory. We are thrilled to have many exceptional musicians at CGGS who have achieved an AMusA diploma while at school and these students are recognised on the Music Honours Board in the Music Department. Emily is one of only two students at CGGS who have been awarded with AMusA diplomas for two different instruments. Chloe Law and Emily both have AMusA diplomas for their studies in Cello and Piano, and both achieved their second instrument diploma when they were Year 9 students. Emily joins a small group of CGGS students who have also achieved their LMusA diploma while still at school, including one of our 2020 School Music Captains, Kathy Han (Violin in 2016), and one of our 2017 School Music Captains, Frances Lu (Piano in 2013).
Our talented musicians continue to amaze us with outstanding achievements in their musical studies, even during this difficult time that continues to provide extra hurdles at every turn. We encourage our CGGS musicians of all levels to keep up their playing and listening to music at home, especially those continuing their private tuition remotely, as it is a wonderful creative outlet and mindful activity away from screens.
Rohan Mack & Kate Savige
Directors of Music
House Awards Assembly
On the last day of Term 3, Friday June 26, we were delighted to present eligible Year 11 and 12 students with House Colours and House Double Colours. These awards show a commitment to the various House activities over each student's time at CGGS. Each and every student has the ability to find their own unique connection in the cross year level House program from our long running events including Athletics, Dance, Drama, Music, Swimming, Diving, Debating and Public Speaking to more recent additions of House Reading and Theatre Sports.
As with everything 2020, the House competition has evolved through COVID-19 and included Remote Cross Country and Virtual Debating events and moved the Performing Arts events to Term 3 in the hope of being able to present to some form of audience.
The House Awards Assembly was unique in meeting the physical distancing requirements by hosting only Year 11 and 12 students on the two levels of the Barbara Sutton Hall whilst other year levels viewed the assembly via live streaming. A recording of the assembly is available through clickview at: https://clickv.ie/w/IQMn
We would like to once again congratulate the following students on their achievements.
House Double Colours – 90 House points
Laurya Dang-Nguyen – Taylor
Tilly Dunn – Taylor
Tara Hoopman – Lawrence
Emily Hoyle – Taylor
Shohaag Sengupta – Singleton
Yuet (Crystal) So – Taylor
Elizabeth Waite
Aalisha Wong  – Singleton Taylor
Angelique Zhou – Singleton
House Colours – 60 House Points
Emily Arvidsson – Taylor
Haylie Chen – Lawrence
Brianna Chen – Singleton
Kelly Chua – Singleton
Chelsea Ellingworth – Schofield
Ran (Christine) Guan – Schofield
Catherine Hu – Taylor
Grace Jiang – Singleton
Rachel Lau – Taylor
Chelim Lee – Schofield
Belinda Lemanis – Schofield
Minh Nguyen – Lawrence
Ashley Olsen – Singleton
Zara Price – Lawrence
Grace Raszewski – Schofield
Saara Sarayana – Singleton
Iliana Trimbos – Singleton
Eloise Webster – Lawrence
Holly Williams – Schofield
Siqi (Victoria) Xiao – Lawrence
Annalise Yap – Lawrence
During Term 2 we also conducted a number of House Events, the results of which were presented at this assembly. I would like to congratulate all students who participated in these events and again acknowledge the commitment and dedication to the leadership roles that all House Captains and Leaders have shown this year. The continued support of the captains through Yammer posts of all students has been encouraging. The results of the Term 2 events are listed below:
House Remote Cross Country
1st– Taylor
2nd– Lawrence
3rd– Singleton
4th– Schofield
House Readers Cup
1st– Taylor
2nd– Singleton
3rd– Lawrence
4th– Schofield
Top Readers were Isabelle Bertus (Year 7), Amanda Lee (Year 7),  Riya Moloney (Year 7), and Sabrina Bignold (Year 7).
House Virtual Debating
Junior Division
Won by Taylor
Best speakers – Tyra Dawson (Year 8) and Chloe Shillington (Year 7)
Intermediate Division
Won by Lawrence
Best speaker – Teresa Guo (Year 10)
Seniors Division
Won by Lawrence
Best speaker – Eloise Webster (Year 11)
House Virtual Debating Overall Results 
1st– Lawrence
2nd– Taylor
3rd– Schofield
4th– Singleton
House Public Speaking
Junior Division
1st– Sara Rowland (Year 8)
2nd– Tyra Dawson(Year 8)
3rd– Ruby Tu (Year 7)
Intermediate Division
Equal 1st– Maya Jones and Teagan Diep(Year 10)
Equal 3rd– Nancy Huang and Alice Wilson (Year 10)
Senior Division
1st-Annaliese Cossenas (Year 11)
2nd– Amy Du (Year 11)
Equal 3rd– Catherine Hu and Esther Chen (Year 11)
House Public Speaking Overall Results
1st– Taylor
2nd– Singleton
3rd– Schofield
4th– Lawrence
House Isolation Cup
To continue engaging students in House related challenges and activities in a fun manner away from the regular curriculum, House Captains set weekly asynchronous challenges on Yammer House Pages. House leaders selected a range of the best submissions for judging in what would become the inaugural edition of the House Isolation Cup. The submissions were judged by a range of teachers with the overall result as follows:
Equal second: Schofield, Singleton and Taylor
Winning House: Lawrence
Book mailout service at CGGS
In the last remote learning period the Library sensed that our regular borrowers of new books were missing the opportunity and experience of browsing and borrowing, and we were right!
In our second round of remote learning, to make up for the interactive experience of browsing the shelves, we have emailed students with images of the new book covers with a blurb introducing our new arrivals. Students then placed their orders by return email. We are now offering a delivery or postal services, with books being posted directly to students and they have loved the experience of finding a package in the letter box or at their front door.
Sense the excitement in Ella's (Year 9) email below.
"This sounds absolutely AMAZING!!! I have definitely been missing the library heaps and I have already read all of my own books at home so I'm really excited to be able to read something new"
We will continue to offer this special service for students in Years 7-10 throughout remote learning.  Any interested student should contact the library directly and Mrs Devenish and Ren will be only too happy to assist.
Borrow CGGS Sports Equipment!
With increased screen time over this remote learning period, it is vital for everyone's health and wellbeing that we take regular breaks and don't decrease our physical activity. To help families with this, we are very excited to open up our sport sheds and offer our equipment to CGGS students to borrow during this remote learning period. It's really important that everyone is staying active at home and we know that motivation in winter can sometime be challenging. If you don't have sports equipment at home or you'd like to try something new, you will be able to borrow some from CGGS.
Students can choose equipment from most sports – eg, Basketball, Netball, Badminton, Football, Volleyball or Frisbee. There are also some other fun games such as Finska that are great to play with the whole family.
If students are interested in borrowing equipment, please email Head of Sport, Lauren Law  lawl@cggs.vic.edu.auand she will arrange a time for you to pick up the equipment. Students will be required to sign out the equipment to ensure everything is collected again at the end of remote learning.
Please note that when you enter the school you will be required to follow the same procedures as you did when collecting your books.
> Enter the school via the Torrington Street main gate only.
> Reporting to the Senior School Student Services Reception in the Anne Feehan Building to have their temperature checked on entry.
> Please note that parents or other adults are not able to accompany students onto the school grounds.
https://cggs-video.s3.ap-southeast-2.amazonaws.com/2020/07/SS-FEATURE-1.jpg
500
500
Georgia Bennett
https://cggs-video.s3.ap-southeast-2.amazonaws.com/2021/01/2021_Web_Logo_Cyan.png
Georgia Bennett
2020-07-17 15:54:50
2020-07-20 10:26:14
Senior School