Senior School
This past fortnight we have yet again enjoyed and celebrated numerous highlights. The second half of the OGA Public Speaking Competition was held during Assembly last Monday and we have now heard from all our finalists. Sara Rowland, Samantha Fan, Ananaya Mittal and Harini Balashankar in the Junior Section on the topic of "Young people are the world's greatest resource".  Emily Lin, Georgia Tsirmiris and Megan Kuo in the Intermediate Section on the topic "Technology is beneficial to human kind". Christine Guan and Katia Testarotta in the Senior Section on "Social action and change require compromise and courage".
Congratulations to each of the students who took part in the event and also to each of these finalists. The results will be shared soon. Also we thank the OGA who generously sponsor this event, as well as the 2019 School Debating and Literary Captain, Charlotte Abbott who organised the event.
Last Tuesday our Cross Country runners acquitted themselves well in the Preliminary event and they are currently competing in the finals event this afternoon. We wish them all luck in this GSV event.
Our VCE Theatre Studies students under the great guidance of Ms Keira Lyons, Head of Performing Arts, performed their production of Antigone in a matinee for Year 10 and 11 students and then an evening for parents and friends. As always the quality of the work was outstanding and each student explained to the audience in the Q and A, their contribution whether it be costuming, lighting or props. Well done and thank you for sharing your performance SAC with the appreciative audiences.
The Service Learning Soiree, was hosted in Robinson Hall last Friday night to kick off Reconciliation Week. The event raised money for our students going to Cambodia who support the Green Gecko Project. Keira Lyons, hosted two conversations – one titled 'On the Couch with Keira' and the other 'Lounging with Lyons'. The night was a huge success and we thank Liss Campbell and her Service Learning team for the amazing work they do to provide our community with the opportunities to live our school motto, Utilis In Ministerium – Useful In Service.
This week in Senior School we have welcomed boys from Trinity Grammar School to play Possum Ball as part of the Reconciliation activities planned by our Reconciliation Captains, Yesenia Chang-Gonzalez and Mathilda Cleeland-Mellor. Under the guidance of Ms Georgia Biggs, Yesenia and Mathilda ensured our assembly with Murrundindi and the Billy Tea Bush Band was memorable and meaningful.
Tonight we all look forward to the annual House Music competition. Over the past weeks we have heard the students rehearsing tirelessly for this event and with Barbara Sutton Hall fully booked out, it is set to be a fabulous night of music making. Best wishes to all students and the Houses. Congratulations to Kathy Han and Felicia Spiridonos (Lawrence), Lucia Chen and Jennifer Le (Schofield), Jennifer Fan and Elizabeth Waite (Singleton) and Shirly Chen and Caitlin Kuo (Taylor) for their marvellous leadership of the students in their roles as House Music Captains. We also acknowledge and thank all the Music Department under the leadership of Ms Kate Savige and Mr Rohan Mack for their guidance and support of all the students during the rehearsal period.
Service Soiree 
The CGGS annual Service Soiree was held last Friday and what a night it was. The evening was a thoughtful and caring acknowledgement of the work and efforts of the whole CGGS community in changing the way in which we as a society view the act of giving and of service. The financial proceeds from the night will be used in support of the Green Gecko project in Cambodia as well as the Indigenous Literacy Foundation. Throughout the night our lovely servers were the girls who will be traveling to Cambodia on the Green Gecko Project this year. The girls showed great enthusiasm and hospitality on the night and were very much appreciated by the guests.
Our evening began with a Welcome to Country Smoking Ceremony in the Labyrinth where the guests were all encouraged to walk as a group through the smoke. Murrindindi sang to welcome us on to the land, setting the tone for an evening that showcased the power of relationship and connection with one another as a community.
Throughout the evening we heard from students Hannah Shillington and Emily Hoyle, along with teacher Nirvana Watkins, as they discussed the 2018 Cambodia trip of 2018 with Ms Keira Lyons. The students spoke eloquently and their passion for the Green Gecko Project was obvious.
The Green Gecko Project in Siem Reap, Cambodia supports over 100 children and their families who previously lived and begged on the streets. Green Gecko provides security, education, love and opportunities to these children through their formative years and into their adult lives, empowering them to achieve their full potential. The project also supports the children's families and the broader community through long term health, education and training initiatives.
Later on in the evening we heard from Murrundindi, Ms Georgia Biggs and two students, Charlee Johnson and Tanise Young who all attended the Mungo Youth Conference held at the Willandra Lakes World Heritage Region. The experience is a truly unique format, with a "kids teaching kids model".  The conference also has a "learning through sharing and doing" in order to educate the next generation in Australian and Aboriginal history and culture. It was heart warming to see younger girls becoming emotionally involved with Service Learning.
The evening was a celebration of the CGGS Community. Bringing together students, staff, family and the wider community in celebration of the change our school has been able to make in our commitment to Usefulness in Service.
We must not forget the tireless efforts of all those who contributed in preparation for the evening. Warmest thanks to Ms Lyons for hosting our couch conversation sessions; to staff for donating items for the hamper raffle; those who donated to the silent auction; Pinwheel & Co for the food; the Parents and Friends Association for the welcome drinks and of course our wonderful Service Learning teachers lead by Mrs Liss Campbell.
Thank you all for bringing together this wonderful event into our school calendar.
Natasha Parsons
Year 12
The Worawa Reconciliation Carnival
The Worawa Reconciliation Carnival was once again a day to remember and the largest carnival to date. 19 schools came together to participate in what is shaping up to be one of the most enjoyable days in the school calendar. The day commenced with a smoking ceremony, the traditional welcome for indigenous gatherings.  We gathered to recognise reconciliation and celebration of our First Nations people, a timely occasion close to the commencement of National Reconciliation Week.
Donning our indigenous bibs, our representative team played a collegiate, commendable brand of netball with Senior School leaders stepping up to the task and coming away with four wins out of the seven matches. It was also a time for our girls to have fun, develop confidence and self-esteem and embrace the wonderful atmosphere of the event alongside special guests from Cricket Victoria and Hawthorn AFL/AFLW.
The Worawa Aboriginal College and CGGS relationship continues to be fostered through these sports days and we look forward to continuing this partnership into the future.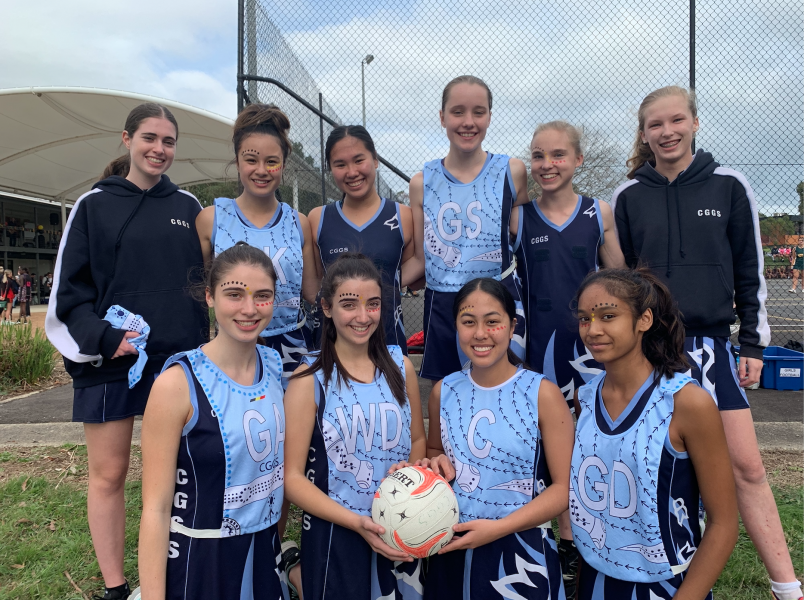 CGGS Careers Expo
The 2019 CGGS Careers Expo, a biennial event and part of the career education program at CGGS, took place on 22 May. Robinson Hall and the Library were buzzing with students (and parents) from Year 9 – 12 who had the opportunity to visit stands of several tertiary institutions and organisations, collect educational material and speak to representatives. Universities across Victoria and interstate were well represented. Organisations such as the Defence Forces, EducationUSA, ICanMed and Schoolies Unearthed allowed students to consider other options such as studying abroad, preparing for the UCAT or taking a gap year after Year 12.
The Careers Expo was intended to 'whet the appetite' and students are now encouraged to do further research. They can participate in some of the 'Experience Days' offered by the various institutions (held during school breaks) and attend Open Days (held in August). A great way to start their career journey!
Always remember to read my Careers Newsletter which comes out in the Senior School Weekly every Thursday. It has new information every week about events and news from all institutions across Victoria and Australia.
Trish Dolan
Careers Counsellor
Rooftop Honey & South Melbourne Market Excursion
On Wednesday 22 May, 9C and 9D went on a field trip to Rooftop Honey and the South Melbourne Market. Students partook in many different activities to investigate and explore the concept of interconnection and sustainability.
The Rooftop Honey hives that we visited are located on top of the Emporium in Melbourne. We went through the shopping centre and made our way up to the roof of the building where the hives were located. We met with Vanessa and Matt, the founders of Rooftop Honey, and they talked to us about the bees and the background of how their business took off.
They spoke about how important bees are to society, as without them we would likely not have survived for so long. We listened to the talk with a view of the hives and bees, a stark contrast to the skyscrapers in the background. At the end of the talk we were able to sample some honey that was from two different locations and to our surprise there was quite difference between the two, yet both were delicious. Rooftop Honey was definitely an eye-opening experience and we all enjoyed and learnt something new.
During our visit to the South Melbourne Market, one of activities was to interview different people at the market. In our discussions with stallholders and customers we learnt how often they visited, where they were from and their reasons for choosing to shop at the market.
This experience, and the conversations we had, allowed us to further understand the concepts of interconnection and globalisation. We also visited different stores and recorded the products they sold, where they originated from and how many stores had a sustainability or fair trade focus. This allowed us to see the degree of globalisation that was evident in many of the products the stores sold.
After completing our tasks, we had some extra time to look around and buy some lunch to eat from the market itself. There was such a large variety of things to choose from, and they were all delicious! Overall, everyone loved the experience of visiting South Melbourne Market and Rooftop Honey, we learnt a lot and also had lots of fun along the way!
Teagan Diep and Bella Bruce 9C
Western Treatment Plant in Werribee
On 21 May, the Year 7's went on a Geography excursion to the Western Treatment Plant in Werribee. It was intriguing to learnwhat happens to our sewage, stormwater and the water we use daily in our kitchens and bathrooms.
There are two main treatment plants in Melbourne, the Western Treatment Plant and the Eastern Treatment Plant but there are also smaller, individual treatment plants. The Western Treatment Plant takes 50% of Melbourne's sewage and in one day it collects about 500 mega litres.
We arrived at the treatment plant and went on a guided bus tour. Our Melbourne Watertour guide showed us around the treatment plant and explained the lagoon system to us, a vital part of the treatment process. We were also lucky enough to learn about water-smart cities, which is a city that uses water tanks, rain gardens, swales and aquifers to save water. The guides also taught us more about the urban water cycle and how we can save much more water than we are currently.
We visited a local wetland in Burke Road South Reserve, Glen Iris. We learnt about how wetlands can filter our stormwater and improve our environment bycreating homes for wildlife. Overall, the Year 7's had a great time learning about the urban water cycle, the sewerage systemand how water is managed to benefit human life and the environment.
Izzie Wood and Clarissa Wong 7W
Music Achievement
We are thrilled to share that Year 9 student, Sarah Hui, has succeeded in accomplishing her A Mus A Diploma for Piano this week, a remarkable achievement. Sarah will receive her diploma certificate at a ceremony later in the year.
To achieve the Associate in Music Diploma (A Mus A), Sarah has studied and achieved Grades 1 through 8 in her AMEB examinations, achieving a very high standard in all her results. For most students this means hours of practice and musical studies over many years. They also must pass Grade 5 Music Theory examinations. Congratulations, Sarah on your outstanding success in your music studies!
Eastern Region Girls Football League
Emma Peak, Year 9, is currently playing AFL outside of school in the Eastern Region Girls Football League's Premier Division for Under 16 Girls. She is currently playing for Mitcham, on loan from her main club Donvale, who were unable to field an Under 16's side in 2019.
Last week Emma played her 50thgame, which has included two grand final appearances and a club best and fairest medal. Emma has played in the undefeated CGGS senior AFL side this season, primarily in a defence role.
In acknowledgement of her passion and skill in footy, Emma has recently been selected to represent the Eastern Region Girls Football League in their Division 1 team. From a player list of approximately 450 footballers, over 120 were invited to trial in September & March, they were then narrowed to a list of 52, before the final team of 26 was selected.
Congratulations Emma we will look out for your name on AFLW lists in the future!
Saturday Netball
On May 18 the CGGS Netballers had a fantastic day, with wins for 15 of the 19 teams. Despite the many wins, the teams did face tough opposition.
Year 7 Quartz were missing players but some of the Junior School girls stepped up to play. The CGGS team came up against a tall Strathcona team and were defeated 13-6.
Year 8 Jade were out-played in the first half by Ruyton Seahawks, but Jade made some crucial changes and started to come back in the third quarter. In the last 10 minutes Jade were unstoppable and ended up defeating Ruyton Seahawks 10-6.
The Year 9 teams had tough opposition, but the CGGS Aquamarines were fantastic all over the court, several intercepts were taken were converted to goals. Aquamarineswere too good and defeated Genazzano Taylor 15-7.
Year 10 Turquoise played Strathcona Scorpions with the strong CGGS team defeating them by 2 goals.
Year 11 Emeralds are 5thon the ladder after losing early on in the season, but last Saturday they led the whole game and came away with a 4 goal win against Fintona Flames.
The Year 12 Crystals had a close game against Genazzano Lenton, but Crystals were more consistent and defeated Genazzano Lenton 20-17.
The Year 12 Moonstones played a fantastic game, defeated Koonung Lasers 22-6 and are sitting in 3rd place on the ladder.
Best of luck goes to all team completing this coming Saturday.
I wish you all a restful weekend and I will see all the girls back at Senior School on Tuesday 4 June.
Regards,

Cathy Poyser
Head of Senior School / Deputy Principal
https://cggs-video.s3.ap-southeast-2.amazonaws.com/2019/05/SS-FEATURE-3.jpg
400
600
Georgia Bennett
https://cggs-video.s3.ap-southeast-2.amazonaws.com/2021/01/2021_Web_Logo_Cyan.png
Georgia Bennett
2019-05-31 15:41:02
2019-05-31 15:41:02
Senior School