Senior School
Introduction
This past fortnight started with our formal Year 12 Celebration events on Monday 22 October. The Year 12s began their day enjoying breakfast together with their Form Teachers and opening the letter they wrote to themselves as Year 7 students. This is always an emotional time as the students, laugh, cry and exchange many comments about the letters they wrote to themselves back in Year 7.
Parents and friends were invited to attend the Leavers' Service at which time each of the Year 12 students speaks briefly about her time at CGGS. She accepts her School bible, and Testimonial that summarises her time at CGGS, as well as her Old Grammarian's Badge before signing the Leaver's Register. This year we were delighted to welcome Carolyn Last (1987) and Ruth Dunn (1959), Isabella Dunn's mother and grandmother, to present the Old Grammarian's Badges. At the end of the service, as has become the tradition, the Year 12 students run down the driveway and through the gates through to the larger world, as our School Hymn states. They then walk up Torrington Street and back onto the oval for photos before sharing lunch with their families and teachers.
In the evening we held our Valedictory Dinner at the MCG. At this event the students and their families appreciated the speeches made by our Principal, Mrs Dunwoody, School Captain, Lydia Baird, School Vice Captains, Molly Ewens and Sarah MacKinnon, Valedictorian, Janice Soo and parent representative, Karen Sturzaker, mother of Kate. While many students and families enjoyed the opportunity to take photos overlooking the MCG, the dance floor was also a very popular place between courses.
I take this opportunity once again to thank Mrs Karen Anderson, the Year 12 Coordinator for the care and guidance she has shown to these students over the past two years and I wish the students well for all their VCE examinations. I know they have been very well prepared for this exam period and also their proceeding years due to all the teachers at CGGS. The number of students who have continued to study at school this week in order to spend time with their teachers shows how determined they are to do their very best.
The induction of our 2019 School and House Leaders took place the following day with an assembly which has previously occurred at the start of the school year. This year we have brought this assembly forward, as the 2019 leaders commenced their roles on the Year 12s final day. It has been pleasing to see these students step straight up into their new responsibilities.
House Swimming and Diving this week was a particularly colourful event and we were greeted with a beautiful warm, sunny day. The individual results of both competitions are listed in an article below, however the overall winners on the day were Schofield in Diving and Taylor in Swimming. Many thanks to all the staff who assisted on the day and to the Friends of Sport who again, cooked the BBQ. Congratulations to all students who competed and, a huge thank you to Ms Lauren Law for her organisation and her team of staff who ensured every aspect of the day ran to time and smoothly.
School Leaders for Gender Equality and Respect – Student Voice Workshop
On Thursday 18 October, we had the privilege of attending the School Leaders for Gender Equality and Respect – Student Voice Workshop alongside six other girls from various year levels across the school (Isobel Arnot, Elizabeth Waite, Chelsea Ellingworth, Claire Robertson and Charlotte Lindsay). The program brings together independent, catholic and government schools, to promote and speak out about gender equality and respect in schools, and to shift the dialogue to ensure cultural and generational change.
This was a student run workshop with many other students from various schools across Melbourne in attendance to discuss gender equality issues. Of particular interest, was hearing from students in single-sex boy schools, such as St Joesph's in Geelong. The St Joseph's students spoke of a problem at their school, this being the 'Jock Culture' or 'Locker Room Talk' and the excuse 'Boys Will Be Boys' which can often lead to 'Toxic Masculinity'. Their school had decided that they needed to invest in stamping out this kind of behaviour and language to change the culture of the school through peer based programs such as a 'Pride Poster' competition. They also established a School Culture Club, and created more opportunities for students to be able to speak out on these issues and for students to become more confident in raising their voice.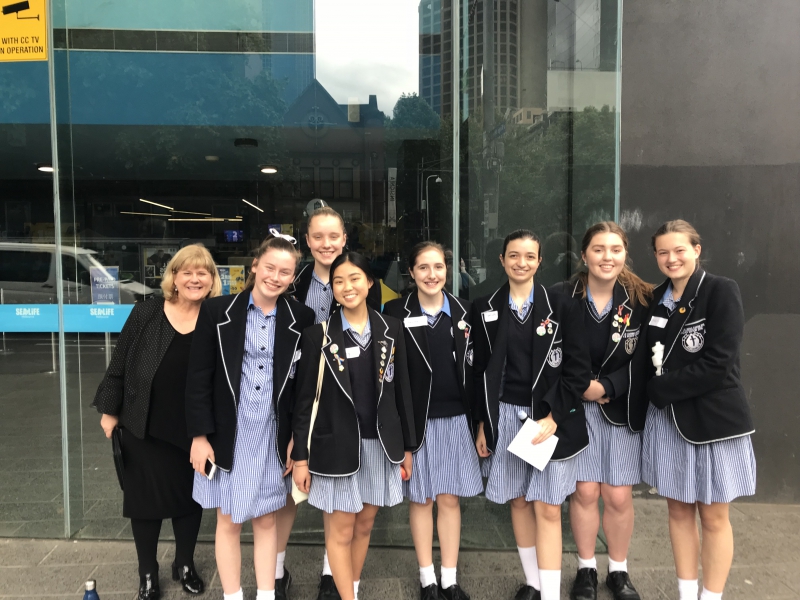 Nearing the end of the day, the CGGS team reassembled to discuss what we had heard and what had really stood out to us. From there we were encouraged to come up with some changes and strategies we want to see in our school, and what we can do to further achieve and promote gender equality. We were then given the opportunity to pitch our ideas to a panel of education experts, in the hope that this would form part of their educational agenda.
This was an extremely engaging and eye-opening experience and truly allowed us to expand our views on gender equality. Overall we did feel a strong sense of pride and gratitude that young women like us had such great allies dedicated to this cause to achieve gender equity in schools and our wider community.
Josephine La & Natasha Parsons
2018 Science Talent Search Exhibition and Presentation of Awards
This year the Science Talent Search was themed Australian Game Changers and Change Makers. On Monday of this week members of our 2018 STS team travelled to LaTrobe University to showcase their projects and learning and to receive their well deserved bursary awards. The projects entered this year showed great imagination, scientific thinking and problem solving, with eight of these projects awarded bursaries and a further two projects received a distinction award.
In addition to receiving two major bursaries for her project this year, Bethany Orme has also had her experimental research project titled, 'Investigation into Bacterial Levels in Various Types of Water and Methods of Disinfection', nominated for the National BHP Billiton Foundation Science and Engineering Awards 2019.
Once again, congratulations to all of the students who participated in the Science Talent Search program this year and to those who chose to enter their projects into the judging process.
Projects awarded bursaries were as follows:
Major Bursary Awards
Junior Experimental Research
Investigation into Bacterial Levels in Various Types of Water and Methods of Disinfection – Bethany Orme
Junior Creative Writing
Silence: Revolutionised – Bethany Orme
Junior Science Photography
Robots Captured – Olivia Banitsiotis
Genotype versus Phenotype – Ella Smith
Minor Bursary Awards
Junior Experimental Research
Evaporation of Water Bonds – Nicole Chang
The Relationship Between pH Levels and the Melting Rates of Liquid – Chloe Law
Prevention of Apple Discolouration – Sarah Hui
 Junior Games
Climate Change: Will You Get Out? – Genevieve Herbert
Junior Science Photography
Steam Storm – The Changes of State – Thea Proctor and Eve Arnot
Nicole Rogers
Head of Strategic Initiatives
National History Challenge
Our Year 8 students performed with distinction in this year's National History Challenge, a research-based competition in which students investigate and report on a turning point in world history.
Thea Proctor, Olivia Jones, Natalie Hudono, Angie D'Leong and Bianca Coles were all selected as finalists, and presented their research findings to a panel of judges at Melbourne Grammar School during the term break.
Angie D'Leong received a Silver Certificate for the second-placed overall entry for Year 8 students for her educational video on the discovery of penicillin. Bianca Coles won the Museum of Australian Democracy's prize (see below)  for 'Having a Voice in Our Democracy' for her investigation of Prime Minister John Howard's response to the Port Arthur Massacre, and her contrast between Australian and American gun control laws.
When Opportunity Knocks
Each year the National Schools' Constitutional Convention Program offers secondary school students Australia-wide the opportunity to participate in guided forums addressing aspects of Australia's Constitution at local, state and national level.
In Term 2, a group of Year 9 students attended one of these Conventions here in Melbourne and considered (via vigorous discussion!) whether Australia should have a Bill of Rights.
More recently, a number of senior students submitted a 200 word application to attend the National Schools' Constitutional Convention which will be held in Canberra from March 19-21, 2019. From a nationwide field of applicants, Year 10 student Emily Zhang has been successful in her application – well done to all students who applied for this opportunity and congratulations Emily!
The focus of next year's Convention will be why it is important to discuss the Constitution with a specific focus on the Preamble.
Students who are interested in future opportunities of this nature are invited to make their interest known to Miss Wilson or Mrs Larkey and/or to keep their eyes open throughout the year for details of the 2019 Local and State Constitutional Conventions as well as the 2020 National Convention.
International Ballroom Championships
Emily Zhang, Year 10, recently had the opportunity to travel to England and Italy to compete in ballroom dancing competitions. With a new dance partner, they competed together for the first time during this trip and should be very proud of their achievements. They have been dancing together for just over 4 months and were competing in the Amateur Adult category.
In their first competition (the Imperial Championships), they made it to the Quarter Final and at the International Championships, they progressed to the 3rd round (top 70 out of 171 couples).  Both of these competitions have the highest standard of competitors, particularly the International Championships which is one of the three most prestigious ballroom dancing championships in the world.
After finishing their competitions in England, they flew to Italy to train and learn from the world champions. Emily was so impressed during this week and never thought she was capable of doing so much dancing in one day.
A wonderful achievement Emily!
Year 9 Geography Fieldtrip
On Wednesday 17 October, Year 9 students embarked on their second Geography fieldtrip for the year. This fieldtrip had a focus on 'Human Geography' and allowed students to explore the way that Melbourne interconnects to different places close to home and more widely around the world.
From learning about trade at Australia's largest container port, the Port of Melbourne, to tourism, domestic trade and sustainability at the bustling South Melbourne Market, it was an intense day of learning about interconnection and globalisation.
There was also the opportunity to sample delicious, local products and explore some of Melbourne's most fascinating places, making it a very enjoyable day for staff and students.
Success for CGGS Aquatic at Ballarat Gold Swim Meet
On the weekend of Saturday 13 – Sunday 14 October, 19 CGGS Aquatic swimmers and their families made their way to Ballarat to compete at the Ballarat Gold Swim Club Long course Meet.
The weekend commenced with a training session on the Saturday afternoon, held at the sensational Ballarat Aquatic Centre, which was followed by a team dinner. It was then time for bed, as our swimmers prepared for an early morning competition start.
The expectation was that we would have a successful day, however our results in the pool were above expectations, resulting in 42 individual medals, including some strong relay placings and individual performances.
In total the club collected 16 gold medals, 12 silver medals and 14 bronze medals. Furthermore, we also achieved 2 x 1st places, 2 x 2nd places and a 3rd place in the team relays.
What a great result and team building experience for our swimmers and parents! CGGS Aquatic will definitely return to Ballarat again in 2019!
Well done to all concerned, it was simply a fantastic weekend!
Good swimming and have fun!
Peter Kitney
CGGS Aquatic Swim Coach
GSV Representative Volleyball
Congratulations to Stephanie Wong who was selected in the Girls Sport Victoria Representative Volleyball Team. Stephanie was one of 8 students selected from 24 schools to play in the Western Region Volleyball Maribyrnong Championships. Not only was it a great honour for Stephanie to be selected but she was also named as Vice Captain of the team. The girls all performed extremely well on court and were very excited to win the entire Championship. Congratulations Stephanie!
House Swimming
Congratulations to everyone who participated in the House Swimming Carnival on Tuesday 30 October. Inside the stadium at Carey Sports Complex, the competition was extremely close as students cheered on their friends and participated in a range of aquatic events. Well done to Taylor who finished the day as champions of House Swimming and Schofield who won House Diving.
House Swimming Results
1st – Taylor
2nd – Singleton
3rd – Lawrence
4th – Schofield
There were some outstanding performances in the pool and the following girls should be very proud as they were awarded the Year Level Champion Awards.
Year 7
1st – Ella Roberson-Brown

2nd – Scarlett Giang

3rd – Xara Anderson

Year 8
1st – Olivia Jones

2nd – Abbey Howard

3rd – Sasha Edney

Year 9
1st – Rachel Lau

2nd – Emily Arvidsson

3rd – Amelia Lemanis

Year 10
1st – Anabel Car

2nd – Phoebe Hwong

3rd – Tilly Dunn

Year 11
1st – Nikki Chen

2nd – Louise Zhang

3rd – Victoria Pearson
This year we had a record number of girls involved in the House Diving Carnival. The girls have been dedicated to their morning training sessions, where they have been working hard to perfect their dives and entries. Thank you to Nareen Robinson who has helped to organise this event. The results for House Diving are as follows:
House Diving Results
1st – Schofield
2nd – Taylor
3rd – Lawrence
4th – Singleton
Junior Individual Champions
1st – Ella Robinson

2nd – Jessica Lim

3rd – Isabella Tremewen

Senior Individual Champions
1st – Ashleigh Cheung

2nd – Michaela Robinson

3rd – Eloise Webster
See the Swimming Year Level Champions and Diving Champions below.
School Sport Captain, Lucy Bartram and School House Captain, Madison Parfuss showed great leadership and we thank them for their assistance throughout the day and for announcing the Year Level Champion awards. Also, thank you to all the staff and students who assisted throughout the day to ensure the program ran smoothly, particularly the House Sport Captains who have put in an enormous effort to make sure all races were filled and to the Friends of Sport for organising a fantastic BBQ lunch.
2018 House Swimming Carnival – supported by the Parents and Friends Association
PFA Friends of Sport held their Annual Sausage Sizzle at 2018 House Swimming Carnival, selling sausages and drinks to the girls and teachers. Helpers for the day were Tracey and Richard Tremewan, Kate Locke, Jenni Webster and Viv Noff.
A profit of $435.00 was made for the day with Lauren Law hoping to purchase some more specialist equipment for the Sports Department with the proceeds.
Jo Ellingworth
Friends of Sport
Music
It has already been a busy term in the Music Department, with our Senior School musicians involved in almost every significant event on the calendar! The term started with performances at the Year 10 – 12 Presentation Evening in Week 2. Our dedicated musicians were also then involved in the annual Leavers' Service and the Year 12 Valedictory Dinner on 22 October, as well as the Leaders' Induction Service on 23 October, plus two Mountfield Maestros evenings at Ormiston. Year 7 – 12 students in their ensembles have displayed incredible high-quality work in their performances on every occasion and have shown great commitment to their rehearsals in preparation for this busy time in the school calendar. These important events would not be the same without them!
In addition to ensembles, there has been a strong Hymn Team working throughout the year behind the scenes on piano accompaniments for School Assemblies, Chaplains Assemblies and these important end-of-year events. Thank you to these reliable young ladies who have worked on this valuable skill in 2018!
Our senior students have been most impressive in recent weeks and we would like to specifically acknowledge them:
> Senior Percussion Ensemble – Sherry Gan, Elizabeth Gong, Tilly Kutey, Maryanne Li, Amy Miao and Ellie Zhou – led by Mr Mathew Duniam, performed with exceptional professionalism at this week's Twilight Tours in Barbara Sutton Hall, one of the best percussion performances Mr D has heard for a long time!
> Bonnie Thorn and Maryanne Li gave up time on their weekend to perform as soloists at the recent Sapphire Circle Lunch on Saturday 20 October. Both students performed beautifully and guests were very appreciative.
> Samantha Wong and Brielle Schumann performed an original composition by Samantha as a duet at the Valedictory Dinner for their Year 12 peers and their families.
> A string ensemble of Jennifer Fan, Angie D'Leong, Teresa Guo, Bethany Orme, Emily Wu and Kelly Chua also performed as a wonderful welcome to Year 12 families and staff on the evening.
> While preparing for these special events, Bonnie, Maryanne and Samantha were also preparing their repertoire for their final VCE Unit 4 Music Performance examinations, which have been completed over the past few weekends – Congratulations to all our VCE Unit 4 Music Performance students on your performance exams!
At this time, many private Music and Speech & Drama students are preparing for or have just completed their external examinations, including many students who are undertaking their first exam. While most students are examined by the AMEB, we also have students participating in Trinity College London examinations, as well as ABRSM examinations. We would like to acknowledge the hard work of our fantastic specialist Music Tutors at CGGS, as well as CGGS piano accompanists, Mrs Cathy Georgiev and Mrs Penny Byrne, who all commit many hours to our students every week.
With many events still to come on the school calendar, we wish all our musicians the very best of luck with all their end-of-year commitments and look forward to welcoming the Camberwell community to the newly formatted Carols Concert – Thursday 6 December, 12.45pm in Barbara Sutton Hall.
Kate Savige & Rohan Mack
Directors of Music
I wish all CGGS families a restful Melbourne Cup Weekend.
Warm wishes,
Cathy Poyser
Deputy Principal/Head of Senior School
https://cggs-video.s3.ap-southeast-2.amazonaws.com/2018/11/SS-Feature.jpg
400
600
Georgia Bennett
https://cggs-video.s3.ap-southeast-2.amazonaws.com/2021/01/2021_Web_Logo_Cyan.png
Georgia Bennett
2018-11-02 14:58:11
2018-11-02 14:59:28
Senior School