Senior School
It has been a fabulous fortnight in Senior School with the students being involved in an array of experiences.
The VCE Theatre Studies, School Assessed Coursework (SAC) performances on Thursday 7 and Friday 8 June of the play "Boy Girl Wall", were enjoyed immensely by the audiences and it was wonderful to see our three Year 12 Theatre Studies students, Lucy Buchanan, Nina D'Souza and Amy Peng portray such a wide range of characters in this most humorous play.  We also take this opportunity to thank Ms Keira Lyons and Ms Sally Oliver for their support of the students during the production stages. VCE Theatre Studies is an example of one of our many Unit 3/4 subjects which is on offer each year, even when the number of students is small and well below our average VCE class size of 14 students.
On Tuesday 12 June, Dr Justin Coulson spoke to parents, students and staff on the topics of screen time, social media and finding a healthy digital balance. All present were educated, entertained and enlightened by Justin who is currently working with the Federal Government in the office of Children's e-Safety. As a father of six daughters and an author, leading parenting, relationships and wellbeing expert, his words of advice held great credibility. Justin provided us all with even more of the evidence the Years 7 – 9 and Year 12 students heard when Mrs Dunwoody addressed the Senior School Assembly that morning on the changes to our existing Mobile Phone and ICT Device Policy.
While the benefits of ICT are immeasurable, the impact of technology – particularly the issue of screen time as well as the addictive nature of smartphones, games and social media and the impact these are having on learning and wellbeing – has become a concern that all schools must act upon to support their students. As such, at CGGS in Term 3 our new Mobile Phone and Device Usage Policy will be rolled out. Details of the guidelines and a fact sheet are due to be sent home next week in readiness for families to hold discussions of the new expectations during the holidays.
Girls Invent
The last two weeks have been incredibly busy for the CGGS Girls Invent program and all our Year 7 students. The program has been running in Science classes and also on our dedicated CGGS Girls Invent Day. The aim of the program is to expose the girls to the design thinking process, encourage creativity and enable them to 'invent' something new.
The program started with the girls brainstorming problems, areas of need, or opportunities in either their local or global communities. The girls whittled down their extensive lists to just one area and jumped straight into the ideation process. The atmosphere in each of their classes was buzzing. The Year 7 staff were gobsmacked with the thoughtful and creative ideas the girls came up with. Once they had depleted the list of ideas, they chose their first 'favourite' one and began the prototyping process. Last Friday (15th June), the girls had 4 hours to prepare their prototypes and display boards in anticipation of one of the best events of the year – the Enterprise Fair! We were lucky to be joined by Dr Mark Glazebrook, founder of the Girls Invent program, who provided valuable feedback to the girls during the day about how best to improve upon their inventions.
At 2.00pm on Friday, the middle level of Anne Feehan Building was transformed into a sophisticated space where all the hard work from the last two weeks could be showcased. Each carefully thought through invention had its own stall, complete with display board, prototype and feedback collection sheets. When the doors opened at 2:20pm to parents and staff, the space became a hive of activity. The girls spoke eloquently and professionally, blowing away all who were there. The afternoon was such a success, with enormous amounts of positive feedback coming from Dr Glazebrook, parents, visiting students from Finland and staff. An hour whizzed by so fast, and the girls all left the school with sore cheeks from smiling and talking so much.
During the final two weeks of the term, the girls will be given some more time to build on feedback received about their ideas and learn about how to turn their brilliant inventions into successful businesses. A huge thank you to all the staff and students involved for making this years' CGGS Girls Invent program a massive success.
Visiting Students from Finland
It has been an honour and privilege this past week to host 2 students from Oulunkylän Yhteiskoulu in Helsinki, Finland as part of the Strategic Alliance for Global Educators. Karoliina and Johanna have represented their school as the winners of the SAGE project to explore Student Wellbeing. We were delighted to be their school of choice for their investigative project into the whole school approach towards Student Wellbeing. During their time at CGGS, Karoliina and Johanna have been hosted by the Fitzgibbon and Ekins-Daukes families and their studies into student life and wellbeing at CGGS have been managed by Mrs Nicole Rogers and Ms Kath Woolcock. It was wonderful to see them fully immerse themselves in the classes, excursions and all the vast activities on offer at CGGS. They have conducted studies of our students and staff and our wellbeing programs and are heading back to their summer holidays before they will write up the findings of their visit down under to CGGS. We all look forward to reading their findings in terms of likeness, differences and their feedback on our comparative wellbeing programs.
Year 6 Spend Week at Senior School
This past week has been a great pleasure to have the Year 6 students and their teachers, Mrs Nancy Robottom and Mr Craig Goodwin at Senior School for their annual week as part of their transition to secondary school. I take this opportunity to thank the current Year 7 students for sharing their space in the Anne Feehan Building and also for the many Senior School staff who have taken the Year 6 girls for the activities throughout the week.
Some of the highlights for the Year 6 students were the Break Out session, the Inquiry and Green Screen, Food Studies, the visiting author Anna Ciddor, the hydrophobic and hydrophilic Science activity, the sport and drama offerings and of course their involvement within the Masterclass sessions with Helfried Fister – a world-renowned violin and viola teacher and performer from Austria. Helfried Fister has been with us at CGGS as a personal friend and mentor to Mr Rohan Mack having been his own former teacher.
Year 10 Work Experience
This week our Year 10s have been absent from the Senior School while they undertook work experience in their chosen fields. Work Experience provides all Year 10 students the opportunity to work in a profession they are interested in. This valuable opportunity enables students to experience a typical working week, and a chance to explore different career options.
Mrs Dolan, the Careers Counsellor introduced students to the concept of work experience in October 2017, when students were in Year 9. While June 2018 seemed a long way away, students were encouraged to seek placements early as some areas (particularly hospital/medical clinics and legal firms) are highly sought after. Students had some great experiences across these industries, and a wide range of other industries, including veterinary practices, aged care facilities, retail, accounting firms, advertising, design, marketing, dental practices, local government, physiotherapy clinics, global ICT firms, child care & primary education, hospitality, architectural & building construction firms. Employers' evaluations were overwhelmingly positive with many commenting on students' terrific work ethic, their maturity, courtesy, willingness to ask questions and the effort they made to fit into busy and unfamiliar workplaces. The students thoroughly enjoyed their placements! This is another endeavour in the '#myfuture' careers program which will help students with their decision making for their future.
On Wednesday 27 June, as part of the VCE Preparation/Careers Day, students will have the opportunity to reflect on what they have gained from this experience, add some new skills to their résume and update their digital portfolio. The work experience week is designed to be exciting and informative, with experienced people offering insights into a number of different professions.
Year 8 Medieval Day
On Wednesday 13 June, our Year 8 students became time travellers, heading back to the Medieval Era. After arriving at school in their uniforms, students changed into costumes of their own design, transforming into monks, bards, plague doctors, and nobles. Some students personified the Black Death, and another four worked together to be an entire Medieval cathedral. Olivia Jones and Priyanshi Shah of 8B appreciated the opportunity to dress up: "Medieval Day held a range of phenomenal activities and knowledgeable staff led a memorable day where we were able to dress, act like and learn about Medieval Europeans.  We, along with our friends, greatly enjoyed the day."
Students engaged in a range of activities designed to excite and engage, including Weapons and Armour, Archery, Crime and Punishment, and Education and Games. Annaliese Le from 8B commented that "Medieval day was amazing! Each activity helped us learn more about the Middle Ages in a fun and engaging way. We were able to experience many aspects of a Medieval European's life through activities such as archery and the tournament at the end of the day."  Medieval Day culminated in a Tournament, with students exploring the life and training of a Medieval Knight.  Although volunteers were invited to take up the sword and attack a knight in full plate armour, none were able to land a blow. "Medieval Day provided a fun and effective way of learning new facts about the Middle Ages" said Maya Jones of 8B.
Years 9 – 12 World Vision Conference
On Friday 25 May, a group of 10 girls from Years 9-12 attended the conference annually held by World Vision for youth across the state. At this conference, we learnt about building leadership and advocacy skills, how to raise awareness of global issues and heard remarkable stories from guest speakers who were sponsored by World Vision at different stages in their lives.
The first part of the conference was an interactive session where we were given a country (Kyrgyzstan) and had to decide on political issues as that country's government. Issues addressed in this interactive session included civil war between countries and the topics of refugees. After the first session, we listened to two guest speakers share their stories which highlighted their hardship and life story. These stories inspired many of us to advocate causes and to think about issues our world has to face.  We were taught techniques about leadership and how to raise awareness as youth in a powerful and informative manner in places like school.
The last and final part of the conference was information about World Vision's impact and involvement in the world. We were given information about the 40 hour backpack challenge which is a task to live of one backpack for 40 hours whilst a variety of challenges are thrown at the participant. This triggered an interest in introducing this challenge to the school and we as a group decided that we would love to be a part of something so inspirational.
Overall the group enjoyed the day thoroughly and learnt so much about leadership and global issues which we wish to share with the rest of the school.
Year 7 Engineers Without Borders Incursion 
On Thursday 21 June, Year 7 students took part in an exciting Geography incursion with volunteers from Engineers Without Borders. Students worked in groups as a given country and had to use the resources available based on the profile of their country to build the "best water purifier" possible. Countries included Australia, New Zealand, Ethiopia, India, Indonesia and Vietnam and resources varied greatly from Australia with $400 and a highly legible set of instructions for building their purifier to India only starting with $52 and a limited set of instructions. The quality of the instructions was designed to represent literacy and knowledge rates of the different countries. It was an incredibly realistic and engaging way to learn about the unequal distribution of the world's resources and the relationships and tensions that emerge from this distribution. Students reflected on their interactions afterwards and certainly had a lot to think about in terms of the roles of economics and ethics in situations like this where life essentially became a competition.
Prior to the activity, students have learned about water as a precious resource and an agenda for conflict. They will soon begin investigating organisations working in different countries around the world to address the great and varied water issues and this incursion provided a great pathway into this study. It was also a fantastic opportunity for our girls to be exposed to engineering career pathways where there is not only a skill shortage but also a well-known gender imbalance. They enjoyed learning about what engineers do, the different areas of engineering and the relevance of Geography in humanitarian engineering which is working to create positive change.
Strings Master Class with Professor Helfried Fister
Over the past fortnight the CGGS strings students have had the incredible opportunity to attend a Master Class with world-renowned Austrian Violin and Viola teacher, Professor Helfried Fister. The School was extremely fortunate to host Professor Fister, who was particularly impressed by the high performance standard of the students he worked with. Four students performed for Professor Fister during the Master Class, Sarah Hui (Year 8), Zara Mammone (Year 9), Angeline D'Leong (Year 8) & Nicole Chang (Year 8), and 40 students from Years 5-12 attended to listen to Professor Fister's musical knowledge and recommendations for improved phrasing, bowing, shifting and vibrato techniques. This was a unique and invaluable experience for our CGGS string players and we hope to further extend the School's relationship with Professor Fister in the future. Sarah Hui has reflected on her experience below:
"On 13 and 20 June, Professor Hefried Fister conducted individual and group ensemble lessons and a Master Class, all equally engaging and valuable for participants. Being lucky enough to receive his tutelage in lessons on my own, also with a piano quartet, the Russell Strings and a Master Class, I have taken away many new skills and practice methods.
The hour-long individual lesson was a fantastic opportunity to ask for guidance on specific techniques and passages, in which we focused on playing chords and runs and achieving a richer tone while doing so. In the lessons with the quartet in which I play, and the Russell Strings, we focused on creating contrasting textures and colours and improving phrasing within our repertoire. During the Master Class, three of my peers and I had lessons in front of a small audience consisting of other students and teachers, giving all of us the opportunity to learn from each other and of course, Professor Fister. Despite initial nerves of having to play solo, I came out of all lessons with a smile, keen to implement new ideas in my playing.
Helfried Fister will forever be remembered within the CGGS music community for his gentle and encouraging teaching style, brilliant skill and incredible knowledge of music. On behalf of all students and participants, I would like to thank him profusely for so generously making the time to impart his expertise and knowledge on us as budding musicians. I would also like to thank all of the music staff, especially Mr Mack for organising such a wonderful experience for all string players." – Sarah Hui
Rohan Mack & Kate Savige, Directors of Music
Year 9 – Be the Beauty in Kindness Project 
Earlier this term, the Library paired up with the girls in Year 9 to build a mural together for their collaborative space in Lower Woodstock.
Kindness was at the heart of the message infused within the origami flowers arranged across two canvases.  Working with the design from Ms Ren Penessi in the Library, it was an opportunity for the girls to spend time together, switch off, have a laugh and get crafty.
The mural serves as a reminder of the importance and the effect of kindness. Not only to be kind to one another, but ultimately to be kind to themselves. A constant and colourful reminder that they choose to 'Be the Beauty in Kindness.' Thank you to Ren Penessi in the library, for her amazing design and generous support for this year level.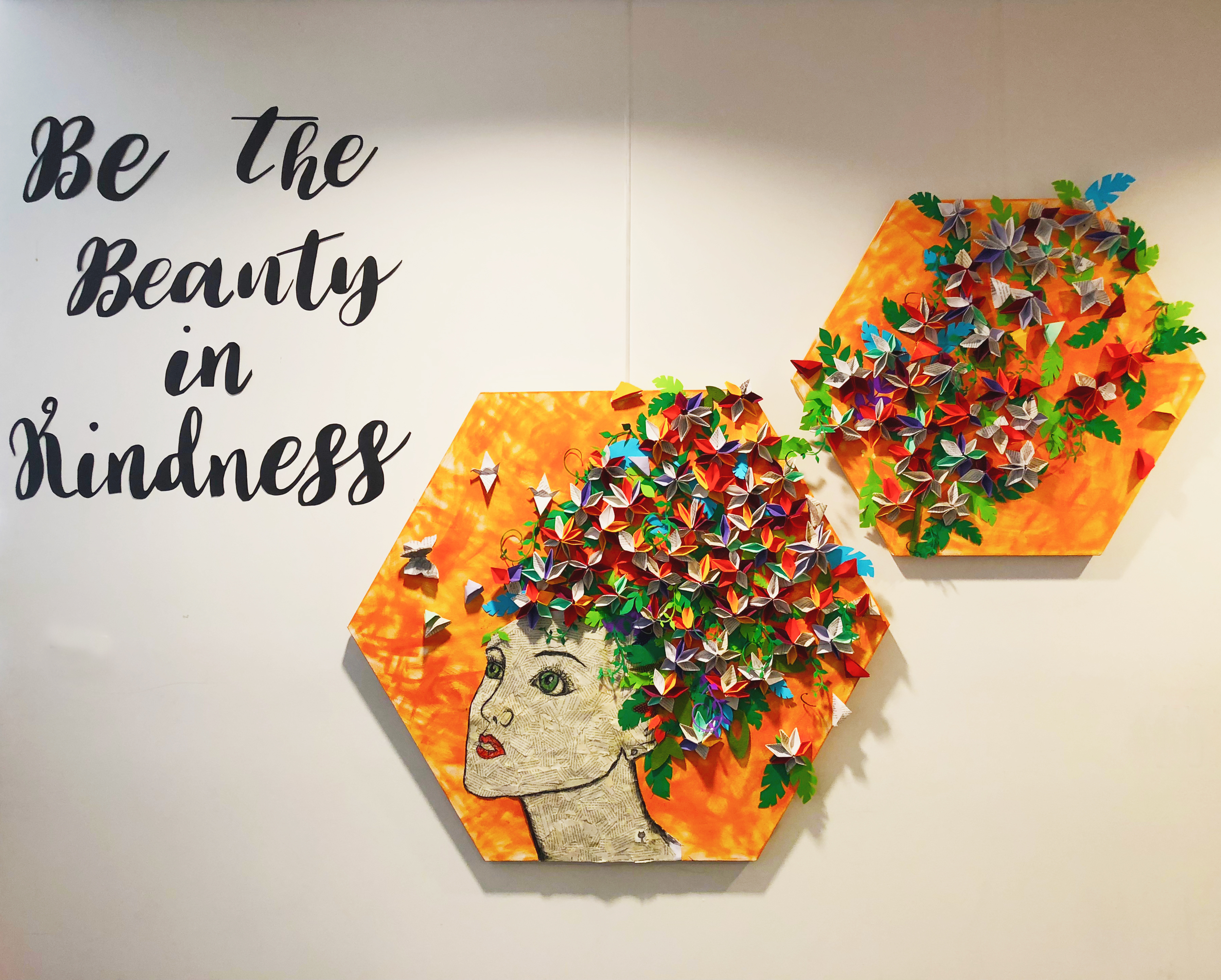 SPORT
GSV Junior Hockey
The Junior Hockey team competed in the GSV Grand Final at The State Hockey Centre in Parkville on Thursday 14 June.  The girls had shown great skill and spirit throughout the term to go through the home-and-away season undefeated and finish 1st in Zone B to qualify for the Grand Final against Fintona.
The girls played the match with high levels of energy and gave everything they had; eventually winning the game 5-1 to be crowned 2018 Premiers with goals to Sasha Feldman, Ella Robinson and a hat-trick to Susannah Lutze.  The whole squad are to be congratulated and should be proud of their achievements this term.  It was a great experience to be a part of the team and all the girls found it enjoyable, rewarding and each one of them greatly improved their hockey skills throughout the term.  Thank you to Girls Sport Victoria for organising the event and the coaches; Ms Stevens and Dr Reid, for all their help with the team this term.
Saturday Netball
Year 7
> Silver had a close game against Koonung Firebirds last Saturday, our CGGS girls played well and defeated Koonung 3-2; Silver are sitting comfortable in 3rd place on the ladder.
> Year 7 Sapphires were up against tough opposition, our girls worked hard but MLC Roses were too good on the day.
Year 8
> Gold played a terrific game against Genazzano Brazil, Gold getting their first win for the season, defeating Genazzano 6-2.
> Genazzano Hadley were too good for our Year 8 Diamonds.
> The Aquamarines won a nail biting game against MLC Magic, our CGGS girls played well as a team and were consistent throughout the whole game, defeating MLC by just 2 goals.
> Amber got off to slow start, but played well in the second half; unfortunately, Amber lost to MA Belmore by 4 goals but are still 2nd on the ladder.
Year 9
> Turquoise played against Strathy Scorpions who are in 1st place on the ladder, Strathy were too strong for our CGGS team, but Turquoise had some great passages of play.
> The Gems are still undefeated for the season, the girls played well defeating MA Shooting Stars 16-3.
Year 10
> The Tanzanites were unstoppable against Ruyton Rockets, Tanzanites defeated Ruyton 15-10.
> The Emeralds defensive pressure kept Genazzano Bradley to just one goal for the whole game, Emeralds played a great game and are sitting in 2nd place on the ladder.
Year 11
> Crystals played the top team last Saturday, Koonung Dragons, who were too good for our CGGS girls.
> Year 11/12 Moonstones played a fantastic game against Genazzano Bulley, defeating them by 5 goals, Moonstones are now sitting 3rd on the ladder.
Year 12
> The Rubies had a close game against MLC Purple, Rubies played consistently and defeated MLC by only 2 goals.
Congratulations goes to all CGGS netball teams for their efforts last weekend.
(Below is a photo of CGGS Gold after their first win of the season, and CGGS Aquamarines after their great game against MLC).
Wishing everybody a fabulous weekend as we head into the last week of the term.
Cathy Poyser
Deputy Principal / Head of Senior School
https://cggs-video.s3.ap-southeast-2.amazonaws.com/2018/06/Girls-invent-3.png
1198
1952
cggs
https://cggs-video.s3.ap-southeast-2.amazonaws.com/2021/01/2021_Web_Logo_Cyan.png
cggs
2018-06-22 15:10:21
2018-06-27 10:33:26
Senior School