Senior School
The past fortnight at Senior School has certainly had many highlights. Having enjoyed the marvellous House Music Competition on Friday 25 May, we began National Reconciliation Week. Murrundindi performed a stirring smoking ceremony on the Senior School Oval, before everybody attended a very poignant assembly where School Captain, Lydia Baird interviewed Murrundindi's niece, Watarang and Year 9 student, Grayson Tchen on their experiences of growing up as indigenous children in Melbourne.
As you will read below there have been many other events and activities that have ensured our students are fully immersed in their studies and the co-curricular opportunities that help to develop and strengthen their set of enterprise skills.  Team work, creativity, critical thinking, problem solving and collaboration are all skills we need for our current endeavours and future aspirations.
The Year 10 and 11 students will have their Semester One Examinations next week and the Year 11 and 12 students will sit the VCE General Achievement Test (GAT) on Wednesday 13 June. The GAT forms an important part of the VCE process and while students are not able to study known content for the GAT as they do for their subject examinations, they have all been sent past papers (with answers) to show the format and have received training from Mr Mark Corrie, our VCE Coordinator and Ms Jen Gordon one of our CGGS English teachers who is also a GAT Assessor.
While our upcoming Parent Education Seminar on Tuesday 12 June at 7:00pm with Dr Justin Coulson has been advertised in the Senior School Weekly, I take this opportunity to encourage you to please attend this most important session titled, The Healthy Digital Diet.
Dr Coulson will explore a number of topics and issues related directly to social media and screen time. Using an analytical and practical approach, he will address challenges that face all parents of teenagers. The impact of screens on developing brains, sleep, learning, memory, relationships and health. A short introduction by Dr Coulson can be viewed here:
In the lead up to the new CGGS Policy related to mobile phones and personal devices, that will be phased in over the next couple of weeks, I see this seminar as vital for our parents.
Please ensure you RSVP to Victoria Hargreaves – hargreavesv@cggs.vic.edu.au
House Music

House Music is one of the highlights of the school calendar and is highly valued by the student community.  Barbara Sutton Hall was filled to capacity for the annual competition and the audience enjoyed a wide range of entertaining performances produced by the House Music Captains.
This year's theme, 'community' was the inspiration for the House Choir items and every student participated with great enthusiasm. The House Music Captains were encouraged to explore the musical possibilities that their repertoire selections presented, through original composition, arrangement of parts and incorporation of their own interpretations. The adjudicator, Mr Roger Creed, was impressed by the high standard of skill across all Houses and praised the students for their commitment to the craft of performance. The support of the Technical Captains and all of the choreographers illuminated the importance of effective communication and celebrated the joy of working in a collaborative context.
We congratulate Schofield House, who were crowned the overall winners of the evening, under the leadership and guidance of their Captains, Bonnie Thorn and Louise Zhang.
Along with Bonnie and Louise, we must also congratulate the other Captains, Alysha Lam, Tracy Chen, Ashley Chan, Maddie Li, Yesenia Chang-Gonzalez and Maryanne Li – your passion for taking creative risks and producing high quality music performances is outstanding.
Kate Savige and Rohan Mack
Directors of Music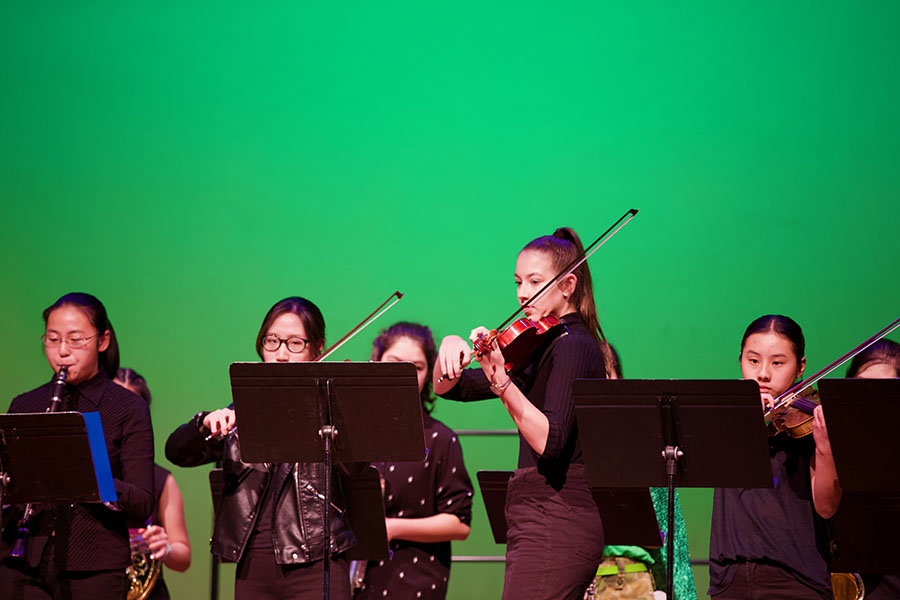 Service Soiree
The annual CGGS Service Soirée was held last Friday 1 June in support of the Green Gecko Project in Cambodia and the Indigenous Literacy Foundation.
The Green Gecko Project in Siem Reap, Cambodia supports over 100 children and their families who previously lived and begged on the streets. Green Gecko provides security, education, love and opportunities to these children through their formative years and into their adult lives, empowering them to achieve their full potential. The project also supports the children's families and the broader community through long term health, education and training initiatives.
The Indigenous Literacy Foundation is a national book industry charity, which aims to reduce the disadvantage experienced by children in remote Indigenous communities across Australia, by lifting literacy levels and instilling a lifelong love of reading. There are the three core programs: Book Supply, Book Buzz and Community Literacy Project.
Throughout the evening we had the opportunity to hear from Watarang, Murrindindi's great niece, and Izzy Rawson, one of our 2018 Reconciliation Captains. Both girls spoke about Reconciliation Week and the Indigenous Literacy Foundation. Kieran Medici, Class of 2017, spoke about her previous experiences at Green Gecko and how she will be accompanying this year's trip to Cambodia. Past staff member, Kim Waters, along with Lisa Wilson and Karoline Walker talked about their involvement with Dream Stitches, the River Nile School and Days for Girls.
With over 100 guests in attendance, the room was filled with an atmosphere of love and acceptance for a better future and we could not be more grateful towards all the kind souls that attended.
The night would not have been possible without the help from many people. A big thank you goes to Ms Keira Lyons for interviewing all our guests, the staff for donating the raffle and hamper items, all of the interviewees and donators to the silent auction, Pinwheel & Co for the amazing Cambodian dinner and especially, Mrs Liss Campbell, Mrs Nirvana Watkins and Ms Miranda Jackson for organising the evening.
Isabella Nielsen and Ashika Mapa
Service Learning Captains 2018
Students excel in real-life mathematical modelling challenge
Coordinated in Australia by the Australian Council for Educational Research (ACER), the International Mathematical Modelling Challenge (IMMC) is a nation-wide mathematical modelling competition that invites teams of up to four students from secondary schools to visualise, understand, and apply mathematics in order to develop an original mathematical model that solves a real-life problem. The students had a five-day window in which to complete and submit their solution to their team advisor.
The problem for 2018 was, in essence, to identify a method by which somebody could select the "best" hospital for non-emergency care. A seemingly straightforward task was made more challenging by the number of variables, such as accessibility, staff experience, mortality rates, primary diagnosis, age, gender, urgency of admission, comorbidity, length of stay, and many other confounding factors that had to be considered.
I am pleased to report that a team of four Year 11 students, Sherry Gan, Amy Miao, Tracy Chen and Yvonne Jin were successful in reaching the national finals. Only 12 teams out of 163, entered nationwide, reached the final stage. This is an outstanding achievement.
The team advisor, Mr Trufitt congratulates the 4 students and hopes that they consider furthering their careers in the Mathematical Sciences.  Their persistence and innovative thinking amply demonstrate some of the qualities required of young people in the workforce.
Mr Ken Truffit
Mathematics Department

Bond University High School Mooting Competition
Last Friday 1 June, three of our Year 12 VCE Legal Studies students, Alanna Chew Lee, Ashika Mapa and Maggie Robinson, flew back up to the Gold Coast, Queensland, to represent CGGS, after making the National Finals of the Bond University Faculty of Law High School Mooting Competition.
Our team was the only Victorian team to make the finals of this prestigious competition and while not making it to the Grand Final, we were complemented on our outstanding advocacy skills and knowledge of the legal issues relevant to the moot problem. Indeed, just before leaving for the Gold Coast we learned that both Alanna and Ashika won Individual Oralist Awards in the preliminary rounds. Congratulations girls!
Mrs Annie Wilson
Careers Night – Future-Proofing Your Career
Following her address at the Careers Evening on Tuesday 29 May, Elaine Miles from McCrindle Research provided a great overview of key trends transforming the workplace and careers of the future. She kindly agreed to allow us to record her presentation. If you missed out on this keynote speaker, please watch following video to view her talk. Her slides are also available on by clicking here
Year 11 – Barwon Heads Excursion

On Wednesday 23 May, Year 11 Biology students embarked on a fieldwork trip to Barwon Heads as part of their study of ecology. The aim of the day was to investigate and compare rocky shore habitats and record the distribution of organisms across the rocky platforms that were encountered.
After a two-hour bus ride to Barwon Heads, they met Heather from the Marine and Freshwater Discovery Centre who was their guide for the day. She showed us the group the different organisms found on the rock platform and helped them to carry out research, as well as sharing interesting facts. Using a transect line (rope used to measure distance) and quadrats the group counted the different species of flora and fauna. After completing their data collection, Heather took them to the basalt rock platform, where they got to see many interesting things such as elephant slugs and seashore crabs. The weather was very cold, so after their tour the group boarded the bus and began the long trip back to school.
Year 9 Author Visit – Mark Greenwood

On Tuesday 29 May, our Year 9 students met author, Mark Greenwood, who has a passion for Australian history. His presentation covered the origins and inspirations for his two picture books about World War I, Simpson and His Donkey and Midnight: Story of a Light Horse. He spoke about the extensive research involved in creating historical fiction; from travelling to and exploring historical sites, developing a storyline, through to the stages involved in preparing for publication.  He encouraged our students to also become 'history hunters' who will investigate the past and find emotional stories that continue to carry meaning today.
Mrs Karin Lemanis
Year 7 – Ancient Australia Incursion
On Tuesday 29 May, as part of the CGGS Reconciliation Week events, 7P History students were fortunate to engage in an Ancient Australia incursion facilitated by Murrundindi.
The focus of the incursion was student engagement with Aboriginal artefacts, including some relatively new artefacts, as well as some which were handmade  by Murrundindi himself, and some potentially tens of thousands of years old. Handling these tactile artefacts brought to life students' recent study of Ancient Australia, and invited students to consider the way indigenous skills and ingenuity have been shared and maintained over time.
Students were particularly privileged to hold and analyse the spear thrower, club, and boomerang of William Barak; and learnt about his prominent role as an advocate for Aboriginal rights during the 19th Century.
Ms Maggie Wighton
History Department
Year 9 – Altitude Day

On Monday 4 June seven Year 9 students attended 'Altitude Day', a day organised by the YLead organisation to develop the leadership of Year 9 students.  They met with other Year 9 students from schools across Melbourne and heard from three dynamic speakers: Hunter Johnson (My Cave), Sarah Ireland (One Girl) and Ben Pettigills who went blind overnight at the age of 16 and then went on to become a world record-holder in the Spartan Obstacle Course Race. In discussing the day, students all found it inspiring and took from it strategies that they can employ in their everyday lives.
Scoliosis Fundraiser

Over the last few weeks I have had the great opportunity to speak to year levels throughout the school about scoliosis and to bring to their attention a simple self-check guide to detect early signs of this condition.
In 2016, I was diagnosed with Scoliosis. I wear a Boston Brace for 22 hours a day which assists in stabilising my spine. In Australia, approximately 3 in 1,000 children have a scoliosis condition which requires treatment. Adolescent Idiopathic Scoliosis mainly affects girls aged between 10 – 18 years. As the Scoliosis progresses during growth periods, the Boston Brace aims to keep the spine straight until the body is fully grown.
With the support of CGGS and the Service Learning Team, we were able to raise $200.00 from the stall held at the House Music Competition, to support the Orthopaedic Department of the Royal Children's Hospital. I would like to thank everyone for their assistance in raising these much-needed funds and also for supporting me personally on my journey through scoliosis.
For more information you can visit the Scoliosis Australia website here or if you are in a position to make a donation to support other young people with this condition, please donate here.
Zara Mammone
Year 9

Melbourne Symphony Orchestra – Kathy Han

On Saturday 2 June, Kathy Han (Year 10) had the great opportunity of joining the Melbourne Symphony Orchestra, playing in a concert. This opportunity was given to Kathy by the Melbourne Youth Orchestra, and only a limited number of people were offered a place in this program. Kathy was offered a place in the orchestra on the basis of her excellent playing as a first desk 2nd violinist. Kathy was the youngest player in this program.
Kathy had a wonderful time meeting the MSO players and even met a CGGS old grammarian. Overall, Kathy thought it was a wonderful experience and loved every minute of it.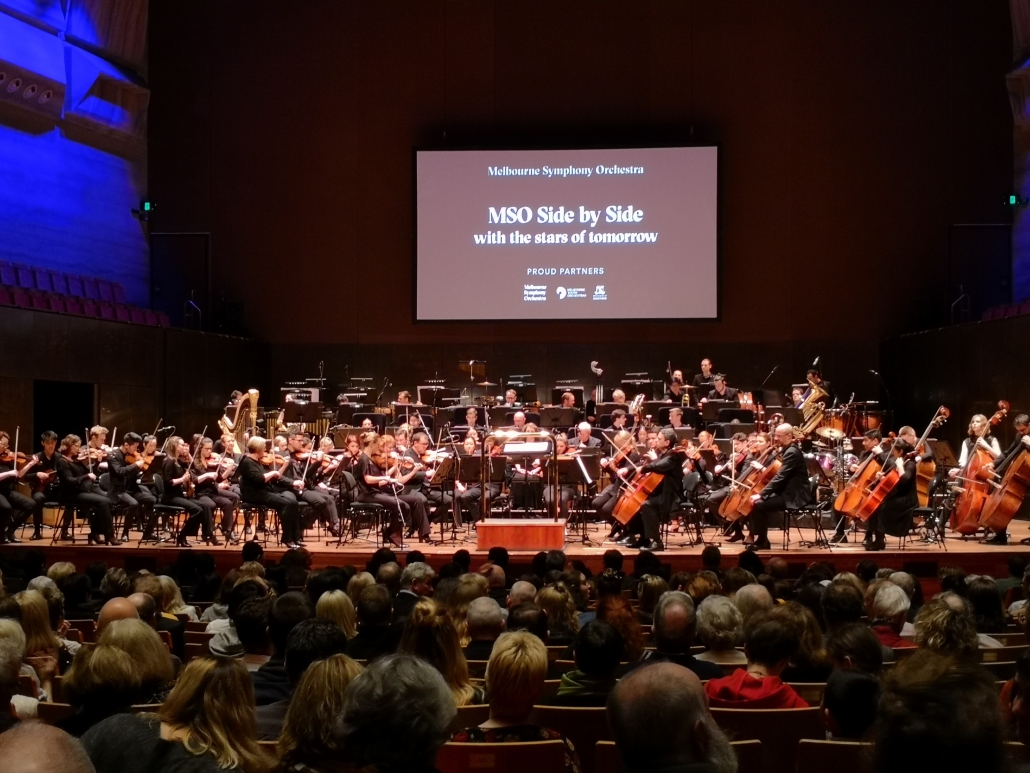 Championship Cross Country Carnival

Well done to the girls who participated in the Championship Cross Country carnival on Friday 1 June at Bundoora Park. The weeks of early morning training sessions paid off as many girls recorded personal best times on the day. Thank you to our Head Coach, Jo Bowden for preparing the girls so well for this competition.
Congratulations to the following girls who recorded some outstanding individual results:
Junior Division
Madeleine Giagoudakis – 9th
Intermediate Division
Polly Plummer – 5th
Belinda Lemanis – 10th
GSV Hockey

Congratulations to the Intermediate Hockey team who finished the season undefeated and zone winners. The girls showed great determination and teamwork both at training and during matches, which contributed to their strong performance throughout the season. The team's final win was last week at the State Hockey Centre where CGGS defeated Loreto 2-0.
Senior AFL
Congratulations to the Senior AFL team who have completed their third consecutive undefeated season. By winning fifteen games in a row, this is a wonderful record by a team in only its fourth year.
The team was brilliantly led by Co-Captains Kate Sturzaker and Natasha Tucker who provided wonderful leadership both on and off the field. They were ably supported by 33 other girls from Years 9-12 who all represented the school in at least one game of Senior AFL during the season.
With 29 members of the team returning next year, the future certainly looks very bright for Senior AFL at Camberwell Girls Grammar in 2019.
Andrew Burnell
AFL Coach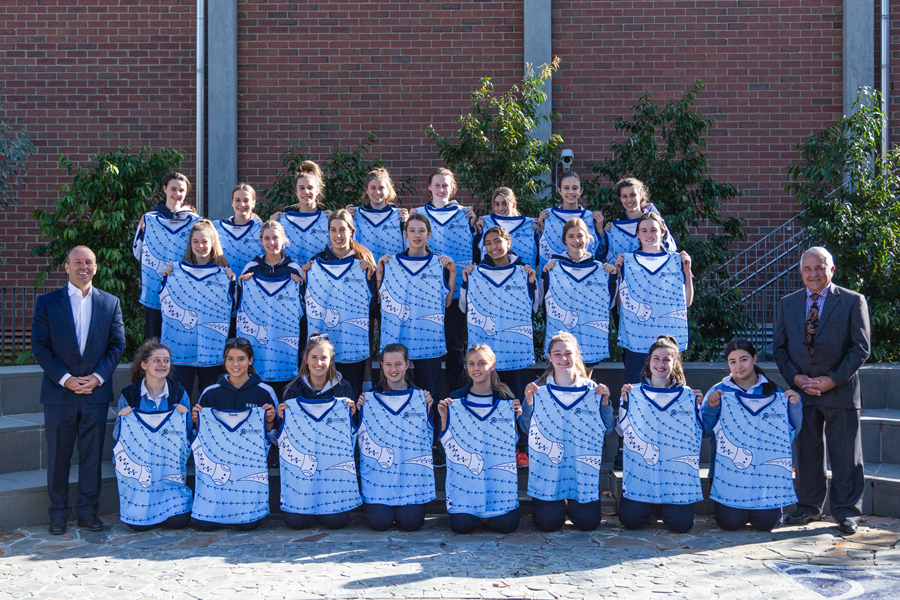 Saturday Netball

In line with the celebrations held throughout Reconciliation Week, the CGGS Netball teams wore Indigenous netball bibs during the games. The girls were very excited to wear the bibs designed by CGGS students.  
Year 7
Silver had a very close against game last Saturday, the scores were level with a couple of minutes to go, but Silver were able to shoot the winning goal.
Year 7 Sapphires played a terrific game, defeating MLC Pearls 15-1; all girls played well together and play flowed well.
Year 8
Gold drew with Fintona Ferns 5-5, both teams had their chances to take the lead throughout the game but the teams were very evenly matched.
Year 8 Diamonds went down to Ruyton Roosters, but the girls have been training really hard and hope for a win next time.
Year 8 Aquamarines defeated Strathy Storm by 3 goals last Saturday, the Aquamarines have been unstoppable the past few rounds.
Year 8 Amber had a great game against Fintona Firebirds, the CGGS team showed great defensive and attacking skills contributing to the 22 goal win.
Year 9
Turquoise were up against tough opposition but that didn't stop the CGGS team from defeating Genazzano Molik 15-8.
The Gems are sitting in 1st place and haven't lost a game.
Year 10
Tanzanites had a great game against Strathy Snickers, defeating them 14-9.
Emeralds had a 29 goal win, the CGGS team demonstrated great team work throughout the game.
Year 11
Crystals were down at half time but came through to beat MGGS with their first win of the season.  Year 11/12 Moonstones are sitting in 3rd place on the ladder, their win against Koonung Lasers has given them a lead in percentages.
Year 12
The Rubies played strongly defeating Strathy Supernovas by 4 goals.
I take this opportunity to wish you a fantastic long weekend.
With best wishes,
Cathy Poyser
Deputy Principal / Head of Senior School
https://cggs-video.s3.ap-southeast-2.amazonaws.com/2018/06/0Y6A6087.jpg
517
900
cggs
https://cggs-video.s3.ap-southeast-2.amazonaws.com/2021/01/2021_Web_Logo_Cyan.png
cggs
2018-06-08 14:36:49
2018-06-08 15:22:40
Senior School