Senior School
This past fortnight at CGGS has seen us celebrate and enjoy so many highlights.
Last week students across both campuses undertook the annual NAPLAN testing. At Senior School our Year 7 and 9 students undertook testing between Tuesday 16 and Thursday 18 May. The results of this testing will not become available for many months, however once made available to the school they will be distributed to parents immediately.
This week the school has been busy after hours with a number of events. On Wednesday we held the #MyFuture Careers Information Evening coordinated by our Careers Counsellor, Trish Dolan and Karen Bartram, our Alumnae Relations Coordinator. On Thursday we welcomed future Year 7 students to our first Interactive Evening for 2018, with another taking place next week. These evenings provide us with the opportunity to showcase the exceptional future focused work taking place across all our curriculum areas, with the Science, Mathematics, English, Commerce, Music and IT Departments all providing hands-on and engaging activities for our students of the future and their parents to explore. Thank you to Andrew Burnell, Jacqui Woodbridge and many students and staff who ensured this was a highly successful evening.
This evening I look forward to joining many of you in the Barbara Sutton Hall to enjoy the hard work of our students this term in putting together the House Music performances. For me, House Music is the culmination of many hours of dedicated rehearsal and our House Music Captains (Lawrence: Tracy Chen and Alysha Lam, Schofield: Bonnie Thorn and Louise Zhang, Singleton: Madeline Li and Ashley Chan, and Taylor: Maryanne Li and Yesenia Chang-Gonzalez) should be proud of their achievements. Best wishes to all of the Houses for this event tonight.
Cathy Poyser
Deputy Principal / Head of Senior School
Premier's VCE Awards
The Premier's VCE Awards recognise students who have demonstrated outstanding achievement in their VCE.  On Tuesday 15 March the annual awards ceremony was held at the Melbourne Convention and Exhibition Centre.
Individual Graded Assessment scores are used to determine the best students. Students must have a study score of 46 or above to be eligible for an award. From the Class of 2017, Cara Ellis received a Premier's Award for Dance, in which she achieved a perfect score of 50.
Cara has accepted a position in the Bachelor of Science course at the University of Melbourne but is currently taking a gap year in 2018 to explore opportunities in Dance. She was awarded a scholarship to join the full time Dance/Performing Arts course at Patrick Studios in Melbourne, one of Australia's most recognised Performing Arts institutions. In partnership with Swinburne University, Cara's course is based on the industry's needs and is designed to train and develop dancers in the areas of strength, flexibility, technique and creative expression. At the end of the year Cara is intending to audition for international dance corporations such as the Lido Parisian Cabaret.
Cara's parents, Andrew and Sarah, have fully endorsed Cara's decision to broaden her life experience by taking up this dance opportunity. Her 3 older sisters also took gap years to follow dance with Lisa now combining being a doctor with running an elite dance-coaching school (Dance Prescription), Nicole currently dancing on a cruise ship in the Caribbean after finishing her Masters of Podiatry, and Lauren having danced with the New Zealand School of dance for 3 years before commencing a dual degree in General Nursing and Midwifery (currently in her 4th and final year).  Both Andrew and Sarah feel that it's important for CGGSl students to know that your career path can be flexible.
#MyFuture Careers Night
Our annual Careers Evening is a combined result of the work from both the Careers Office and the Alumane Office. Eliane Miles from McCrindle Research gave an entertaining and informative presentation on 'Futureproofing your Career' at this event on Wednesday.
Students and parents from Years 9 and 10 (and optional for Years 11 & 12) heard Eliane talk about the changes that are occurring in Australian society, and across the globe, and how these changes will affect the shifting job market our young people are heading into.  In this complex employment landscape, she pointed out that work will intersect across a number of job sectors. Indeed, many organisations already have a policy of moving people around their business and are seeking people with transferable skills. The Foundation for Youth Australia FYA remind us that our young people will have multiple jobs across many industries and Eliane emphasised the importance of enterprise skills in managing this transition from one role to another, from one job to another. If you missed out on this great night, a link will be available in next week's Careers Newsletter to see Eliane's presentation. Her slides will also be available on SEQTA Engage via the Parent Portal under 'Career Resources' early next week.
Trish Dolan, Careers Counsellor, spoke briefly about the development of these enterprise skills at CGGS. Becoming 'career ready' is not only a part of the career education program at the school, but skill development is embedded in the curriculum in every subject, advanced through co-curricular activities and acquired through events such as the Summer Spectacular. The digital portfolio students have access to enables them to keep track of what they have done, highlights the skills they need to develop further, and provides a platform to upload evidence of these skills. It is no wonder our students have successful applications to universities in the UK, Europe, USA, Canada and Asia when they have such a strong skill set from the get go. As more Australian universities look for ways to introduce evidence of enterprise skills to their selection criteria, our students will be able to meet these prerequisites with well developed, well documented and evidence-based skill sets. Parents are advised to watch the media next week for an announcement from the Australian National University (ANU, Canberra) regarding changes in their selection criteria for 2020 → ATAR + Skills from Co-curricular/Service Activities = A Successful Application.
Students then had the opportunity to attend sessions in four different industry areas – STEM, Health, Creative Arts and Entrepreneurial Women. Past students from CGGS who have managed several versions of a career, or have changed career directions successfully, shared their career journey with our students. It was wonderful to welcome back Penny Jose (Health), Michelle DeLaire (STEM), Dr Bronwyn Eager (Entrepreneurial Women) and Camille Hannah (Creative Arts).
Our students are now encouraged to do further research for their own career journeys. They can participate in some of the 'Experience Days' offered by the various institutions (held during school breaks) and attend Open Days (held in August). A great way to start their career journey.
Bond University High School Mooting Competition
Last Friday 19 May, after many hours of preparation, three of our Year 12 VCE Legal Studies students, Alanna Chew Lee, Ashika Mapa and Maggie Robinson along with their teacher, Annie Wilson, flew to the Gold Coast in Queensland to represent CGGS in the prestigious Bond University Faculty of Law High School Mooting Competition.
The competition requires students to prepare a complex legal submission and mount legal arguments before two judges, in an attempt to win their client's case. Students must develop strong advocacy skills and maintain their composure while responding to challenging questions posed by the judges and, with approximately 100 schools from throughout Australia being invited to compete, the standard is exceptionally high.
At the end of our moot, the judges expressed how impressed they were with our team's submission and concluded that our girls gave a "really excellent performance". Indeed, our team was particularly commended for the high quality of their legal knowledge and argument, strong advocacy skills and calm demeanor.
We have since been made aware and are thrilled to be able to announce that the CGGS Moot Team have made it through to the Grand Final and will be heading back to the Gold Coast in early June to further hone their skills. Best wishes to Alanna, Ashika, Maggie and of course to Annie Wilson for mentoring the girls.
Victorian Model UN Conference
On Thursday 10 May, the VCE Global Politics 3/4 class attended the Victorian Model UN Conference hosted by McKinnon Secondary College. This excursion was of particular importance to the students for their future studies on how the General Assembly of the United Nations works and how states interact with each other.
Our seven Year 12 students represented two states, France and Myanmar. The day started with each individual state presenting their position statement and their position on the resolution that was the "UN Convention on the Elimination of all Forms of Discrimination Against Women". This was then followed by the caucus in which states were able to form groups and alliances and negotiate with other states. This was a definite highlight for the girls as it provided an insight into international relations between states and provided a forum to hear from, and be heard by, all represented members of the UN. Finally, all amendments were handed in and voted on. The amended resolution was passed which was a great success for the girls. Overall the day was an amazing experience for our girls who enjoyed the day so much and strongly encourage others to attend next year.
~ Julia Hubbard Year 11
Year 7 Da Vinci Decathlon
On Monday 21 May, 16 Year 7 students competed in the regional finals of the Da Vinci Decathlon which was held at Camberwell Grammar School.
The Da Vinci Decathlon is a team-based national competition which involves developing a range of skills through engagement in different challenges including Engineering, Art, Poetry, Codebreaking and Ideation. Students are required to work collaboratively in order to complete 10 complex challenges over the course of the day. This activity requires not only academic excellence, but more importantly, well-developed critical and creative thinking skills, the ability to work as a team, consider different points of view and persevere with difficult tasks.
While our girls did not place overall, they achieved great results in individual challenges, winning the English and Mathematics challenges, placing third in both Science and Creative Producers (Drama) and fifth in Engineering, Art and Poetry and Ideation. It was a great day with the girls acting as excellent ambassadors for Camberwell Girls Grammar School.
~ Charlotte Forwood -Director of Learning Design & Development
Chinese Reading Competition
On Friday 11 May, Emily Zhang (Year 10) and Cherry Lin (Year 11) represented CGGS in the 2018 Chinese Reading Competition. Hosted by the Confucius Institute of the University of Melbourne and The Art of Voice (CLTAV), the competition was held at Carey Grammar School on Friday 11 May.
Both girls did an extraordinary job in preparing and presenting the Chinese poem. From 25 strong candidates from different schools across Melbourne, Emily Zhang received First Prize for the Senior School Group.  Emily will now represent Victoria in the Australian Grand Final to be held in Sydney on 17 June 2018.
Congratulations to both Emily and Cherry and we look forward to hearing more after the Australian Grand Final next month.
GIRL POWER in STEM
An area of focus at this week's Careers Evening was STEM and it is therefore timely that we are proud to announce that Holly Williams (Year 9) has been selected from over 350 applicants, to be one of 30 students accepted into Melbourne University's Girl Power program.
Holly will commence her involvement with this group by attending a three-day residential camp at Melbourne University in the July holidays.  This begins a four-year program across Years 9-12, where Holly will be involved in a range of hands-on interactive workshops, interaction with Melbourne University engineering and IT students and access to industry work experience opportunities.
Congratulations Holly – we look forward to hearing more of your experiences in this exceptional opportunity.
House Public Speaking
House Public Speaking, a new House event this year, ran during weeks four and five of this term.  Each house fielded two speakers in the divisions of Junior, Intermediate and Senior.  Audiences were entertained with a wide variety of speeches from personal stories to 'What the Bachelor taught me'. Every speaker delivered a fluent and cohesive speech, overcoming their nerves to give it their best, however only two from each division could proceed to the Finals.
We congratulate the following students, winners of each division at the Finals Evening:
Megan Kuo (Junior) – Year 8, TAYLOR
Christine Guan (Intermediate) – Year 10, SCHOFIELD
Samantha Wong (Senior) – Year 12, SINGLETON

~ Alanna Chew-Lee and Kiana Fotoohabadi, Debating Captains 2018
WORAWA RECONCILIATION SPORTS CARNIVAL
On Tuesday 22 May, selected CGGS students travelled to Worawa Aboriginal Girls College in Healesville to compete in AFL and Netball matches. A number of schools participate in the competition in support of National Reconciliation.
Our AFL team played in the first match against the home team – "It was so nice to be able to play a sport you love, not just for the competition, but for the fun of the game and to come together to support these girls and this school". The day was an amazing experience for the CGGS girls. The students received a medal for their participation during the day and Samreen Kaur was the player awarded for Best Sportsmanship. Worawa also organised for AFL women's club members to come and talk to us and encourage the girls to continue playing their sports and to follow their dreams. This was very encouraging to the younger girls who had just played their first ever game.
All of the girls on the netball team worked really hard and enjoyed playing against the other schools, and we ended up winning a few of our games as well. Despite the combined team having never played together before, they worked well together, and the cold weather and rain didn't stop everyone playing great netball against some the tough competition, which made for some very close matches.
When we weren't playing, there were other fun activities that lots of girls took part in, such as a longest kick competition, basketball shooting, dancing along to the live band and taking advantage of the hot drinks and sausage sizzle. It was great meeting people from all of the participating schools and getting to see some old friends as well. It was an incredible day and experience that the girls will never forget. Thank you Worawa for organising this amazing day for us. We look forward to next year!
~ Julia Hubbard (AFL Team) and Isobel Arnot (Netball Team)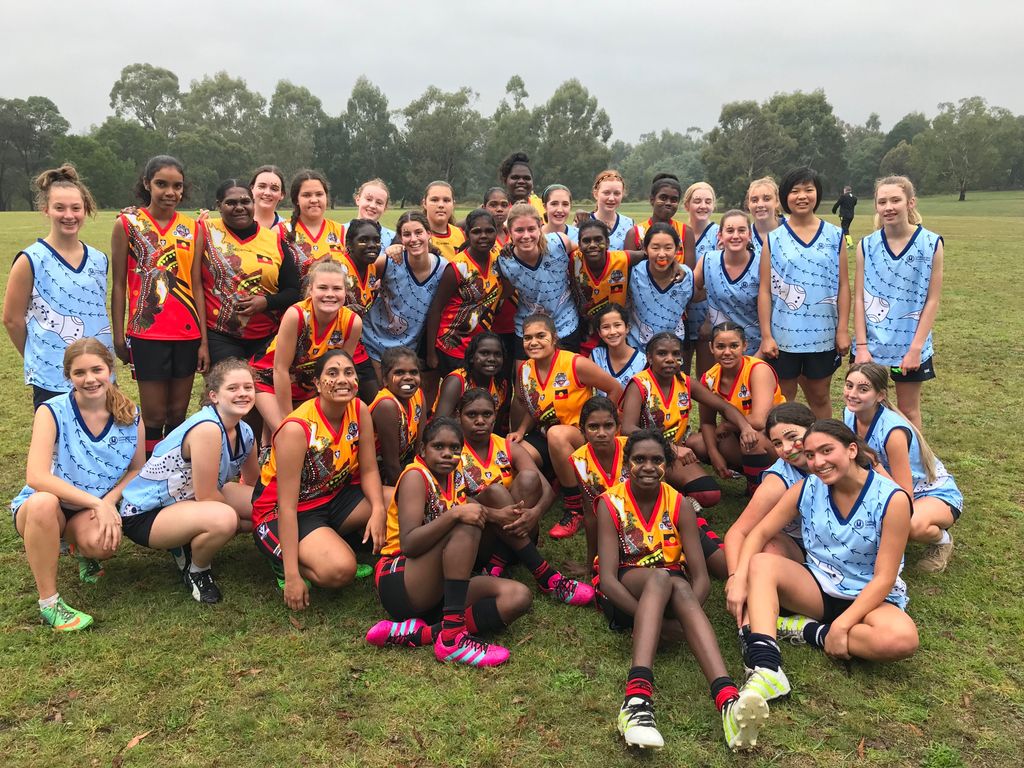 Year 8 Creative Commerce Workshop
Last week five Year 8 students had the opportunity to participate in a Creative Commerce Workshop held at Fintona Girls School.  On Wednesday 9 May, our girls joined students from other schools before Mr Gavin Rogers (a past CGGS teacher), talked to the group about the workings of the commercial world. Groups then had to brainstorm a team and company name with points awarded for the most creative ideas.
The group then applied different scenarios to their business, an accommodation website similar to Airbnb called 'Home and Away', adjusting the variables, for example: host profits, guest profits, employee wages and technical expenses.  Each team then calculated a final price per share and the group that achieved the closest share price to the Commerce instructor earned the most points.
The workshop provided students with new knowledge of commercial industry that they can move on to use to become successful entrepreneurs and businesswomen.
Year 8 Sustainable Design and Building Excursion
Last Thursday the Year 8 students went on a Sustainable Design and Building excursion which ventured into the City of Melbourne to explore a range of building designs, with a particular focus on the use of sustainable measures in planning commercial and residential buildings. It was an enlightening experience for all who participated, learning more about the finer details of building design and how this might result in the conservation of important environmental resources. Each group also went on to visit CERES Community Environment Park, this enabled the students to explore a range of unique sustainable building practices and also experiment with renewable energy sources to gather scientific data.
The students have returned to school with a wealth of new knowledge to inform their team designs and construction of a sustainable building model in Science over the coming weeks. We look forward to showcasing these contemporary energy efficient models toward the end of the term.
~ Nicole Rogers – Head of Strategic Initiatives
Mother's Day Breakfast
On Thursday 10 May, Mother's Day was celebrated at CGGS with the annual Mother's Day Breakfast held in Barbara Sutton Hall.
This year 225 mothers and daughters enjoyed a sumptuous breakfast, whilst participating in a challenge coordinated by the School Captains. Each guest had to make an origami heart on which they wrote lovely messages to their mother or daughter.
Mothers were presented with a beautiful potted succulent which adorned each table and two mums were the lucky winners of designer scarves from Callipso One Fashion of Hawthorn, a fantastic supporter of the school.
It was wonderful to have mothers and daughters from every year level of the School come together to celebrate the wonderful women in their lives.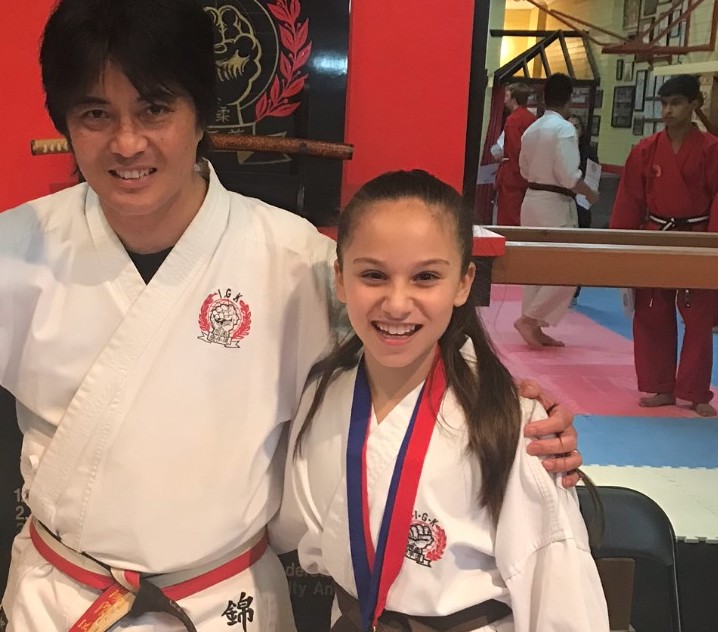 GOJU Karate
On Thursday 10 May Anthea Gazis (Year 7), competed in the Goju Karate Tournament.  Anthea competed in two competitions, the first measuring her Kata abilities (attacking and blocking techniques), the second her fighting techniques.  As a 12-year-old brown belt level student, Anthea competed in the 14-16 year age group against both males and females.  Although very petite in stature, Anthea achieved first place for Kata and second place for fighting technique, against physically much larger opponents.
Congratulations Anthea, on this amazing achievement.
Saturday Netball
Year 7
>  Silver played a great game against Ruyton Rogues, although Ruyton came away with the win.
>  Sapphires were up against Genazzano McMahon, the girls played a great three quarters but Genazzano outscored CGGS in the fourth.
Year 8
> Gold are yet to get a win on the board, however they remain keen.
> The Diamonds played a fantastic second half last Saturday but it wasn't enough to beat Ruyton Ravens.
> The Aquamarines had a very exciting game against Genazzano, the CGGS girls kept playing their steady game and came away with a 4 goal win.
> Amber played another fantastic game; securing 1st place on the ladder.
Year 9
> Turquoise had a close game against Strathy Sparks, although Strathy defeated the CGGS team 15-11.
> The Gems are still undefeated, taking out Fintona Fury who are just below them on the ladder.
Year 10
> The Tanzanites played well however MGGS Scorchers were more consistent on the day.
> The Emeralds were too good for Genazzano Pratley last Saturday.
> Crystals and Moonstones had byes last weekend
Year 12
> The Rubies played a fantastic game against Koonung; the CGGS girls were unstoppable in the first half but were still strong in the second half.
Congratulations goes to all teams.
The CGGS Netball Club had the opportunity to run the BBQ at the courts last weekend, it was a huge success and I would like to thank everyone who volunteered on the day.
~ Lexie Joyce, Netball Coordinator
Wishing you all a fabulous weekend.
Cathy Poyser
Deputy Principal / Head of Senior School
https://cggs-video.s3.ap-southeast-2.amazonaws.com/2018/05/IMG_1410.jpg
2448
3264
cggs
https://cggs-video.s3.ap-southeast-2.amazonaws.com/2021/01/2021_Web_Logo_Cyan.png
cggs
2018-05-25 03:00:41
2018-05-25 15:46:27
Senior School