Senior School
Each year the Years 7 and 8 Camps are a highlight for all the students and staff. It is so rewarding to visit each camp as they are vital in assisting the establishment of personal relationships and connections between students and also between students and their teachers. Being able to participate in and watching the students enjoy the activities and challenges on offer, is truly a pleasure.
With this in mind, late on April 30 I drove down to Grantville and arrived just in time to join the Year 7s for their first dinner at UC Grantville Lodge. In the evening, we were fortunate to have our two School Outdoor Education Captains, Isabella Lincke and Tilley Kutey, both in Year 11, host a Trivia night, that had us all thinking hard to answer word puzzles, sport, music and entertainment questions. Isabella and Tilly were a magnificent duo and their outstanding contribution to the entire camp was certainly appreciated by all the students and staff. I was thrilled to see all the students extend themselves physically and emotionally particularly on the high and low ropes courses. On behalf of the students, I would also like to thank the team of Liza Stevens, Kate Giles, Maria Yevlahova, Eleanor Wood, Lauren Law, Jo Rittey, Lin Zhang and Mat Duniam. Debbie Dunwoody and Charlotte Forwood both made special visits to the camp. In particular Year 7 Coordinator Jenine Caruso and Deputy Head of Senior School – Co-curricular Programs, Shane Maycock for their exceptional organisation of the camp for our Year 7 students. Please read below a full summary of the camp.
The following day I drove across to UC Merrick Lodge to join the Year 8s for part of their camp. In the afternoon, I watched a group of students and staff learn to surf and later that night I camped out with another group at the foreshore of Balnarring. The next morning, I had the pleasure of hearing Murrundindi, the Ngurungaeta of the Wurundjeri people and his niece, Woterang as they spoke to the students about indigenous culture. Murrundindi also taught the students how to throw a boomerang and took them for a nature walk. School beckoned and it was time to say goodbye to the students and staff. Like me, Debbie Dunwoody and Kath Woolcock, Deputy Head of Senior School – Student Wellbeing were able to make guest appearances at the Year 8 camp. Again on behalf of the students, I would like to thank Dot Georgiou, Barbara Woodward, Dickson Ho, Anthony Pasinati, Jennifer Sui, Nicole Rogers, Karoline Walter and Maggie Wighton for their contribution to this success of this camp and in particular Nirvana Watkins, Year 8 Coordinator and Shane Maycock for their planning of this fabulous camp. Again please read below a summary of the camp.
On Tuesday evening, a large number of parents and some students attended the Parent Education Seminar 'The Adolescent Brain' at Camberwell Grammar. Jared Cooney Horvarth is an expert in the field of Educational Neuroscience having studied in the US, before joining the faculty at Melbourne University. Jared completely engaged the audience with a discussion around the teenage brain, how teenagers learn and think, memory and the forming of relationships. For those who were not able to attend the seminar, I would suggest googling Jared and reading his articles online. Additional  articles and other tips/strategies for parents and students can also be found here.
Our Mother's Day Breakfast is another highlight in the Camberwell Girls calendar and yesterday it was lovely to spend time chatting with the mothers and their daughters at this special breakfast in the Barbara Sutton Hall. This year the School Captains organised for us to fold origami hearts and to write messages to our Mothers. A lovely initiative that everyone embraced. The Foundation Office coordinate a wonderful event every year and the catering by Pinwheel & Co is always a highlight. Our thanks to Susannah Jepson who with a team of helpers pulled off a great event.
Founders Day
On Monday we celebrated our 98th birthday with a Founders' Service at St Mark's Church.  The church was full to the brim with students and staff from Years 6 – 12, who joined in the singing of the School Hymn, gave thanks for those who have contributed to the school since its foundation, and prayed for the nations of the world, the environment and those in need.  The theme for the service was 'Hold Fast to Hope' and our guest preacher was Bishop Philip Huggins, who spoke about the importance of being aware of our thinking, since our thoughts lead to actions.  Brielle Schumann in Year 12 spoke about the hope she finds in knowing God is there to share her life, and our year 6s shared their hopes for the future, as well as a poem they had written together.  At the end of the service, everyone was given a giant-sunflower seed, as a symbol of hope, and encouraged to plant the seed in Spring-time when the soil is warming up.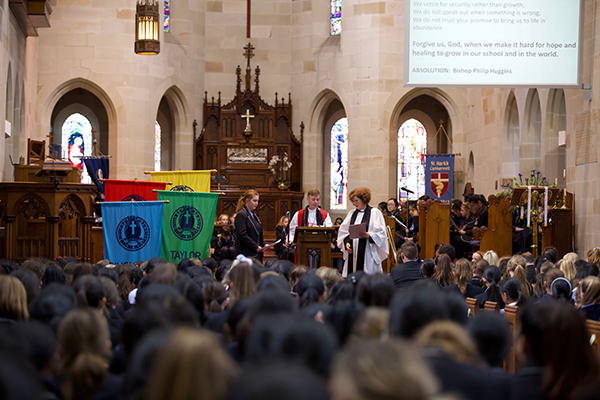 Diversity Week
This week, we have been celebrating and embracing all the different diversities in our world. To start off our week, we celebrated 'LGBTQIA+ Day.' On this day, rainbow ribbons were handed out to staff and students in solidarity with the LGBTQIA+ community. At lunchtime, students from all year levels came together and decorated the Woodstock courtyard whilst singing and dancing along to pride music.
On Tuesday we celebrated 'Religious Diversity Day'. Reverend Creed and our Faith and Worship Captain, Natasha Parsons, alongside the Mustard girls, printed out quotes from great leaders, all of different faiths. They also raised our awareness to people being persecuted across the world for their religion.
To celebrate our 'Cultural Diversity Day', our wonderful International Captains, Jessica Lu and Crystal Wu organised an International Day concert. We were so lucky to see so many of our talented CGGS girls sing, dance and play instruments from all around the world. On this day we also held a free dress day where girls could wear traditional clothes from their country of heritage or dress up in rainbow colours. The money raised from this day will be used to support Berry Street, an organisation that focuses on providing children in need with a safe childhood, and also supports young people and families with issues arising from personal experiences of abuse, violence or neglect.
On Thursday, we were lucky enough to host a match of staff vs students' goalball to celebrate 'Diversability Day'. Goalball is a sport designed for athletes with a visual impairment. The objective of the game is to roll the ball into the opponent's goal while the opposing players try to block the ball with their bodies. In our case we wore 'blackout' masks on the playing court to simulate the vision impairment. Although the game was challenging, both students and teachers were able to experience what it would be like to be vision impaired and this experience helped us to develop an empathy for those with disabilities in our community.
To wrap up the week, Friday embraced diversity in general. At lunchtime, a panel of teachers and students answered some interesting questions regarding all aspects of diversity celebrated throughout the week. It was really fascinating to hear everybody's views and opinions on the wide variety of topics discussed. Overall, this week has been jam-packed with fun activities to embrace all types of diversity, and we immensely enjoyed organising the week! ~ Ellie Zhou and Paula Diamand, 2018 School Wellbeing Captains
Year 7 Camp
Year 7 Camp this year was a resounding success. Year 7 2018 are an amazing group of young women who are willing to rise to challenges and support one another in a spirit of true friendship.
Over the week the students climbed the high ropes, negotiated the low ropes, completed the Grantville Survivor course, and fed the farm animals. Camping out was a challenge for some and a highlight for others but all students not only completed the tasks, but shone.
Our evening entertainment included a Trivia night, a space exploration challenge, and a toilet roll fashion parade. All of which provided an opportunity for the students to bond with their Tutors and Tutor Group.
The camp was enhanced by the presence of the School Education Outdoors leaders, Tilly Kutey and Isabella Lincke. These Year 11 students were exceptional role models for the Year 7 students and their inspirational leadership was valued by all.
My report would not be complete without note of the visit from Mrs Debbie Dunwoody. This visit coincided with Clara's birthday. Clara's birthday wish was that Ms Law and Mrs Dunwoody would capsize the canoe. How could they refuse? Both Ms Law and Mrs Dunwoody fulfilled Clara's wish capsizing, fully clothed, in the middle of the dam. A very happy birthday moment for Clara and all on the dam that day.
This camp has provided the students with an opportunity to be more independent and self-sufficient. To be grateful for the opportunities they are given and to work collaboratively to achieve a common goal. These vital life skills are present in our Year 7 cohort and the staff who supported them over the week were proud of all they achieved. Well done Year 7. ~ Jenine Caruso, Year 7 Coordinator
Year 8 Camp
From 30 April  – 2 May the annual Year 8 camp was held in and around Merricks on the Mornington Peninsula. Students were encouraged to tune into their wellbeing focus of 'self-discovery' throughout the camp, and to challenge themselves and take risks in the outdoor environment.
Favourable weather conditions blessed the first 3.5 days of the camp, ensuring that each of the camp out nights were completed without wind or rain. Activities including surfing, snorkelling, tree climbing, earth art and a yoga and meditation session. Indigenous education workshops were led by Murrundindi and his niece Wadarang.
The evening activities were enjoyed by all, including a movie night, trivia competition, old-fashioned board games night and Merricks Olympics. A sophisticated dinner on Thursday night brought the entire year level together, with earth art place settings, calligraphy name-cards and piano accompaniment from our talented students, Nicole Chang and Chloe Law.
Friday's ominous forecast made for a challenging day of Geography fieldwork, examining the management strategies employed in coastal environments.
The students are to be congratulated on their efforts throughout the week, their attitude was complimented by the service providers. Gratitude must be given to the teachers who spent a time away from their families and usual responsibilities, including Anthony Pasinati, Nicole Rogers, Jen Sui, Barb Woodward, Dickson Ho, Karoline Walter, Dot Georgiou, Maggie Wighton, Kath Woolcock, Cathie Meyenn and Cathy Poyser.
Below are some student comments:
The thing I enjoyed most about camp was getting to know many people lots better. Camp allowed me to learn that even though things may be hard, they are not impossible, and I am proud that I completed the camp out and the hike, and was able to stand up in surfing. ~ Katrina Xu, 8D
On our year 8 camp, I most enjoyed making new friends and learning new skills, such as setting up a tent by myself, learning how to use a hiking pack and many others. Camp enabled me to branch out and make stronger relationships with the girls at CGGS. I was proud that I pushed myself throughout camp and I did my best in everything that I did. Camp was a great experience and I had a great time. ~ Bella Bruce, 8D
The thing I enjoyed most about camp was surfing as we got to have lots of fun as a group and learn new skills! ~ Sasha Edney, 8A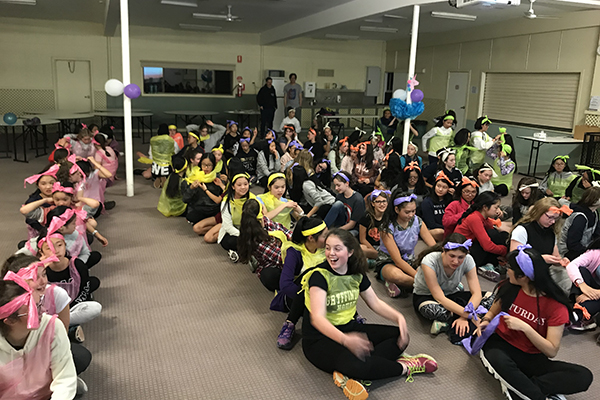 The Melbourne String Ensemble (MSE)
The Melbourne String Ensemble is a youth Orchestra specialising in small ensemble repertoire and chamber music for strings. Students, generally in secondary school, must all audition with the Musical Director before being invited to join the group. Emily Wu and Chloe Law are two students who have been lucky enough to have been members of the group over the past two years.
Members of the MSE join as junior ensemble members and as skills progress, students may be invited to progress to higher levels, which is the case for both Emily and Chloe, who have performed as members of the Senior Group.
During the Term 1 holidays Emily and Chloe were honoured with the opportunity of the completing a European Tour with the MSE. Over three weeks the girls travelled and performed in Zurich, Stuttgart, Munich, Salzburg and Vienna. In these performances they join with musicians from the different cities to play with them in concert.  On this Tour they performed two concerts with the Zurich Youth Symphony Orchestra and one with Stuttgart JuKO (Junges Kammerorchester). These concerts were held in world renowned halls, the Tonhalle Maag in Zurich and Liederhalle Mozart Saal in Stuttgart.
The program also invited students to attend Masterclasses with renowned cellists, Prof. Johannes Goritzki in Lugano and for Prof. Wen-Sinn Yang in Munich. Both girls spoke of how privileged they felt to be able to learn from such respected musicians and valued the sharing of their expertise and feedback.
Participation in the MSE Tour 2018 has only solidified both Emily and Chloe's commitment to their music, with both of them looking forward to continued involvement in the ensemble in the years to come.
Temple Visit
On Tuesday 8 May, the Year 9 students visited the Fo Guang Shan Er You Buddhist Temple in Box Hill, as part of their World Religions study in Religious Education. The students had already studied the story of the Buddha and learnt a little of his understanding of the human condition, and his teachings in response to the problem of suffering. The Temple visit had the aim of consolidating this learning by introducing student to representatives of a local Buddhist community in their own place of meditation and worship. ~ Duncan Reid, Head of Religious Education
Saturday Netball 2018
Year 7 Silver have had a wonderful start to the season, they have won the past two games and are sitting in 2nd place on the ladder. Year 7 Sapphires have had one win and one loss with the girls very eager to keep improving as a team.
Year 8 Gold have come across tough opposition early in the draw but there have been great defensive skills shown on court by all players. Year 8 Diamonds have shown excellent passages of play throughout Rounds 2 and 3, but are yet to have a win. Year 8 Aquamarines played a terrific game in Round 2, the CGGS girls were unstoppable against the Zebras; but Ruyton Rosella's were too good in Round 3. Year 8 Amber are off to a great start of the season, the girls are undefeated and are sitting on top of the ladder in their section.
Year 9 Turquoise have played CSNC and MLC, both teams were more consistent and defeated Turquoise; but our CGGS girls never give up and are eager to get a win. Year 9 Gems have demonstrated wonderful skills and are sitting in 1st place on the ladder.
Year 10 Tanzanites had a very close game in Round 2, taking the lead in the 4th quarter to beat Genazzano Chatfield by 2 goals. Year 10 Emeralds had a very close game against Fintona Flames, and defeated MGGS by 9 goals in Round 3.
Year 11 Crystals went down to Genazzano Lenton. Year 11/12 Moonstones have had a win and a loss, while the Year 12 Rubies are undefeated, and are sitting in 2nd place on the ladder. This coming weekend Rubies will be tested as they are up against the 2017 Premiers. Congratulations goes to all Senior School teams on some fantastic games of netball.
I wish all the Camberwell Girls mothers a very Happy Mother's Day for Sunday.
With Best Wishes
Cathy Poyser
Deputy Principal/Head of Senior School
https://cggs-video.s3.ap-southeast-2.amazonaws.com/2018/05/0Y6A3836.jpg
400
600
cggs
https://cggs-video.s3.ap-southeast-2.amazonaws.com/2021/01/2021_Web_Logo_Cyan.png
cggs
2018-05-11 11:51:49
2018-05-11 16:04:10
Senior School