Senior School
This term we have welcomed two new families to the Senior School at Camberwell Girls and their first week was certainly exciting with our Assembly commemorating ANZAC Day, House Cross Country, Learning Conversations, rehearsals for House Music and our 2018 Senior School Production of Chitty Chitty Bang Bang in August.
We were privileged to have Dr Rob Webster OAM, State President of the RSL who conducted a very moving and informative speech about ANZAC Day and the 100th year commemorations of the end of the Great War – World War 1. I take this opportunity to thank Molly Ewens for extending the invitation to Dr Webster to attend and address our assembly and with Dr Webster's permission, I have included the speech he made to the Senior School. For those parents and students who either, attended the Dawn Service, the ANZAC March or the Collingwood v Essendon AFL match you will have seen Dr Webster in his formal capacity throughout the day.  It was an honour for us to have him speak at our assembly and you can read Dr Webster's speech here.
This segued perfectly into Tara Hoopmann, Year 10 who spoke to us about her most recent experiences in Darwin and Singapore as one of the 2018 recipients of the Spirit of ANZAC Prize. Tara is the latest student in what has become a Camberwell Girls tradition of students who, under the guidance of the History Department, have submitted entries to the various competitions including the Spirit of ANZAC Prize and the Simpson Prize.
2011
Elisabeth Sandbach – Premier's Spirit of ANZAC winner – international study tour
2014
Zoe Tang-Chong – Premier's Spirit of Anzac finalist
Anita Karanasio – Premier's Spirit of Anzac finalist
Rachel Hall – Premier's Spirit of Anzac finalist
Megan Liew –  Premier's Anzac Centenary Commemoration – international study tour
Karin Lemanis – Premier's Anzac Centenary Commemoration – international study tour
2016
Molly Ewens – Premier's Spirit of Anzac winner – international study tour
Alanna Chew Lee – Premier's Spirit of Anzac winner – Canberra study tour
Katia Testarotta – Simpson Prize winner – international study tour
Sabrina Tse – Simpson Prize runner-up
2017
Tara Hoopmann – Premier's Spirit of Anzac winner – international study tour
Emily Hoyle – Simpson Prize finalist
Thank you to Tara for her wonderful presentation and also for the video compilation of her photos, all completed having returned only a few days prior. Last Sunday, Tara was invited to speak at Coburg RSL Commemoration for ANZAC Day where she addressed those in attendance and gave her speech which we have the pleasure of reproducing here.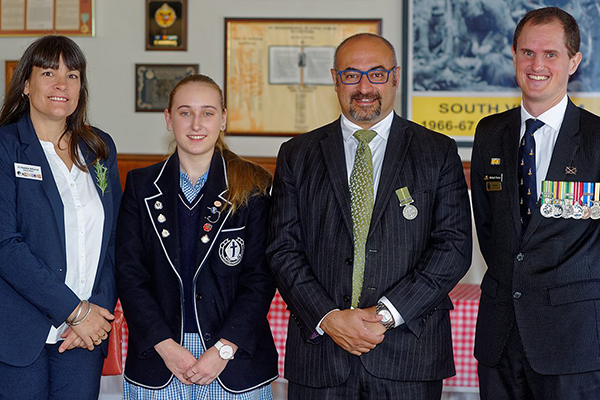 On Saturday I had the pleasure of dropping in to the annual Music Camp at Mt Eliza where the group of nearly 100 students and staff were enjoying a relaxed, yet full program of rehearsals for the various ensembles. In chatting with both Rohan Mack and Kate Savige, they were thrilled with the level of commitment to the ensembles and also stated that the students were setting new heights in terms of the quality of their music. The experience for all was that of true high quality work that Debbie Dunwoody speaks of.
Music Camp
Last Friday, a group of 91 Year 7-12 musicians attended the annual Music Camp at Camp Manyung, Mt Eliza. The weekend was full of beautiful music, delicious food and enjoyable activities. On Friday night the students snuggled in their sleeping bags and blankets and viewed the all-time classic, High School Musical. While the second day was jam-packed with various music rehearsals, conducted by our Music Tutors and Ensemble Directors.  After a brief visit to the beach, on Saturday night we all came dressed up according to the theme of 'SPACE.  There were many astounding costumes in the fashion parade and we all enjoyed participating in an exciting music quiz. The fun-filled weekend concluded with a concert that showcased for our families the efforts of the weekend of music rehearsals.
Finally, many thanks to all the teachers and music staff who attended and helped to make the weekend so enjoyable and run so smoothly. In particular, thank you to Ms Savige, Mr Mack and Ms Scott for organising and making this camp possible. ~ Carina Chen & Samantha Wong, Music Captains 2018
House Cross Country
On Wednesday 18 March all the students from Years 4 – 12 participated in the House Cross Country Carnival at Shenley Reserve. We were fortunate to have a sunny day as the girls ran the 3km course, earning points for their House and enthusiastically cheering on their peers. Congratulations to Lawrence House for winning the House Cross Country Trophy for 2018. Thank you to all the staff, students and the PFA who assisted throughout the day to ensure the program ran smoothly.
Overall Results:
| | |
| --- | --- |
| 1st | Lawrence |
| 2nd | Schofield |
| 3rd | Taylor |
| 4th | Singleton |
Well done to the following girls who were awarded as the Year Level Champions.
Year 7
1st – Madeleine Giagoudakis
2nd – Sasha Feldmann
3rd – Jessica Lim
Year 8
1st – Abbey Howard
2nd – Mikayla Lee
3rd – Sasha Edney
Year 9
1st – Belinda Lemanis
2nd – Sophia Giagoudakis
3rd – Rubi Brady
Year 10
1st – Polly Plummer
2nd – Haylie Chen
3rd – Anabel Car
Year 11
1st – Zoe Giagoudakis
2nd – Lucy Bartram
3rd – Emma Campain
Year 12
1st – Kate Struzaker
2nd – Molly Ewens
3rd – Grace Rutter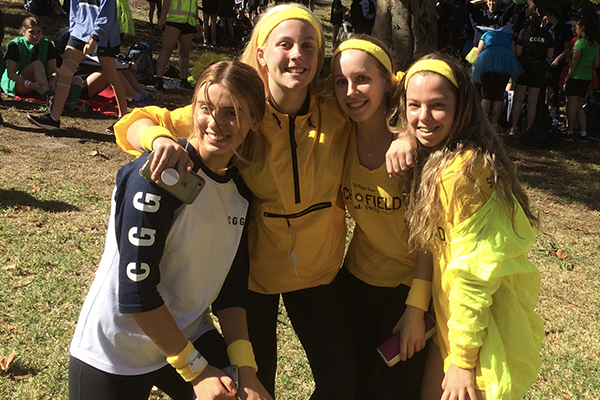 PESA Conference 2018
The Positive Education Schools Association (PESA) National Conference took place in Geelong from Wednesday 11 – Saturday 14 April, involving more than 830 delegates from around the country and overseas.
Major speakers included Prof Martin Seligman, who started the Positive Psychology movement on which positive education is based, and Prof Lea Waters, its main local proponent. Lea Waters published the, The Strength Switch last year on parenting, with insights from positive psychology.
Positive Education is not a program or a curriculum area, but a network for cultural change in schools and this networking is spreading rapidly. It goes by different names in different countries, for example it's called Twenty-first Century Skills in Southern Africa, while at Camberwell Girls we're calling it Mental Fitness Training.
Having already helped establish a positive education network in China, during the conference PESA received a request to help establish a positive education program in Denmark.  The Chinese delegation advised that they are aiming to reach 300 million students in the coming years. Australia is at the forefront of this movement with whole clusters of schools, like those in the Upper Hunter Valley region, seeking to transform their educational culture. Several times during the conference Prof Seligman expressed genuine surprise at the energy and enthusiasm of Australian educators. During the conference I came to realise that as Camberwell Girls have been developing positive education for several years, we are now considered experts in this area. I was asked by a number of people from schools still in the early stages of their own efforts about how we started, what problems we met along the way, and what successes we have enjoyed. The other delegates were very impressed when I told them our School Captains have initiated a custom of meeting and greeting their fellow students each morning at the school gates. It was only through their feedback that I realised I have come to take this for granted and not truly recognised it as an aspect of the welcoming culture of our School. ~ Duncan Reid, Head of Religious Education
Saturday Netball 2018
The Saturday Netball program for 2018 commenced with the Year 4 teams playing each other on Friday afternoon.  It was fantastic to see the Year 4 girls on court, some playing their first game of Netball. Year 5 Topaz played Ruyton Rainbows very early on Saturday morning, Camberwell scoring 5 goals to Ruyton's 12. Year 6 Quartz were unstoppable, shooting 13 goals and only allowing the Mont Albert Wizards to score 2 goals.
All of our Camberwell Girls teams from Years 7 – 10 were scheduled byes for this first week of matches. The Year 11 Crystals were up against some tough competition, the Strikers were too good for our girls defeating them 23-6. The Year 11/12 Moonstones played a fantastic game and defeated Strathy Shooting Stars by 7 goals. And finally the Year 12 Rubies got off to a great for the season, winning their first game scoring 17 goals.  They are placed 2nd on the ladder at this early stage of the season.
Well done to all teams who played in Round 1.
I wish all our families a restful weekend.
Cathy Poyser
Deputy Principal/Head of Senior School
https://cggs-video.s3.ap-southeast-2.amazonaws.com/2018/04/IMG_1608-1.jpg
400
600
cggs
https://cggs-video.s3.ap-southeast-2.amazonaws.com/2021/01/2021_Web_Logo_Cyan.png
cggs
2018-04-27 13:02:47
2018-04-27 15:07:38
Senior School