Senior School
Term 1 has provided each and every student in Senior School the opportunity to explore academic areas of interest, new and existing co-curricular activities as well as their passions through the extensive activities and clubs. Our Year 7 students have certainly followed the lead of the older students and quickly become involved in the broad offerings and it is evident they feel fully immersed in the Senior School and are already contributing to the special culture that is Camberwell Girls.
This week alone we have welcomed new students who will join us later in the year and the kindness and warmth that was displayed to these students and their families truly exemplified all that it is to be a Camberwell girl. Our students are poised, caring and genuine.
I am so proud of all the Senior School students and all their endeavours as we end Term 1. And, it is appropriate to note these many endeavours here.
It is most fitting that we have concluded this term with a beautiful Easter Church Service at St Mark's, led by Rev Creed and a number of students, with the singing of what has become our favourite hymn, 'Shine Jesus Shine' almost lifting the roof off the Church.
Cabaret Night was a spectacular evening of entertainment and magnificent music, courtesy of the students involved in the Schools' Music ensembles. The polish and precision of the performances was at a level you would expect at the end of Term 4 after a year of rehearsal and teaching, not after just one term. The School Music Captains, Carina Chen and Samantha Wong, did an exceptional job compering the evening in their first Music event of 2018 and the atmosphere in Barbara Sutton Hall was fantastic, with parents and friends enjoying a meal, a chat and some fine performances. Thank you and well done to all students and ensemble leaders, with a special thanks to our Directors of Music, Ms Kate Savige and Mr Rohan Mack.
Last Friday we experienced the House Dance extravaganza, which was the culmination of many hours of rehearsal and the passion and creative expression reflected in the performances from all Houses was truly outstanding. Thank you to all the House Dance and Tech Captains and Ms Keira Lyons for their efforts to produce such high quality dances.
Looking back through Term 1 the students, staff and parents have experienced and had the opportunity to explore a myriad of activities including: Summer Spectacular, Fitness Camp, Adelaide Drama Camp, House Athletics, multiple GSV sports with our Junior Softball team playing in the grand-final out of all 24 schools this afternoon. Please watch twitter and Facebook for the result. Interschool Swimming and Diving, Year 7 Transition Week, Year 12 Retreat, Information Evenings, VCE Learning Conversations, Senior School Assemblies, Chaplain's Assemblies, Captain's Assemblies, Close the Gap Day, Dream Stitches, Days for Girls, River Nile, Relay for Life, excursions and so much more without even mentioning the learning that has occurred within each and every subjects, in every classroom and space around the School.
Reflecting on this Term, what makes me the proudest of every student, is that there are so many achievements to celebrate both on an individual and group level. From my perspective Camberwell Girls is a community of students, parents and staff who together nurture, acknowledge, celebrate and embrace each other positively and genuinely and this culture that is the very essence of Camberwell Girls is certainly something that can be heard and felt and is being experienced by all.
Thank you to all our community for making Camberwell Girls such a unique and exemplary learning community. It is such a pleasure and privilege to be a part of this thriving community.
Deakin University Year 10 Excursion
Deakin University's Graduate Recruitment Team hosted a large Careers Fair for their current students on Wednesday 21 March. The Expo featured an expansive range of employers such as IBM, CPA Australia, Department of Environment, Land, Water & Planning, Kraft Heinz and more.  Deakin's employer partners expressed an interest in engaging with younger secondary school students to open their eyes to a wider range of careers and CGGS Year 10 students were invited to be part of this innovative pilot program.
The program included:
A Preparatory session with Deakin's Graduate Employment team – Students received an overview of the Expo, insight into what employers are looking for, and coaching on the type of questions to ask ensuring they made the most of the Expo.
A Campus tour – Students participated in a guided tour of the campus lead by current Deakin students during one of the busiest weeks on campus. This was a great opportunity to get a real sense of life on campus and we met up with some past CGGS students who chatted to the girls about their experiences. The buzz around the campus was fantastic.
A visit to the Graduate Employment Expo – Students were able to explore career areas of interest by connecting with future employers alongside current Deakin students. Some intrepid students managed to network and get contacts for future work experience!
A terrific opportunity to get an overview of employability skills of the future and graduate recruiters at work!
With thanks to our Camberwell Girls Careers Counsellor, Mrs Trish Dolan for her organisation of this excursion and the partnership she has developed with Deakin University.
National Day of Action
On Friday 16 March 2018, Australian schools stood united in their communities to celebrate the eighth National Day of Action against Bullying and Violence (NDA).
The National Day of Action is Australia's key anti-bullying event for schools, where schools are called to imagine a world free from bullying.
The National Day of Action is a positive day of action, bringing school communities together to help find workable solutions that address bullying and violence.
Across Year 6 – 12, each year level was involved in a different activity that raised awareness about bullying, and demonstrated our girls' commitment to taking a stand against all forms of bullying.
Year 6 & Year 7: Aerial photo with Anti-bullying message at Ormiston
Year 8: Various Year Level Activities
Year 9: Chalk Pledges in Woodstock courtyard
Year 10 – 12:  Photo Booth activity, aimed at voicing the National Day Against Bullying Message
Ultimately, we know that bullying prevention is everyone's responsibility, and the activities held at Camberwell Girls ensure that we all Take a Stand Together.
Thank you to Ms Kath Woolcock, Deputy Head of Senior School – Student Wellbeing, plus the Year Level Co-ordinators and the SWAG (Student Wellbeing Action Group) group for conducting the Senior School activities on this most important day.
House Music Choral Workshop
Our House Music Captains took part in an interactive choral workshop on Wednesday 16 March. They were fortunate to work with choral specialist Victoria Hofflin, a young conductor, composer and choral arranger. She willingly shared her area of expertise with our House Music leaders and encouraged them to follow their passions. The House Music Captains actively participated in the session, focusing on rehearsal strategies, conducting techniques, vocal pronunciation and blending of voices. They successfully acquired a range of real world music skills, whilst thoroughly enjoying the afternoon with their peers. The upcoming challenge of conducting a House Choir, with over 120 student participants, was a particular area of focus for the students and Victoria had many suggestions for them to put into their 'music toolkits'.
Many thanks must go the Preston Singers, who were the choir for this session, for their enthusiastic singing and willingness to try a variety of new skills. Our House Music Captains really appreciated their contributions and enthusiastic input. The choral workshop was also actively supported by many Music staff members: Mrs Georgiev, Mr Mack, Mrs Jenkinson and Ms Huggett. We thank them for their support and the additional advice they were able to share with all participants throughout the afternoon. The House Music Captains now feel ready to plunge themselves into the creative landscape of the House Music rehearsal schedule, and are looking forward to leading all Years 7-12 students within the House communities towards a wide range of high quality performances on Friday 25 May.
The House Music Captains for 2018 share their thanks and appreciation to Ms Kate Savige for her initiative in planning this student workshop.
Lawrence: Alysha Lam and Tracy Chen
Schofield: Bonnie Thorn and Louise Zhang
Singleton: Ashley Chan and Maddie Li
Taylor: Yesenia Chang-Gonzalez and Maryanne Li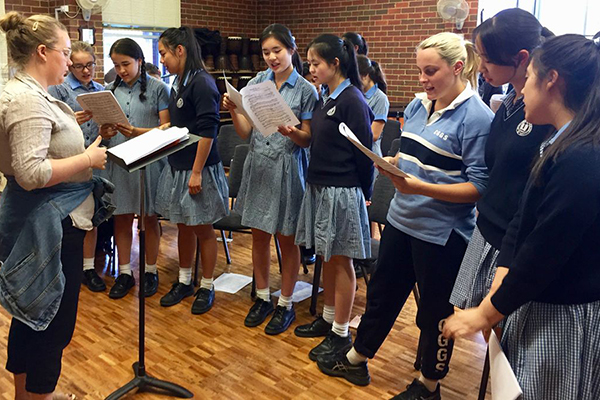 House Dance
As the future job market changes to embrace "cluster" skills rather than standard career paths, our co-curricular program becomes more important than ever.
Throughout Term 1 our Dance and Tech Captains worked tirelessly in the pursuit of excellence, producing the phenomenal night of performance witnessed by a capacity crowd on Friday night.
Alongside balancing time and energy for school work, other co-curricular pursuits and family commitments, some of the responsibilities that fell to our Captains included:
Preparing, advertising and conducting auditions
Choosing their dancers [a sometimes fraught emotional exercise in diplomacy, empathy and fairness]
Planning and teaching choreography for up to 60 dancers
Structuring and communicating rehearsal schedules to parents and students
Negotiating absences
Sourcing and editing music
Sourcing and / or ordering costumes within a budget (collating information about sizes from their ensembles)
Designing, plotting, programming, calling lighting
Public speaking
Negotiating a gamut of emotions
These students are artists, leaders, managers, confidants and role models.  These leadership positions (which include a lot of learning on the job) are very public and the outcome publically 'judged'.
We applaud the resilience, determination, courage and persistence demonstrated by the Captains of 2018 and thank them for an exquisite night of entertainment.
A huge thank you to all of the teachers who supported rehearsals, supervision, ticketing and seating. To Jenine Caruso for Stage Management, Kim Perkins for Technical Assistance, Shane Maycock and Mark Corrie for Logistical Support.
Congratulations to everyone involved.
And on behalf of all the students, parents and staff who were privileged to witness the House Dance, we thank Ms Keira Lyons, our Head of Drama and Performing Arts for her outstanding mentorship of the Captains and their Dancers.
Category Winners
Theme: Singleton
Solo: Olivia Benetton (Singleton)
Ensemble: Taylor
Overall cup winners (highest overall score for the whole night): Lawrence
Close the Gap Day – Indigenous Literacy Foundation
On Thursday 15 March, the Camberwell Girls Junior and Senior students dressed in casual clothes with a touch of red, black and yellow, in support of the Indigenous Literacy Foundation. The Indigenous Literacy Foundation is a not-for-profit charity, Camberwell Girls has been in partnership with for the last three years. The Indigenous Literacy Foundation helps correct inequity by assisting to remove barriers around cost and accessibility to books. Students were asked to bring a $5 donation to show their support.
The day was a success, raising $1960, which is enough to provide 470 books to remote Indigenous communities. This is an outstanding effort, and we congratulate everyone who took part in this wonderful initiative.
To find out more please visit https://www.indigenousliteracyfoundation.org.au
Thank you to our Reconciliation Captains – Hannah Moran & Izzy Rawson and Mrs Liss Campbell for their work in conducting the day and making all students aware of the cause.
KIVA
Some years ago, when Service Learning was still called Social Justice, the School established an account with the micro-finance organisation KIVA. KIVA makes small loans, usually less than $30, to people to set up businesses in developing countries. These loans are repaid in instalments and the funds then rolled over into new loans. The School raised just over $1000 through lunchtime sausage sizzles organised at the time by Mr Ian Bennett and run by the Social Justice Captains. In line with our social justice policy, the School stipulated that loans should be made to women or women's organisations. Since June 2014, the School account has financed dozens of small business projects in a wide range of countries: Burkina Faso, Cambodia, Ecuador, El Salvador, India, Kenya, Liberia, Mozambique, Nigeria, Philippines, Rwanda, Sierra Leone, Togo, Uganda, and Zimbabwe. This is an ongoing project, largely unnoticed because it is self-sustaining, but which continues as part of our Service Learning program.
~ Dr Duncan Reid
GSV Swimming Finals Evening
Well done to the 10 girls who qualified for the Swimming Finals Evening on Tuesday 27 March at Melbourne Sports and Aquatic Centre. These girls recorded the fastest 10 times in the pool across all 24 GSV schools to qualify for this competition.
There were some outstanding individual and team performances on the night and all girls should be very proud of their efforts. We would particularly like to acknowledge Scarlett Giang, Year 7 who won a bronze medal for 50m Backstroke and Abbey Howard, Year 8 who won a bronze medal for 50m Breaststroke. It has been exciting to watch the team's improvement throughout the season and we look forward to seeing this development continue in 2019.
Congratulations to our team of 12 swimmers who competed at the '2018 Cripps Tasmanian Age, Open and 11 / Under Championships', over the Labor Day long weekend.
Enduring 4 long days of competition our swimmers showed much commitment, endeavour and resilience to achieve some sensational results. The overall team achieved PB's in 55 of 73 competed races, which equates to a 75% achievement!
Apart from the fantastic swimming, it was great team bonding experience for both swimmers and parents, who immensely enjoyed each other's company, the environment and social banter.
In summary, it was sooo…. much fun!
The consensus is that we are going to do it all again next year, so I will most certainly encourage all club members to get on-board!
From a CGGS student perspective, congratulations to the following students for achieving as follows;
Anabel Car, scooped the pool competing in 11 individual events, collecting 10 PB's, making her first ever State Final, and achieving a 4thplace. Anabel also collected along the way 4 Longcourse State qualifying times in the 100 breaststroke, 100 backstroke, 200 backstroke and 50 backstroke, just missing the 200IM qualifying time by 1.0 second.
Key PB Results
200 IM          Entry: 2.43.66    Result: 2.40.88
200 Back      Entry: 2.40.71    Result: 2.36.20   (State Qualifying Time)
100 Breast   Entry: 1.27.22    Result: 1.26.22   (State Qualifying Time)
100 Back      Entry: 1.14.02    Result:  1.11.50  (State Age and Open Qualifying Time)
50 Back        Entry: 34.13        Result:  32.80     (State Age and Open Qualifying Time)
Belinda Lemanis, competed in 6 events, achieving 3 PB's and looking stronger and more confident and the meet progressed. As one of our new kids on the block, Belinda has improved immensely over the 12 months she has been a member of the CGGS Aquatic Club program, showing immense commitment and dedication to achieve to the best of her ability. Belinda is just knocking on the door of 2018 Longcourse State qualifying times and I have no doubt that Belinda will deliver this achievement.
Key PB Results
100 Breast   Entry: 1.38.54    Result: 1.35.33
200 Back      Entry: 2.52.22    Result: 2.50.31
100 Free       Entry: 1.12.31    Result: 1.11.61
Thank you to all the PE staff, for their support throughout the swimming season, and to our Head Swimming coach, Peter Kitney who has lead Camberwell Girls in another successful season.
I extend my best wishes for a Happy Easter and a safe and restful holiday period.
Cathy Poyser
Deputy Principal/Head of Senior School
https://cggs-video.s3.ap-southeast-2.amazonaws.com/2018/03/Unknown-3.jpeg
800
1200
cggs
https://cggs-video.s3.ap-southeast-2.amazonaws.com/2021/01/2021_Web_Logo_Cyan.png
cggs
2018-03-29 10:56:40
2018-03-29 15:08:22
Senior School