Senior School
Senior School Assembly on Tuesday 20 February saw us celebrate many examples of high quality work and achievements. We welcomed Mr Greg Jamieson from La Trobe University to present awards to Emma Petrie, Alannah Chew Lee and Krystal Shang for La Trobe University Business Awards for their contributions and achievements in VCE Accounting and Business Management in 2017.
Our Head of Geography, Ms Karoline Walter then presented the VCE Geography High Achiever's Award to Lauren Dardis for her outstanding study score in 2017 as a Year 11 student completing Units 3/4 Geography.
We also took the opportunity to acknowledged a number of Duke of Edinburgh's Award recipients.  Lucy Bartram, Emma Campain and Tilly Kutey achieved their Silver Awards, while Lizzy Heap, Sally Choi and Jennifer Fan achieved their Bronze Award.
It was also a great privilege to announce the 2018 Kwong Lee Dow recipients, Yesenia Chang-Gonzalez and Madeline Li as well as the International Kwong Lee Dow, Zoe Zhan. The Kwong Lee Dow is a most prestigious award presented to students deemed by The University of Melbourne to be both academic high achievers, as well as having demonstrated leadership potential and been active in citizenship and community involvement.
We also celebrated the outstanding achievements of our 2017 Year 12 cohort and welcomed back to this special awards assembly the students who achieved a study score over 97. We were thrilled to have 20 from our cohort of 82 students receive this exceptional ATAR. While our two Louisa Taylor Dux of School recipients, Francis Lu and Jessica You were not able to join us due to University commitments, the GD Lawrence recipient, Jennifer You, the RM Westcott recipient, Claudia Yuan and the Otto Yuncken recipient, Sanjana Gupta were all present to accept their awards. We also celebrated the achievements of the following high achievers, Stephanie Harker, Annie Zhang, Julie Zheng, Sarah Wan, Melanie Li and Joanne Ling.
House Dance rehearsals have continued throughout the past fortnight and the event on Friday 23 March is set to be an extravaganza. The theme, group and solo/duo/trio categories are all looking amazing. Parents are encouraged to be early on the night as the Barbara Sutton Hall will be full.
Our Head of Library, Mrs Anne Devenish along with Mr Shane Maycock, Deputy Head of Senior School – Co-curricular Programs ran an information evening for parents and students wishing to take part in the UK Literature Tour that is planned for April 2019. If any parents were not able to attend, please feel free to contact Mrs Devenish devenisha@cggs.vic.edu.au to obtain a copy of the information brochure.
Over the past two weeks all students in the Senior School have taken part in information sessions held by our School Counsellors, Beth Sarlos and Paula Kolivas on the Ministerial Order No.870 – Child Safe Standards. As part of the Order we are mandated to complete two educational sessions per year with each age group of our students. The session at the start of each year reminds all students of appropriate and inappropriate behaviour and outlines for the students who our Camberwell Girls – Safety Officers are and the Schools obligation to keeping our students safe from harm and abuse. Please find attached a copy of the Code of Conduct for Child Safety that all our students have read and signed.
As I am sure you can appreciate our entire Camberwell Girls community have a commitment to ensure the safety of those in our care and I ask that as parents you also read the policy and should you have any questions or concerns please email me on poyserc@cggs.vic.edu.au for clarification.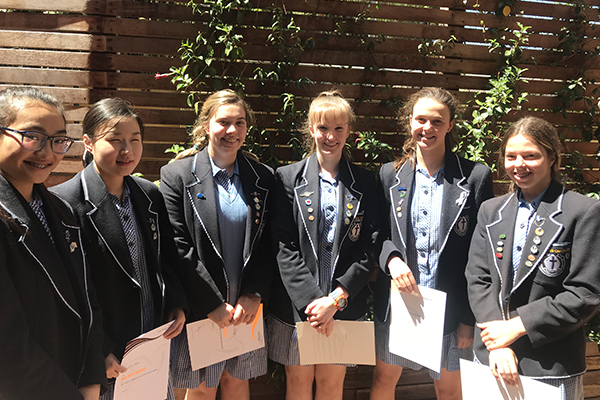 Happy New Year 新年快乐!
We celebrated Chinese New Year with red lanterns around the school and were able to enjoy some delicious Chinese dishes at Fig Tree Café. On Wednesday 14 February, the Year 9 Chinese classes had the opportunity to watch the Shanghai Youth Arts Troupe from China, performing music on the traditional Chinese Zheng. The girls performing were aged 6 – 16 and wore beautiful traditional Chinese dresses. We were given an insight into Chinese culture, music and poetry. On Friday, during lunchtime, activities such as Chinese knotting, paper folding and calligraphy were organised for the students to participate. Some students also enjoyed watching a Chinese cartoon film.
A traditional lion dance to bring good luck in the Lunar New Year was performed on the Senior School oval on Monday 19 February. Dancers in lion costumes were accompanied by the music of beating drums, clashing cymbals, and resounding gongs. It was very fun and exciting to watch.
Wish everyone good luck in the Year of the Dog.
Fitness Camp
On Friday 24 February the annual school Fitness Camp, comprising 93 students from Years 7 to 12 plus supporting staff, travelled to Phillip Island for an extremely active weekend filled with lots of activities and physical challenges.
Students were able to test their abilities as well as have the opportunity to meet new girls and relax in the sun. We were fortunate enough to enjoy addresses by guest speakers including a Nutritionist who spoke about healthy lifestyle and the Athletics Coach who addressed how to further develop the fitness levels. The girls gained beneficial fitness advice and how it forms an important part of a healthy active lifestyle.
Thank you to all the teachers involved in making this weekend a success, particularly to Ms. Law for all the advance planning for this full weekend.  We are very fortunate to have such enthusiastic, and supportive teachers, who allow us to participate in such valuable initiatives. 

CGGS musicians in the Melbourne String Ensemble
Year 8 students, Emily Wu and Chloe Law, are exceptional cellists and are both involved in numerous co-curricular music ensembles at CGGS. Outside of school, both students are also members of the Melbourne String Ensemble – a dynamic orchestra for advanced string students, performing high-quality repertoire and with high musical expectations of its members. The MSE has been a leading youth orchestra in Melbourne for over 30 years. All players are auditioned and have the opportunity to perform widely in Australia and overseas.
The ensemble is lucky enough to tour internationally quite regularly and, this year, is travelling to Europe in April, visiting Zurich, Stuttgart, Munich, Salzburg and Vienna. This is an incredible experience for these students and we wish them a safe and happy trip full of incredible new experiences! Look out for news of their adventures in next term's CamNews.
In preparation for their 2018 tour, the MSE invites all members of the Camberwell Girls community to come along and support our girls in their fundraising concert. Enjoy some fantastic music by Bach, Barber and Sculthorpe, along with champagne and canapés, while helping raise funds for students to attend masterclasses in Europe with world-renowned teachers, such as Wen-Sinn Yang and Johannes Goritzki.
Monday 12 March (Labour Day), 2.00pm @ Edmund Rice Centre – Amberley.
Tickets are available to purchase – www.trybooking.com/349655.
With best wishes until the next edition,
Cathy Poyser
Deputy Principal / Head of Senior School
https://cggs-video.s3.ap-southeast-2.amazonaws.com/2018/02/IMG_7093.jpg
400
600
cggs
https://cggs-video.s3.ap-southeast-2.amazonaws.com/2021/01/2021_Web_Logo_Cyan.png
cggs
2018-03-02 12:41:39
2018-03-02 14:06:36
Senior School