Senior School
Our Senior School Assembly on Tuesday 6 February saw us celebrating the induction of School and House Leaders for 2018.  This assembly serves as an opportunity to recognise the students who have taken on these leadership roles within the School, as they make their pledge to our School community to uphold our School Values and work enthusiastically towards ensuring each area is suitably guided throughout this year.  One of the unique qualities and defining attributes of Camberwell Girls is the student leadership framework.  As a School we work to mentor, support and nurture the skills within our student leaders in all their School and House positions to ensure that they, and the programs they co-ordinate are of the highest quality and encourage inclusivity. Congratulations and best wishes to all our 2018 student leaders.
It is fitting to note that on Saturday 10 February at the Summer Spectacular, all our students displayed great leadership and a welcoming warmth to all the visitors to our School. I take this opportunity to thank the students, their parents and the entire Camberwell Girls' staff for their enormous efforts to ensure the Summer Spectacular was, as its name suggests, a huge success.  I have received many emails this week acknowledging the efforts of all involved and I want to thank you all for showcasing our School with such pride and enthusiasm.
In speaking to our Heads about co-curricular activities, I am also pleased to be able to share that the sign ups to the various activities on offer has been exceptional. While an academic education at Camberwell Girls is a privilege, the co-curricular activities is the icing on the cake and in Term One alone, we all have many events to enjoy. As parents please make sure you attend these events to support your daughter. Details of upcoming events now feature in the What's On publication, emailed home on Mondays and the Senior School Weekly publication, emailed home on Thursdays.
ACHIEVEMENTS
It is with great pleasure that I acknowledge further achievements by Camberwell Girls students in the prestigious Premier's Spirit of Anzac Pprize for 2018.
Tara Hoopman (Year 10) was awarded the highest honour and will be representing both her family, our School and more broadly Victoria and Australia when she joins a ten day study tour exploring Second World War sites in Darwin and Singapore.  Tara wrote a heartfelt piece about her grandmother's plight during WWII in Australia to win the prize. Many congratulations to Tara from a very proud Camberwell Girls community.
Veda Surapaneni (Year 12)  has been selected to serve as a Global Scholar at the 2018 Global Young Leaders Conference in Washington DC and New York City later this year.  Veda will join students from more than 145 countries on a 10 day leadership program.  Congratulations Veda!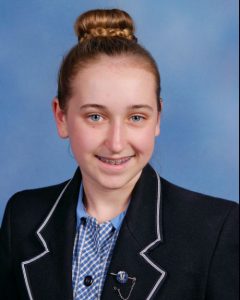 EVENTS
It was wonderful to see the School abuzz and full of energy as the girls returned after their summer holidays.  Well rested and eager to begin, the first two weeks have been packed with special events, programs and services to celebrate the new year.
Year 7 Orientation
In the first week, we celebrated the arrival of our new Year 7 students, who were eased into life as a Senior School student with a week-long transition program. The purpose of this program was to orientate the students to the inner workings of the School, helping them to navigate their way around, and become familiar and confident in their new environment. Students took part in an Amazing Race, House Dance workshops, Sports activities, Science experiments and perhaps most importantly, they had time to get to know their Tutor Teachers and each other.  On the Monday evening, the Year 7s and their parents were invited to a Church Service and Welcome Dinner, and we thank Reverend Helen Creed for her words of wisdom and reflections. A big thank you to Jenine Caruso (Year 7 Coordinator), Shane Maycock (Deputy Head Senior School – Co-Curricular Programs), the Year 7 Tutors and the Heads of Department for making this week a success.
Year 12 Retreat
The Year 12s also had an action-packed start to the year, spending Monday night at St Hilda's College at Melbourne University. Here they were given an opportunity to hear from past students, who shared their learnings and advice for the year, as well as BATYR – a youth mental health service.  The highlight for many, was the Year 12 Dance routine, led ably by the Year 12 School Captains. We look forward to seeing the performance in a few weeks time! To conclude the week, the Year 12s and their parents attended a Church Service and Dinner, and we thank Brielle Schaumann, Jordyn Beggs, the School Captains and Reverend Helen Creed for their reflections and advice for the year ahead.
Induction of School Leaders
The Induction of School Leaders Service is a significant date in our School calendar.  The service provides a formal occasion to induct our 2018 Year 12 students, as well as the opportunity to honour the Year 12 and Year 11 Students wo have accepted both School and House Leadership positions.  The service was a wonderful celebration and acknowledgement of the vital role that all our senior students play in leading the School.
Fit2Drive & Paul Dillon
In addition to these events, there have been a number of specialised programs delivered to our students.  The Year 11 Fit2Drive program is aimed at educating students and equipping them with skills and strategies to manage risky driving situations and to minimise harm. Our Years 10 -12 students also heard from Paul Dillon from Drug and Alcohol Research and Training. Paul visits Camberwell Girls annually, and delivers interactive, evidence based workshops with students, focusing on harm minimisation and safe decision making in relation to youth drug and alcohol use.  Specific topics this year included 'Alcohol and the Teenage Brain', 'Teens, Parties and Alcohol' and 'Why do Teens do the things they do'. We are pleased to advise that in 2019, Paul Dillon will also present to our staff and parents and we look forward to sharing more details with you later in the year.
Service Learning Shrove Tuesday
On Tuesday 13 February (Shrove Tuesday), the Service Learning Team, led by the 2018 Service Learning Captains – Ashika Mapa and Isabella Nielsen, held a pancake stall. It was wonderful to see so many students and staff members come to support the stall and eat many pancakes. A special thank you to the staff for donating the pancake mix and lemons!
The delicious pancake cook-up was held to raise funds for the not-for-profit organisation, Days for Girls. The pancake stall raised $310 and this will enable us to purchase the components to sew 30 Days for Girls sanitary kits. A special event to make the kits will take place in the MakerSpace on International Women's Day on Thursday 8 March.
The kits are essential to the lives of women and girls in developing countries.  Every washable Feminine Hygiene Kit provides women with the solution they need to ensure they can keep attending school, where they would previously have had to stay home, giving back up to 6 months of living in just 3 years of use.  That is 180 days of education, health, safety and dignity to women in need. For more information please visit: https://www.daysforgirls.org/dfg-our-approach
School Captains Theme of LOVE 
As part of our 2018 theme of 'love', we encouraged the girls this week to help spread love through the School by buying Valentine's Day chocolates for either their friends, teachers or themselves.
We prepared 115 chocolate packages with notes attached, for the girls to write messages, and then some of the Year 12 Cupids helped us to deliver them on Valentine's Day.  It was so wonderful to see all the girls writing messages for their friends and teachers and we were honoured to be able to deliver the gifts and spread the happiness and love in the School. All profits raised went to the Heart Foundation and we are proud to be able to donate $310 to fund the research and prevention of cardiovascular disease in Australia.
We'd like to thank Ms Lyons for taking the time to help us make delicious dairy free and vegan alternatives.
To everybody who supported this initiative, we thank you for helping us spread the love throughout the School community
Lydia Baird, Molly Ewens & Sarah MacKinnon, 2018 School Captains
Valentine's Day in the Senior School Library
Valentine's Day in the Senior School Library this year was marked by a display of books to suit all ages and interests for the day, celebrating love and friendship. Additionally, the girls were able to take a small heart and write a nice or funny message to put under the banner "What do you love?".  This question prompted a huge response and involvement from girls in every year level as well as a few of our Old Grammarains who were visiting the School. The end result was plenty of funny and sweet messages, full of praise and admiration for food, books, friends and caffeine.
With best wishes until the next edition,
Cathy Poyser
Deputy Principal / Head of Senior School
https://cggs-video.s3.ap-southeast-2.amazonaws.com/2018/02/Captains_20181.jpg
3840
5760
cggs
https://cggs-video.s3.ap-southeast-2.amazonaws.com/2021/01/2021_Web_Logo_Cyan.png
cggs
2018-02-16 13:00:11
2018-02-16 14:11:57
Senior School