Senior School
This past fortnight has seen all the students at each level involved in activities that, for me, are annual highlights of the Senior School calendar.
The Year 9s took part in a Service Learning Week and I take this opportunity to thank all the teachers and partnerships of Camberwell Girls who assisted to make this week so successful. In particular I would like to acknowledge and thank Ms Liss Campbell for her work in ensuring this week was so meaningful and significant for our students as they lived our School motto, Utilis in Ministerium (Useful in Service). Please enjoy reading more about Service Learning Week, later in this edition of CamNews.
Yesterday was our annual House Swimming and Diving Competition and again, all students in the Senior School took part in the various individual and team events with great enthusiasm. Well done to all the students who competed on the day and to Schofield as the House Diving Champions for 2017 and Lawrence as the House swimming Champions. Again, we thank all the Senior School staff for their assistance on the day, including the specialist judges of the Diving, Ms Maria Yevlahova, Mrs Kate Manners, and head judge, Mrs Cathie Meyenn. Also we thank the Sport Department for their organisation of this carnival and in particular Ms Lauren Law as the Head of Sport for her planning of this and all sport events. Please see below a list of medallists for 2017.
Throughout the past fortnight our Year 12 students have been working diligently on their examinations and I thank the rest of the School community for being considerate during their recess and lunchtimes, maintaining quiet around the examination area allowing students to have the optimum conditions to complete their examinations.  The Year 12 students have been carrying themselves with confidence, I believe the result of having completed a strong year of study, ensuring that the examinations are an opportunity to affirm and show their understanding and knowledge of the subjects they have studied.
At the start of their School journey, today we welcomed our Class of 2023 students, the Year 7 students for 2018, to spend the day here for their Orientation Day.  We welcomed the students and their parents at the start of the day in Barbara Sutton Hall. Our new families heard from many staff including Mrs Dunwoody, their Year Level Coordinator, Mrs Jenine Caruso, the three Deputy Heads of Senior School, Ms Kath Woolcock – Student Wellbeing, Mrs Kate Manners – Teaching and Learning and Mr Shane Maycock – Co-curricular Programs, School Counsellor, Mrs Paula Kolivas and a panel of very enthusiastic student speakers including our School Captain for 2018, Lydia Baird, the Sports Captains and House Captains who encouraged the new students to become involved in sport. Our Preston Singers and Concert Band played beautifully which also highlighted our extensive Music program. Sarah MacKinnon, School Vice Captain for 2018, led the Uniform Parade of eight very excited current Year 7 students and Thea Proctor of Year 7 spoke confidently and passionately of her journey this year as a new student to Camberwell Girls. The students themselves then left for a fun-filled day of activities with their newly announced Tutors. In 2018 we have a new model which will see eight Tutor groups across our four Form groups. This new model of Tutors will apply for Years 7 and 8 in 2018, with two Tutors for each Form, allowing smaller groups for all our Period 5 Wellbeing Programs.
Our Class of 2023 certainly exhibited great excitement and there was much fun that was evident throughout the day.
Thank you to all the new Year 7 Tutors, Mr Shane Maycock &  Ms Kate Giles (7B), Ms Eleanor Wood & Dr Jo Rittey (7P), Mr Mat Duniam & Ms Lauren Law (7T) and Ms Liza Stevens & Ms Maria Yevlahova (7W).  Special thanks as well to Mrs Maxine Ewens, Ms Liza Stevens, Ms Kath Woolcock and Mrs Jenine Caruso for planning the activities for today's Orientation Day.
Year 9 The Geographies of Interconnections
On Thursday 26 October, Year 9 students were fortunate to go on an excursion to the Queen Victoria Market and the Port of Melbourne to learn more about how Melbourne is interconnected at a variety of scales.
Whilst at the Queen Victoria Market, we collected primary data by surveying visitors and traders, noting the country of origin of food and non-food items sold at the market, while also finding time to do a little shopping and eating.
After an enjoyable morning, we made our way to the Port of Melbourne Education Centre, where we learnt about shipping, and the importance of the Port of Melbourne for our global interconnections, as it is Australia's busiest container port. We then had an interesting bus tour to see the ships being loaded and other facilities up close.
Part of our learning in Geography this term included trade and how it creates interconnections around the world.  Visiting both sites gave us a real life understanding of how shipping benefits Melbourne, and we were able to link key ideas from class to what we saw on the excursion.
We extended our knowledge at both locations, as we learnt about current issues surrounding the topic of trade currently, especially at the Queen Victoria Market, where development plans are being debated. We were challenged in several different ways during the excursion, with many students finding surveying people rather difficult. It was a new experience for many, especially as we were surveying people we had never met before. The challenge instilled confidence in many of the students, as well as being a great opportunity to learn people's opinions of the market. It was a wonderful day full of learning and fun, and we will would like to thank the Geography teachers for organising the excursion.
~ Polly Plummer and Rochelle Sheid 9D
House Swimming Year Level Champions 
Year 7
1st – Isabelle Swindale
2nd – Abbey Howard
3rd – Juliana Chandrasekara
Year 8
1st – Belinda Lemanis
2nd – Rubi Brady / Shelby Schmidt
3rd – Megan Quach
Year 9
1st – Anabel Car
2nd – Phoebe Hwong
3rd – Michaela Robinson / Tilly Dunn
Year 10
1st – Nikki Chen
2nd – Victoria Pearson
3rd – Claire Bernabe
Year 11
1st – Anabella Dunn
2nd – Lydia Baird
3rd – Michelle Huang
Junior Diving Champion
1st – Ella Robinson (126.30)
2nd – Eloise Webster (100.75)
3rd – Michaela Robinson (100.15)

Senior Diving Champion
1st – Harriet Gibson (102.90)
2nd – Fearn Corney (96.10)
3rd – Holly Mulvahill (79.90)
Overall Results
1st – Schofield
2nd – Lawrence
3rd – Singleton
4th – Taylor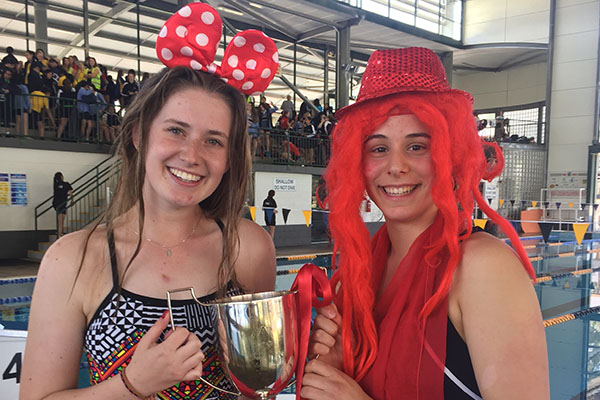 Year 8 Geography Excursion
After weeks of learning about Melbourne's growth and development, the Year 8s set off for a highly anticipated excursion to see how Melbourne is working to overcome the struggles of rapid population growth, as Melbourne's population is expected to hit 5 million by 2026.
We drove to various locations to see for ourselves the different types of suburbs in Melbourne. Travelling to Marriott Waters, Lyndhurst, we could see the change in housing density and increasing farmland. Marriott Waters was considered the rural urban fringe. Next we went to Sandhurst Golf Estate to experience another form of housing development. The houses surround a golf course and include 24 hour security and a clean and manicured environment, so it gave the residents a sense of community.  We then stopped at Bangholme industrial area and viewed the factories and industrial worksites.
Waverley Park was next. It was clean and well kept. Small apartments were surrounding the AFL football field as that was one of the prime attractions of the suburb which also featured a gym and other recreational facilities. Our last stop for the day was Richmond, close to the CBD. The area is an eclectic mix of Victorian town houses and high-rise apartments. It was bursting with culture and featured an array of night-life and independent businesses. Richmond was a prime example of infilling and gentrification within Melbourne. Overall, the excursion was informative and interesting, and it's a day we won't forget any time soon.
~ Olivia Pietralla and Sabrina Renzi
Equestrian Competition
On Saturday 21 October, Amelia Westerman, Year 7, represented Camberwell Girls at Hillcrest Christian College in the Interschool Equestrian Spring Series.
This was a dressage competition and Amelia competed in two preliminary tests with her pony, Alta Vista Dior aka Dee. It was a very early start, but definitely worthwhile. Dee (and Amelia) performed really well, and completed excellent tests calmly and with great accuracy. Amelia shared that it was a great experience to represent Camberwell Girls in her first Interschool competition.
Year 9 Service Learning week:  31 October – 3 November
During Service Learning Week, the Year 9 students undertook a variety of programs to enhance their knowledge on the topics of homelessness and disadvantage. The week commenced with the students participating in a variety of challenges and activities in the city. These activities centred around the topic of homelessness, and were eye opening for many of the students. Later on in the week, all Year 9s would attend their chosen placement on Wednesday and Thursday. These would range from aged care facilities to organisations helping refugees.
Tuesday began with everyone arriving at Federation Square at 8:45am, after making their own way into the city. The year level then divided into their forms and embarked on separate activities. These activities involved social enterprise store visits, a Salvation Army walking tour, the Big Issue workshop and a Sacred Heart Mission Donation challenge.
The social enterprise store visits involved small groups of three to four locating a store that benefitted the community. The shops ranged from coffee shops such as the STREAT Cafe, to fair trade shops such as Oxfam. Each group pooled their money together to purchase an item from their chosen store.
The students then made their way using public transport to the Salvation Army Headquarters in Bourke Street. After watching a video and discussing varying statistics about youth homelessness, we were led on a tour through the surrounding area. Many students were confronted by what they saw, in particular an alley off Bourke St. There, the students were told the story of a young homeless man named Dan, who was only nineteen when he started living on the streets. One student, Polly Plummer, said it was "…very confronting for me and made me realise how much I take for granted".
The next activity that we partook in was the Big Issue Workshop. This involved learning about the different factors as to why people become homeless. One activity that the year level got involved in was a puzzle. The Year 9's were lined up in height order, and the two tallest were excluded from the activity. The rest were divided into four groups, to complete the four puzzles, with each having different instructions. One puzzle in particular proved difficult as it was wrongly printed on purpose. The meaning behind this activity was to make the students realise that you cannot control the circumstances you were born into.
The last activity for the day consisted of buying a $20 gift voucher and donating it to the Sacred Heart Mission. The staff at the opportunity shop greatly appreciated the donations given by the students, as they allow families to purchase what they wish to buy for Christmas.
Wednesday and Thursday of Service Learning Week allowed students to participate in their own placements by helping those who are disadvantaged. As well as helping those in need, the girls also learnt important life skills that will help them in their future jobs. The experience was beneficial in opening the eyes of the girls to the wider world.
Shohaag Sengupta of 9C, visited the Urban Camp in Fitzroy. She said, "The activities at Yamek were eye opening and exposed me to a situation that I hadn't realised the full extent of. We talked to the students there, who are currently going through Year 10 education, despite being in their twenties. I found this interesting because I feel that a lot of people, myself included, don't realise the full extent of what people from refugee backgrounds experience when coming to a new country. Not only is the process of entering the country very difficult, especially in Australia, but it is not a seamless transition to the new community. Many refugees need years of extra education, especially in learning a completely new language, which many of the students at Yamek had to do".
Sarah Chuang, of 9C, visited Sacred Heart Mission in Windsor. She accounted that "We worked to prepare for a charity auction, with all the profits going to homeless people in Australia. We learnt that all the workers there were volunteers, which was really touching to know that many were giving up their time to help others. I thought that all of the profits from op shops would go into paying rent and workers, but was glad to find out that 100% of profits went to the homeless community".
On Friday, the students ran their own conference to share all their experiences throughout the week. The Year 9's have all learnt lots from the experience, and would personally like to thank Mrs Campbell for all her hard work organising the week; as well as all the teachers that visited the students at their placements.
Duke of Edinburgh
The Duke of Edinburgh Award is recognition for a participant's hard work, dedication and service to their endeavours and their community. The Bronze, Silver and Gold levels of the award scheme require the participants to commit to continuous participation in the three disciplines of the award, Service, Skill and Physical Activity as well as commit to camps and residential projects.
On Thursday 26 October, 42 recipients of the Duke of Edinburgh Gold Award attended the Gold Duke of Edinburgh Award ceremony at Parliament House, Melbourne. Of the awardees in attendance, Zoe Tang-Chong and Alia Schmidt, both of Year 12, represented Camberwell Girls Grammar School
Zoe had completed her Gold Award at the end of 2016 whilst finishing her Year 11 Studies and Alia completed her award earlier this year.
This opportunity was a chance for Awards Victoria, parents, school representatives and politicians to celebrate the individuals who have dedicated their time to the Duke of Edinburgh Award Scheme and in turn supported their local and global communities.
The School also celebrated Mathilda Cleelend-Mellor and Rehana Padmanathan on them receiving the Bronze Award and Josephine La Receiving the Silver Duke of Edinburgh Award and Isabella Lincke in assembly last week.
Best Wishes,
Cathy Poyser
Deputy Principal / Head of Senior School
https://cggs-video.s3.ap-southeast-2.amazonaws.com/2017/11/SS1.jpg
400
600
cggs
https://cggs-video.s3.ap-southeast-2.amazonaws.com/2021/01/2021_Web_Logo_Cyan.png
cggs
2017-11-10 14:58:46
2018-01-08 09:19:35
Senior School