Senior School
This past week we have celebrated with the Year 12s and their families at the Years 10 -12 Presentation Night, Leaver's Service and the Valedictory Dinner. As a School community we have enjoyed acknowledging the achievements and highlights of this cohort, the Class of 2017, and we wish them well for their up-coming examinations.
During the period of the VCE Examinations the Upper Woodstock area is closed off to all other student movement and quiet consideration is expected from all students within Woodstock, or in any adjacent areas, including the outside areas.
A reminder to all families that Monday 6 November is Mid Term Break, so there are no classes on this day and Tuesday 7 November is a public holiday for Melbourne Cup Day.  We hope students and families take advantage of this long weekend.
The Year 12 Leaver's Service provided an opportunity for each student to speak about their time at Camberwell Girls. They provided wise advice to younger students about being involved and they expressed much gratitude to their teachers throughout their journey and also their parents for providing the opportunity to have a Camberwell Girls education, one which they cherish and are so proud of. Hearing each student speak gave a new dimension to the service and as a staff we are most grateful for the thoughts and emotions the students shared.
At the Valedictory Dinner on Monday night we heard once more from our School Captain, Mia Sieber and Vice Captains, Meagan Kollmorgen and Jacqueline Gu – as they gave their final speeches for the year. They have led the student community with great humility and we are most grateful to them for their leadership.
Valedictorian Amy Zhou also spoke on behalf of the Class of 2017, to thank all the parents and the staff for their nurturing throughout the years. Amy spoke with humour and passion and represented her year level beautifully again showing the tone of humility that has characterised this cohort.
Each year one parent is asked to speak at the Valedictory Dinner and this year Dr Helen Rawson, mother of Eloise in Year 12 and Isabelle in Year 10, spoke on behalf of the parents. With Helen's permission I have re-printed much of what she said on the night.
On behalf of us, the parents, I am so grateful for this opportunity to say a very warm and sincere THANK YOU to all the staff at Camberwell Girls Grammar School for guiding our daughters on their journey through school. We entrusted them into your care and now their time at Camberwell Girls has come to an end.
You understand the importance of education and educating girls, and not just teaching, but preparing them for tomorrow and beyond. Collectively you have created an amazing environment for nurturing and growing young women, to keep moving forward in an ever evolving world, with integrity and purpose.
It's a sad yet startling fact that in the 21st century, in this technological age of so many advancements, millions of girls around the world are denied an education. And I am using the word denied with emphasis, because an education has immense power to transform lives and the world people live in, and when this is denied (especially for girls), they suffer the consequences of so many inequalities, including poverty, lack of health care and lack of an education. Although our daughters live in a very privileged society, their education still cannot be taken for granted.  We know that when girls are safe, healthy, educated and empowered, they're able to have good health, have healthier families, earn more and grow economies, and all of this benefits, them, their families, their community, their country and the world. Queen Rania of Jordan has said "…when you educate a girl, you empower a nation."
Almost 70 years ago Dr Martin Luther King Jr. said that education must do two things; enable an individual to achieve their goals in life AND to think critically and effectively.  He said "Intelligence plus character – that is the goal of true education." So when we think about the values of Camberwell Girls Grammar School [and I quote] …through intellectual inquiry, service learning and spiritual growth that honours the values of Integrity, Commitment, Respect, Hope and Courage, we see that it embodies Dr King's words about the goal of true education.  Thank You to the Camberwell Girls teaching and professional services staff for encouraging our daughters to live the School's values and to gain intelligence plus character. Our daughters have been taught how to stand out through their work, their actions and their service, and these are the very young women our world needs. Your role in society and this school is both significant and valuable. You have been charged with educating Tomorrow's Women by preparing their minds and shaping conscience.  And whilst I acknowledge that you do not do this on your own, but in partnership with parents, your important role cannot be understated. And for this we express our heartfelt and sincerest thanks to every single one of you tonight.
As Tomorrow's Women, it is now up to you to use the true education you have received at Camberwell Girls Grammar School, to be Useful in Service so that you can Create Your Tomorrow.
I would like to end with another poignant quote from Dr Martin Luther King Jr "If you can't fly then run, if you can't run then walk, if you can't walk then crawl, but whatever you do keep moving forward."
66th Science Talent Search Competition
Earlier this year, Bethany Orme from year 7, participated in the 66th Science Talent Search (STS) competition.
The STS is an annual, science based competition open to all primary and secondary students in Victoria, Australia. Science Talent Search fits closely with the Victorian Curriculum philosophy of teaching and learning.
This year's theme was 'Future Earth'. Bethany submitted a comprehensively researched creative writing piece titled 'Once Upon a Planet' for which she was awarded a minor Bursary.
She attended the award ceremony on 23rd September, held at LaTrobe University to receive her award.
Congratulations Bethany.
~ Mrs Eleanor Macaro, Science Teacher
2040 Future Problem Solving Competition
This year the year 8 2040 girls participated in the Future Problem Solving competition.
The Future Problem Solving Program allows students the opportunity to showcase their creative skills in much the same way sports showcase star athletes.
Future Problem Solving Program International (FPSPI) engages students in creative problem solving.  The program stimulates critical and creative thinking skills, enhances students' problem solving skills and encourages students to develop a vision for the future.
This extraordinary opportunity not only extends our students and enables them to develop the skills they need to tackle the biggest challenges we as a society will face in our future, it also provides them with the skills and experiences they need to pursue their education further.
The 2040 students completed a community project titled "We don't Mind".
We Don't Mind investigates mental health within our community. Australia has more than 25% of its youth population suffering from mental illness. With the greater percentage of this being female, the students investigated how these statistics impact our School. The 'We don't Mind' team surveyed and interviewed staff and students for their feedback on mental health issues. This project looks at implementing strategies to help all students find the help and support they need to improve their well-being.
Their efforts were rewarded in August this year, by becoming Victorian finalists. This culminated in their participation in the National finals held in Sydney this October.
Congratulations to the 2040 year 8 team.
~ Eleanor Macaro, Science Teacher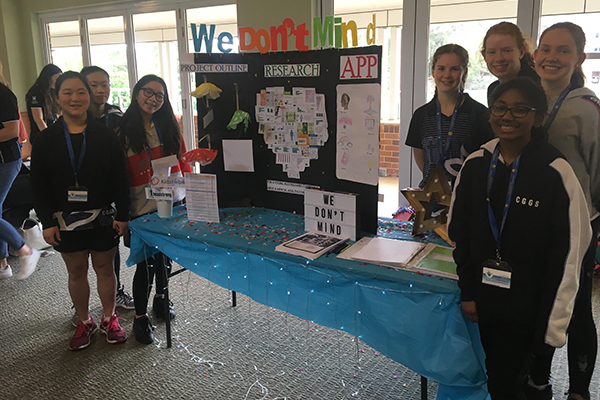 Year 10 Geography OXFAM guest speaker
On Tuesday 17 October, the Year 10's were fortunate to have a presentation by Annalise De Mel, OXFAM's Schools Program Co-ordinator.  Annalise holds a a Degree in Journalism and a Masters Degree in International Development and is an expert on the topic of human wellbeing, its causes, effects and solutions. Her presentation focused mainly on the human factors of climate change and gender inequality and the various strategies used to support people in developing countries, especially in the Asia-Pacific region. Strategies include short-term emergency aid after a natural disaster but also long-term solutions such as improvements in education and infrastructure to improve human wellbeing.  Annalise also discussed the ways that students in Australia can help.  This presentation has provided some insights into our Semester Two Geography unit of study "The Geographies of Human Wellbeing" and will hopefully motivate the Year 10s to conduct in-depth research on an organisation of their choice which is making a difference to the lives on people in developing countries by focussing on one or more of the Millennium and Sustainable Development Goals.
~ Mrs Meg Anderson, Geography Teacher
National History Challenge
This year, 10 students from Years 8 to 11 entered the National History Challenge, a research-based competition in which students from across Australia conducted an independent inquiry into a historical topic related to the theme of 'Making a Better World'. Entries ranged from traditional research essays, picture books for teaching children about Australian history to a video interview with King Henry VIII. Today, two of our students were recognised for their outstanding work in this competition. Rubi Brady in 8D received the Victorian prize for the History of Sport category, for her inquiry into how indigenous athletes and sportspeople have helped win recognition for indigenous Australians and contributed to the process of reconciliation. Elaine Qian in 8D was acknowledged as the runner-up in the Year 8 category, for her inquiry into the legacy of Prime Minister Gough Whitlam's social policies. We congratulate Rubi, Elaine and all of our entrants for their skilful historical research and analysis skills.
~ Ian Lyell, Head of History
Netball Presentation Evening
The Evening was a fantastic event with many students and their families coming together to celebrate the 2017 Winter Season. Many awards were presented to students throughout the night, including congratulating the Year 10 Amethysts on their Grand Final win and awarding them with their premiership trophies, umpiring and coaching recognition award, along with Coaches Awards and Most Valuable Players. The night concluded with recognising the Year 12 students with a contribution award, for their lost-standing commitment. A big congratulations to the following students who received an award on the night.
| | | |
| --- | --- | --- |
| AWARD | TEAM | NAME |
| MVP | AMBER | Felicity Vanin |
| MVP | AQUAMARIES | Amelia Westerman |
| MVP | DIAMONDS | Annabel Plummer |
| MVP | GOLD | Eve Arnot |
| MVP | GEMS | Belinda Lemanis |
| MVP | TURQUOISE | Mihn Nguyen |
| MVP | EMERALDS | Madi Murphy |
| MVP | TANZANITES | Tara Hoopman |
| MVP | AMETHYSTS | Eloise Schilling |
| MVP | MOONSTONES | Isabella Lincke |
| MVP | RUBIES | Lauren Dardis |
| MVP | QUARTZ | Phoebe Berryman |
| MVP | OPALS | Zoe Tang-Chong |
| COACH'S AWARD | CITRINES | Zoe Brisk |
| COACH'S AWARD | SAPPHIRES | Lizzie Xiao |
| COACH'S AWARD | AMBER | Olivia Banitsiotis |
| COACH'S AWARD | AQUAMARIES | Mia Fary |
| COACH'S AWARD | DIAMONDS | Sarah Hui |
| COACH'S AWARD | GOLD | Eloise Rodes |
| COACH'S AWARD | GEMS | Eloise Webster |
| COACH'S AWARD | TURQUOISE | Caitlin Sutton |
| COACH'S AWARD | EMERALDS | Loren Palma |
| COACH'S AWARD | TANZANITES | Hannah Shillington |
| COACH'S AWARD | AMETHYSTS | Isobel Arnot |
| COACH'S AWARD | MOONSTONES | Rehana Padmanathan |
| COACH'S AWARD | RUBIES | Emily Lau |
| COACH'S AWARD | QUARTZ | Isabella Nielsen |
| COACH'S AWARD | OPALS | Kerian Medici |
| UMPIRE RECONIGNITION | | Polly Plummer |
| COACH'S RECONIGNTION | | Lucy Bartram |
Music Composition: Extension Program
During the September holidays, we participated in a week-long audio based digital storytelling and composition enrichment program at Arts Centre Melbourne. The creative program was inspired by Arts Centre Melbourne's presentation of Barking Gecko Theatre Company's 'Bambert's Book of Lost Stories'.
All of the selected students attended a training day at The Channel on Monday 25th September. The program started with an introduction by the Director of the project, who showed us the previous 'Stories in the Wall'. His presentation was both amazing and inspirational. We were all very excited to commence our training session and devise our creative interpretation of the 'Stories in the Wall' scripts.
We were then partnered up in teams of two, for composition and sound design, and given our allocated audio files and scripts. After that we were on our own and free to design the project however we liked. Guidance and support from our professional music technology specialist was always at hand, particularly when we encountered issues with the software programs. We spent the whole first day together at The Channel working solidly on our new projects. The Channel's was open for us to use for the rest of the holidays, but we also had the option of working from home. This approach was a fascinating insight into the real world of digital composition and sound design.
All of us found the project creatively challenging, but we enjoyed it very much. We learnt how to use a wide range of music software programs and extended our compositional abilities. Involvement in this experience gave us the stimulus to experiment further with our creative ideas and we highly recommend students to apply for the opportunity in 2018.
The projects will be showcased online and via customised listening modules located within the foyers of Arts Centre Melbourne from 23rd October – 13th November.
Helena Liu, Victoria Xiao and Angelique Zhou
Breast Cancer Network Australia: Pink Lady Luncheon
On Wednesday 11 October, two string quartets were privileged to perform at the Breast Cancer Network Australia Pink Lady Luncheon in the Palladium Room at Crown. Under the direction of Mr Mack, the ensembles provided music for the 1500 guests at this significant fundraising event. CGGS has established a strong affiliation with BCNA and our musicians are always honoured to be invited to perform and represent the school.
All of the students worked very hard to prepare a wide variety of repertoire and were rewarded with many compliments for playing with such professionalism and musicality. Each ensemble was warmly received throughout the afternoon, adding to the celebratory atmosphere in the room. This event provided a great opportunity for the students to extend their performance and creative collaboration skills within a real-world setting.
We would like to thank Mr Mack for all the time and effort he dedicated to preparing the music and for his ongoing coordination of the string quartet program within the school. Additional thanks also to Ms Svige and Mrs Scott for their support on the day.
~ Tiffany Ho, Amelia Lemanis, Nicole Chang, Angeline D'Leong, Sarah Hui, Megan Kuo, Chloe Law, Emily Wu
Autumn Harmonies
'Autumn Harmonies' started playing together as a result of an opportunity presented to us by CGGS. In August last year, we volunteered to busk at the Camberwell Sunday Rotary Market alongside a stall run by Year 10 CGGS students. As it was our first busking experience, we were surprised at how much people appreciated our music. Since then, we have busked many times and were thrilled to receive opportunities to perform, such as at the Hong Kong Club Christmas Celebration in December 2016.
Two weeks ago, Autumn Harmonies performed at the Taiwanese National Day celebration in front of 500 guests. We started the evening by playing some music for the cocktail hour and ended the night on stage performing a medley of five popular Chinese songs. This weekend we will be performing at the Annual Hong Kong Club Ball for about 150 guests and are looking forward to it.
It has been an interesting journey for us as musicians. We have had to learn to work together and, in the absence of our teachers, take musical direction from one another. We have put in many practice hours and, as a result, have developed our chamber music skills and our enjoyment of playing our instruments. Autumn Harmonies are excited about future performance opportunities. We are currently looking for opportunities to help those in need and possibly playing at aged care centres or for charity. We are hoping to busk again outside Woolworths in Camberwell around Christmas and we would love to see you there!
~ Chloe Law, Sarah Hui and Megan Kuo – Year 7
2018 CGGS Leadership Positions
I am pleased to announce and congratulate the following students who have been appointed to the leadership positions for 2018.
| | |
| --- | --- |
| School Captain | Lydia Baird |
| Vice Captain | Molly Ewens |
| Vice Captain | Sarah MacKinnon |
| Drama Captain | Nina D'Souza |
| Drama Captain | Sian Stuckey |
| Mentor Captain | Maggie Robinson |
| Mentor Captain | Alexandra Sevo |
| Music Captain | Samantha Wong |
| Music Captain | Carina Chen |
| School Tours Captain | Krystal Shang |
| School Tours Captain | Natasha Tucker |
| School Tours Captain | Alexandra Sherrin |
| Service Learning Captain | Ashika Mapa |
| Service Learning Captain | Isabella Nielsen |
| Sports Captain | Kate Sturzaker |
| Sports Captain | Yasmin Tawfik |
| Student Representative Council Chair | Veda Surapaneni |
| School Wellbeing Captain | Fearn Corney |
| School Wellbeing Captain | Paula Diamand |
| School Wellbeing Captain | Ellie Zhou |
| Debating Captain | Alanna Chew Lee |
| Debating Captain | Kiana Fotoohabadi |
| Environment Captain | Meg Billson |
| Faith and Worship Captain | Natasha Parsons |
| International Captain | Jessica Lu |
| International Captain | Crystal Wu |
| Literature  Captain | Katia Testarotta |
| Literature  Captain | Claire Bernabe |
| Marcian Editor | Charlotte Abbott |
| Marcian Editor | Isobel Arnot |
| Reconciliation Captain | Isabelle Rawson |
| Reconciliation Captain | Hannah Moran |
| Education Outdoors Captain | Isabella Lincke |
| Education Outdoors Captain | Tilly Kutey |
| | | | |
| --- | --- | --- | --- |
| SINGLETON |   | SCHOFIELD |   |
| Singleton House Captain | Olivia Benetton | Schofield House Captain | Cindy Huynh |
| Singleton House Captain | Selina Duan | Schofield House Captain | Leah Atalalis |
| Singleton Debating Captain | Sally Choi | Schofield Debating Captain | Rehana Padmanathan |
| Singleton Dance Captain | Angelica Salaoutis | Schofield Debating Captain | Eloise De Rauch |
| Singleton Dance Captain | Emma Dunlop | Schofield Dance Captain | Eloise Schilling |
| Singleton Drama Captain | Madison Brake | Schofield Drama Captain | Josephine La |
| Singleton Music Captain | Madeline Li | Schofield Music Captain | Bonnie Thorn |
| Singleton Music Captain | Ashley Chan | Schofield Music Captain | Louise Zhang |
| Singleton Publicity Captain | Laura Smythe | Schofield Publicity Captain | Madeleine Georges |
| Singleton Publicity Captain | Ella Zhang | Schofield Publicity Captain | Jessalyn Tan |
| Singleton Technical Captain | Madison Parfuss | Schofield Technical Captain | TBC |
| Singleton Technical Captain | Amy Li | Schofield Technical Captain | TBC |
| Singleton Sports Captain | Mei Ang | Schofield Sports Captain | Lucy Bartram |
| Singleton Sports Captain | Harriet Gibson | Schofield Sports Captain | Victoria Pearson |
| | |   | |
| TAYLOR | | LAWRENCE | |
| Taylor House Captain | Brielle Schumann | Lawrence House Captain | Amy Peng |
| Taylor House Captain | Jordyn Beggs | Lawrence House Captain | Minami Sakaida |
| Taylor Debating Captain | Elizabeth Gong | Lawrence Debating Captain | Chloe Bennett |
| Taylor Dance Captain | Holly Mulvahill | Lawrence Debating Captain | Chloe Wu |
| Taylor Dance Captain | Katherine Lutze | Lawrence Dance Captain | Alexia Vanin |
| Taylor Drama Captain | Natasha Ranasinghe | Lawrence Dance Captain | Stephanie Cheah |
| Taylor Music Captain | Maryanne Li | Lawrence Drama Captain | Samreen Kaur |
| Taylor Music Captain | Yesenia Chang-Gonzalez | Lawrence Music Captain | Tracy Chen |
| Taylor Publicity Captain | Joy Zhou | Lawrence Music Captain | Alysha Lam |
| Taylor Publicity Captain | Natasha Huang | Lawrence Publicity Captain | Sabrina Tse |
| Taylor Technical Captain | Cherry Lin | Lawrence Publicity Captain | Sherry Gan |
| Taylor Technical Captain | Annie Yao | Lawrence Technical Captain | Grace Ge |
| Taylor Sports Captain | Stephanie Lysikatos | Lawrence Technical Captain | Amy Miao |
| Taylor Sports Captain | Nikki Chen | Lawrence Sports Captain | Zoe Giagoudakis |
| | | Lawrence Sports Captain | Polly Anderson |
| | |   | |
https://cggs-video.s3.ap-southeast-2.amazonaws.com/2017/10/SS12.jpg
400
600
cggs
https://cggs-video.s3.ap-southeast-2.amazonaws.com/2021/01/2021_Web_Logo_Cyan.png
cggs
2017-10-27 12:40:57
2017-10-27 13:34:06
Senior School