Senior School
My introduction this week will be brief, because as you can see it's been a busy fortnight around the School with so many exciting activities across all areas. It's wonderful to see the numerous opportunities our girls have to extend themselves in their areas of strength and interest.
At the time of writing the last CamNews, I hadn't yet seen Brainstorm, however I'd like to acknowledge and congratulate all those who were involved in the Senior School Production. Please read Keira Lyon's summary of Brainstorm later in this edition.
Science Week
Last week the Senior School participated in National Science Week. Colourful posters around the School advertised a jam-packed schedule. We started on Monday with a bang. Ms Bonnington, Mr Ho, Mrs Macaro and myself all presented a Science Spectacular Show at the top of the Anne Feehan Building, culminating in a GIANT cloud, created with liquid Nitrogen and boiling water. Tuesday saw the Grand Opening of the revamped Barbara Fary Science Centre and MakerSpace, complete with Nao, our humanoid robot giving thanks for his new home. Many thanks to all the staff involved including Mrs Bergamin, Mrs Lemanis, Rev Creed, Mrs Macaro and Mr Barnett. The rest of the week was filled with Virtual Reality journeys through space, a viewing of the movie 'Hidden Figures', Lego and maker challenges, a paper aeroplane competition and the infamous House Science Quiz Competition. Each day during the week the students (and staff) battled it out with the Brain Teasers in the Daily. Congratulations to Bethany Orme (Y7) for getting every challenge correct and often being the fastest to respond!
I would love to take this opportunity to thank all the students and staff involved with the program. Overall, it was a fabulous week and hopefully showcased just how much fun can be had with Science! ~ Ms Eleanor Wood, Head of Science
ICAS Mathematics Competition
On Tuesday 15 August our Year 7 – 9 girls participated in the ICAS Mathematics Competition. The competition involved an hour long paper covering Number, Algebra, Geometry, Measurement, Data and Probability. Certificates and prizes are awarded to top performing students across Victoria and we look forward to the results in the coming months.
Year 9 History
This week, our Year 9 students undertook some hands-on learning with artefacts on loan from the Australian War Memorial. As part of their study of Australia's involvement in World War I, our Year 9 girls went back in time 100 years to put themselves in the shoes of young Australians going to war in 1915. Students handled and discussed both authentic and replica uniforms, kit, medals and postcards to gain a deeper understanding of how Australians experienced war a century ago. We look forward to seeing how the girls will apply these new insights in the History classroom in future!
Australian History Competition
In May, 11 students from Year 8 participated in the Australian History Competition. This national competition tests students' skills in evaluating historical sources, applying historical concepts, and understanding key features of historical societies. Congratulations to Charlotte Kutey, who received a High Distinction. We also congratulate Aleen Liu, Amelia Lemanis, Rhi-Ann Lam and Zara Mammone, who each received a Distinction in the competition.
Jewish Holocaust Centre
The Year 10 History excursion to the Holocaust Museum was an emotional learning experience that undoubtedly enriched our understanding of the Holocaust during WWII, as well as the dangers of indoctrination, racism and hate. We were able to explore first-hand artefacts and visuals, as well as watch a short film presentation that uncovered the Nazis' senseless idea of a 'perfect race', an ideology which was so horrific that it produced a death toll of more than six million Jewish citizens. Viewing raw footage from German concentration camps, I was quite moved by the reality of the event and being faced with the deaths of so many individuals and children – innocent people who weren't able to freely practice their faith. Our last event included hearing a testimony from a Holocaust survivor, who spoke about his escape from the Nazis in Holland, the kindness of strangers and the life-changing effect of Nazi anti-Semitism on his own life as a child. I walked away personally astounded and terrified by the brutality that hate can bring towards families and community groups, it is clear how terrible and influential the Holocaust is in changing the world, but how it can, too, move the hearts of many students. ~ Sabrina Tse, Year 100
Shanghai No 3 Girls High School
At the end of July, we hosted a group of students and teachers from our sister school Shanghai No. 3 Girls' High School. We received some beautiful thank you letters from the girls to their individual host sisters and families, expressing appreciation for the kind and warm welcome they had received. A theme throughout all the letters was that they felt so welcome in their host homes and were also very touched by the trouble that all went to in planning enjoyable activities for them. A collective letter was sent to the School, which I'm happy to share with you below.
"We are so glad that we've spent one week at CGGS as exchange students. During this wonderful week, we experienced many special lessons like Australian Football (very tricky), Food Tech (making delicious biscuits), the Art Class (learning about Aboriginal Painting), as well as experiencing a total different classroom environment in the MakerSpace room producing Water Cycle posters. We also attended the common lessons with the host students. The atmosphere in class is quite different from ours, students are more active and free. Everyone is so enthusiastic and friendly, we've made many new friends here. We were very lucky to be able to watch your School Production: Brainstorm and to visit Healesville to see many unique Australian animals.
Our host students and their parents put so much work and effort to take good care of us, cooked delicious food for us and took us to lots of fun places.  This is an unforgettable memory which we will share with our family and friends. Thank you everyone." ~ Students from Shanghai No. 3 Girls' High School
Behind the Scenes – The Dax Centre
On Wednesday 16 August, Years 11 & 12 Studio Arts students visited The Dax Centre on Royal Parade for a guided behind the scenes tour with education officers.
Named after Dr Eric Cunningham Dax (1908–2008), a pioneer of mental health care, transforming asylums into communities and using art to promote clinical insight and mental health improvements. The Cunningham Dax Collection consists of more than 15,000 artworks created by people who have experienced mental illness or psychological trauma. The Dax Centre at The University of Melbourne conducts programs that utilise the Cunningham Dax Collection for exhibitions and learning programs for students at all levels, as well as for the community at large. VCE education programs are also available for VCE Psychology, Art, Studio Arts, Health and Human Development, English and Philosophy, providing learning outcomes and curriculum links aligned with VCAA and each subject has resources and worksheets which can be used during, before or after student visits.
The Dax Centre uses engaging education programs to explore the life stories of artists who have represented their lived experience of mental illness or trauma through art. Using a multidimensional approach to discuss issues related to mental health and art, the programs allow teachers to create safe and supportive classroom environments in which their students can learn about the interface between art, the mind and creativity.
As part of the tour, the VCE Studio Arts students were offered a rare insight into the workings of The Dax Centre Gallery. As well as the tour of the gallery and collection areas, students were able to speak directly to the curators and ask questions including understanding the formulation and development of The Dax Centre exhibition program. The students also visited the Dax Centre archives where they learned about the conservation management strategies and techniques that the centre uses to protect and conserve the works in the collection and understand the role of public galleries and the jobs available in industry.
House Debating
House Debating has provided a public forum for many issues to be considered. Many debating topics such as 'Social networking sites are just a sophisticated means for stalking people' and 'A mission to Mars would be a waste of money' have been thrashed about, often before large and captivated audiences of girls from every year level. Multiple teams were provided by Taylor, Singleton, Schofield and Lawrence – with Junior/Intermediate and Senior girls involved. This plethora of talent has shown that public speaking and debating are truly flourishing at Camberwell Girls.
In teams of three, the girls worked tirelessly to prepare their cases; carefully considering how to sway the audience and adjudicator to their side. Their break down of each topic and outstanding arguments, provided for both entertaining and thoughtful debates. Each team should be commended on the degree of excellence their debates reached, often with the results coming down to just a few points; making the jobs of the adjudicators extremely taxing. Congratulations to all the participants of this House event; both debaters and student adjudicators! No matter the result, everyone has worked incredibly hard to ensure that this was the best house debating to date, and should be immensely proud of themselves.
Throughout this debating season and moving forward into the future, the debaters of CGGS continue to inspire all our girls to keep standing their ground by expressing their truth, to believe in their agility of thinking when solving any problem, and to be brave enough to ALWAYS disrupt and challenge their thinking. ~ Alanna Chew Lee, Year 11 and Ms Jane Cameron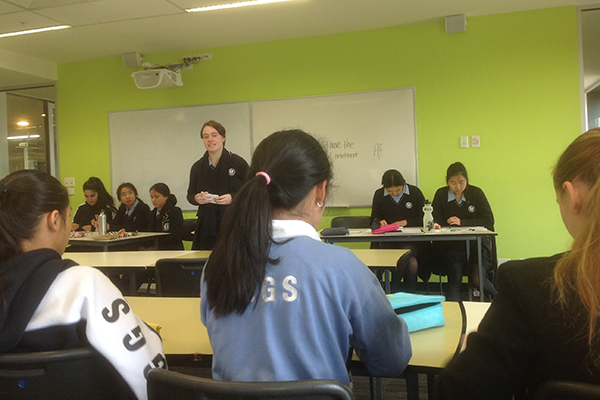 Inter School Victorian Debating Competition
From March to August, 45 students in Years 9 – 12 participated in DAV, an inter-school Victorian debating competition. Overall we had 9 competing teams in the DAV Camberwell region, debating against schools such as Camberwell Grammar, Trinity, Fintona, Balwyn High, Melbourne High and Carey Baptist School.
Through this opportunity, the girls enhanced their public speaking and rebuttal skills and connected with like-minded students. Additionally, for prepared topics, students were well-equipped with the guidance of the Head Debating Teachers, Mr Ian Lyell, Ms Toni Vernon and Ms Liesa Winkler and through the newly introduced Debating & Public Speaking (D&PS) Club, run by senior students and Ms Jane Cameron and Mrs Nirvana Watkins.
The Years 10 – 12 girls were given the experience of a Secret Topic round later in the year – a round in which students only have an hour to prepare a speech in concern to a given topic without the aid of technology. These rounds truly tested and heightened their ability to think on their feet and to demonstrate their general world knowledge.
Below are a few comments about the debater's experiences this year.
"I joined DAV this year because I debated one round last year and really enjoyed it, so I wanted to do more of it. Being a part of DAV debating not only boosted my confidence in public speaking, but also allowed me to gain valuable experience in the debating 'secret topics', which I had never done before." ~ Nikki Chen, Year 10
"Participating in DAV debating this year has been an extremely worthwhile experience. I have particularly enjoyed having a go each round and watching my debating skills progress over the course of the year, as well as gaining more confidence when public speaking." ~ Charlotte Abbott, Year 10
"This year was the first year I'd ever participated in DAV and it was a really inspiring experience. I had the opportunity to debate against several other schools and gained heaps of research and public speaking skills that makes me want to debate again!" ~ Claire Black, Year 9
2017 was a successful year of debating for Camberwell Girls Grammar School. We hope to see more girls enrol for this fantastic opportunity in the years to come. ~ Janice Soo, 2017 School Debating Captain
French Film Excursion
Years 10 & 11 French students attended 'Swagger' last Friday as part of the Melbourne International Film Festival Schools program. Swagger is a visually striking documentary offering insights into a diverse group of teenagers from Aulnay-sous-Bois, an underprivileged Parisian banlieue.
The way attitudes to different cultures are shaped; attitudes towards immigrants; how young people define their identity; what issues are important to young people; how do documentaries reflect reality and the different forms documentaries take is all presented through the teenagers' own stories.
Not only was this an important film in terms of the Year 12 detailed study which many of the students will be embarking on in the next couple of years, it allowed the girls to be immersed in French language and culture and had themes which extended beyond those of Paris to how all of us face the future with a mixture of hope and fear, but overall with a sense of optimism..
German Excursion
On Friday 4 August, the Years 10 & 11 German students were fortunate to see the movie 'Fly Away Home' a deeply moving humane portrait of children at war in Vienna while it was under Soviet occupation. The film was based on the award-winning autobiographical novel by Christine Nöstlinger and offered the girls a fantastic opportunity to learn more about Austrian history as well as exposure to a different German dialect.
After the film we visited the German restaurant Hophaus on Southbank to enjoy an authentic German lunch. We were looked after by a friendly German waitress who kindly pretended not to speak English so the girls could practice their language skills. Every student ordered their own meal and a drink in the target language, which was a thrilling opportunity to be immersed in the German culture without having to leave Melbourne.
Nutrition
As part of the Year 10 Health and Physical Education program this term, students have taken part in a Global Nutrition and Fitness unit, that is designed to provide opportunities to establish life-long patterns of health behaviours. The unit focusses on developing students' understanding of training principles, fitness components, nutritional intake for optimal health and nutritional requirements for exercise.
Central to this, has been two key note addresses from Claire Saundry, the Western Bulldogs Sports Nutritionist. Her role at the Bulldogs involves working with elite AFL players to set and achieve sports nutrition goals, to provide latest scientific evidence to club coaches and personnel and to implement specific nutrition programmes to improve performance. In addition to this, Claire is also a Consultant at Scoop Nutrition and a team member of Dineamic Sports Nutrition.
Claire's message was simple. Eat a balanced, nutrient dense diet to meet your energy needs. In the first talk, she spoke specifically about the nutrimental requirements for teenage girls, to ensure good health and wellbeing, including maximizing concentration and energy levels, as well as achieving optimal peak bone mass. In her second session, Claire focused on the nutritional requirements for sport and exercise. Drawing on her experiences with the Western Bulldogs, the Malaysian Cycling Team, as well as other professional and elite athletes, Claire highlighted the importance of food as fuel to enhance physical performance. She discussed the need to consume adequate carbohydrates, protein and water, as part of both the preparation and recovery phases. Claire also raised interesting data and research on body composition and the specificity and individuality of nutritional plans for each and every athlete.
Brainstorm
In term one this year, the Year 11 Theatre Studies students were introduced to Ned Glasier, Emily Lim and Company Three's Post Dramatic script, Brainstorm. Originally performed by 10 young actors in a very small and intimate space, we instantly acknowledged that our interpretation of this text had to be radically different. This is always the challenge for the whole school dramatic plays [musicals are already large in cast numbers and have chorus' that can easily be, often, tripled in size]: how can we open the text up for the greatest amount of inclusion without diluting the experience for everyone?
We also wanted the experience of mounting this show to demonstrate the content it was speaking about: The adolescent brain is in a constant mode of absorption – with access to all the information, new and inspiring connections can be made and the world can be reflected back to us in unexpected ways. The question was posed: What does the adolescent brain look like? And we worked with the following responses within our design and intention to try and capture the experience: fun, chaotic, confronting, dangerous, infinite, claustrophobic, compartmental, blank, messy, dark, beautiful, universal and yet misunderstood.
Over the course of term 2, over 125 students contributed towards the final production. We called in professional mentors for sound design, costume design, dance and multimedia to help the students shape all of that information swirling around in their brains into new ways of capturing their personal experiences in this world as an adolescent.
It was an exceptionally challenging task for everyone – and I define 'challenging' not as something negative, but as a series of unexpected turns that shape a journey into something far more dynamic than an open and unchallenged progression forward might afford. Performing as a character on a stage in front of hundreds of people can be confronting enough as it is. Presenting a theatricalised version of yourself, your thoughts, your emotions – usually not encouraged in public settings – in front of hundreds of people is an entirely different matter. Presenting very personal and private moments publicly takes courage. Ultimately, it was this courage that moved those hundreds of people. The courage to think differently and stand behind those choices is immensely inspiring and I thank every student [and parent!] who had a hand in the development of, Brainstorm.
We really hope you enjoyed the experience! ~ Keira Lyons, Head of Drama
Mustard Event: Who is Jesus?
On Wednesday 9 August the whole school gathered in the Barbara Sutton Hall for a special event, organised by Mustard, an organisation which aims to support students in their faith journeys. The Mustard presenters took a fresh look at the life of Jesus, focusing on the way Jesus challenged some of the norms of his society. They also explored the role of Jesus in inspiring people to reform unjust social structures when these structures fail to treat every human being with dignity. It was a highly engaging presentation and we are grateful to the Mustard organisation for their efforts.
Saturday Netball
A quick review of last week's Round. Year 7 Gold played a great team game and defeated Fintona Ferns 10-3, Year 7 Diamonds played a great 4th quarter but went down by 3 goals, Year 7 Aquamarines put up a great fight but Ruyton Rovals were too good, and Year 7 Amber had a close game against Koonung Rubies and got away with a 2 goal victory.
Year 8 Turquoise started the game well but ended up going down by only 2 goals to Strathcona Scorpions, our two Year 9 teams Tansies and Emeralds both had loses against Mont Albert. Year 10 Moonstones had a close game but MLC were too good for our CGGS girls. Year 11 Quartz played a great game and defeated MLC Indigos 14-10, Year 11 Rubies played well in the first half but Ruyton Rams hardly missed in the second half. Year 12 Opals defeated Genazzano Ravaillion and have moved up to 4th position.
I hope our families have a lovely weekend.
Best Wishes,
Cathy Poyser
Deputy Principal / Head of Senior School
https://cggs-video.s3.ap-southeast-2.amazonaws.com/2017/08/SS102.jpg
400
600
cggs
https://cggs-video.s3.ap-southeast-2.amazonaws.com/2021/01/2021_Web_Logo_Cyan.png
cggs
2017-08-18 13:58:02
2017-08-18 15:10:18
Senior School