Senior School
The highlight of this past fortnight has most definitely been the House Debating Competition. In past years the Inter House Debating Competition has always seen teachers set the debate topics and take on the role of adjudicators. This year, in preparation for the Inter House Debating, School Debating Captain, Janice Soo, Leah Atalalis (Schofield House Debating Captain) and Alanna Chew Lee (Taylor House Debating Captain), researched the process of adjudication through the Debating Association of Victoria (DAV) website. They then developed sessions and taught a number of students the skills required to be a debating adjudicator. They also prepared each of the topics and have been integral in running each of the lunch time debates.
Congratulations to all the students who have participated and in particular to the House Debating Captains, Roshana Rahgozar (Lawrence), Veda Surapaneni (Singleton), Leah Atalalis and Sarah McKinnon (Schofield) and Alanna Chew Lee (Taylor). Please read Leah's report later in this edition of CamNews.
Also Janice Soo has been working closely with members of the Old Grammarians Association (OGA) on plans for an upcoming Public Speaking Competition that will involve students from Years 4 – 12.  I encourage all students to read their emails and ensure they sign up for this new initiative.
Our VCE and Year 10 Learning Conversations and VCE Information Evening for 2018 provided parents and students with the opportunity to discuss future academic directions. At the introduction to the Information Night I had the pleasure of speaking about our 1 Year Reunion and highlighting that all of our 2016 graduates are studying their course of preference and that they felt extremely well prepared for University and the next stage of their learning journey.
The much awaited and anticipated production of 'Brainstorm' commenced with a matinee performance and continues on Saturday night. It is the culmination of many hours of rehearsal and we are very proud of all the cast and crew for their dedication and sharing their journey of adolescence. Tickets are still available for the weekend performance and I would encourage you to attend.  Year 12 students will be fundraising in the foyer before performances, to raise funds for Birthing Kits.  Each kit costs only $3.00 and whilst furnished with the most basic of items – soap, string, plastic sheeting and a scalpel blade – they provide women in developing countries who have little or no access to basic medical supplies, an opportunity to assist in the delivery of their children.
The Year 11 Formal at The Boulevard on Saturday night saw our students and their partners enjoy a fabulous night of dancing and fine food.  It's always a pleasure to see the girls and their guests, all going to so much trouble and looking wonderful.  Our thanks to Karen Anderson, Year 11 Coordinator for her impeccable planning of the event.
John Button School Prize
Congratulations to Year 11 student Isabella Nielsen, who was a finalist in the John Button School Prize competition. This competition was established in memory of long-serving Victorian Senator John Button, and invites senior students from across Victoria to offer public policy proposals to the Victorian or Commonwealth governments.
Isabella's essay contended that Australia's policy of offshore mandatory detention of asylum seekers constitutes a crime against humanity under international conventions and must be terminated. The judging panel, which was assembled by the University of Melbourne's School of Government, praised Isabella for the "sense of passion and idealism" present in her essay and noted that she made effective, evidence-based arguments. ~Mr Ian Lyell, History Teacher
Constitutional Convention
Last Friday a selected group of girls were given the opportunity to go to Mac Robertson Girls' High School to attend the constitutional convention held by the Department of Education. Our topic was "Australia's response to terrorism treats the symptoms, not the causes".
The day consisted of two talks by very experienced speakers in the field of terrorism and its effects on society. Our first speaker spoke about the legalities surrounding the issue and the government's point of view whereas our second speaker spoke about the social aspects and issues that arise due to this matter. Later, after a very generous lunch was supplied, we got into groups with students from other schools and discussed questions surrounding the topic of terrorism. We then all came together and discussed these questions. This was a highlight for me and for many of the girls. It was so great to see students and girls from our school putting their hand up and expressing their thoughts and opinions in front of everyone. It was also great to see how many young people there were who are passionate and interested about politics and the issues that surround us in our current day. With the ever increasing fear of terrorism within our society, it was extremely beneficial to talk about it and break down the stigma that surrounds it. The day was a huge success and I hope our School will continue to go to these conventions in the future. ~ Bonnie Thorn, Year 10
Anglican Church Service
On Wednesday, representatives from 28 Anglican schools from across Victoria gathered at St Paul's Cathedral for the biennial Schools Service.  The theme of the service was "Your Kingdom Come", and it was a delight to listen to the CGGS 2017 Tour Strings Orchestra play before a Cathedral packed with students, teachers, Principals, Bishops and our Archbishop, Philip Freier. The Strings played a piece called "Coming Home" that was written by our very own Mr Rohan Mack. The Service included enthusiastic singing of the hymns, reflections by a range of students, prayer and art-work. Bishop Lindsay delighted everyone with a sermon that included a very large tennis ball being thrown around the Cathedral and a message about three ways of loving: loving oneself, loving others and loving God. Our School Chaplain, Rev Helen Creed, chaired the organising committee for the service and we congratulate her and the team for co-ordinating such an encouraging and joyful service of worship.
House Debating
We are constantly told that debating, the art of presenting your point of view as well as articulately rebutting the opposition's arguments with logic and sense, is one of the most fundamental skills in the 21st century. Thus, this year, the School's house and School debating captains collaborated for the preparation of House Debating – having the common goal of lifting student participation in CGGS House Debating in mind. This goal was achieved through entering more debating teams per house, which in essence permitted more debating rounds and creating senior student adjudicators (with past debating experience) instead of English teachers. Beginning the event's preparation 3 weeks before the end of Term 2, the captains prepared for the commencement of House Debating in the second week of Term 3. This year's House Debating Captain, Leah Atalalis, shares some insights with us below.
I have had the privilege of working with some truly amazing girls with outstanding debating talents from Years 7 to 12. Our focus was to immerse a larger number of girls into House Debating this year. We actively achieved this with more publicity with help from our lovely House Publicity Captains. As a result, a larger number of girls were encouraged to sign up and have a go.
The long preparation process proved extremely worthwhile when all three of my junior teams, one of my intermediate teams and my senior team all advanced through to the semi-finals. The work put in by every single one of the teams was incredible and all girls from every house are to be commended for the level of sophistication and planning that went into their debates. I had the privilege of listening to and watching sections of all the debates and was impressed by everyone's performance.
In the lead up to the actual debates, large amounts of time and effort were put in to making the debates the best they could be. In the first week, I held three meetings for all divisions to come along, talk to me about any prior debating history they had, what speaker they preferred to be and how I could best use my time to help and encourage these girls. I also held workshops for my teams to attend which provided them with vital information they would need, preparing them for their first debates.
This year we tried a new technique, where we decided to make the event student run with the guidance of Mrs Cameron.  This meant that the role of the adjudicators had now been handed over to the students. Alanna Chew Lee (Taylor House Debating Captain) and I were entirely in charge of recruiting primarily Year 11 girls to adjudicate the debates during their lunchtimes. I held workshops for the chosen girls and up-skilled them on the criteria they needed to meet when adjudicating and specific information relevant to their divisions debate. This proved a rewarding decision as we had numerous girls, both involved in DAV and not involved in DAV outside of school, getting involved. The training session and booklets allowed these girls to go into the debates prepared to adjudicate, a role often over looked in its difficulty.
Certain challenges were faced when the debates commenced, however the positive and exciting atmosphere buzzing throughout the rooms, meant any difficulties were addressed in a forward-thinking and insightful fashion. I am very proud to have worked with such a large cohort of talented debaters, debating captains and adjudicators. Everyone should be commended on their fantastic efforts. ~ Leah Atalalis, Year 11 Schofield House Debating Captain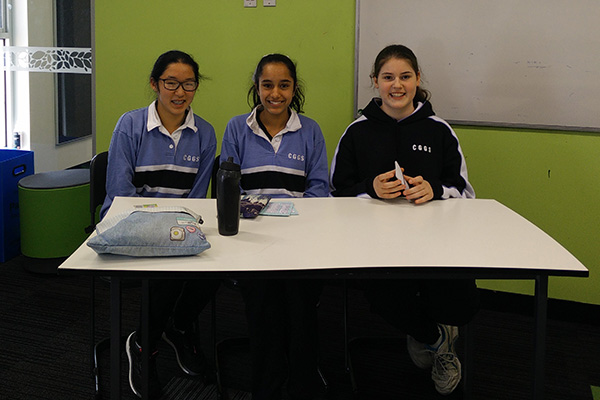 Senior School Book Club
After school on 1 August, Senior School Book Club gathered in the Hub to watch the adaptation of a Camberwell Girls favourite, the much-borrowed Lemony Snicket's, A Series of Unfortunate Events. Pizza, snacks and bean bags accompanied fond reminiscing about the first time students read the books, and speculation about whether the screen version could live up to the print. On this point, the jury is still out. Future screenings of subsequent episodes may be required to settle the score! ~ Davina Bell, Library Specialist
Northern Star Chess Tournament
Camberwell Girls was represented at the Northern Star Chess tournament at MacRobertson Girls High School this week by Alanna Chew Lee (Year 11), Bethany Orme (Year 7), Kelly Ta (Year 7) and Emily Lin (Year 7). Our girls came second in the tournament and were awarded a Team trophy. We congratulate the girls on their brilliant effort!
Year 7 Geography in the Maker Space
In Year 7 Geography, students have been learning about the importance of water as a resource. After studying the Water Cycle in the classroom, they were set the challenge of working collaboratively in small groups in the Maker Space to make a model or poster of the Water Cycle to show the various processes and stages that water goes through! All in one 60-minute lesson.
The girls enjoyed the challenge of this task and the opportunity to use the tools and materials provided in the Maker Space.  Some groups made wonderful dioramas, some made posters and one group made a cube with each side being a different stage of the cycle.  Most evident was the enthusiasm, collaborative effort and creativity of the girls! This activity will strengthen their understanding the key aspects of the complex Water Cycle. One 7P student told me it was "the best lesson ever" – I presumed she meant Geography!
Some samples of their work will be on display in the Library. ~ Meg Anderson, Geography Teacher
The Duke of Edinburgh Award
We congratulate Alia Schmidt (Year 12) for receiving the Gold Duke of Edinburgh Award.  Natasha Huang (Year 11) and Zoe Giagoudakis (Year 10) received their Silver Duke of Edinburgh Award and Nikki Chen (Year 10) and Serena Chan (Year 11) were awarded the Bronze Award.  The award is recognition for all their hard work, dedication and service to their endeavours and to their community.
Saturday Netball
Camberwell Girls Netball has been very exciting over the past few weeks.  The Year 7 teams showed their CGGS spirit with a brilliant team effort by the Aquamarines and the Ambers each having very close games. The Turquoise girls also showed their on-court skills with a great win over Strathcona Sparks and the Gems fought hard but couldn't get over the line. After being down at 3/4 time, the Year 9 Emeralds came back to draw with MGGS Finches and have moved up to 4th place on the ladder. Despite a few injuries, the Year 9 Moonstones played a great team game and the Year 10 Amethysts are still undefeated. Year 11 Quartz and Rubies travelled to Melbourne Girls Grammar but unfortunately both teams went down and the Year 12 Opals were the victors against Genazzano O'Neil.
Well done girls, the weather conditions weren't great but everyone tried their best.
Junior Victorian College Basketball
Earlier this week, eight talented girls in Years 7 and 8 qualified for the final round of the Junior Victorian College Basketball Tournament. The girl's demonstrated great dedication, attending multiple early morning training sessions leading up to this event. CGGS played 4 rounds of basketball against tough competition, showcasing their skills to the crowd at MSAC. The Team included Sophia Giagoudakis, Megan Quach, Rubi Brady, Belinda Lemanis, Olivia Pietralla, Anuska Pokharel, Alice Wilson and Mikaela Lee. Thank you to the following staff who helped organise and coach the team: Tiarnie Ellingworth (Class of 2016), Kate Sturzaker (Year 11), Emma Pearce (Class of 2016), Ms Liza Stevens and Hannah Simon (Deakin Student).
Victorian Schools Netball Championships
On Friday 28 July, Camberwell Girls entered both an Intermediate and Junior team into the Victorian Schools Netball Championships. The competition was extremely tough and Camberwell Girls had a large task ahead of them, with the Junior team playing a total of 11 short games and the Intermediate team playing eight. Well done to everyone who participated on the day, all players should be extremely proud of their efforts, in particular for their commitment and dedication they showed to both their team and the School. A special congratulations to the best players for the day – Megan Quach, Madison Murphy and Eloise Schilling, and to the runners up – Gabby Abbott and Eloise De Rauche.  A huge thank you to each of the coaches, Kath Woolcock, Megan Supple, Molly Ewens and Emma Sanders.
Team List:
Years 7 & 8
– Bianca Coles
– Megan Quach
– Felicity Vanin
– Sacha Chene
– Gabby Abbott
– Lauren Bernabe
– Chelsea Ellingworth
– Juliana Chandrasekara
– Anuska Pokharel
– Abby Howard
Years 9 & 10
– Madison Murphy
– Loren Palma
– Jennifer Le
– Polly Anderson
– Eloise Schilling
– Isobel Arnot
– Katherine Lutze
– Lucy Bartram
– Steph Cheah
– Eloise De Rauch
– Isabel Rawson
Coaches
– Molly Ewens
– Emma Sanders
– Megan Supple
– Kath Woolcock
Hope you all have a lovely weekend.
Best Wishes
Cathy Poyser
Deputy Principal / Head of Senior School
https://cggs-video.s3.ap-southeast-2.amazonaws.com/2017/08/SS14.jpg
400
600
cggs
https://cggs-video.s3.ap-southeast-2.amazonaws.com/2021/01/2021_Web_Logo_Cyan.png
cggs
2017-08-04 12:14:48
2017-08-07 11:12:54
Senior School