Senior School
Welcome to Term 3 for all Senior School families and in particular welcome to the seven new Camberwell Girls families. It is always wonderful to feel and hear the buzz of the students when they return after their holidays. Most important to me is that they have all experienced restful holidays in the lead up to another full and exciting term of learning and activities.
During the holidays a number of maintenance projects have been undertaken and in some instances will be due for completion soon, such as the swimming pool area. These projects do not have a direct impact on the programs conducted during Term 3, but will benefit us all in the long run. On behalf of the school community I would like to thank Michael Lawrence and the Maintenance Department for all the projects they coordinate. Over the holidays one of their major projects has been the set of the upcoming Senior School production 'Brainstorm' and I urge all families within our immediate and extended community to ensure they have booked tickets for what is certain to be an exceptional school production.
A reminder that to allow for the Year 10 and VCE Learning Conversations tomorrow afternoon, all students will be dismissed at 1:30pm.  As per the normal timetable the library will remain open until 6.00pm for any students who need to remain at school until normal dismissal time.
Student Safety Alert
Last Friday we communicated with all families to draw attention to an incident which affected one of our students. We would like to reiterate the circumstances to prompt discussions within all families about the importance of remaining vigilant to what is going on in your surroundings.
On Thursday last week one of our students was the victim of a crime while walking to school in the morning. Our student, who is safe and unharmed, was walking to school along Barkers Road opposite Carey, when approached. Her mobile phone was snatched from her and the offender broke the phone with force. Our student was one of four such attacks by the same offender on Barkers Road near Carey and the offender was immediately apprehended.
The advice from the Police is that this incident serves as a reminder to us all that we must always be alert for strangers and people behaving in an unusual manner. Should someone approach you and demand your mobile phone, please do not struggle with them, but take note of their appearance and as soon as possible contact the Police. When on Public Transport or walking on your own please remember to only wear one earphone and remain very alert to your surroundings.
The Police also want to reassure all of us that the Camberwell area is a very safe area and that this was a completely random act.
Health Advice
We have been advised of a case of chicken pox (varicella) within our Senior School staff. For your convenience, here is the link from the Royal Children's Hospital.
Should you have any concerns or queries, please don't hesitate to contact your medical general practitioner or our School Nurse, Kathy Rigopoulos on 9811 8525 or via email rigopoulosk@cggs.vic.edu.au.
Brainstorm
Best wishes to Keira Lyons, Head of Drama and all the students and staff who have worked tirelessly to create the Australian Premiere of this play. I look forward to seeing you all at one of the performances on Thursday 3 – Saturday 5 August. More event information can be found here.
Parent Wellbeing Focus Group
We are very excited to announce the establishment of a new working group for 2017- The Parent Wellbeing Working Group. This group will work collaboratively to discuss and think creatively about how we can best work to promote positive wellbeing for the Camberwell Girls community.
Who we are looking for: 
> Approximately 10 – 15 parents across all year levels (Foundation – 12)
> Parents who are passionate about promoting good Health and Wellbeing at Camberwell Girls
> Parents who have an interest in current Health and Wellbeing concepts and opportunities e.g. Mental Health, Gender Equality, Diversity, Sleep,
Nutrition, Stress Management etc.
The purpose of this group is to: 
> Seek honest parent feedback on current wellbeing programs across both junior and senior school
> Gather parent perspectives on wellbeing issues that are most relevant to our student body
> Gather ideas for the future direction of our wellbeing programs
The commitment: 
Interested parents are invited to attend meetings across Term 3 and 4. Meetings will be held on the following dates at 7.45am in the board room:
> Tuesday 8th August
> Tuesday 22nd August
> Tuesday 5th September
Please email Ms Kath Woolcock, by Monday 31 July, if you are interested in being involved in this group. Parents are also invited to send through suggested discussion topics or suggested ideas to consider as part of this review.
If you have any questions, please contact Ms Woolcock woolcockk@cggs.vic.edu.au
Learning Conversations
Tomorrow evening, Tuesday 25 July we are holding Learning Conversations for students in Years 10, 11 and 12 from 2.15 – 8.00pm. In a collaborative learning environment, with conversations about subject focus and achievement, students should attend the Learning Conversations with their parents.
Appointments will be in Woodstock Building – Upper Level & Quadrangle classrooms Q301 & Q302.
Appointments remain open until 9.00am tomorrow and can be booked within Parent Lounge under Parent/Teacher Interviews.
Please note that each interview is for 6 minutes and to ensure long queues do not appear, we ask you to please be on time and conclude your conversation when the bell is rung.  If you wish to speak further with a specific teacher, please call the School to make an appointment.
Should you require the services of a language translator on the evening, please contact Mr Hayden Gyles, Deputy Head of Senior School gylesh@cggs.vic.edu.au and he will endeavour to arrange support for you during your allocated appointments.
Music Tour 2017
For 63 students and 7 staff ranging from Year 7 to first year at University the holiday break was challenging on so many fronts. The group departed on Wednesday 28 June bound for Milan in Italy. Having successfully navigated the plane travel, we found ourselves in the sunshine and warmth of Verona. During our two and a half weeks the group were fortunate to spend time in such beautiful cities as Verona, Venice, Ljubljana, Bled, Salzburg, Vienna and Prague.
The Camberwell Girls Music Tour of Europe included a Concert Band, Orchestra, Tour Strings, Tour Choir and full Choir. Over the duration of the Tour and with the specialist workshops that each group were fortunate to receive, the development and confidence in performance was noteworthy and obvious.
The students performed in some of the most magnificent concert halls and churches in Europe including; the Church of San Stae in Venice, inside the Postojna Caves, at the Conservatory of Music and Ballet in Salzburg, at the Grand Hotel Toplice on the shores of Lake Bled, at the Salzburg Dom and the Mozarteum, the Musikverein, University of Music and Ybbs Festsaal Therapiezentrum, and the Tatzmannsdorf Festival Hall in Vienna and also at the Rudolfinum in Prague.
The girls teamed together to move heaven and earth somewhat literally; an entire percussion section of equipment, music stands, and all of their personal instruments, through 5 European countries over 19 days. I was thrilled with the comradery amongst the girls throughout the trip – consistently refining the logistical practises, not to mention their musical performances in some of the most incredible concert halls ever built.
Please read the further reflections from the students in this edition of CamNews. On behalf of the staff who travelled and the entire CGGS community, I would like to acknowledge and thank all the students for their diligence in rehearsal and their exceptional performances. For their keenness to learn and grow, both musically and in terms of life learning experiences shared and also as they showed great respect and commitment to the Music Tour and expectations both in the long lead up and throughout our time away.
I also take this opportunity to thank on behalf of the 63 travelling students and the CGGS community the touring staff and our two tour guides. I am most grateful to have been one of the touring staff, and acknowledge my colleagues as having been exceptional in their planning, organisation and management of all aspects, both before and during the tour.
To Mrs Jennifer Meachem, Director of Music, Mr Rohan Mack, Mr Mathew Duniam, Mrs Penny Bryne, Mrs Nareen Robinson, Year 10 Coordinator, Rev. Helen Creed, Year 9 Coordinator, Ondra and Marco our Tour Guides and Coach Drivers Manfred and Rhadenco.  As a group we also extend our thanks to those who assisted greatly in the preparation of the Tour, Ms Kate Savige, Mrs Cathy Georgiev, Mrs Jane Scott, Mrs Kathy Rigopoulos, Ms Andrea Wood and Mrs Victoria Hargreaves.  Conducting a tour of this magnitude requires many hands to ensure its success and most successful it was! Thank you to all.
To read the students' experiences, click here.
Australian Institute of Sport Trip
The Australian Institute of Sport trip to Canberra, which took place during the holidays, was a wonderful experience for the twelve girls, most of whom are studying Units 3&4 PE, and the two staff members, all of whom participated in a well-planned and organised schedule that encompassed many of the programmes available at the Institute. We felt as if we belonged to the athletic community, with our participation in a range of different and intense physical activities taken by elite sports people, with the comprehensive guided tour of the sporting facilities, and with our attendance at informative and specialised lectures on subjects as diverse as Sports Recovery, and Nutrition, and taken by experts in their field. From Boxing to Bootcamp to Basketball (facilitated by former student, Rebecca Pizzey), we returned home both inspired and energised from being surrounded by so many committed and talented athletes, and enormously grateful to Mr Corrie for his superb organisation and leadership of the trip.
GSV 5-a-Side Soccer Tournament
17 girls from Years 7-12 were selected to represent Camberwell Girls in Junior and Senior teams at the annual GSV 5 a-side soccer tournament held on Thursday 20 July at Knox Regional Football Centre.
The girls played each game with a positive attitude and are to be commended for their efforts throughout the tournament. The Junior team won 4 out of 5 matches and narrowly missed out playing in the Grand Final; finishing runners-up in their group and 4th overall in the Junior Competition. Well done!
The Senior team were drawn in a difficult group which contained the eventual winners of the competition, Sacre Coeur; however their commitment, fairness and great sportsmanship throughout the tournament was recognised as they were awarded the Melbourne City FC FairPlay Award. Congratulations girls!
All players should be proud of their achievements in the tournament. They gained valuable experience and enjoyed individual and team improvements. Thank you to Ms Liza Stevens for coaching the teams and Mrs Nareen Robinson for her help on the day of the tournament.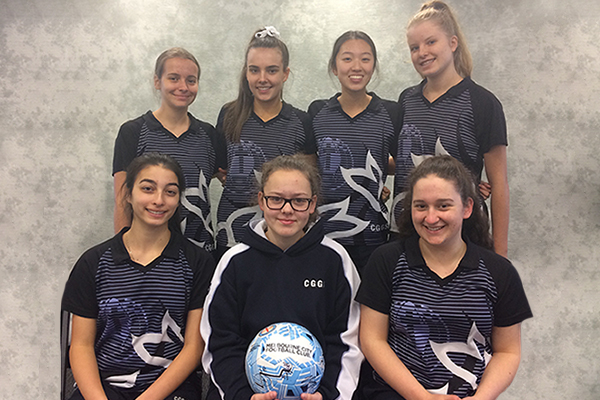 With Best Wishes,
Cathy Poyser
Deputy Principal/Head of Senior School
https://cggs-video.s3.ap-southeast-2.amazonaws.com/2017/07/SS42.jpg
400
600
cggs
https://cggs-video.s3.ap-southeast-2.amazonaws.com/2021/01/2021_Web_Logo_Cyan.png
cggs
2017-07-24 14:35:30
2017-07-24 16:48:28
Senior School