Senior School
The countdown to House Music has finally ended and tonight all of Senior School looks forward to the performances of each of the Houses in the House Choirs, instrumental and A Capella ensembles and stage song items.  In the past, Choir performances have been created around a chosen theme.  This year the students have all been asked to do their own rendition of "Corner of the Sky" from the Musical Pippin.  Over the past weeks we have all witnessed the exceptional talents of the students as they have been rehearsing and the leadership shown by the House Music Captains has been remarkable. Student leadership through the House system is such an integral part of what occurs in the Senior years at Camberwell Girls and the skills these students develop in terms of time management, coping with stress, communicating effectively with others and seeing a project from its inception to its conclusion are all transferable to other aspects of their lives. On behalf of all the staff and students, I would like to wish the Houses all the best with their Music making tonight.
While I feel sure none of the students will need reminding – Friday 9 June is a student free day for reporting and staff training and Monday 12 June is the Queen's Birthday public holiday. Hopefully all the CGGS families will be able to find time over this extended weekend for some rest and relaxation. As we enter Winter, the students are tired from giving their all to every endeavour they undertake and I do encourage parents to allow plenty of downtime on this long weekend in readiness for the special Week 9 plans at each of Years 7 – 10.
Today seven students and two staff flew to the USA to represent Camberwell Girls and Australia in the Future Problem Solving Program International. We wish them safe travels and our encouragement as they present their problem that they have keenly worked on over the past months. More details to follow in up-coming editions of CamNews, however you can follow the students on Twitter or Facebook.  They begin their tour with some sightseeing in New York before making their way to the competition at Wisconsin University.
Careers Expo
This year the Camberwell Girls Careers Department decided to adopt the theme '#myfuture' to encourage our students to take ownership of their future career and this theme will be reflected in a number of career activities throughout the year for our Years 9 – 12 students.  As the landscape of Australian jobs and careers changes rapidly, career management skills will be an integral part of the portfolio of skills our students will develop over the next few years. '#myfuture' has been introduced to inspire our students to deliberately consider their own skills and interests, future directions and career pathways.
As part of the career initiatives a Careers Expo was held on Wednesday 24 May. Representatives from 12 different institutions, including ANU (Canberra), were available to talk to students and parents. There was great excitement, and many career conversations, as students moved from Robinson Hall to the Library collecting information, asking questions and researching future course and career options.
~ Trish Dolan, Careers Counsellor
2017 Next Generation Youth Forum inspires young minds
Every year, La Trobe University's Next Generation Youth Forum brings together dynamic young speakers to inspire Years 10 – 12 students – and this year was no exception.
350 students from a diverse set of Melbourne schools, including some of our Year 10 students heard a key note address from pioneering LGBTI advocate and 2017 Young Australian of the Year for Victoria recipient Jason Ball.  Jason discussed his journey to bring a new level of inclusiveness to elite sport in Australia, particularly in the AFL, and the milestones he's achieved. Students also heard from Benson Saulo, who shared stories of his family, youth and achievement in becoming the Australian youth representative to the united nations.
Workshops with other notable speakers took place throughout the day including with young social entrepreneur Taj Pabari, along with orange sky laundry charity founders, Nic Marchesi and Lucas Patchett.
Students left the day enriched with insights from young Australians who are driving change – and it's hoped, added inspiration to make their own mark.
~ Trish Dolan, Careers Counsellor
Service Soiree – Annual Benefit Dinner for Service Learning
The Camberwell Girls Service Soirée was held last Friday 19 May and sparked conversation about our Service Learning program. It included insights into experiences we have participated in from the Senior and Junior School, the affect the Social Justice program has had on Old Grammarians and the vision of Service Learning from Mrs Dunwoody.
The evening is more than an opportunity to connect but aims to raise funds to support our Service Learning initiatives.  Events on the evening included a silent auction, raffle, cake stall, goods from Dream Stitches, a Literacy Foundation stall and excellent conversations with Keira Lyons on the couch.
The evening was a great success, with $7,780 raised in support of the Green Gecko Project and the Indigenous Literacy Foundation.
The Green Gecko Project supports over 70 children who have previously lived and begged on the streets of Siem Reap, Cambodia. The program works to provide security, education, love and opportunities to them. With the support of Camberwell Girls, ongoing connections are able to be made with these Geckos, supporting their community and helping us grow, and in turn, watching them grow. A group of 15 students and three staff will travel to the Green Gecko Project in September to continue our relationship with them.
The Indigenous Literacy Foundation is one of the organisations our school supports in an effort to close the gap in education outcomes between Indigenous and non-Indigenous Australians. They provide books to remote areas encouraging early literacy. This is one-way Camberwell Girls works towards Reconciliation.
This dinner would not have been possible without the help from many people. A huge thank you goes out to Keira Lyons for her MC and interviewing skills, all of the interviewees, donators of the silent auction items and the students who are going to Green Gecko this year who waitressed and hosted. Many others worked behind the scenes: Liss Campbell, Kim Waters, Liesa Winkler, Alice Broadbridge, Kate Giles, Nirvana Watkins, Ali Larkey, Shane Maycock and of course, Pinwheel, for the amazing Cambodian feast. Thank you!
~ Jamila Wynn and Eileen Zhang, Service Learning Captains 2017
To find out more about Service Learning please see the Service Learning Framework here.
'One World Wontok' Poverty & Development Conference
Nine girls from Years 8 – 12, together with Liss Campbell, attended the annual Wontok Conference on Monday 29 May.  Wontok is a national mission agency of the Anglican Church of Australia.  The aim of the conference was to bring together like-minded individuals with a passion for social justice and global equality.
The focus of the day's events and activities were the United Nations 17 Global Goals for Sustainable Development. We were put into four different groups with students from other schools and explored the Global Goals and how they impact the lives of people in countries such as Haiti, Saudi Arabia and Papua New Guinea.
The students from the host school, Shelford Girls Grammar, were extremely friendly and easy to talk to, making it easy to make new friends. It was an extremely worthwhile day as my own passion for human rights has been further fuelled by this event. At the end of a long day, we spent the bus ride home reflecting on how we hoped to extend the key knowledge we gained from the conference, into the Camberwell Girls community.
~ Leah Atalalis, Year 11
yLead Altitude Day
We were so grateful to be given the opportunity to be part of yLead Altitude Day.
ylead is a national organisation whose aim is to support Australian schools in developing a generation of confident, motivated and skilled young leaders who are capable and willing to make a positive difference in our changing world.  Their aim is to support students to be future leaders by building their sense of identity and self confidence around their passion and abilities.
Altitude Day is an annual one-day event aimed to inspire Year 9 students in their school journey.  We learnt so much and took away so many great new ways to approach situations in our own lives and larger world issues.  The highlight of the program were the three amazing public speakers that shared their stories. The first was Sophie Weldon (Make a Difference) who focused on teaching us that listening to people's stories and what others have to say will make a difference in their lives and ours.  Sophie also told us an emotional life story about one of her close friends that had to flee her home country.
The second speaker was Barnaby Howarth (Give it a Crack) who is an ex-football player for the Sydney Swans.
Barnaby talked about the struggles in his life and how he had overcome them or at least tried to.  He educated us about having the right mindset and how life is a series of short decisions.
The last speaker was Rowie Mcevoy (Make everything wow). Rowie encouraged us to have a C.A.N attitude (courage, action, never give up).  She told us how this had helped her in her life and can do the same for us. She also taught us to be a happy, respectful and kind humans.
We enjoyed listening to all the speakers and have taken away advice and inspiration from each one of them.
~ Saoly Nguyen, Jennifer Fan, Carly Reid & Madison Murphy, Year 9
Music
In February this year, a selected group of Senior string players were lucky enough to become television stars for the day, spending 12 hours at Camberwell Grammar School filming for Hamish and Andy's latest show, True Story.  The students excelled in their cast roles as members of a youth orchestra, miming to a section of Ride of the Valkerie.  Professional hair and make-up, together with a great buffet of food throughout the day, made the day even more memorable. While lots of fun, it was an eye-opening experience for the students to learn how television and film is actually made. The series commences on Monday and we are awaiting confirmation of when our episode will be aired – stay tuned!
St George's Day performance
As I entered St George's Anglican Parish, Flemington, I felt a sense of stillness and calmness.  Rev Duncan Reid's parish, though small, contained an atmosphere bigger than itself.  Maybe it was the special event, or perhaps it is always so, but the congregation spoke in hushed voices. As this was my first time going to St George's, I was slightly unsure how things were run, but I got through it and really enjoyed it. It was a bit strange not hearing applause at the end of our pieces, but the service was not about us, but about God.  I was truly honoured to play at St George's, even though it was the last time we would attend it. In one word, I would describe my experience as divine. Truly divine.
~ Jennifer Fan, Year 9
BCNA Pink Lady Match performance at MCG
Together with the students that volunteered to support the activities of the BCNA within the ground, a number of Camberwell Girls students had the wonderful opportunity to perform at the Exquisite High Tea, held at the 2017 Pink Lady Match at the MCG. It was an honour to be able to share our music with the guests of such a special event. Part of the High Tea included the screening of videos showing the impact of breast cancer on everyday life and speeches from the likes of Raelene Boyle, Olympian and breast cancer survivor and Jane Bunn, Channel 7 meteorologist and host of the event.  All of the women were very inspiring and their speeches were eye-opening. As we were leaving, it was heartwarming to hear that the guests enjoyed our playing. It felt gratifying to know the difference our music made, even to just put a smile on someone's face for the day.
A big thank you to the Music Department and the BCNA for giving us the chance to perform at this memorable event.
~ Zara Mammone, Year 8
Trinity Grammar Extravaganza Concert performance
The night began with a bang. On the evening of Monday 15 May everyone was seated in the Eldon Hogan Performing Arts Centre at Xavier College and the night kicked off with Trinity's Symphony Orchestra performing 'Overture to The Wasps'. Throughout the pieces, the audience were more and more moved by the level of professionalism in the boys' performances. From 'Simple Gifts' by Joseph Brackett to 'Theme of Jurassic Park' by John Williams, the music stirred the viewers in a way I believe only youth can.
Throughout the evening, presentations from the Music Captains provided insight into the work that goes on behind the scenes. After weeks of rehearsals, during school and after, the girls from Camberwell Girls waited excitedly in the wings, with fast pulses and excited chit-chat. Towards the end of the program we played our first piece, 'Light of a Clear Blue Morning' by Dolly Parton. With soloist, Tom Stella, from Trinity Grammar and members of the Trinity Community Choir, we sang in harmony to the Special Chamber Strings, with Matthew Mulherin on flute. With dramatic dynamics, we supported the soloist, as well as each other, with the fluttery words 'Light of a clear blue'. Once we had sung our final notes, we stood side of stage and awaited our next piece, 'Sleep' by Eric Whitacre. This drowsy but unusual and beautiful song speaks of sleep and was commissioned in loving memory of Mr & Mrs Lacy by their daughter. Our seven-part harmony, together with Trinity's Symphonic Wind, left an impression on the audience and set ourselves up for our final song, 'My Country' from Dorothea Mackellar, Jackie Trent and Tony Hatch. Sung from every choir voice and almost all instruments, this definitely showed how proud we are of our land and home, whether we are from this island or next. No matter where we come from, Australia is home to all.
I know I can speak on behalf of all the girls from the Camberwell Girls Senior Singers group in saying that it was an amazing experience and I most certainly hope we get to collaborate with other schools again in the future. Thank you to Mrs Jennifer Meachem and Ms Frederica Cunningham and a big thank you to Trinity Director of Music, Ms Michelle Stanic and Trinity Head of Choral Studies, Mr Kevin Kelley for the invitation!
~ Madison Parfuss, Year 10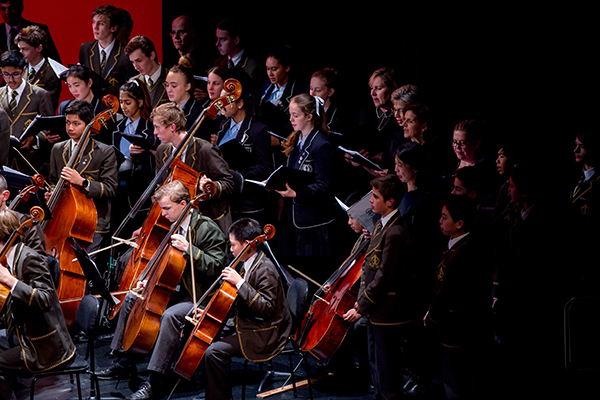 Netball
The Winter months have now definitely arrived and netball  season is picking up.
Each week Year 7 Gold are improving but are yet to get a win on the board.  Year 7 Diamonds went down by 6 goals to MGGS Doves and Year 7 Aquamarines had a tough game against CSNC Flames.  Year 7 Amber also went down by 6 goals.
Year 8 Gems played their best game of the of the season but went down to Strathcona Spurs.
Year 9 Tanzanites lost by 4 goals but I'm sure they will get them next time.
Year 9 Emeralds defeated MGGS Finches playing a fantastic team game.
Year 10 Amethysts were up against some rough opposition but our CGGS girls won and are sitting currently sitting 2nd on the ladder.
Year 11 Quartz went down to Genazzano Halliday and Year 11 Rubies had a 19 goal win.
I hope all our families have a wonderful weekend.
Best Wishes,
Cathy Poyser 
Deputy Principal / Head of Senior School
https://cggs-video.s3.ap-southeast-2.amazonaws.com/2017/06/SS5.jpg
400
600
cggs
https://cggs-video.s3.ap-southeast-2.amazonaws.com/2021/01/2021_Web_Logo_Cyan.png
cggs
2017-06-02 12:12:53
2017-06-02 14:52:42
Senior School