Senior School
What a diverse range of activities we celebrate each fortnight here in CamNews. Reading through the Senior School articles always reaffirms for me the choices available to our students here at Camberwell Girls. Acknowledging the achievements of individuals and groups, as well as recognising the involvement of students in service learning initiatives and the presence of our parent body at school events, we have a rich and full program here.
In my role as Deputy Principal and Head of Senior School, I have the opportunity each fortnight to attend the Ormiston (Junior School) Assembly. This is a particular highlight for me as I truly enjoy the Positive Education messages the students and staff share, the celebration of student achievements in sport and the magnificent music that is played. The Captains of the various portfolios show excellent leadership by conducting each of the sections of the assembly. I feel most privileged to be able to take part in these assemblies and be involved in the Highlights and Happenings at our Junior School. Thanks Ormiston.
Parent Education Seminar
Next week is our Cyber Safety Parent Education Seminar. On Tuesday March 7 at 7.30pm in Robinson Hall we will be joined by Senior Constable Greg Garrisson to speak about Cyber Safety. Topics covered will include grooming, online bullying and general advice about how to stay safe online.
Please confirm your attendance by emailing hargreavesv@cggs.vic.edu.au.
Senior School Assembly – Leadership and VCE High Achievers
The annual Induction Service has been a tradition of Camberwell Girls for many years. On Tuesday 21 February, our 2017 School leaders were formally inducted and presented with their leadership badges.
Also on this special morning, we were very honoured to have past students from the Class of 2016 attend to receive recognition of their achievement in their VCE studies. Awards were presented to students who achieved ATAR scores of 97 or higher. It was a fantastic service and we congratulate all our student leaders. Cindy Jiang was presented the School's Medallion in acknowledgement of her achievement as the Camberwell Girls Dux of 2016.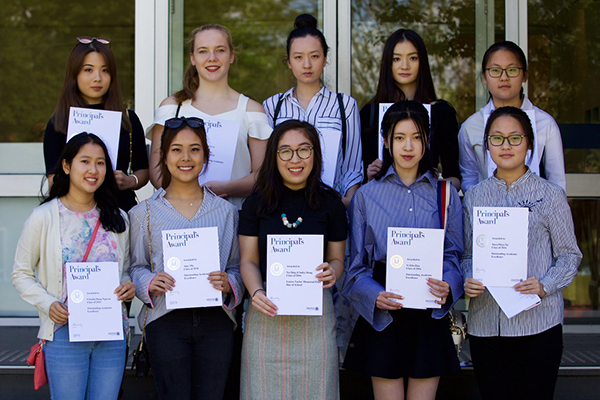 Parents and Friends Welcome Drinks
Last Friday evening the Parents' & Friends' Association welcomed in over 200 Junior and Senior School parents and families in the Woodstock Courtyard. The weather was kind to us all and it was lovely to see so many parents enjoying the music, mingling amongst other parents and chatting to staff. The Parents' & Friends' Association are looking forward to a fantastic year ahead supporting a number of friend-raising and fundraising events as well as contributing to items that our girls will gain great value from. Thank you to Linda Black, Chair of the Parents' & Friends' Association and the many Parents' & Friends' Association committee members and volunteers who assisted at this event. It is heart-warming to see the community building and the support from our families at these events.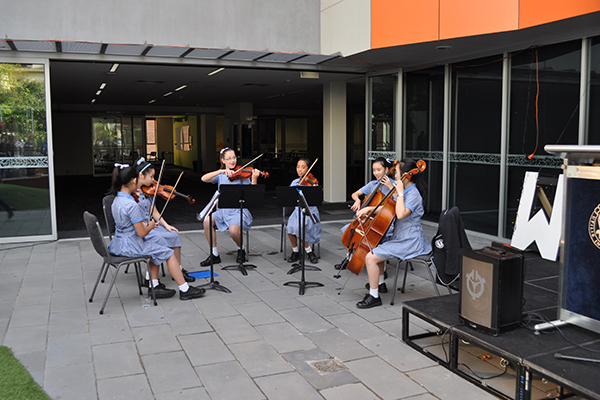 Our first weeks in Australia – German Exchange Students
We are Lilia and Hannah from Germany. We arrived in Australia on Saturday 9 February and are the exchange students in Year 10 for the remainder of Term 1. The flight was quite long, so we were very tired, but nevertheless we were really impressed by our first impressions of the Australian lifestyle and the differences and similarities to Germany.
After a couple of weeks at Camberwell Girls, we can say that the school life is pretty different to ours, but we really like it. For example, we're not used to wearing school uniforms, but we think it saves a lot of time in the morning and it is very comfortable, so we would like to have school uniforms in Germany, too.
In Germany, we do undertake our hobbies, play sports or an instrument outside of school. It's great that you can pursue these activities here at school together with your friends. For us, school doesn't seem to be a place for studying and learning only. It is also new for us to have lunch at school. Usually, our school finishes around 1pm, so we have lunch at home.
We are enjoying every moment in Australia and are really grateful for all the opportunities we have by being part of this school. We would also like to say thank you to everyone for the warm welcome here at CGGS. ~ Viele Grüße, Lilia Syemushyn & Hannah Strerath
Year 12 Formal
On Saturday night, the eagerly awaited Year 12 Formal took place at Kooyong Lawn Tennis Club. The Year 12 girls and their partners who attended the event had a really fun and enjoyable night. There was a wonderful atmosphere throughout the evening and this was complemented by delicious food, a great array of awards for a wide range of categories and some amazing dance steps were on display during the evening. As always, our Year 12 cohort and their partners were excellent ambassadors for the school with one Kooyong staff member commenting that they were a polite group of students.
Duke of Edinburgh
Two students have achieved milestones in their Duke of Edinburgh's Award commitments.
We congratulate Natasha Tucker (Year 11) on receiving her Silver Duke of Edinburgh Award and Claire Bernabe (Year 10) on receiving her Bronze Duke of Edinburgh Award. These awards recognise students for all their hard work, dedication and service to their endeavours and to their community.
Any students interested in working to achieve their own Duke of Edinburgh Awards should contact Mr Mark Barnett, who works closely with girls on achieving their goals.
Service Learning BBQ
On Tuesday 28 February the Reconciliation Committee (made up of girls from all year levels) held a lunchtime BQQ, with all funds raised to be used to purchase books for early literacy programs operating in remote Indigenous Communities via the Indigenous Literacy Foundation.
The weather was picture perfect on the day and the girls worked up a sweat cooking hundreds of sausages and selling cool drinks. To the side of the stall the committee had designed a barometer which tracked the amount of money raised, mini-milestones were listed next to each value (eg. $25 could buy 5 books).
Thanks to the hard work of the Reconciliation Committee and their supportive teachers, the girls managed to purchase 75 books for Indigenous pre-schoolers. Every cent raised will go towards changing the lives of children living in remote Indigenous communities. Every student or teacher that participated in or donated to the barbecue should know that their contribution will have a lasting and positive impact on the lives of less fortunate children.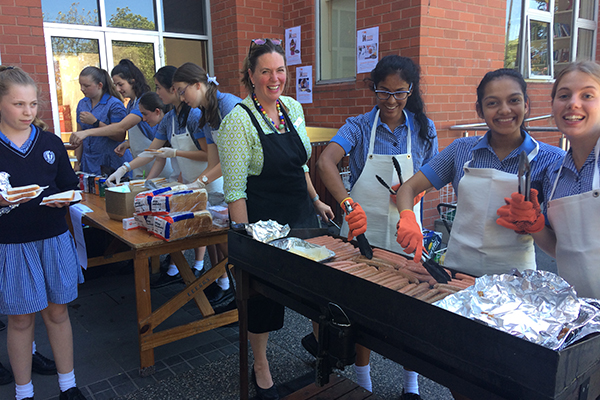 Ladder Walk-A-Thon
On Thursday 23 February, the service learning team alongside the Camberwell Girls community participated in the annual walk-a-thon for Ladder. To show support in combating youth homelessness, all the girls came to school in colours of various football teams. It was truly amazing to see everyone getting involved in an initiative to help those less fortunate than us. With the recent housing crisis of Flinders Street, Homelessness (especially in youth) continues to be an increasingly important issue, and Ladder helps to combat the inequality that these young people are facing. After school, girls gathered on the oval, where we had the privilege to meet with Emma Kearney, a member of the Western Bulldogs AFL Women's team. We all laughed and kicked footballs before commencing our walk. Together, through meeting new friends from different year levels, a true sense of community could be felt, and we hope to see this kind of unity in all our future endeavours for the Service Learning collective.
To conclude, a total of $1,537.65 was raised and donated to Ladder, an amazing result for our first event. We'd like to thank all the staff who came out from Ladder and Mrs Campbell for helping us in the organisation of the event. An extended thank you also goes to the amazing Belinda Kranjcic for documenting the occasion and Bob McKevitt for coming out and speaking to the girls on the importance of Ladder. To learn more about Ladder, you can find out more about them on their website.
Thank you once again to all the girls who supported us in this event. We hope to see you next time! ~ Jamila and Eileen, Social Justice Captains
Scholarship Interactive Evening
Last Tuesday night, as part of our holistic approach to assessing appropriate candidates for Camberwell Girls scholarships, just over 200 girls from Years 4-10 attended our Scholarship Interactive Evening. The evening involved girls undertaking 4 activities requiring collaboration, curiosity, creativity and communication skills, working in groups of 6-8. Each group of girls was allocated a staff member who supported their group throughout the course of the 4 activities. The girls appeared to enjoy the range of activities undertaken and it was pleasing to note the enthusiasm and passion displayed towards the activities by all girls who were present.
Scholarship Morning
Following the Interactive Evening, the next aspect to the scholarship selection process was that approximately 100 girls attended the Scholarship Testing morning. The girls who were from Years 4, 6, 8 and 10 undertook approximately three hours of testing.
CGGS Book Club
The CGGS Book Club has kicked off again for the year. Girls across all year levels are welcome for this meeting of minds and eating of treats, which takes place in the Library's Hub monthly after school on a Tuesday. The next theme will be Murder Mysteries and Macarons, and will fall in Week 8.
'A classic' is a book that everybody praises but nobody has read,' according to Mark Twain, who inspired the formation of our Classics Club. Our hard-core splinter group meets before school for breakfast once a month on a Friday, all having read a pre-selected Classic. So far we've tackled Rebecca, Washington Square, Northanger Abbey and the very topical 1984 and have managed to avoid War and Peace (just). This is the perfect motivation for those who have the nagging feeling that they should be reading history's greatest works of literature but find themselves watching a lot of cute animal videos instead. ~ Davina Bell
Best wishes for the weekend.
Yours Sincerely,
Cathy Poyser
Deputy Principal / Head of Senior School
https://cggs-video.s3.ap-southeast-2.amazonaws.com/2017/03/SS4.jpg
400
600
cggs
https://cggs-video.s3.ap-southeast-2.amazonaws.com/2021/01/2021_Web_Logo_Cyan.png
cggs
2017-03-03 09:35:27
2017-03-03 11:33:49
Senior School