Principal
In our centenary year and in a year of constant change, during remote learning our three School Captains – Felicia, Laurya and Loren, together with the School and House Captains and School Leaders, captured our student body with their "GLOW" of positivity and enthusiasm throughout the year. They could not have foreseen the way in which 2020 was to unfold however they have continued to lead with great optimism throughout this change. I am very pleased to include their article below to give an insight into their commitment and work as Captains this year.
With best wishes
Debbie Dunwoody
School Captains Reflection
Whilst in the midst of Term 3, we have collated our reflections, initiatives and our intentions for the rest of the year.  
As the school turned 100 years old this year, we wanted to choose a theme that would encompass the sentiments of celebration, positivity and passion. Our chosen word, 'GLOW', is defined as discovering how we can be the best versions of ourselves by radiating positivity and enthusiasm, and by living generously. It is a word that we felt not only encapsulated the school's motto and values, but also had the power to strengthen our school community through the attitude that 'when you glow, the world will glow with you'. After asking our community 'What makes you glow?', we created the brand of '2 Cents' which focused on spreading inspiration, encouragement and motivation through posting quotes and inviting everyone to share their '2 Cents'. Additionally, our virtual shout-outs have provided an opportunity for the community to continue to give gratitude, love and appreciation to one another, despite being apart.
Our community's 'glow' has never shone brighter and the challenges we have faced this year is a testament to our amazing, close-knit school community that we are so fortunate to be a part of.  
Term 1 – Girl Power 
Especially in the world we live in, the theme of 'GIRL POWER' for Term 1 emphasised the need to empower the women around us and particularly young women to be supportive of each other and courageously fierce. 
From the beginning of the year, we hoped to encourage inter-year level empowerment and therefore, adapted the 'Big Sister Little Sister' program to involve buddies for girls in Years 7, 11 and 12. We see this program as a way for 'Big Sisters' to form a genuine, compassionate bond as an inspiring mentor for their 'Little Sisters' in Year 7, from the beginning of their high school journey. To strengthen the bond between buddies over the course of 2020, we had the Big Sisters send introductory letters and check in emails, hosted a buddy quiz competition, organised a buddy 'get-to-know-you' lunch and prepared small group Zoom catch-ups and games during Remote Learning.  
Furthermore, it was fitting that International Women's Day was celebrated in Term 1 whilst we delved into the importance of women lifting each other up. A small group of Year 12s travelled to Parliament House for the annual breakfast hosted by the Alliance of Girls' Schools Australasia. In a room full of young women, the contrasting portraits, all except two, of former male Premiers stood out to us whilst discussing various topics including women in politics, gender-biased language and equality.  In addition to this, we were delighted to assist in hosting Camberwell's own International Women's Day breakfast and have Old Grammarian Kim Henderson speak on her journey of becoming a women's rights activist with some highlights from her extensive work experience.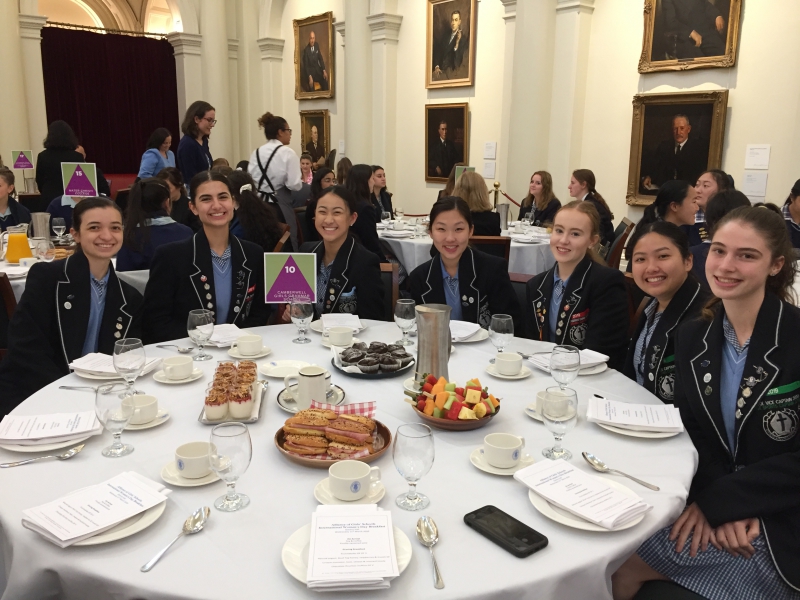 Putting our spin on Valentine's Day, we decided to celebrate 'Galentine's Day' instead and the compassion and love in our friendships! We are very appreciative of the students and staff who helped us prepare packets of mini heart-shaped sugar cookies in time for the 'Galentine's Day' Stall. Not only could the cookies be purchased, but the girls were given the opportunity to write special notes of gratitude for their peers to be delivered later in the day and this further spread joy and positivity throughout the school! 
Term 2 – Legacy
As we celebrate our school's centenary year and honour the history and traditions that came before us, 'LEGACY', our theme for Term 2 reminds us to learn from the past and envision the future to make the most of the present.  
The three of us wished for our legacy to be driven by giving back to the community and being thoughtful and selfless in service. This inspired us to work with World Vision by using the funds raised from the Galentine's Day stall to sponsor a girl. The purpose of this initiative was to highlight to the students how fortunate we are to receive the education we do and the power of community in being able to support another girl with her education. It was then that we introduced CGGS to 9-year-old, Chanda from Cambodia and 'Letters to Chanda' was born. Throughout 2020, student representatives wrote letters on behalf of their year level to update Chanda on CGGS school life and get to know her hobbies, siblings and favourite subject.
We hope that the future School Captains continue this legacy, supporting Chanda through her schooling years and strengthening this connection whilst it serves as a reminder of the importance of supporting the women we meet with each day, to the women around the world. 
Commencing Term 2 with remote learning came with its challenges, as we had to re-invent the activities that we had initially planned for. We shifted our focus towards maintaining a sense of community and school spirit while everyone was physically distanced through heavily using our school Instagram account, @wearecggs. Pivoting off our hashtag, #TogetherApart, we made a Netflix starter pack, which included movie and TV-show recommendations and a Spotify playlist called 'QuaranTUNES', filled with uplifting and motivating songs. Whilst these initiatives were small, they acted as a reminder for the girls that we were very much in this together.  
Along with other various captains, we formed a Wellbeing Committee, guided by Ms Woolcock, and organised Wellbeing Wednesday activities, such as yoga sessions and making gratitude jars. This provided an opportunity for the girls to step away from their devices and invest in their mind, body and soul.
Overjoyed that we were returning back to school after six weeks in remote learning, we couldn't wait to see everyone face-to-face. We welcomed everyone back in a GLOWing manner, with streamers, balloons, music in the courtyard and chalk signs, as well as positive messages on the lockers. Click below to expand the photos to see how we welcomed back our peers.
Before transitioning back on site, we wanted to recognise and thank our fellow captains for their amazing efforts in helping to sustain our Camberwell energy in an overwhelming and difficult period. Hence, we held a 'Leading in Lockdown' lunch, organising the tables to allow captains who don't usually work together to connect and reflect upon their own legacy they created as role models of the school.  
We continued to show our gratitude, welcoming the teachers back with a card left in their pigeon holes that we made on behalf of the students of CGGS to thank them for their dedicated, ongoing support. We also coordinated a special card for the Year 12 teachers that had a picture of our cohort doing a love heart sign, as our way of recognising their tirelessly efforts to ensure that we were prepared to tackle this demanding year.   
Term 3 – Originality 
During term 3, we explored the letter 'O' which represents originality. 'Originality' celebrates diversity and each individual's unique qualities, encouraging everyone to stay true to themselves.   
In the midst of our second lockdown, we introduced the '2 Cents Podcast', which aimed to keep the community connected whilst we were physically apart. In sharing the opinions and the insights of our school community, we have been able to shed light on important issues such as the 'Black Lives Matter' movement. In addition to raising awareness, the podcast has sparked discussion in topics of self-care, wellbeing and expressing individuality. In coming episodes, we will invite various guests to share their '2 cents' on areas such as leadership, empowering women, careers and managing money. The podcast has contributed to the legacy that we want to leave with Camberwell, as we hope that this initiative will continue to develop and grow over the years under future captains. 
You can listen to the first episode of the podcast via this link below.
Another initiative, which showcased the community's originality, was the introduction of 'Fun Fridays'. Each Friday, we selected a theme to spice up our outfits on Zoom and spread some fun and positivity. Thus far, the Year 11s and 12s have worn pyjamas to school and we have had a Year 7-12 'beanie bonanza'.
Our intention for Term 3 was to create a visual representation of individuality and connection within our community by constructing a fingerprint mural that included everyone in the school. Our hope is that this mural will be created as soon as all year levels return to school.   
Term 4 – Willpower 
In Term 4, 'willpower' will delve into mindset and perseverance as everyone is inspired to give it their all until the very end of the year! 
Having faced many hurdles throughout this year, we understand that at times, especially throughout remote learning, our motivation levels dipped and therefore it is beneficial to explore ways we can improve our focus and productivity to best see us through our end goals. For students sitting end-of-year assessments and VCE exams, this will be imperative this year. Willpower also captures the perseverance that the three of us, along with all school leaders, have required when working through the changes and challenges of leading during a pandemic!  
The three of us are so honoured and grateful to have shared this experience together in our school's centenary year! We could not have achieved our goals this year without the support of our families, friends and teachers. Furthermore, we are very proud of all the 2020 leaders for their creativity and resilience and thank them for leading by example! We also wish to extend our gratitude to Mrs Dunwoody, Mrs Poyser, Mr Burnell, Ms Woolcock, Mrs Robinson and Mr Perkins. With each new unknown, we felt your support and thank you for guiding us, believing in us and trusting us with our creative endeavours. To the future leaders of the school, we are confident you will embrace your unique qualities, lean on each other for support and continue to lead our community with courage and integrity. 
'Glow' reflects CGGS's vibrant and optimistic attitudes. 'Glowing' encompasses how a Camberwell girl radiates her passions. 'Glow Gals' make up the Camberwell community, stick together and conquer what lies ahead. 
As the terms progressed, it seemed that the year kept throwing us curveballs that lead us from starting with Plan A and ending with Plan Z but nonetheless, we hope that we inspired and continue to inspire CGGS to always GLOW no matter the hurdles that present itself.  
With best wishes,
Your 2020 School Captains, FL2
Felicia Spiridonos, Laurya Dang-Nguyen and Loren Palma 
https://cggs-video.s3.ap-southeast-2.amazonaws.com/2020/08/Prin-FEATURE-2.jpg
500
500
Georgia Bennett
https://cggs-video.s3.ap-southeast-2.amazonaws.com/2021/01/2021_Web_Logo_Cyan.png
Georgia Bennett
2020-08-21 16:35:17
2020-08-21 16:41:37
Principal