Principal
Professional Learning
When I think about education at CGGS, I think about all of our learners – students and staff.
My work with the Harvard Graduate School of Education (HGSE) and Independent Schools Victoria is focussed on 'embedding a culture of curiosity and courage in learning for all learners'.  Professor David Perkins from HGSE often talks about the importance of life-worthy learning, learning that we can utilise to build new knowledge, apply to new situations and that can be broad and adventurous.
In valuing and enabling richer opportunities for staff learning, a number of programs and pathways have been developed by our Director of Professional Learning and Partnerships, Kate Giles.  This relatively new role has enabled Camberwell girls to respond to the diverse learning needs of staff, share practice and engage with external professionals in a more personalised way.  In the following article, Kate shares with you one of our exciting new initiatives for staff learning that she has introduced this year – an optional pathway that has been taken up by 85% of our staff, reflecting our highly engaged and motivated educators and professionals.
With best wishes,
Debbie Dunwoody
Principal
Professional Learning In Action
"The illiterate of the 21st century will not be those who cannot read and write, but those who cannot learn, unlearn and relearn." – Alvin Toffle
We all know the value of a truly exceptional teacher. They have the ability to inspire us far beyond the classroom and their significance can be felt for many years. I'm confident that if you ask most people, they can usually remember a special teacher in their lives.
At CGGS we are incredibly proud of both our teaching and professional services staff. We know that they are the people who can ultimately have the most positive impact on student learning and optimise their school experience. For this reason, we place significant importance on creating the conditions and opportunities for our staff to thrive.
Traditionally in schools, teachers have always had the opportunity to attend external workshops and conferences. This allows them to stay at the forefront of what is emerging in their subject areas and focus not only on best teaching practice, but also to anticipate what is coming next in education. Many of the teachers at Camberwell Girls are some of the most highly respected educators in Australia. Our staff are regular presenters at some of the most prestigious educational conferences around the country. Mark Corrie is recognised nationally as an expert in the Health and Physical Education subject, Nirvana Watkins and Kate Manners are key presenters for the Victorian English Association. Charlotte Forwood is a prized international education author and thought leader, Annie Wilson is the author of the Year 12 text and key expert in the Legal Studies subject. Cathie Meyenn is nationally recognised as one of the most expert teachers in Geography and Emma Hinchliffe has presented at TeachTech conferences. Just recently three of our staff have been invited to spend a week at The Avenues School in New York City as part of the Strategic Alliance of Global Educators biennial networking conference (pictured below). These conferences and networks will always be incredibly important to staff development.
However, as a new approach to learning has emerged for our students, a similar one is playing out in how we approach professional learning. Day-long conferences, 50-page dense documents and the 'one size fits all model' is being disrupted by a new way of learning. Online collaboration, breakfast colloquiums and a shift to less formal conferences suggest that educators want more control over not just what they learn but how they learn.
We wanted to respond to this new trend in learning and create a model of professional learning that gave our staff more choice, celebrated their different passions and met people at the right stage in their career. As a true learning community, it's not just about learning for our students, we also have to personalise learning for our staff.
Therefore, we put extensive energy into thinking how we might design professional learning experiences for our staff which provided them with more choice, voice and flexibility – much like we do for our students. Last year we embarked on a design thinking process which enabled us to carefully understand what our teachers were hoping for and how we could design a model of professional learning that reflected the principles of modern learning.  After countless brainstorms, interviews and research, a new dimension of learning, titled 'Professional Pathways', emerged.  It is one in a series of professional learning opportunities for staff.
In essence, Professional Pathways gives our staff the choice and voice to determine the trajectory of their professional learning for the year. An opt-in model, CGGS staff can choose from up to 14 pathways. Think 1:1 mentoring with educational specialist Ann Beck; leadership coaching with Holly Ransom; 'shadow a student' experience (pictured below); dine and design tech evenings; teaching and learning coaching with Matt Wadewitz and girls' education online courses. One of the things that excites me about our new approach to professional learning is that we have developed multiple partnerships with people and organisations who help us to learn and continually challenge our thinking.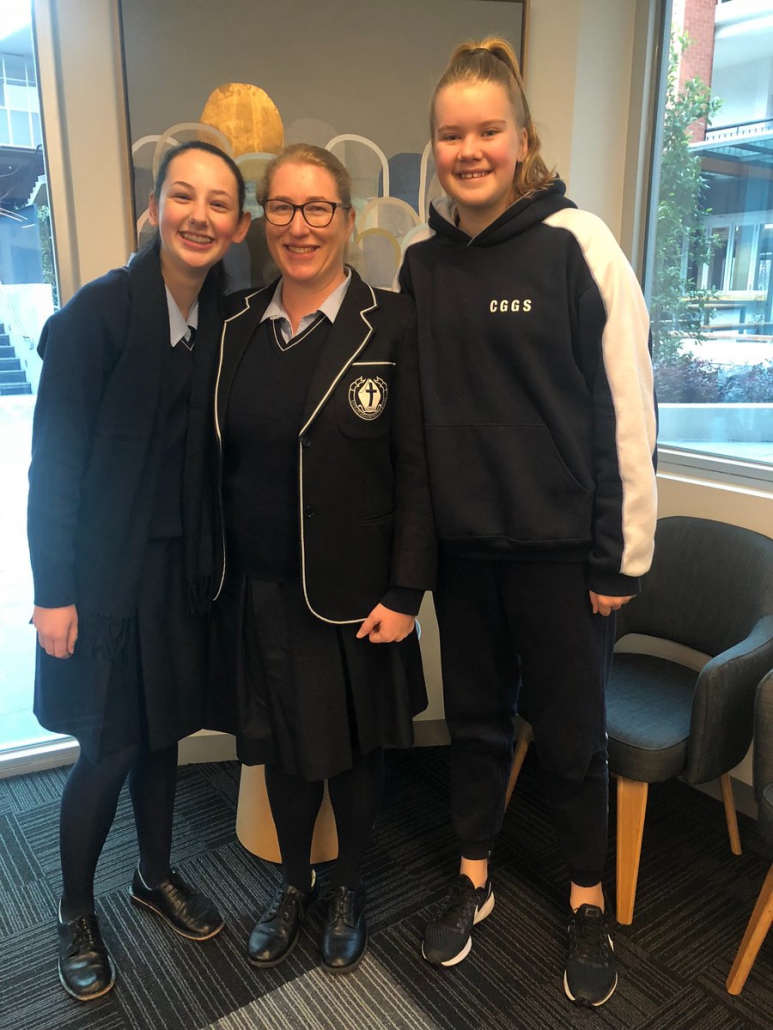 Our teachers know their content and how to teach it. They know how to teach girls and how to create an optimal learning environment. This model of professional learning enables teachers to dig deeper and to focus on developing other areas of their practice they are particularly passionate about. Additionally, some of the pathways focus on understanding how learners learn and how we can harness our understanding to help our students be proactive; to not just cope with change but welcome it and to be connected community members. In our own learning, we need to be prepared to learn, unlearn and relearn. Our professional learning program provides our teachers with a safe, supportive and challenging environment to do this.
With best wishes,
Kate Giles
Director of Professional Learning and Partnerships
https://cggs-video.s3.ap-southeast-2.amazonaws.com/2018/08/principal-featured-image-2.jpg
400
600
Georgia Bennett
https://cggs-video.s3.ap-southeast-2.amazonaws.com/2021/01/2021_Web_Logo_Cyan.png
Georgia Bennett
2018-08-10 14:51:45
2018-08-10 14:51:45
Principal