Principal
Strategic Alliance of Global Educators
"The Strategic Alliance of Global Educators (SAGE) unites top forward looking and innovative schools from around the world with the aim of bringing educators together to form professional networks that allow wider and deeper sharing of pedagogical ideas, resources and best practices."
SAGE Website
In 2012 Nanyang Girls High School in Singapore, one of our Sister Schools, led an initiative to form a close community of global educators.  This initiative was established to advance education to a new level of excellence through the collaborative efforts of global education leaders by forming the Strategic Alliance of Global Educators (SAGE).
In 2016, CGGS was invited to join the network of 16 schools that reaches across the globe from Singapore through to China, Taiwan, USA, United Kingdom, Denmark, Finland, India and Australia.  Scotch College in Melbourne is the only other Australian school in SAGE.  Within the network we seek to explore ideas together to build our own learning communities.  Staff have the opportunity to cross collaborate as do students through opportunities such as Project Passport, where they can nominate a school to work with on a specific project.
We were so fortunate recently to host two students, Johanna and Karoliina from Oulunkylän Yhteiskoulu, a school in Finland. Their winning entry in the SAGE Project Passport 2018 initiative, Wellbeing at School, is an important topic for young people in our global community and one that is receiving a great deal of attention in schools and more broadly in educational forums. An aspect of this project was to learn more about the lives of our senior students and their wellbeing, including factors at school that enhance their wellbeing at home and school and to compare these to a similar group of students in Finland.
The CGGSs community was very excited to learn that Johanna and Karoliina would be travelling to our school and would have the opportunity to inform us first hand of their projects intentions, meet members of our community and collaborate on some potential initiatives.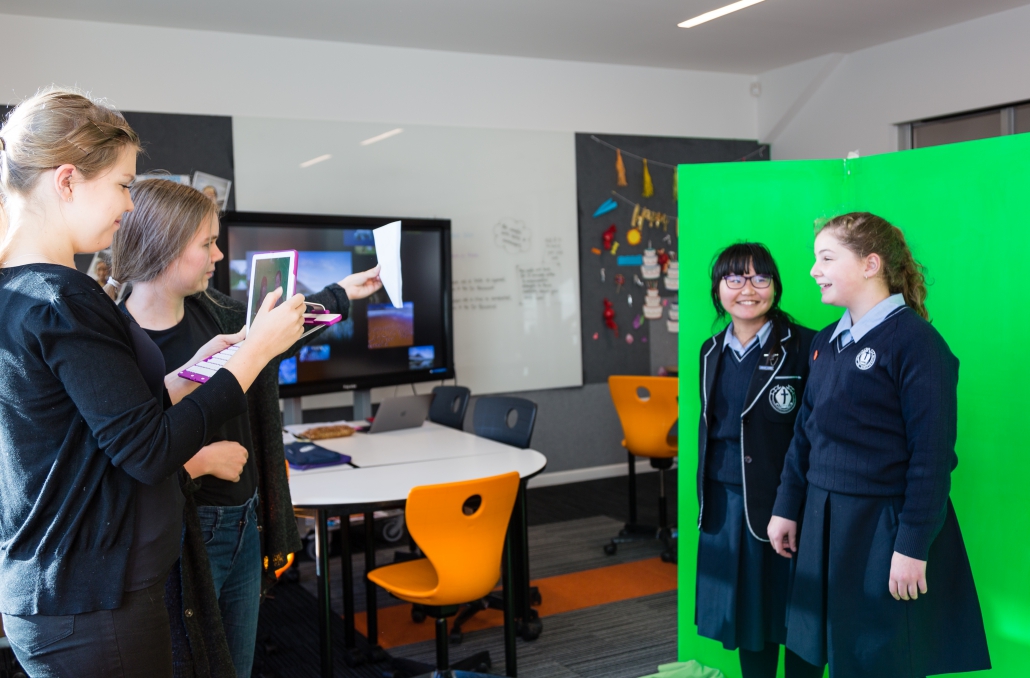 A great deal was achieved during the visit in June, including the gathering of important research and data based around our senior student experiences of wellbeing. This helped to further support the project and enable initial comparisons to be made between our two school environments. In addition, our students had the valuable opportunity to learn about the lifestyle and culture of Finland, highlighting some similarities and showing great interest in some of the key differences. One example was the broad range of co-curricular opportunities offered to students at CGGS to enhance their learning and wellbeing.  Johanna and Karoliina confirmed that there are not a wide range of co-curricular activities on offer in Finland. We look forward to receiving their final report in the near future.
Our families that hosted Johanna and Karoliina, provided an understanding of family life in Australia and facilitated visits to many local attractions and experiences. I would like to thank the Ekins-Daukes and Fitzgibbon families for so generously hosting Johanna and Karoliina. I would also like to thank Nicky Rogers, our Head of Strategic Initiatives who coordinated and managed the whole program and ensured that Johanna and Karoliina were able to have every opportunity to connect with students and staff to discuss and understand key wellbeing issues.
This opportunity has provided the chance to pose and discuss the potential for future learning projects for our schools. It became obvious through sharing conversations that whilst we are from very different parts of our global community, we certainly have many areas of common interest. Our school communities would gain greatly from collaborating further on shared learning experiences. In my communications with the staff from Finland, they have indicated that they are very keen to develop an ongoing exchange program with CGGS and we will be working through the options over the forthcoming months.
During the last few years we have also developed our relationship with the Singapore School of Science and Technology.  Both schools have a similar focus on incorporating design thinking and entrepreneurship opportunities into a number of programs. Similarly, a team of Wellbeing staff from Nanyang Girls High School visited CGGS last term to talk to staff about our Wellbeing programs and in particular the work we have done in developing our Positive Education over a number of years.
Every two years, an international conference is held for the network at one of the member schools. In August this year, Avenues: The World School in New York will host the event. This year's themes are centred around Empathy, Bilingualism and Real-World Learning in schools. It will be an important opportunity to network with the schools and to discuss opportunities for further student and staff collaborations. With this in mind I am sending three staff to the conference – Nicky Rogers (Head of Strategic Initiatives), Karin Lemanis (Psychology Teacher and Bytes Code Club Coordinator) and Kath Woolcock (Deputy Head of Senior School – Student Wellbeing).  I am very confident that many more opportunities will arise from this visit.
I feel incredibly proud that our work at Camberwell Girls is recognised on the world stage and is affirmed by the interest from students and staff across the globe. In sharing pedagogical ideas and practices, learning is a two-way process and in doing so we enrich our understanding and relationships.
With best wishes,
Debbie Dunwoody
Principal
https://cggs-video.s3.ap-southeast-2.amazonaws.com/2018/07/PRINCIPAL-FEATURE.jpg
400
600
Georgia Bennett
https://cggs-video.s3.ap-southeast-2.amazonaws.com/2021/01/2021_Web_Logo_Cyan.png
Georgia Bennett
2018-07-27 15:16:15
2018-07-27 15:38:26
Principal