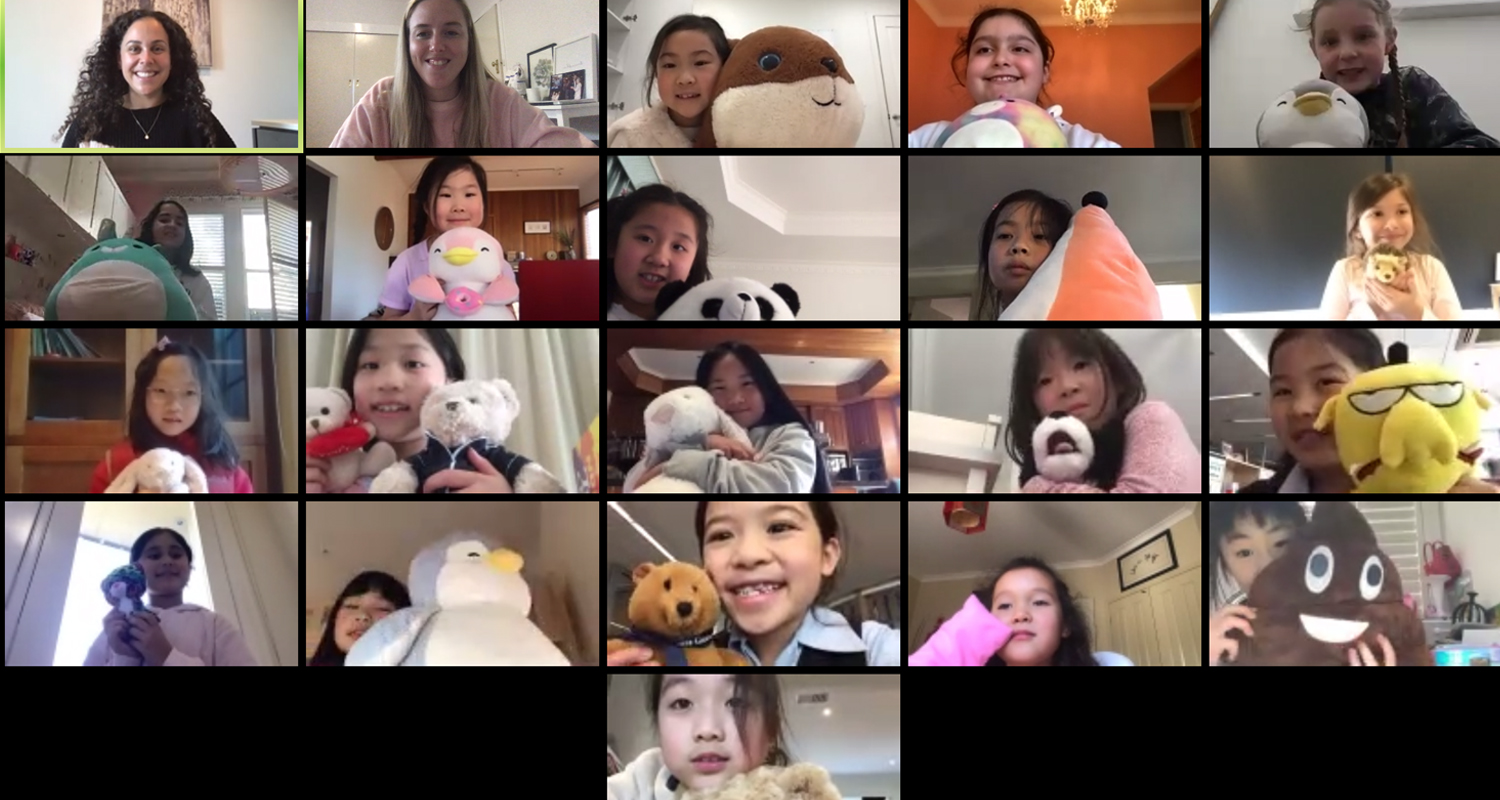 Junior School
New Student to Ormiston
On Monday 27 July, a new student will be joining Year 5DW class with Ms de Quadros and Mrs Wilson to begin her educational journey with Camberwell Girls Grammar School. Our new student is Claire Pham and I would like to encourage the students, particularly in Year 5DW, to make Claire feel very welcome to Ormiston as part of our remote learning program. We look forward to seeing Claire in person when we all come back to Junior School (on campus) in the near future.
Term 3 Co-Curricular Activities
I would like to remind students and parents that our co-curricular program is continuing during our remote learning program this term. We have several creative, wellbeing and active activities that have been advertised in our Junior School Weekly and last week's CamNews. These activities can provide a good alternative to the remote learning activities your child participates in during the day. If you have any questions about our co-curricular activities, please email Vicki Ibbott at Junior School Reception on juniorcoordinator@cggs.vic.edu.au.
Early Learning 3  – Multiple ways of being
The second program of remote learning has given us time to revise and revisit our experiences with the children as we guide through this challenging chapter.
We have used this time to listen to the children explore their sense of wonder extending their thoughts outside our gates to the wider community and to rethink and make sense of our daily tasks which we sometimes take for granted.
One such task is our morning routine of reciting our acknowledgement to country statement which goes like this:
"Wurundjeri People
Custodians of the land
We respect and learn from you
The stories you tell.
Care for country, Love our land, plants, birds and animals,
People of all backgrounds
Hand in hand together we stand"
As part of our program, we like to build on each child's current knowledge, ideas, culture and interests. To do this, it is important to link our learning and teaching to routines and learning experiences. Every morning we create and facilitate a safe space for sharing to build on strong identities to support the multiple ways of being…
> Looking at nature, wondering and noticing
> Considering how we can help each other and help the land
We have taken little walks in the big yard to feel and touch and take in the enormous trees that surround us here at Ormiston. The three bears have set up home to share their porridge with Goldilocks in the home corner.
The inter-play with light and colour is intriguing as the children make marks and venture into schematic drawings and paintings. What is fake and what is real? A classroom table with a variety of objects awaits to provoke the children.
More children are taking on board leadership as a path to learning and we see them gradually embrace stewardship and showing their many capabilities. I know I can always learn from the children and I look forward to building our bond of stewardship together as we embrace people of all backgrounds to stand together, hand in hand, to care for our country and love our land.
Ramila Sadikeen
Early Learning 3 Teacher
Early Learning 4 Full-Time
As curious learners, the Early Learning 4 (Full Time) children went for a walk in the Junior School with their binoculars. This provided them with an opportunity to wonder about the sky, trees, birds and flowers – all things from nature. As they walked throughout the Junior School, the children referred to a book that contained photographs of birds to help them to identify birds they saw in the garden. The children were interested in and observed the magpies as they moved the tanbark with their beaks so they could find worms. The children used the binoculars to observe the lorikeets as they sat on the branches of the trees and were fascinated to see how they spread their bright colourful wings to fly from tree to tree. The children were encouraged to close their eyes and 'to be still' and mindful as they listened to sounds from nature. When they returned to the classroom, the children shared their observations and thinking through dialogue and drawing with charcoal.
In Early Learning, we provide opportunities and cultivate interesting and creative environments and experiences, so the children can explore and wonder. Nurturing a child's curiosity and their sense of awe and wonder about the natural world, is one of the most important ways we can support children to become lifelong learners.
Angela Follacchio
Early Learning 4 (Full Time) Teacher
Early Learning 4 Part-Time
The EL4 Part-Time children are learning about sustainability and the importance of recycling. This week we read a book by Neal Layton called 'A Planet Full of Plastic'. The children in the classroom listened to the book and some of the children learning remotely watched and joined in the discussion via Zoom. The children learned about the origin of plastic and how it can be both useful and cause environmental problems. After reading the book, the children in the classroom looked for different objects in our classroom that are made of plastic. The children working at home were encouraged to take some photos of plastic objects in their home and post them on Seesaw. The children learned a new word – BIODEGRADE. We will be exploring biodegradability of a range of items in different environments such as soil and water.
Lilian Bishop
Early Learning 4 Part-Time Teacher
Year 2 Update!
Year 2's have started off Term 3 with online learning determination and resilience.
Week 1 finished up with a 'Fantastic Friday' activity where all the girls in Year 2 joined in on a Zoom and played an exciting scavenger hunt game! Each round the students were asked to find something and bring it back to the camera to share with us all. All the girls had a wonderful end to their first week online.
Week 2 has been another wonderful week, where the girls have explored the spelling sound 'oa' and participated in multiple reading and writing activities. As our focus this term is on Narratives, the girls spent this week retelling some of their favourite stories and describing characters using adjectives. In Numeracy, the students began their learning about Australian coins and notes and through completing a KWL chart, the students investigated their wondering questions about Australian currency by unpacking videos and website fact sheets.
Below are some comments from the Year 2's about what they are enjoying about remote learning:
> "My favourite thing about learning from home is that I get to stay with my pets all day and do my work without rushing. I also really like being able to eat whenever I want to and go on lots of little adventurous walks near my house. I really miss my friends though." – Laila 
> "I have enjoyed the Zoom sessions and I have also enjoyed the maths, inquiry, writing and spelling activities because they were very fun." – Claudia 
> "My favourite thing that I did this week was the dice addition because it was fun. I also loved the Carla Sandwich one because I loved that story and it was a fun activity" – Elaine 
> "I have really enjoyed remote learning this week. My favourite task has been reading a book called Carla's Sandwich where the main character brings weird sandwiches to school every day. We then got the chance to design our own weird sandwich, I thought this was really fun. Mine had crazy fillings like ice cream and fish fingers. I am also really interested in learning more about money in maths and how the size in money doesn't matter. I love coins because my grandfather always gives me special edition coins when he finds them." – Molly
We are looking forward to another wonderful and exciting learning filled week next week.
Mikaela Stanaway & Ellie Zarfaty
Year 2 Class Teachers
Year 3 Update!
Year 3 have had a wonderful start to Term 3 remote learning. This week we've had fun catching up with each other during Zoom meetings. It's been lovely hearing the students share what they did over the holidays – we have a very creative and curious group of Year 3s!
We have started exploring our Inquiry unit which focuses on Australia and its unique qualities. Thinking routines, such as 'I see, I think, I wonder', have given students the opportunity to share their prior knowledge and spark their curiosity. During this unit they will also learn about the states, territories and capital cities of Australia.
Reading and understanding calendars are an essential part of everyday life and our maths Zoom sessions have been lots of fun as students have been consolidating their understandings of this concept through interactive maths games. Students have shared different ways of remembering how many days are in each month. Popular strategies have been catchy songs and mnemonics, such as counting on the knuckles of one's hand to remember the number of days in each month.
It has been great to see the Year 3 students settle quickly back into the routines of Remote Learning. Their Seesaw journals are already full of great examples of their learning and understandings. We are looking forward to a fun and productive term.
Rebecca Leondidis & Liz Ruffles
Year 3 Class Teachers
I wish all our Ormiston families a restful weekend.
Yours sincerely,
Paul Donohue
Head of Junior School
https://cggs-video.s3.ap-southeast-2.amazonaws.com/2020/07/JS-FEATURE-1.jpg
500
500
Georgia Bennett
https://cggs-video.s3.ap-southeast-2.amazonaws.com/2021/01/2021_Web_Logo_Cyan.png
Georgia Bennett
2020-07-24 15:43:03
2020-07-24 15:43:03
Junior School