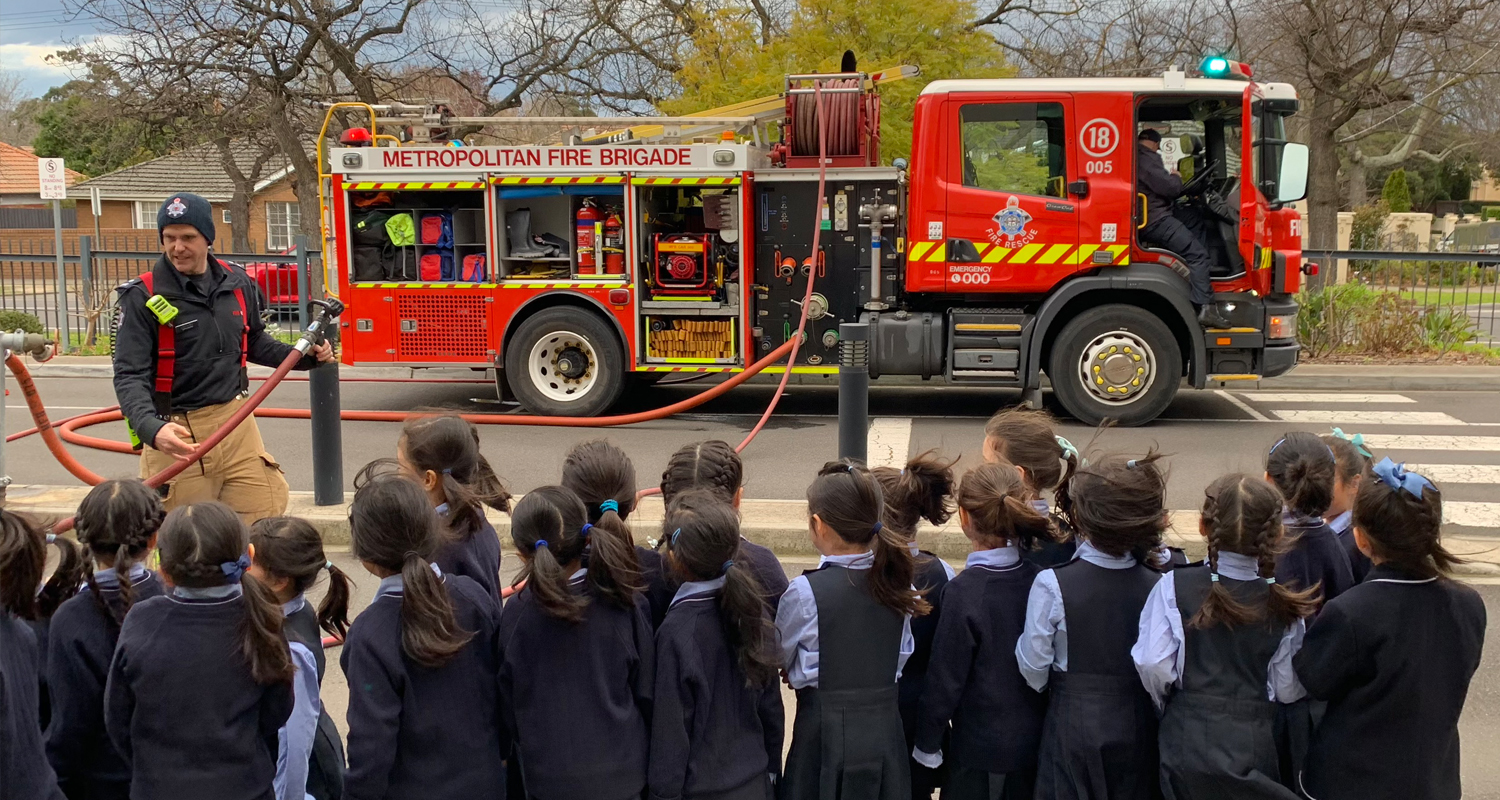 Junior School
Junior School Disco
Last Friday over one hundred students attended our annual Junior School Disco which took place once again in the Senior School Anne Feehan Building (Year 7 Level). The first session involved students from Foundation to Year 3 and the second session included students from Years 4 to 6 to get together to sing and dance. The evening was once again very popular and well attended by students across all year levels. This Junior School event truly promoted our CGGS Strategic Pillar of a Connected Community. These special events throughout the year help bring our Ormiston community together. I would like to thank Susannah Jepson from the Foundation Office for all her planning and preparation in making the disco a very successful event. Also, many Junior School Parent Representatives gave up their valuable family time to volunteer at the event. I would like to thank the following parents:
> Meagan Healy
> Tammy Sim
> Jo Rees
> Rhian Hall
> Angelina Lagana
> Josie Mason
> Carolyn Russo
> Cecellia Zhang
> Helen Yue
> Priya Nadarajah
Book Week!
Happy Book Week!
This year the Book Week theme is 'Reading is my Secret Power'.
In our weekly Library classes we have enjoyed exploring our reading powers and how reading empowers us. We have also shared some of the books shortlisted for the Children's Book Council Awards and congratulate this year's winners.
Book of the Year / Early Childhood –Tricky's Bad Day by Alison Lester
Picture Book of the Year – Cicada by Shaun Tan
Book of the Year / Younger Readers – His Name was Walter by Emily Rodda
This year we had a Creative Book Week Challenge. Thank you to those students who accepted the challenge and unleashed their creativity by baking and decorating cakes, writing books and poems, making models and posters, painting, drawing and minecrafting. Their work is on display in the Library.
Book Week has been a fun celebration of the joy and power of reading. We began the week with Ms Ruffles, Miss Soci, Ms Hinchcliffe, Miss Zarfaty and Mrs Jackson reading their favourite picture books to eager audiences during lunchtime in the library. The library has also been a hive of creativity with students making reading superhero bookmarks, reading power glasses and book badges at lunchtime library.
The Book Week assembly was the highlight of the week and it looked as though the book characters in our library had come to life! The students' reading powers of creativity and imagination were on display and it was a delight to see many popular book characters in our Book Week Parade. Thank you also to parents for your assistance with costumes and to those who came along to celebrate.
Reading is alive and well in the Junior School!
'The greatest gift is a passion for reading.' – Elizabeth Hardwick
Kim Yeomans
Junior School Teacher Librarian
National Science Week
National Science Week is an annual celebration of science and technology and was recently celebrated at Camberwell Girls Grammar School. Science Week provides an opportunity to acknowledge the contributions of Australian scientists to the world of knowledge. It also aims to encourage an interest in science in young people.
Destination Moon: more missions, more science was the theme for National Science Week in 2019. Many exciting activities were on offer throughout the school, which provided an opportunity for students across all year levels to explore the theme.
Activities in the Junior School kicked off on Monday lunchtime with a group of students working with Mrs Lemanis and Ms Dumsday to make their own water rockets out of soft drink bottles. With much of the school watching and counting down (from a safe distance), we used the Science Department's rocket launchers to show how the movement of gases provides enough force to propel a rocket high up into the air.
The Years 3 and 4 students were eager participants in a 'Moon Rovers' Coding Challenge, creating algorithms using Blockly to code a Dash Robot. Their mission was to program their 'Moon Rover' to travel across the surface of the moon, avoiding the craters to collect a rock sample for NASA. Some extra keen students repeated the activity during a lunchtime session, creating more complex algorithms.
The Years 1 and 2 students worked cooperatively in groups to create a LEGO Space Scene. The students utilised the School's Space Mission LEGO kits to produce a range of creative landscapes, astronauts and space crafts. The activity promoted the development of fine motor skills, encouraged positive team work, communication and problem-solving skills.
Students in Years 5 and 6 helped map out the safe places for a spacecraft to land and the scientifically interesting places to explore on the moon with Moon Mappers. This project asked participants to partner directly with scientists – including NASA mission scientists to identify craters on the moon.
A group of Junior School students had the opportunity to participate in an exciting hands-on lunch time activity held in the Senior School MakerSpace. The students were challenged to construct their own telescope made from everyday materials.
Science Week culminated with a viewing of the landing of Apollo 11, the spaceflight that first landed humans on the Moon. A number of the classes came to watch this momentous occasion and reflected upon the character strengths displayed by the astronauts and the scope of the Apollo 11 accomplishment.
Annabelle Vivarini
Junior School STEAM Educator
Victorian Interschools Snowsports Championships
This week Mt Buller staged the 62nd Victorian Interschools Snowsports competition which saw over 6000 students taking part from over 180 schools. Ormiston took an enthusiastic team of 13 skiers and snowboarders from Years 1 to 6 who competed in Skier Cross, Alpine Giant Slalom, Snowboard Cross and Snowboard Giant Slalom events. The participating students were Ivy and Jasmine Xie, Audrey and Annabelle Nemtsas, Rita and Raynee Wong, Mo Lin Yu, Ashley Wang, Anneka Sinnappu, Angelique Quah, Zara Chueng, Jessie Chen and Elysia Wang.
Our athletes proudly represented Camberwell Girls Grammar School and we were thrilled at the endeavour, sportsmanship and persistence each student displayed throughout the event. Many students were participating in Interschools Snowsports for the first time and they handled the conditions remarkably well, with many achieving personal best results.
The soggy, windy weather didn't dampen the spirits of the students or their supportive families, and the opening ceremony gave them an opportunity to parade with gusto through the Village carrying the CGGS banner before enjoying a fireworks display. A wonderful three days were had by all and the students continued to develop their skiing and snowboarding skills, along with making new friends and seeing each other in a different and magical environment.
We would like to offer our sincere thank you to all the students and particularly their parents, for their valuable help, support, good humour and embracing Snowsports. Many thanks to Teddy Yu (Molin's father), Henan Feng (Jasmine & Ivy's mother) and Lynda Ea (Zara's mother), who were volunteers and team managers and spent many hours standing in the cold, to support and enable us to take part in the competition.
We look forward to seeing you on the slopes in 2020.
Angela Columbine & Fiona Gibson
Year 3 Class Teacher & Junior School Art Teacher
NEXT BIT
Year 1 Science
Last Wednesday, the Year 1 students visited the Senior School Maker Space to work with Ashley from 'Linked Excursions' who helped us to investigate how we can use different forces to make movement.
After building our own LEGO car, each team explored the Design process to make changes and improve our creation depending on the challenge it faced. We removed the bunk beds and fancy steps from our vehicles when we realised they weren't strong enough against the power of gravity! Our modifications let us add magnets to explore magnetism, propellers to explore electricity and even balloons when we explored the power of wind!
I learned that sometimes a magnet and gravity can fight. When the red bit of the magnet faces the other red bit, they repel each other. That makes the magnet float in the air. Gravity is pushing it down but it is being repelled and pushed up. – Elfie
My favourite part was building the car. We had to change it a zillion times! I learnt that some magnets are powered by electricity. That's called an electromagnetic force – Molly
We had the most wonderful time before heading back to Junior School and watching footage from the Apollo 11 Moon landing. What a wonderful way to celebrate Science Week in Year 1!
Miranda Jackson & Craig Goodwin
Year 1 Class Teachers
Year 2 Service Learning – Hedley Sutton Visit
On Wednesday 14 August the Year 2 students once again visited the residences at Hedley Sutton. Musical items were presented by Ruth Whelan who played Que Sera Sera and Ria Wong, who played 'I'm A Fine Musician'. The residents loved these musical presentations and could be heard singing along.
The students introduced themselves to a number of different residents throughout the visit – asking questions about their past; about games they played when they were little children, memories from school days and the styles of clothing worn. All of these questions have come from our Inquiry focus and the answers from the residents have been extremely helpful for our learning.
The Year 2 students are commended for the caring and respectful manner in which they presented themselves during our time at Hedley Sutton. It was a valuable learning experience. Here are some thoughts from the students:
Student Comments:
"I learnt that my buddy Ivon used to be a piano teacher." – Amelia
"I enjoyed talking to the residents about the past." – Kathleen
"I liked how they listened to us and told us about when they were little."- Georgia
"I liked how we get to talk to the residents about their families."- Semaya
"It was good that we get to be interactive with the residents and find out about their stories."- Ruth
"I liked going to Hedley Sutton because I got to learn about the peoples' stories, and they were very interesting."– Jade
"You don't have to be old to remember."- Ailey
"You are only as old as you think you are. Actually, we are all young."- Shreya
"I enjoyed going to Hedley Sutton because I like to chat with people about their past."- Nan
Fiorella Soci & Ellie Zafarty
Year 2 Class Teachers
Year 5 & 6 French – Alliance Française Poetry Competition
Our Years 5 and 6 French students participated in the Alliance Française Berthe Mouchette Poetry competition in May, reciting a French poem by heart to a French judge. The judges are very exacting and students must get full marks of 20/20 (100% correct and a perfect score) to be invited to the finals.
Congratulations to the following Year 5 and 6 students who received perfect scores of 20/20:
Year 5
Mara Vais
Sophia Zeitoune
Emily Lioe
Maria Lin
Alyce Law
Amber Chia
Madeleine Wood
Anneka Sinnappu
Year 6
Monique Desai
Lucy Ciro
Anneke Cook
Jenny Wang
This year has been our most successful year participating in this competition.
Melissa Drentin
Junior School French Teacher
Fire Fighters come to Ormiston!
Last Friday the Foundation students had their second visit from the Hawthorn Fire Fighters. They learnt many valuable tips for keeping safe in the event of a fire, discussed safe meeting places outside of their homes and learnt about the job of fire fighters. The highlight of the visits was getting to climb aboard the fire truck and spraying the hose.
"I liked it because we sprayed the hose at Stop, Kiss and Drop" – Emma A
"The Fire Fighters taught us that if you catch on fire you have to stop, lie down, cover your face and roll" – Lucy
"We went on the fire truck and we sprayed the hose, it was the best day ever" – Audrey
Selena Reedman & Mikaela Stanaway
Foundation Class Teachers
Year 3 – 6 Hoop Time Basketball Competition
Last week, a select number of students competed at the Hoop Time Basketball Competition at the Nunawading Basketball Stadium. The students were very nervous on the bus ride to the stadium, however, once they arrived the excitement kicked in. Both teams had a warm up game against a boys team, which fired them up for the day. The Year 5/6 team finished third in their division, and the Year 3/4 team finished second. Unfortunately, neither team will be progressing to the next level. However, the students are already super keen to start training now to come back bigger and better in 2020! Go CGGS! Congratulations to the following players:
Year 3 & 4
Allegra Reedman
Annabelle Nemtsas
Anthea Vais
Ashanti Rajakulendran
Natasha Oakley
Scarlett Sim
Genevieve Khaw
Madeline Mason
Year 5 & 6
Mia Chapman
Sarah May
Jessica Wu
Sarah Zhou
Zara Cheung
Charlotte Hayes
Madeleine Wood
Liana Kitsou
Junior School Physical Education Teacher
Year 4 – 6 Netball
The CGGS netballers are getting close to the end of the season. The Year 4 teams have been learning many game tactics and implementing them in the games. Whilst, the Year 5 teams have had some fantastic wins over the past couple of rounds. The Year 6 students are working hard and coming up against tough opposition. The Years 5 and 6 teams will compete in the Semi Finals next Saturday, and the Year 4 teams will play in a Round Robin to finish off the season.
Best of luck goes to all CGGS netballers in the coming weeks!
Lexie Joyce
CGGS Netball Coach
Student Achievements
Sabrina Bignold – Year 6
Sabrina had an amazing experience in Hong Kong at the Asian Grand Prix Ballet Competition. This was an amazing experience for her elite ballet level of training and competing. Hundreds of dancers competed in Regionals across twelve countries. Although Sabrinia didn't receive a medal at the Asian Grand Prix, she was in the mix with outstanding dancers from Asia Pacific.
Sabrina was thrilled to receive a Gold Medal as well as Best Performance Trophy (for highest score) in the first week at the Asian Ballet Competition. She also received a full scholarship to attend the Ballet Intensive Program in 2020. Congratulations Sabrina on this outstanding achievement.
Lucy Ciro – Year 6
Lucy Ciro also participated in an inter-school chess tournament at Yavneh Leibler College in Elsternwick on Wednesday this week. She came equal third out of 164 students and was presented with a trophy for her achievement. Congratulations Lucy!
Erena Zhu – Year 3
Erena Zhu, came third with her dance partner Albert in the couples category for Waltz and Quickstep at the Tasmania DanceSports competition. Congratulations Erena!
I wish all Ormiston families a restful weekend. I look forward to seeing everyone on Monday.
Yours sincerely,
Paul Donohue
Head of Junior School
https://cggs-video.s3.ap-southeast-2.amazonaws.com/2019/08/SS-FEATURE.jpg
500
500
Georgia Bennett
https://cggs-video.s3.ap-southeast-2.amazonaws.com/2021/01/2021_Web_Logo_Cyan.png
Georgia Bennett
2019-08-23 15:25:34
2019-08-23 15:25:34
Junior School