Junior School
A Very Special Staff Member – Fiona Gibson
I would like to take this opportunity to congratulate our Ormiston Art Teacher, Fiona Gibson for 20 outstanding years of educational service to Camberwell Girls Grammar School. At our Junior School Assembly last week, Kath Buckingham, Liz Ruffles and the Year 5 students organised a surprise assembly for Fiona to say 'Thank You' for all the wonderful experiences she has provided to students at the Junior School. The Year 5 students participated in a Drama Performance that focused on creativity and imagination which are two very important aspects of her art classes here at Ormiston. The performance was well performed and very entertaining for the School community. I would like to congratulate Fiona on her efforts over the last 20 years and the significant contribution she has made to educating the students that have gone through Camberwell Girls Grammar School.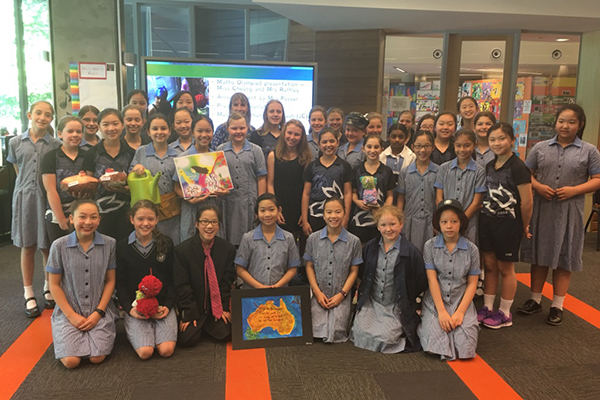 Foundation – Year 6 Orientation Morning
It was a pleasure to see our current students showing leadership skills in helping new students and families that visited Ormiston this week. Orientation morning is an excellent opportunity for the 2018 Foundation – Year 6 students to meet as a group and spend time with their new class friends and class teacher. During the morning, new families had the opportunity to learn more about the daily operations of the Junior School and to meet and ask questions. Also, a communication was sent out to all families listing the 2018 Ormiston staff from Early Learning 3 – Year 6 and all specialist staff. I look forward to working with this team next year.
Years 5  & 6 – Australasian Problem Solving Mathematical Olympiad
Each year a group of Years 5 and 6 students participate in the annual Australasian Problem Solving Mathematical Olympiad and the results this year continue to be of a very high standard. This year, 44 students participated in the program which has exceeded previous years and some of the highlights were:
Top 10% Achievers – Isabella Wood (Year 5), Emily Price (Year 5), Scarlett Giang (Year 6)
Top 20% Achievers – Katherine Mason (Year 5), Kiki Page (Year 5)
Top 25% Achievers – Dora Hu (Year 5), Laura Tong (Year 5), Crystal Cui (Year 6), Lily Diaz (Year 6), Wendy Zhang (Year 6)
Top 30% Achievers – Clarissa Wong (Year 5)
Additionally, both Emily Price and Isabella Wood achieved the highest individual score within a Team where there were no perfect scores, and were awarded trophies for their outstanding efforts.
Overall, ten students qualified in the top 25% of achievers within the competition and sixteen students finished with results in the top 40% achievers which is very pleasing and confirmation that our mathematics curriculum continues to challenge our students in Years 5 and 6.
Year 3 Festivals Exhibition
High quality student work was on display in the Junior School Hall this week. The Year 3 students demonstrated to the School community a wide range of work related to an international festival that was part of their Unit of Inquiry for Term 4. Many questions were asked by students from other year levels and Year 3 parents to find out as much information as possible. Congratulations to the Year 3 students who presented their work results in a clear and concise manner using both written information and iPad presentations. I look forward to talking with the Year 3 students to see how they found the experience.
Don't Move Puppet Theatre
In Early Learning 3, the children experienced another literary genre and form of storytelling, when they viewed a puppet show by the Melbourne based puppeteer, John Evans from Don't Move Puppet Theatre. The show began with a 'warm up' where John explained the role of being a member of the audience. The children learnt when to laugh, cheer, clap and listen. The focus was then directed to the puppet booth (complete with sound, lighting, sets and puppet performers) and the puppet show, Three Animal Stories. During the show, the children engaged with three different stories and they met Sammy the Seal, Silly Billy Dog and spent time on Uncle John's Farm. The children learnt a song and fed Billy the dog. The stories addressed a variety of topics including social skills, friendships, helping others and how animals are similar and different. After the puppet show John explained and demonstrated elements of the theatre and the children discovered how the puppets were moved and how the backdrop created a different scene.
Student responses:
I was happy and it was super funny when the crab said it was going to bite the seal's nose. Sophia
When I was feeding the dog Silly Billy some fruit, he just gobbled it up and it just made me laugh so much! Aarza
When the fish spat at us we got all wet and that was so funny. Lucy
It was funny when the whale sang the A B C and he didn't do it properly. Aurelia
To extend this learning and interest within the classroom, the children have used a variety of open ended materials to create their own puppets. A puppet theatre has been provided in the garden and classroom for the children to develop their own stories and develop their confidence with sharing these stories with their peers. The children are also developing an understanding about the expectations and roles associated with being a puppeteer (or story teller) and a member of the audience. The children have started to access the iPad as a tool to compose their own puppet stories through images and clips.
Through their participation in these types of experiences, the children are developing their listening, viewing, speaking, creating and comprehension skills. They are also developing dispositions that are important for learning – imagination, creativity, resourcefulness, enthusiasm, confidence and cooperation.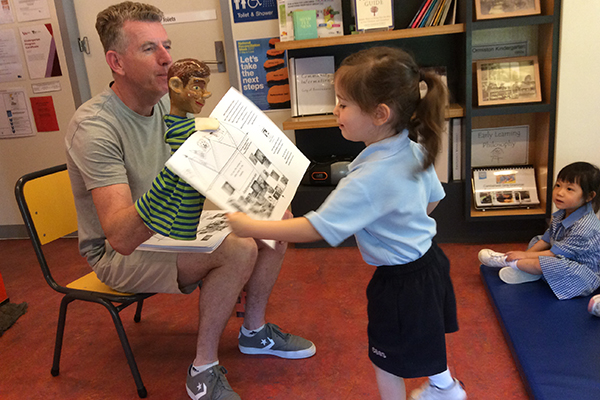 Year 4 Inquiry Learning
Inquiry learning supports the development of students' curiosity and understandings of the world through making strong authentic connections between the content and concepts presented in key learning areas and the wider world. This term the inquiry focus in Year 4 is exploring the essential question: How do ecosystems interact to support life on Earth?
Through class and STEAM lessons students have been striving to answer the following essential questions:
What ecosystems are there on Earth and why are they different?
What are the roles of organisms in ecosystems?
What are the roles of the water and food cycles in an ecosystem?
How are ecosystems impacted by umbrella, keystone and flagship species?
How do changes in one ecosystem impact another ecosystem?
For most of this term students have been working on tasks that promoted exploring and explaining Geography and Science concepts including but not limited to: the features and locations of key biomes, lifecycles of animals and the roles of flora and fauna in food webs.
To further explore and apply their learning around these questions, students participated in an excursion to CERES Environmental Park in Brunswick. While at the park students learnt from environmental scientists who guided them on a river walk, Merri Creek survey and dam exploration. Through each activity students took on the role of environmental scientists, using indicators such as abundance of flora and fauna and the quality of water to assess the health of the ecosystems. Students used nets to collect water bugs and were taught how to use keys that scientists use to identify water creatures. They also discussed how the overbreeding of the mosquito fish can negatively impact other organisms in the ecosystem.
To elaborate on their learning, students are now in the process of completing their own deepened research into one specific ecosystem of their choice in a quest to create a learning tool to help other students to understand ecosystems and their importance to life on Earth. Students are currently purposefully planning, designing and creating online quizzes, video games, information videos and brochures and robotic mazes to teach others key concepts both in an educational and an engaging manner.
~ Emma Hinchliffe, Year 4 Teacher and Deputy Head of Junior School – Teaching and Learning
Foundation and Year 5 – Fivedation
Last Friday the Year 5 classrooms were alive with the sound of much laughter and learning from some nervous but excited Year 5 and Foundation students. All year the Foundation and the Year 5 students have been meeting to complete activities and get to know each other. Each student has been paired with another student, or two, and it has been beautiful to watch the relationships blossom. The Year Five girls prepared a morning of activities for Foundation that was based on what they have covered in the classroom. For some this was challenging and required a great deal of thought and creativity. The morning was a great success, even though Year 5 were relieved to get back to their own work after recess!
Some thoughts from Year 5:
I think the Fivedation program is wonderful for both the Foundation and Year 5 students. I can remember being in Prep and being frightened of teachers and older girls. I think this program benefits Year 5 because you get to know and take care of  younger children. I really loved watching Aaratrika grow throughout the year. Emily
I share my buddy with another Year Five, Sienna L, and this is helpful because some days Lauren feels more comfortable around Sienna and other days she feels more comfortable around me. When Lauren is sad or hurt, one of us alerts the other and we hurry to go find Lauren. I think this works well because one of us can tell the teacher and one of us can stay with Lauren. Hayley
My relationship with Shreya is the closest relationship I have ever had with a Foundation student and I have had many relationships with little people. Getting to know her really showed how unique she is. I know she will grow up to be a kind, caring and creative person. Ava
I really liked the Fivedation program because it was a fantastic experience. I remember only a few years ago I had an older buddy that I wanted to be like and now I'm the older buddy for another little girl. Sienna C
~ Liz Ruffles and Kath Buckingham, Year 5 Class Teachers
Foundation Excursion – Gould League
On Thursday 9 November both Foundation classes visited The Gould League to enhance their understanding of how to live more sustainably.  They enjoyed a range of activities that emphasised the importance of refusing, reducing, reusing, recycling, and repurposing. They were 'shrunk' to explore the inside of a compost bin and got up, close and personal with worms and investigated their purpose in composting. They followed the path of an aluminum can through the recycling process and thoroughly enjoyed the associated role-play.
Student comments:
I liked seeing the worms. I touched one and it felt slimy. The worms eat the compost and give us food for the plants. Amiya
I enjoyed the role-play. I was the shopkeeper who sold the can. It was fun to look at the worms and see the ones that had a saddle where the baby worms are. Georgia
I learnt that aluminium can be recycled. I liked the race to put the things in the proper bins. The teams won an equal number of races so it was a tie. Aaratrika
Leading Learning That Matters
On Wednesday 1 November Ormiston hosted a number of partner schools as a part of the Respectful Relationships initiative. Ledd by Kath Woolcock, our Deputy Head of Senior School (Wellbeing), this professional learning session was conducted on gathering information that could be used to inform best practise. As a lead school in this initiative, it was our pleasure to welcome Principals and Leading Teachers from Balwyn, Blackburn, Boroondara Park and Camberwell South Primary Schools. Methodist Ladies College, Strathcona and Ruyton were also in attendance, alongside Scotch College, Trinity and Xavier.
This network has formed a community around a shared purpose – that of creating communities where respect for all is paramount.
The importance of Wellbeing was evident in the speeches from our Ormiston School Captains. They spoke about the manner in which Wellbeing is not a 'subject' but surrounds every aspect of their learning. They explained that they have had to develop their ability to persevere and remain committed when participating in one of the extensive co-curricular opportunities on offer.
Before the conference commenced, a growth mindset was discussed. They eloquently explained that when we don't meet our own expectations that we can be disappointed and that's fine. They discussed the way in which Ormiston had educated them around the notion that it is how we cope with that disappointment that is important.
The Positive Education Schools Association Victorian Charter Conference on Saturday 18 November was another example of learning that matters. Many staff across both campuses eagerly attended this conference as the program and sessions delved into best practise for Early Childhood, Junior and Senior School, as well as covering staff wellbeing and parent engagement.
By developing our professional knowledge with educators from across government, independent and Catholic sectors, Camberwell Girls Grammar School remains committed to ensuring the wellbeing of your child, so that she has the opportunity to pursue excellence and achieve her full potential.
Students Achievements
Madeleine Yim (Year 5R) attained some outstanding results when she competed in the Women's Junior Victorian Championships for Gymnastics Victoria, which took place at Geelong Arena on Saturday 11 – Sunday 12 November. She competed in vault, bars, beam and floor events. Madeleine achieved second place on floor, fourth place on vault and came fifth overall in the Under 11 competition. In addition to her individual success, Madeleine's team came second in the Under 11 all-round competition.
~ Liz Ruffles, Year 5 Class Teacher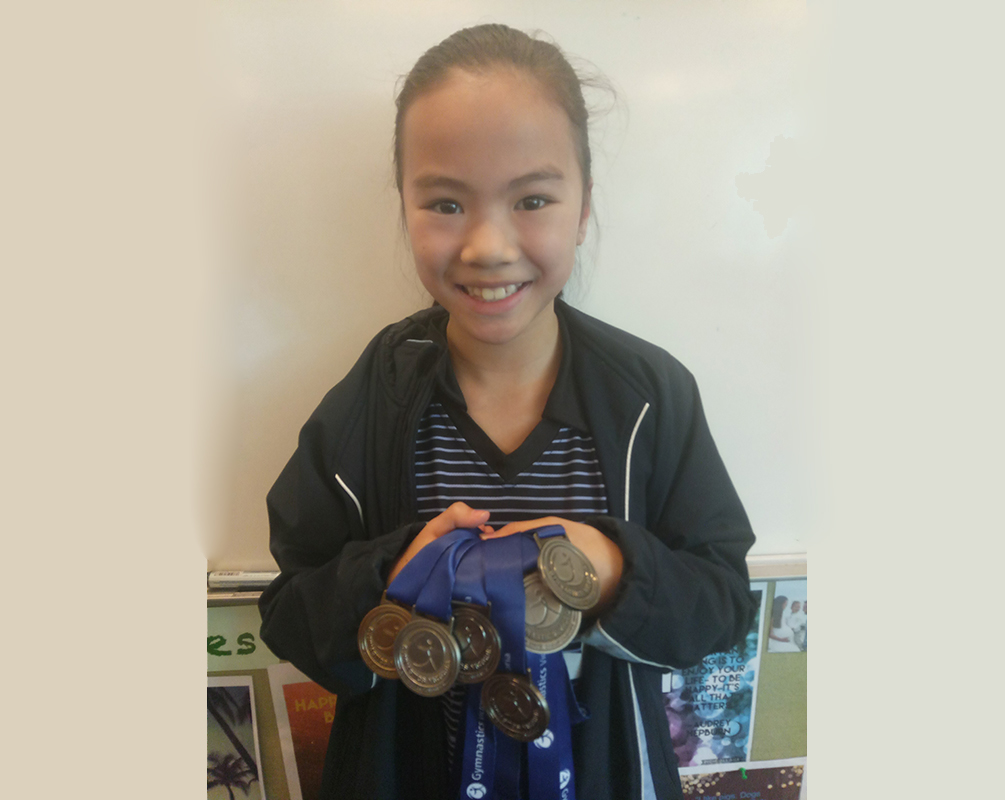 2018 Annual Bolshoi Ballet Academy Summer Intensive in CT (BBASI CT) in New York
Congratulations to Sabrina Bignold in Year 4 who has been offered a place in the prestigious 2018 Annual Bolshoi Ballet Academy Summer Intensive in CT (BBASI CT) in New York.  The program is designed to provide expert training for serious ballet students worldwide (ages 9-14) through unique instruction under leading teachers from the Bolshoi Ballet Academy. BBASI CT is a rigorous ballet training program conducted in Russian language, with the assistance of English-speaking translators, that offers pre-professional ballet training.
I wish all Ormiston families a wonderful weekend and look forward to sharing the day of Saturday 2 December with you at our Summer Spectacular.
Paul Donohue
Head of Junior School
https://cggs-video.s3.ap-southeast-2.amazonaws.com/2017/11/Foundation-Excursion-1.jpg
400
600
cggs
https://cggs-video.s3.ap-southeast-2.amazonaws.com/2021/01/2021_Web_Logo_Cyan.png
cggs
2017-11-24 12:07:07
2017-11-24 14:34:09
Junior School