Junior School
Year 5 Camp – Sovereign Hill
Last week, the Year 5 students and class teachers travelled to Sovereign Hill to learn more about life during the 1850s on the goldfields. The highlight of the camp involved the students and Year 5 class teachers Kath Buckingham and Liz Ruffles dressing up in costume and being a student and visitor at the St Alipius' Diggings School.
This tent school represents the first parish school in Ballarat, which was opened in 1853 to cater for the Catholic children on the diggings. St Alipius' Parish School had its beginnings in the great gold rushes that started in Ballarat, in August 1851. As thousands of people made their way to the diggings and a town quickly took shape, Father Patrick Dunne celebrated the first Mass for the Catholic miners in October 1851. In late 1852, Father Matthew Downing, a second priest, arrived and named his parish after St Alipius and the Bishop of the time, James Alipius Goold. In February 1853, Father Downing moved to the present St Alipius' site and erected a church made of slabs with a canvas roof. A school was also built and classes began on 1 April.
By 1865, there were 177 on the roll and the current St Alipius' Parish School is still operating on its original site in Victoria Street, Ballarat East.
Additionally, our students experienced the wonderful events of Blood on the Southern Cross and the Winter Wonderlights. During the day, Sovereign Hill was filled with Christmas trees and colourful decorations that lined the Main Street. Our students saw a full theatre program and make believe snow falls. The behaviour of the students was exemplary for the full three days and the owner of the accommodation we stayed at gave our students and teachers some very positive feedback in terms of their behaviour last Friday on the last day.
I would like to thank Kath Buckingham, Liz Ruffles and Shane Maycock for all their work in planning and preparing a very successful camp this year.
Year 6  Semester Two Ormiston Leadership Positions
Congratulations to the following Year 6 students on their leadership positions for this semester, their final semester at Ormiston before Senior School. As a School, we are very excited to be working with these students.
We congratulate:
Art / Iris Yang, Lucy Brandt and Richa Shah
Assembly and Events / Tanya Sevo and Lily Diaz
Digital / Amelia Pierce and Lisa Sharma
House / Singleton – Olivia Petrakis, Schofield – Haripriya Pathmaraj, Lawrence – Zara Pearson, Taylor – Kiara Guerrieri
Library / Jasmine Wan and Lucy Torre
Music / Sally Chen and Wendy Zhang
Positive Education / Allanah Lam, Ella Hiramatsu and Anthea Gazis
School Captain / Charlotte Drew and Scarlett Giang
Social Service / Alexandra Strong, Crystal Cui and Emma Jamieson
Sport / Elizabeth Xiao and Lily Ning
Sustainability / Riley Olsen and Barsa Sarma
Year 1 to Year 6 Semester Two Student Council
Congratulations to the following students on their position within Student Council for Semester 2. As a School community, we wish you all the very best.
Year 1K / Rudra Santhosh
Year 1J / Celeste Mai
Year 2B / Maya Waide-Hee
Year 2D / Melody Hu
Year 3C / Sophia Zeitoune
Year 3L / Rida Cao
Year 4H / Deana Tang
Year 4R / Sarah Zhou
Year 5B / Sienna Lonetti
Year 5R / Katherine Mason
Social Service / Alexandra Strong, Crystal Cui and Emma Jamieson
School Captains / Charlotte Drew and Scarlett Giang
Year 4 Excursion – IMAX and Melbourne Museum
On Monday 24 July, the Year 4 students went on an exciting excursion to the Melbourne Museum. First we went to see an IMAX movie, called 'A Beautiful Planet'. In the movie, it showed Earth from space and how bright and beautiful it was. During the movie, the astronauts from the International Space Station talked about what was unique and special about planet Earth and how humans need to think of themselves as crew members of spaceship Earth and look after it for future passengers.
After the movie, we went upstairs to the museum to explore the wonders. We had to try and find examples of how the Earth changes over time. We split up into groups to see different places at the same time. Our group, which went with Miss Boesten, wandered off to see the magnificent crystals section. We saw a lot of different types of crystals. Some were found in the ocean, and others were found in deep mines. We also saw a display showing how planet Earth looked thousands of years ago and what it may look like in the future. Next, we went to see the animals and we learn many interesting facts about them. Some of the animals were becoming vulnerable and endangered, we learnt that polar bears would become extinct if global warming continues.
Sarah thought that the the IMAX movie was wonderful and the museum was so interesting. Amy thought that the animal facts were really interesting. ~ Amy Cao and Sarah Zhou, Year 4 Students
Foundation and Year 1 – Fairy Tales
Once upon a time, there were a group of Year 1 and Foundation students who were visited by two wild and wacky actors from CARP Productions. These actors burst into their school taking the shape of various fairy tale characters, including Snow White, Little Red Riding Hood, the Gingerbread Man and a wicked witch. They brought to life their favourite stories in a modern, interactive and musical way. The children were in awe of their creativity and how many different things they learnt – how to transform storytelling, the differences and similarities between fairy tales, role-playing and performance technique!
Here are some highlights:
"We loved dancing with Little Red Riding Hood and Puss in Boots!"
"It was so funny when the witch pretended to melt."
"I loved the Gingerbread Man because he was so fast and silly."
"I loved it when the frog kissed the teddy bear because he thought it was a princess."
~ Michelle Kalus and Miranda Jackson Year 1 Class Teachers
Years 5 and 6 Alliance Francaise Berthe Mouchette
Our Years 5 and 6 French students participated in the Alliance Française Berthe Mouchette Poetry competition in May, reciting a French poem by heart to a French judge. The judges are very exacting and students must get full marks of 20/20 to be invited to the finals. Congratulations to Emma Jamieson, Richa Shah and Jasmine Wan for getting through to the finals this year held on Sunday 6 August. The rest of the students also did very well with a number of Excellent grades (19 – 19.5/20) and Très Bien (17-18). It is a huge achievement to learn a poem in French and we are proud of the girls' efforts. ~ Jo Rittey, Head of LOTE and Junior School French Teacher
Year 5 and 6 Australasian Problem Solving Mathematical Olympiad (APSMO)
Mid-last week, students from Years 5 and 6, who have signed up to participate in the Mathematical Olympiad program that runs once a week for one hour, sat their third formal test for the APSMO competition. Students are allowed 30 minutes to complete all five worded problems. It was wonderful to see the improvement these students are making in identifying key information in questions and understanding what questions are asking. In addition, students are using a multitude of strategies to solve these complex problems, including: drawing a diagram, making a list, identifying patterns, writing a number sentence, as well as using 'smart' trial and error. For many students, they are better at understanding what each question is asking and are making great strides in working out the first few steps in solving the problem.
In preparation for these tests, students have been exposed to a range of practice tests from previous years, which include diverse, multi-step problems that cover a vast number of topics. These can range from knowledge of fractions, to chance, to speed, as well as knowing how to interpret diagrams. Focus has also been on understanding key mathematical vocabulary such as perimeter, sum, average, factor and 'smallest possible total'. It is also about understanding that 'what is the value of' or 'evaluate' means students need to solve the expression given. Different strategies are shared so students can build their mathematical toolbox, which they can then transfer to similar problems.
I have included some questions from this year's Olympiad Test 3 below and encourage you to have a go:
Question 3D
At a store, one doughnut and two éclairs cost $4.00. Two doughnuts and three éclairs cost $6.50. Three doughnuts and one éclair cost $4.50.
What is the total cost of one doughnut and one éclair?
Question 3E
In a cryptarithm, every letter represents a different digit.
In the cryptarithm shown, determine the greatest possible value of SIGN.
P E N
 +    I  N K
Our Years 5 and 6 students in this program have two more formal tests to go this term. It has been incredibly rewarding for the students to witness and acknowledge the progress they are making and for each student to focus on achieving their personal best. We wish them all the best for the rest of this term! ~ Katrina Cheong, Year 6 Class Teacher
Foundation – Fire Education Visit
The Foundation girls have had two visits from fire fighters from the Hawthorn Fire Station in the past couple of weeks. On the first visit they learnt that we should 'Crawl down low and go go go!' if we find ourselves near a fire, to call 000 in an emergency and the difference between good fires and bad fires. This week they got to explore the fire truck and learnt about the equipment that fire fighters use. They got to sit in the fire truck and all had a turn squirting the hose. They have worked together with their family to plan a safe route out of their house and a safe meeting point, like the letter box, if there is ever a fire at home.
"I never knew that fire fighters had a hose that could spray so far" ~ Ellie
"I loved going in the firetruck and seeing where the driver sits" ~ Laura
"They have a special (thermal imaging) camera and the fire fighter showed us how to see his hand print even after he had taken his hand away from the seat on the firetruck" ~ Sharon
"I learned how to use the fire hose" ~ Kathleen
"If the smoke alarm goes off you crawl down low and go, go go to get out of the smoke" ~ Ria
"Good fires can turn into bad fires if there is no grown-up there" ~ Tecia 
"I enjoyed seeing Mrs Reedman dress up in the fire fighters' clothes. Mrs Reedman looked like a fire fighter" ~ Aaratrika
"Children should never play with matches"~ Alina 
~ Selena Reedman and Heather Scarff, Foundation Class Teachers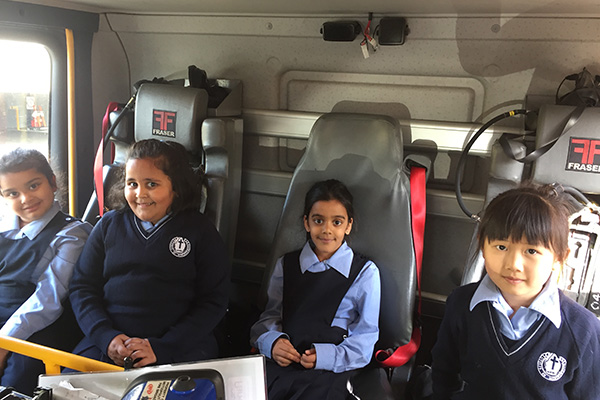 Years 3-6 Writer's Workshop with Renowned Author Davina Bell
This term, small groups of Ormiston students from Years 3 to 6 will be taking part in our Writers Workshop program, which launched for the first time at Camberwell Girls this year. Based on a model used successfully in International Schools, these creative writing sessions are a blend of skills-building to help with structuring narratives, and the time and space to allow for longer pieces of creative expression.
Term 3's participants will be focusing on some big questions: How do you generate story ideas? What goes into building an authentic, interesting character? Where do you begin a story – and how do you end it in a satisfying way? The exploration of these ideas will form the basis of our term's work, with a focus on the theme of Change. As with all my creative writing sessions, there will be a continual focus on narrative structure, memorable details and figurative language. We'll keep it engaging with a mix of group storytelling, guided drawing activities, language games and writing from pictures, as well as precious solo writing time every week. As a children's book author, I find joy and inspiration in exchanging ideas with the Ormiston students. I'm always impressed by their flair for narrative and boundless capacity for creativity, and am looking forward to another term together. ~ Davina Bell Literary Specialist – CGGS Libraries
I wish all Ormiston families a restful weekend.
Paul Donohue
Head of Junior School
https://cggs-video.s3.ap-southeast-2.amazonaws.com/2017/08/JS11.jpg
400
600
cggs
https://cggs-video.s3.ap-southeast-2.amazonaws.com/2021/01/2021_Web_Logo_Cyan.png
cggs
2017-08-04 13:04:26
2017-08-04 15:21:39
Junior School