Junior School
National Reconciliation Week
What a week it has been for our EL3 to Year 6 students. They have been fully involved in a diverse range of engaging activities that have encouraged them to learn more about our local Wurundjeri aboriginal culture as part of Australia's National Reconciliation Week. On Monday and Tuesday, classes were invited to complete activities that covered many Wurundjeri topics that included animal art and crafts, dance, animal dreaming (story telling), possum skin ball, class mural and boomerang throwing.
The Wurundjeri activities were very successful because of the help from Senior School students. I would like to thank the following students from Senior School:
Ashley Chan                Polly Anderson                        Isabelle Rawson                      Hannah Moran
Cassidy Quarell           Phoebe Hwong                        Natasha Parsons                     Madi Murphy
Loren Palma                Jenna Kalfadelis                      Sophie Mulvahill                      Alysha Lam
Maddy Brake               Alexia Vanin                             Ashleigh Cheung                     Leah Atalais
An important part of the week was for our students to work alongside our close friend Murrundindi. He has been coming to Camberwell Girls Grammar School for nearly three years and it is always a pleasure to learn more about the Wurundjeri aboriginal culture from him.
On Tuesday morning, Craig Goodwin and Murrundindi hosted a special Junior School Assembly that saw Murrundindi play the didgeridoo and talk about his aboriginal culture. A surprise of the assembly was Murrundindi giving one of our Year 4 students Raynee Wong of Year 4H an aboriginal name. The aboriginal name he gave Raynee was Bullen-Bullen which is the name given for the lyrebird. In aboriginal culture, the lyrebird is the peacemaker and the only animal able to communicate to all other animals, covering all languages. The reason why Raynee was awarded an aboriginal name from Murrundindi was that she sent Murrundindi two special letters outlining the importance of reconciliation in Australia over the last two years. Murrundindi told us that Raynee is the first ever student to be given an aboriginal name by him. As a Junior School, we love working with Murrundindi and we look forward to learning much more from him in the future. I would like to thank Craig Goodwin, Ben Jenkinson and Justine Clancy for all their work in putting together a wonderful schedule of Wurundjeri activities.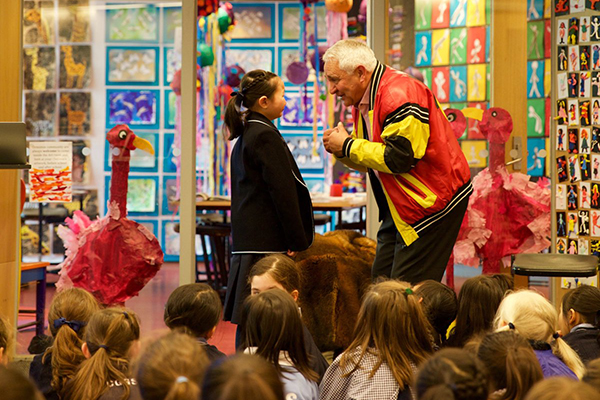 Early Learning 3 and 4
Camberwell Girls respects multiple cultural ways of knowing, seeing and living; honours differences and recognises and celebrates the benefits of diversity. This is evident in our everyday teaching and learning experiences and interactions. We also value the importance of understanding, communicating and interacting with people across cultures. We want to ensure that our community (children, families, teachers) develops positive attitudes towards cultural differences, gains knowledge of different cultural practices and world views, and develops skills for communication and interaction across cultures. In Early Learning, we engage the children in experiences, conversations and discussions that promote consideration of diverse perspectives.
Each year National Reconciliation Week celebrates and builds on the respectful relationships shared by Aboriginal and Torres Strait Islander people and other Australians. This week the Early Learning children explored and participated in whole school experiences that focused on reconciliation.
Throughout this week, Murrundindi the Wurundjeri Ngurungaeta (head man of the Wurundjeri) continued to spend time in the Early Learning classrooms and shared his history and culture through songs, stories, dance and music. Students from the Senior School also engaged with the children and provided opportunities for the youngest members of our school community to make connections with Aboriginal culture through the creative and visual arts.
In the classroom we have started to discuss how stories are very important to Aboriginal people and how they are passed through spoken word by Elders and family members to children. We read the story How the Murray River was made to offer an explanation for the origin of one of Australia's great rivers, the Murray River. The story also provided an opportunity to share aspects of indigenous Australia – rules for living and the respect for and connection with country and the land.
We believe it is important to acknowledge Australia's first people as the traditional owners of the land that we play on, learn through and enjoy each day. In Early Learning, we will continue to embed indigenous culture and perspectives within our everyday teaching and learning curriculum.
~ Angela Follacchio, Early Learning Team Leader
Years 3 & 4 Author Visit – Susannah McFarlane
Years 3 and 4 students were delighted to meet the popular author of the spytastic EJ12 series, Susannah McFarlane. This opportunity took place at 'spy headquarters', located in the Senior School Library on Tuesday 23May.
Imagination and girl heroes were at the core of this author talk. Just by looking at ordinary things differently, Susannah has created a host of fascinating missions for her EJ spy books. As well as these main missions, Susannah always includes smaller missions that relate to the main character, Emma, in her everyday life. These missions or challenges are ones that we all experience, such as friendship issues and fears.
Susannah continued to inspire us with talk of her Girl Hero Project. She posed the question, 'What is a Hero?' We brainstormed ideas such as people who are brave, independent, confident, courageous, determined, resilient and persistent. Susannah reminded us that every girl is a hero.
On Susannah's website you can find details of the Girl Hero Project, with inspirational quotes to read and create, as well as information about regular writing competitions.
Robyn and Aleisha from Year 4 gave a superb thank you speech, which Susannah seemed to really appreciate, asking the girls for a copy of it.
We are indeed surrounded by inspirational female figures of all ages.
~ Jo Whiffin, Junior School Library Teacher
Year 3 Excursion to The Royal Botanic Gardens
As part of our Inquiry investigation this term, 'Walking with the Wurundjeri' and in conjunction with National Reconciliation Week, Year 3 were fortunate to visit the Royal Botanic Gardens and take part in the interactive 'Connecting to Country' education program. This hands on experience gave the students a greater understanding and respect for Aboriginal culture and the people of the Kulin Nation. The students actively participated in a traditional Aboriginal smoking (or welcoming) ceremony, tapped into their creativity by making and using ochre paint and creating their own art work. They also discovered traditionally used plants, made string from raffia and explored the use of traditional Aboriginal tools. Although the day was cloudy, the students embraced the outdoor activities and thoroughly enjoyed the experience.
Below are some thoughts from some Year 3 students:
I really liked doing the activities because they were fun. I loved weaving. ~ Emily L
I thought that today was great day because we learnt how to make paint and string. ~ Alyce L and Mara V
I thought it was fun and exciting to find out about Aboriginal culture, food and art. ~ Usha N
I found it interesting that we learned how to weave and paint. I feel lucky that I got to go on this amazing trip! ~ Angel
~ Angela Columbine & Rebecca Leondidis, Year 3 Class Teachers
Years 3 – 6 House Athletics Carnival
On Monday 22 May, our Years 3 – 6 House Athletics day took place under beautiful blue skies at the local Doncaster Athletics Track. All students participated in many different events and on the day, there were over 80 track and field events that took place. Many students committed their personal best efforts on the day to gain points for their House. The overall House points were:
1st Place
Taylor / 770 points
2nd Place 
Lawrence / 748 points
3rd Place
Schofield / 622 points
4th Place
Singleton / 596 points
I would like to thank our Physical Education teachers Kerry O'Callaghan and Nareen Robinson for all their work in planning, preparing and implementing the day and our Ormiston staff for taking on different roles to make the day a success.
Years 5 & 6 Grandparents Day
Last Friday, our Years 5 and 6 students participated in our annual Grandparents and Special Friends morning. The event attracted well over 70 visitors to Ormiston and Year 5 had many grandparents and special friends in both their classrooms. I would like to thank our three Junior School musicians Crystal Cui, Clarissa Wong and Kiki Page for playing their musical instruments and showcasing their musical skills in front of a large audience. I also want to thank the Years 5 and 6 class teachers and our Years 3 – 6 Music teacher Penny Byrne for directing a Vivace Choir Workshop at the end of the event. Also, I would like to thank Justine Clancy for organising the morning tea for our visitors.
Foundation In-School Event – Wild Action Animals
On Thursday, the Foundation classes were visited by Wild Action Animals who brought an array of Australian animals for the students to meet. They explored the body coverings, special features and needs for survival of animals such as snakes, frogs, lizards, a wallabies and koalas. The students loved being able to get 'a close up' with these amazing creatures. It truly complimented our Inquiry learning this term that is exploring what animals need to survive. Here are some student comments:
My favourite was the wallaby. ~Amiya R
I was brave; I held a crocodile. ~Iris L
I liked being squeezed by the snake. ~Amelia A
I enjoyed touching the koala's soft fur ~ Ria W
~ Selena Reedman, Foundation R Class Teacher
Foundation – Year 6 Catapult Club
So far we have held two catapult sessions with the Years 2 – 6 students and they have been a total success. We were inspired by a STEAM (Science, Technology, Engineering, Art and Maths) activity where we learned about elastic powered toys; that's when we both decided to start a Catapult Club.
Our idea started when we informed Mr Donohue about our club. He agreed to let us create our dreams if we asked the teachers on duty. Our luck was high, as we had the chance to advertise our creation in assembly. On the first day, we hosted a team of 12 children, from Year 2 and 3. Our success continued when the Year 4s and 6s thought it was really fun and a great program. A Year 4 teacher told us that she heard that our Club was a total blast!
~ Rithanyaa Prakash & Aayzah Khan, Year 3C
Cancellation of SMART Spelling Parent In-Conversation Workshop
Next week's Parent In-Conversation workshop on Tuesday 6 June on the topic of SMART Spelling has been cancelled. A new date will be communicated to parents in the near future. We hope to see as many parents there as possible.
Important Dates
> Reporting and Training Day (No student day) – Friday 9 June
> Queens Birthday Public Holiday – Monday 12 June
Attention all Foundation – Year 5 Fathers – Father/Daughter Camp Committee
Currently, I am working with two Ormiston fathers to prepare for the Father/Daughter Camp for 2018. I would like to encourage fathers from Foundation to Year 5 to volunteer their time to help on the Committee this year. Once again the camp will take place in early March 2018 and our Committee will meet at different times throughout the year. If you are a father and are interested to help on the Committee, please email Paul Donohue Head of Junior School on juniorcoordinator@cggs.vic.edu.au.
I wish all Ormiston families a restful weekend.
Paul Donohue
Head of Junior School
https://cggs-video.s3.ap-southeast-2.amazonaws.com/2017/06/JS6.jpg
400
600
cggs
https://cggs-video.s3.ap-southeast-2.amazonaws.com/2021/01/2021_Web_Logo_Cyan.png
cggs
2017-06-01 14:20:22
2017-06-02 14:50:03
Junior School