Junior School
Years 1 – 6 Father Daughter Camp 2017
Last weekend, a group of fathers headed down to The Portsea Camp to spend valuable time with their daughters for the whole weekend, which included an overnight stay. Each year this camp has been organised by a Committee of fathers and this year's camp was once again, very successful. I would like to thank Sam Page, Robert Sim, Hal Hiramatsu and Greg Jamieson for all their planning and preparation in making the camp go smoothly. Many girls came into school on Monday morning and talked about the outdoor activities they experienced during the camp. Also, I would like to thank Shane Maycock our  Education Outdoors Program Coordinator for assisting the fathers throughout the weekend, especially during the water activities.
Early Learning 3 – Year 1 Murrundindi Visit
Last week Murrundindi, the head man (Ngurungaeta) of the Wurundjeri tribe once again visited Ormiston as part of his ongoing relationship with Camberwell Girls. Murrundindi works closely with our students on a variety of different topics that relate to what students are completing within their classroom. Here are the topics he covered:
Early Learning 3
This was the first time the EL3 students met Murrundindi. They learnt about the didgeridoo and the aboriginal greetings hello and goodbye.
Early Learning 4       
Both classes covered aboriginal greetings, having a story outside and talking about how aboriginal stories are passed on to others.
Foundation              
Murrundindi shared a number of different stories
Year 1                        
Murrundindi talked to the students about what the Wurundjeri land used to look like in the olden days.
We thank Murrundindi for his wonderful work with our younger classes and look forward to him coming back to Ormiston next term for Reconciliation Week.
In-Conversation with Craig Goodwin
I would like to thank the parents who made the time to listen to Craig Goodwin's In-Conversation workshop last Friday. The feedback from the parents who attended was very positive and the topic, Positive Education, was shared with the group. Each parent was able to take away some strategies to use at home with their daughters to keep a positive attitude towards life which is important part of our Junior School big question for 2017 which is, 'What makes a good life?' If parents would like more information about this workshop, please contact juniorcoordinator@cggs.vic.edu.au and information will be sent via email.
Our next In-Conversation workshop with parents in Term 1 will be with well-known children's author, Elise Hurst on Wednesday 29 March in the Junior School Hall at 9.00am.  If any parents would like to come, please email Anne Devenish devenisha@cggs.vic.edu.au and a morning tea will be provided at the end of the session.
Foundation – Year 6 International Women's Day Assembly
On Wednesday 8 March the Ormiston community came together to recognise the many contributions women make to our society for International Women's Day.
It began with an Assembly. A panel, which consisted of Davina Bell, Kate Giles, Kiely Knight and Avanthi Selvaratnam. These women were asked questions that had been composed by our Year 6 students. For example, Tanya asked "If you could go back in time what would you say to encourage a younger version of yourself?"
The panel sparked many an idea amongst the students and parents who were in attendance.  Avanthi spoke about the importance of following an area of passion if one is to make a good life. Kate encouraged the students to build each other up and recognise what is right with each other. Kiely emphasised the value of giving yourself to others in the community by engaging in social service, as she does with the organisation, Open Hands. Davina inspired the children to write down their ideas and to be creative as she told a personal anecdote in which self-doubt meant she didn't write from the age of 12 to 25. This surprised us all!
Afterwards, Katrina Cheong and her Sustainability Squad engaged the mothers in an act of service learning. The Vegetable Patch was replanted with seeds that each class had selected to grow this year. The mothers and the children enjoyed a pleasant morning in the sunshine, discussing ideas and laughing together.
Finally, a morning tea was held in the Hall. Parents were given the opportunity to mingle and discuss what it means to recognised for their vital contributions to our society today, as well as the exciting opportunities that await our children in the future. ~ Craig Goodwin Deputy Head of Junior School and Year 6G Class Teacher
Year 6 Virtual Debating Competition
Last week, our Year 6 Debating Team took to the Senior School TV Studio Room for the first time to compete in the national Virtual Debating Competition. The team – consisting of Scarlett Giang (6G), Allanah Lam (6G) and Zara Pearson (6C) – debated against Northside Montessori School in NSW, with our girls trying to persuade the adjudicator, Molly, that Australia should not adopt a new national flag.
Scarlett, Allanah and Zara's case line – our flag is our identity; we should not have to change it – was strongly emphasised throughout all three speakers' content. They argued that changing the flag would: (i) significantly add to Australia's current debt (using the example of NZ who spent millions of dollars trying to change their flag with no successful outcome); (ii) cause division amongst Australians rather than unifying them; and (iii) affect the identity of Australians because our flag displays historical significance in terms of our relationship with Britain. Each reason was supported with numerous well-researched facts and the girls had a wonderful go at their first formal rebuttals.
In the end, it came down to the matter, or content, of the two teams. The CGGS girls shone in this respect and as such, were awarded their very first win, which they were extremely excited about! Molly also gave a number of suggestions to help the girls strengthen their skills for the next debate, highlighting time limit and rebuttal in particular. Congratulations Scarlett, Allanah and Zara on the way you have worked to support one another as a team and your fabulous effort so far! We look forward to seeing how you progress and grow in terms of your debating skills throughout the competition! ~ Katrina Cheong, Year 6C Class Teacher
Years 1 & 6 Clean Up Australia Day Activity – Making Fairy Houses
In the lead-up to Clean Up Australia Day, our Sustainability Leaders, Lily and Lucy, were busy creating differentiated lessons for all year levels in order to raise awareness of our environment and how we can be more sustainable. Some of these activities included making musical instruments from recycled materials and learning about what we can recycle. I would like to take this opportunity to once again thank them for their tremendous work in putting these together all by themselves.
On Friday 3 March, Lily and Lucy's idea came to life for the Year 1s and 6s. The girls teamed up with their old Fivedation buddies to build fairy houses using natural materials from outside. This drew upon the Year 1s strong skills in knowing where to look for fallen materials and collecting these for their older friends. The Year 6s then helped their buddies construct a house for their fairy friends. The sun was shining and the huge smiles, chatter and teamwork displayed showed the sheer enjoyment of play for both younger and older students. By the end, the grounds near the climbing tree were scattered with little, delicate houses made from twigs, vibrant red leaves, fallen flowers and rocks. Many of the girls continued building their fairy houses at recess and lunch with their buddies. We know the fairies would have loved their beautiful new homes! ~ Katrina Cheong, Year 6 Classroom Teacher
Year 2 Excursion – Walking Down Burke Road
It was the best trip to Camberwell. We left school after recess and we walked to St Mark's Church. Then we went to the Palace Hotel and it was built in 1888. Then we went to the train station and it was made in 1882. We walked down Burke Road and we saw the Meat and Wine Co, it used to be a Bank. Then we went to the Rivoli Cinemas. We looked at the roof because the roof is old fashioned.
We finally had a very good lunch at a park. Then we went back to school but there was a crash on the road. When I got back to school, I was exhausted and went to sleep when I got in my bed. ~ Annabelle Nemtsas, Year 2D
Year 3 Boroondara Council Chambers Excursion
As part of our Inquiry investigation this term titled "How Does Democracy Influence Us?" the Year 3 students were fortunate to visit the Boroondara Council Chambers on Tuesday 7 March and take part in the Boroondara Civic Education program.
This interactive experience was designed to give students a greater understanding of the role of local council in our community. The students met with Boroondara Mayor, Councillor Healey, and enjoyed taking part in a mock council meeting, where the issue of what play equipment should be included in a new playground was debated and voted upon. The girls gladly offered their points of view, and Councillor Healey mentioned that there might be some future councillors in the making!
I liked going to the Boroondara Council because we got to debate about slippery dips and swings. ~ Emily Lioe
During the excursion I felt nervous because I had to say which option to choose between Option 1 (slippery dip) and Option 2 (swings). I had to convince the councilors at the front of the room. I enjoyed it a lot. ~ Selina Guan
I enjoyed meeting the mayor and l really want to go there again. ~ Alyce Law
I liked how we got to go to the council chambers because not many people get to go there. ~ Usha Nadarajah
Year 3 Excursion to Werribee Zoo
This term as part of our Science unit, the Year 3 students visited Werribee Zoo and took part in the educational program titled, The Endangered Race: Predator Prey Survival. We have been exploring living and non-living things and how living things adapt and survive in nature. The girls thoroughly enjoyed taking part in a Safari Tour, which expanded their knowledge of critically endangered African animals and how they have adapted to ensure their survival in the wild.  We investigated the different walking trails throughout the zoo and identified the key features of each animal's enclosure. The girls were fortunate to visit a restricted area of the zoo with keeper Fiona, who guided them on how to create an enrichment activity for their resident meerkats.
I loved going to Werribee and seeing the cute little meerkats and taking part in the safari tour. ~ Sophie Tong
Werribee Zoo was fun and exciting and I thought the lion cubs were adorable! ~ Anneka Sinnappu
I liked watching the lioness sitting on the jeep and feeding the meerkats kibble. ~ Isabella Madden
I enjoyed the trip to Werribee Zoo because I got to see the splendid servals and curious cheetah. ~ Rithanyaa Prakash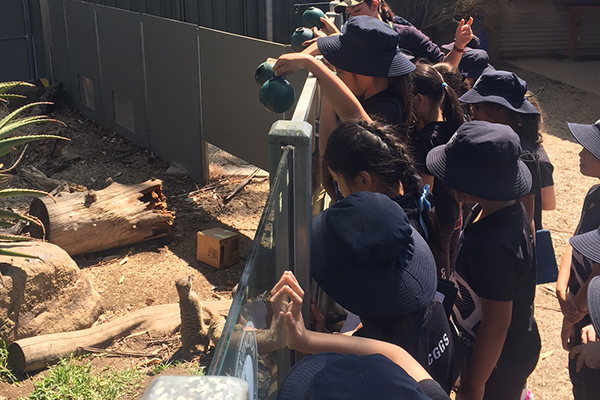 I hope all our Ormiston families have a restful weekend.
Yours sincerely,
Paul Donohue
Head of Junior School
https://cggs-video.s3.ap-southeast-2.amazonaws.com/2017/03/JS121.jpg
400
600
cggs
https://cggs-video.s3.ap-southeast-2.amazonaws.com/2021/01/2021_Web_Logo_Cyan.png
cggs
2017-03-17 11:43:24
2017-03-17 12:44:55
Junior School