Junior School
Foundation – Year 6 Parent/Teacher Conversations
Thank you to those parents who took the time this week into come to school and speak with their child's class teacher. I hope this was an excellent opportunity to share information about your child's progress, interests and learning needs so far this year. Additionally, I hope this was a chance to foster a positive and respectful relationship between home and school. Also, I like to remind parents that they are able to arrange meeting times with class teachers throughout the year via the Junior School Diary or email depending on your child's class teacher. Before and after school are times when teachers are readily available.
Early Learning 4 Full Time 'Backyard Bugs'
This week the children in Early Learning 4 were visited by the Melbourne Museum's outreach program. The educator presented to the children the program titled "Backyard Bugs".
This in-school event followed a passionate interest in bugs dating back to last year. This year the children have continued to search for snails in the garden, watch a butterfly resting, dragonflies zooming and worms slithering amongst the compost. Using our interactive flat screen, we have researched cockroaches and have been on a virtual excursion to the Museum as well!
The children were in awe as they explored the mini beast world with Jess the educator. She taught us about the features of an insect and an arachnid and how we can tell the difference. We read stories about the amazing roles insects have in our world…did you know that a cockroach can eat away triple its body weight in waste every minute.
The children were amazed as Jess took out the stick insects and allowed us to touch them. We watched carefully their movements and noticed how their 'prickly legs' allowed them to hold on to anything with ease. Jess explained that all of the bugs we examined ate leaves and plants, except for one. At the end of our session we met a real praying mantis. Jess told us that this insect is a meat eater and actually eats other bugs. With that she reached into a container with some long tweezers and pulled out a small live cricket! She waved it in front of the Praying Mantis and quick as a flash it grabbed the cricket with its long front legs. We watched in amazement as the Mantis proceeded to eat the cricket and then lick its sticky legs clean at the end.
Throughout this inquiry, the children in Early Learning 4 have shown themselves to be curious, risk takers, reflective, appreciative and respectful learners. We are continuing our learning of bugs through creative arts – making our bug using paper clay and have created our very our backyard bug garden with blotty paper, inks, eye dropper and pens. ~ Melissa Field, EL4 Full Time Class Teacher
Year 5 and 6 Open Morning for Ormiston
I would like to thank our Ormiston School Captains Crystal Cui and Haripriya Pathmaraj for their speeches they undertook for prospective families as part of our Open Morning last Saturday. I would also like to thank and congratulate Kiki Page, Zoe Brisk and Katrina Tong all of Year 5 for their wonderful music playing at the start of the morning with their violins and cello. Also, I would to congratulate Emma Jamieson, Nancy Ma, Fiona Zhu and Haripriya Pathmaraj for their engaging Speech and Drama performance that welcomed families to Ormiston. It was a wonderful morning where many families thoroughly enjoyed walking around the Campus and learning more about our school programs.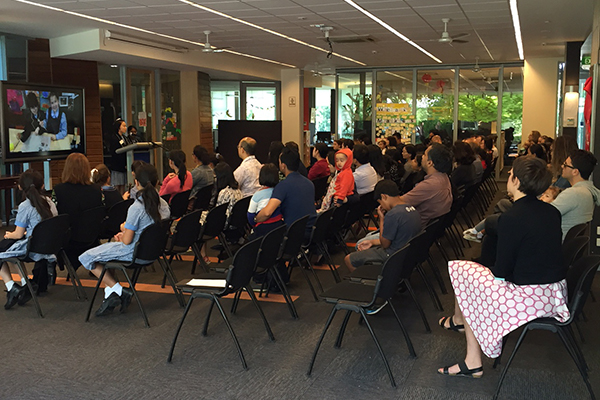 Sister Michele Visits Mountfield
Long before our school was here in Canterbury, the Mountfield building was a convent where the Grey Sisters lived. They spent their days helping young mothers and their families. They taught them how to look after their babies and helped however they could. Sister Michele lived in Mountfield many years ago, and last week, she returned as a visitor with the Year 1s. The Year 1 girls learnt all about the work Sister Michele did as a young woman, and loved to listen to stories about her time here at Mountfield. We took her on a tour of the building and discovered what the different rooms were used as many years ago. Did you know that the upstairs Speech and Drama rooms were once bedrooms for up to 3 Sisters? Upstairs there was also a library and lounge room with views out onto the garden. 1K's classroom was called the 'Party Room' where the Sisters entertained their guests, and 1J's classroom was a dining and TV room where the Sisters rested. ~ Miranda Jackson and Michelle Kalus, Year 1 Class Teachers
Year 5 Art Excursion – David Hockney Exhibition
On Monday 20 February the Year 5 students went to The National Gallery of Victoria to view the David Hockney Exhibition, an English artist. The students first visited his exhibition and were amazed and surprised at his 700 artworks, which were beautiful, bold and completed in traditional painting methods and by using digital media. He is an artist who is ahead of his time, taking up new methods to create artwork – using the mobile phone and iPad to create pictures and movies.
The students then took part in a talk about the artworks and artist, asking and answering questions and learning a lot more about the background of the artworks. Lunch was spent outside in the beautiful garden with its interactive artworks, where the students had a fun time playing in the 'car wash' and climbing the large playground frame.
Finally, the students took part in a hands-on workshop where they used their iPads to create a still life, being instructed by employees of the Gallery. Students, parent helpers and teachers had a thoroughly inspiring day.
I thought it was very interesting how David Hockney used the iPad to create drawings. His artwork made me feel interested and he drew a lot of trees in a lot of the drawings. I personally liked the big trees. I liked them because he used different colours and textures. He used red, orange, brown and yellow for the leaves. I thought it was a beautiful sight. ~ Clarissa Wong, Year 5R
I enjoyed the artwork in the gallery because it really showed how long it takes David Hockney to paint. I was surprised that most of the artworks were made using 'Brushes' which is a free app and simple to use. The workshop inspired me to have a go at drawing because David Hockney never uses the 'undo' button. ~ Genna Sim, Year 5R
I felt that the art really made me think and feel that if you are confident and you believe in yourself that anything is possible if you put your mind to it. I thought that the workshop did inspire me to do more paintings but, more importantly, how David Hockney was inspired to make digital art, has made me want to do a lot more art. ~ Madeleine Goodman, Year 5R
I was surprised when the lecturer told us that David Hockney never uses an eraser when he draws or uses 'undo' when he used the Brushes app. The workshop inspired me to try new things even if I'm not that good at them. ~ Zoe Brisk, Year 5R
At the workshop we chose an object and tried to draw a still life drawing of it on our iPad. I did much better than I thought I would. I thought properly about what I was drawing. I used highlights and shade to make the glass look transparent. I tried as hard as I could but it is hard to get the exact picture you want. ~ Kiki Page, Year 5R
Year 1 – 6 Full S.T.E.A.M Ahead
S.T.E.A.M is an educational approach to leaning that incorporates Science, Technology, Engineering, the Arts and Mathematics as access points for guiding student inquiry and critical thinking. The Junior School S.T.E.A.M program has been expanded this year with each grade participating in a weekly lesson with the Junior School S.T.E.A.M educators. (Foundation will begin in Term 2).
The program is designed to create opportunities for students to engage in experiential learning, persist in problem solving, embrace collaboration and work through the creative, engineering design process.
A number of exciting investigations are underway across the School. The Year 1 students are experiencing how forces create movement in a puppet investigation. They are applying these principles to the design and are able to create their own puppet.
The Year 2s have been working collaboratively to build and explore how different kinds of simple machines work using LEGO kits. They will apply their knowledge to design and create an exciting marble run toy.
Year 3 students are exploring movement and energy transfer by creating elastic band powered boats. Once their boats are working, they will be able to test the effect of changing their designs.
In their hydraulics and pneumatics unit, the Year 4 students will investigate how water and air under pressure can be used to move objects. They will be challenged to design a hydraulic machine.
The Year 5 students will work with the School's Sphero robots and explore the basics of block-based programming to control them. These robots have the ability to 'swim' and students will be challenged to design a Sphero-powered watercraft capable of carrying a load.
The Year 6 girls are also enjoying working with Sphero robots and exploring the basics of block-based programming to control them. The students will also investigate the engineering concepts surrounding bridges and participate in a challenge that will require them to design and build a bridge according to specifications that a Sphero can drive across successfully. ~ Penny Dumsday & Annabelle Vivarini, Junior School STEAM Teachers
Year 4 – 6 Division Swim Carnival
Recently, the Boroondara Divisional Swimming Carnival was conducted at the Monash Aquatic and Recreation Pool Centre with some outstanding results. The results were: Scarlett Giang of Year 6 secured 1st place in the 12 years girls 50 metre backstroke and Emily Price of Year 5 secured 2nd place in the 11 years 50 metre breaststroke. The 11 years girls freestyle relay that consisted of Ava Lillehagen, Sofia Sanfilippo, Matilda Chan and Emily Price all from Year 5 were placed 5th, also putting in a wonderful effort.
Both Emily and Scarlett posted big Personal Best results in their respective events and have now qualified to compete at the Eastern Regional Championships to be held at the Ringwood Aquanation Leisure Pool on Friday 17 March. We look forward to hearing how Scarlett and Emily perform at a higher level and wish them all the best.
I would like to thank Kerry O'Callaghan, Shane Maycock and Peter Kitney for working with the Year 5 and 6 swimmers during this important swim meet.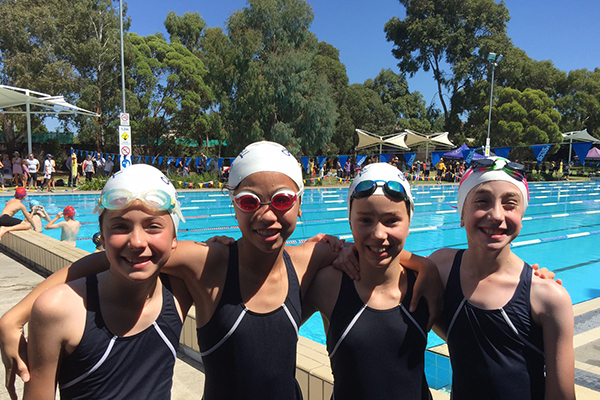 Year 1 – 6 Sustainability Squad
The Sustainability Squad for Semester 1 consists of:
1K Genevieve Khaw
1J Asha Bhattacharjee
2B Chloe Lau
2D Isla Stronell
3C Emily (Victoria) Mao
3L Zara Cheung
4H Karinda Hattersley
4R Hanna Wang
5B Elena Lekakis
5R Alisha Catena
Sustainability Leaders: Lily Diaz & Lucy Torre
The Sustainability Squad is this year's new and revamped environmental team for Junior School, led by our Sustainability Leaders, Lily Diaz and Lucy Torre. The Squad meets once a week and spoke in this week's Assembly about the upcoming Clean Up Australia Day this Friday 3 March. Each representative provided a tip of a sustainable practice each of us could strive to do more of. Some tips included:
> making sure we are using both sides of the piece of paper before recycling (Karinda Hattersley, 4H)
> using water that we have washed fruit/vegetables in to water plants (Hanna Wang, 4R)
> trying to reuse materials for other purposes instead of just throwing them out (Elena Lekakis, 5B)
> having a bucket in the shower to collect the 'cold water' as we are waiting for it to warm and using this to water plants (Mrs. Poyser)
Our Sustainability leaders have also prepared Clean Up Australia Day activities for Foundation to Year 6 classes to raise awareness of issues facing us and engage students in more sustainable practices. I would like to thank Lily and Lucy for their hard work and creativity in preparing these exciting and engaging lessons all by themselves.
In addition, we are currently in the midst of revamping our Veggie Patch and each class has chosen a vegetable or herb that they would like to plant in their designated area. These will be planted next week by our representatives as well as a few parents helping out on International Women's Day. We would also like to thank Martin and Lynne, two of our wonderful gardening crew, who are helping to prepare the area for us to work in. We look forward to seeing our veggies and herbs grow over the next few weeks. ~ Katrina Cheong, Year 6 Class Teacher & Sustainability Squad Coordinator
Ormiston In-Conversation Series
Session 1
Next Friday our first In-Conservation Series will take place with Craig Goodwin our Deputy Head of Junior School (Student Wellbeing). Craig will focus on Positive Education and go through some projects we are undertaking this year. The session will begin at 9.00 and conclude at 10.00am. These sessions are for small groups of parents who would like to talk with staff and gain a better understanding of what we are doing at Ormiston. A flyer will be sent home shortly.
Session 2
On Wednesday 29 March, we are delighted to announce that Alice Hurst, writer and illustrator of children's books will be conducting a parent workshop for Ormiston parents. Elise will speak about the importance of keeping books and reading in our children's lives with a focus on visual literacy. She will be talking with Davina Bell, our CGGS Literary Specialist and children's author. The session will be from 9.00-10.00am in the Junior School Hall. There will be no Assembly on this day. More information to come in coming weeks.
I hope all our Ormiston families have a wonderful weekend.
Yours sincerely,
Paul Donohue
Head of Junior School
https://cggs-video.s3.ap-southeast-2.amazonaws.com/2017/03/JS3.jpg
400
600
cggs
https://cggs-video.s3.ap-southeast-2.amazonaws.com/2021/01/2021_Web_Logo_Cyan.png
cggs
2017-03-03 11:47:42
2017-03-03 12:01:14
Junior School