From the Chaplain
A Christmas Message from the Chaplain (and Charles Dickens!)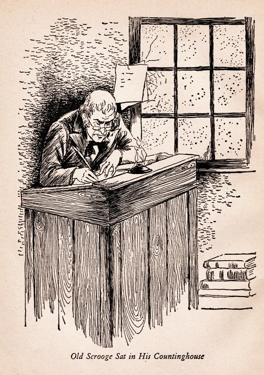 "Once upon a time – of all the good days in the year, on Christmas Eve – old Scrooge sat busy in his counting house."
Charles Dickens' introduces Ebenezer Scrooge, (in his classic novel A Christmas Carol), the embittered man whose deceased business-partner, Marley, pays him a ghostly Christmas Eve visit, in an attempt to make him see the error of his ways.
Scrooge is determined not to participate in any of the Christmas festivities. When his nephew, who has come to wish him a Merry Christmas, pleads with him not to be so cross, Scrooge is outraged:
"What else can I be when I live in such a world of fools as this? Merry Christmas! . . . What's Christmas time to you but a time for paying bills without money; a time for finding yourself a year older, but not an hour richer . . . If I could work my will every idiot who goes about with "Merry Christmas" on his lips, should be boiled with his own pudding, and buried with a stake of holly through his heart."
A Christmas Carol ("being a Ghost Story of Christmas"), was written in 1843, but some things are not so different to today. Statistics show that those who used "afterpay" last Christmas ended up with debts they have not yet been able to repay. Therefore, Scrooge's observation that people do "foolish" (i.e. non-profit-making) things at Christmas, still stands. At Christmas we act in ways that we don't for the rest of the year:
> giving to the poor
> wishing strangers the best of the season
> making an effort to connect with those we love
> reaching out to those who might be on their own
> writing cards to those who have touched our lives this year
At Christmas we are different, and we expect different things of life: that it be kinder and gentler to us.
At the heart of the Christmas celebration is a story that is both stunningly simple and complex. It is the everyday story of the birth of a baby, a baby like all other babies . . . but this little one is also a baby like no other. For this one is the eternal God with us, the God who hovered over the "void" at the beginning of creation; the infinite source of life, love and mercy – now here with us in human form, having thrown off his divinity in order to share our human life.
"A merry Christmas Uncle! God save you!" cried a cheerful voice. It was the voice of Scrooge's nephew . . .
"Bah!" said Scrooge, "Humbug!"
"Christmas a humbug, uncle!" said Scrooge's nephew. "You don't mean that, I am sure."
"I do", said Scrooge. "Merry Christmas! What right have you to be merry? . . . You are poor enough." 
What right have we to be merry?  It can be hard at times to give our consent to the hopefulness of Christmas. Surely it is "foolish", as Scrooge describes it, to let down our guards and be generous, open and joyous. Especially when we might be disappointed in so many ways, when our hearts might be broken, when someone we love is coming to the end of their life, when circumstances for so many in the world are so brutal. On the other hand, there is much we do want to celebrate: the love of family and friends, the fulfillment of our dreams, the sickness that has retreated, the family difficulty that has been healed. There is certainly much to be thankful for . . . but the source of the hope that comes from Christmas is deeper than any of these things. This is a hope that is to be found, not in what we have but in who we are for God, and who God wants to be for us. The baby Jesus grows up to tell us that we are his brothers and sisters, and that God wants to be our divine friend and companion, so that at every point of darkness, we trust that God's light is finding the way through.
At Christmas we are invited to feel the relief of this reality. And we are invited, like Scrooge, to be released into a new kind of life, even if just for a moment! This is a life where we might live more generously, less nervously, not because we have resolved to do so, but because God is working his way of love in us, and for us.
When Scrooge is returned to his bedroom after a night of travelling round with ghosts, he is a man whose true heart has been returned to him. He buys a prize turkey for the impoverished Cratchit family, has dinner with his nephew, and on Boxing Day gives Bob Cratchit . . . a raise!
"I don't know what to do!" cried Scrooge, laughing and crying in the same breath; and making a perfect Laocoon* [fool] of himself with his stockings. "I am as light as a feather. I am as happy as an angel, I am as merry as a schoolboy. I am as giddy as a drunken man. A merry Christmas to everybody! A Happy New Year to all the world."
May I wish the Camberwell Girls Community a very merry, and occasionally foolish, Christmas.
My prayers are especially with those who face difficulty or pain at this time.
"God bless us, every one!"
Warm regards,
Reverend Helen Creed
School Chaplain
*Laocoon = a Trojan priest killed, with his sons, by two sea serpents after warning the Trojans against the wooden horse. There is a famous statue which depicts him being entangled. Scrooge is in such a hurry to get dressed that he is getting caught up in his stockings.
Council Appointment – Expression of Interest
Camberwell Girls Grammar School (CGGS) is recognised as one of Australia's leading girls' schools offering an innovative and diverse curriculum delivered by highly skilled and passionate staff. The school's vision is to be a leader and innovator in the education of girls, dedicated to fostering a passion for learning and building a more just and sustainable world. We are committed to child safety and have zero tolerance of child abuse.
We are currently inviting expressions of interest to join the CGGS Council to fill a potential vacancy. The CGGS Council invites membership from within and external to the school community and seeks to maintain a breadth and balance of key skill-sets, perspectives and gender.
In filling the potential vacancy, it is a priority for successful applicants to have skill, experience and background in any of the following: Accounting & Finance, Architecture & Property, Legal or Information Technology. The successful candidate may also be a member of the Finance & Audit Council sub-committee, Property Council sub-committee or Risk & Governance Council sub-committee.
The CGGS Council meets twice a term, on a Monday evening at 7pm. Council members who also participate in a sub-committee meet up to five times a year. Additional meetings and functions are convened as necessary.
If you are interested in becoming a member of the CGGS Council please submit a completed nomination form and forward it, along with your CV to the Company Secretary, via email to financeops@cggs.vic.edu.au by 5.00pm on Friday 14 December 2018.
Please click below to view nomination form.
All submissions will be reviewed by the Nominations Committee and will be kept strictly confidential.
Short listed applicants will be invited to attend an interview with the Nominations Committee early in 2019 and a recommendation will then be made to the CGGS Council. All applicants will be informed of the outcome of their application.
Ms Christine Cussen
Council Chair
https://cggs-video.s3.ap-southeast-2.amazonaws.com/2018/11/FEATURE2.jpg
400
600
Georgia Bennett
https://cggs-video.s3.ap-southeast-2.amazonaws.com/2021/01/2021_Web_Logo_Cyan.png
Georgia Bennett
2018-11-30 15:47:04
2018-11-30 15:57:09
From the Chaplain