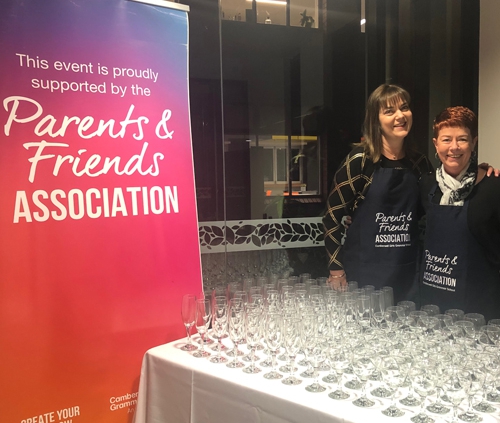 Connected Community
Diary Dates
The following events are taking place in the next two weeks.
Monday 21 October
> Year 12 Final Day
> Year 12 Breakfast
> Year 12 Leavers Service, 11.00am – 1.00pm, BSH
> Valedictory Dinner, 6.30pm – 1.00pm, MCG
Tuesday 22 October 
> 2020 Foundation Evening, 7.00pm – 8.30pm, JS Hall
Wednesday 23 October
> Ormiston Celebration of Sport Assembly, 9.00am – 10.00am, BSH
> Shaping the Future Event, 6.30pm – 8.30pm, BSH
Thursday 24 October
> Senior School Leaders' Service, 9.30m – 10.30am, BSH
> Student Leaders & Parent's Morning Tea, 10.30am – 11.00am, Rob Hall
Friday 25 October
> Year 7 – 12 House Swimming & Diving
Monday 28 October
> Year 9 & 10 Camp Departs
Tuesday 29 October
> JS Tabloid Sports, 1.00pm – 3.00pm, SS Oval
> YABBA Awards
Friday 1 November
> 2020 Foundation Transition, 9.15am – 10.15am
Continued support from the PFA
The Parents and Friends Association continued to proudly support school events by providing refreshments for guests of the Celebration of Sport Dinner, House Music Competition and the VCE Art Exhibition Opening Night.
As part of the PFA's "friend raising" initiative to give back to CGGS parents, PFA volunteers served refreshments to many grateful attendees of these events.
New PFA Executive Committee
The Parents and Friends Association elected a new executive body to lead the association. They include:
President
Dr Robert Webster OAM (Eloise – Year 10)
Vice Presidents
Ms Viv Noffs (Phoebe – Year 9)
Ms Jo Ellingworth (Chelsea – Year 10)
Ms Meredith Spencer-Jones (Charlotte – Year 9)
Ms Patricia Stocca (Eloise – Year 9)
Secretary
Ms Krys Pekin (Jane – Year 9)
Treasurer
Mr Ray Barmby (Ella – Year 10)
We appreciate the support these parents provide for the school community and encourage all families to be involved in PFA meetings and events.
For more information about the Parents and Friends Association and how to become involved, please contact:
Susannah Jepson
Community Relationships Coordinator
jepsons@cggs.vic.edu.au
9811 8590
Western Australia Reunion
The Western Australian old grammarians recently gathered at a Perth city hotel to meet Principal Debbie Dunwoody and other WA based CGGS alumnae.
The guests shared many stories of their time at Camberwell Girls Grammar School, from the 1950's through to 1990's, and were very interested to hear of the wonderful opportunities the current students are offered. They were also very excited to hear about the centenary celebrations we have planned next year.
For more information about CGGS school reunions, please contact:
Karen Bartram
Alumnae Relationships Coordinator
bartramk@cggs.vic.edu.au
9811 8501
https://cggs-video.s3.ap-southeast-2.amazonaws.com/2019/10/CC-FEATURE-1.jpg
500
500
Georgia Bennett
https://cggs-video.s3.ap-southeast-2.amazonaws.com/2021/01/2021_Web_Logo_Cyan.png
Georgia Bennett
2019-10-18 15:28:48
2019-10-18 15:30:44
Connected Community